Jessica Biel has sure come a long way from her days on 7th Heaven! The actress has become known as one of the most talented and beautiful female actresses in Hollywood, having had roles in big films like The Texas Chainsaw Massacre, The Rules of Attraction, The Illusionist, and Total Recall, just to name a few. Notably, in 2017, Jessica starred in and was an executive producer for the miniseries The Sinner, for which she was nominated for a Golden Globe.
Beyond her work in Hollywood, Jessica is also known for her high-profile relationship with actor-singer Justin Timberlake. The two began dating in 2007 and were finally married in Italy in 2012. They went on to welcome their first child, son Silas Randall, in 2015- making him one of the cutest and well recognize babies in Hollywood!
Not only is Jessica incredibly talented and has a beautiful family, but the actress has also become known for her killer sense of style. There's scarcely any red carpet event where Jess doesn't look impeccable, which is why she often ends up on 'Best Dressed Lists.' Check out Jessica's top fashion moments as well as several times where her outfit wasn't up to par. Which outfit of Jessica's is your favourite, and which one do you think is the worst?
25

all eyes on her: A Goddess Among Mortals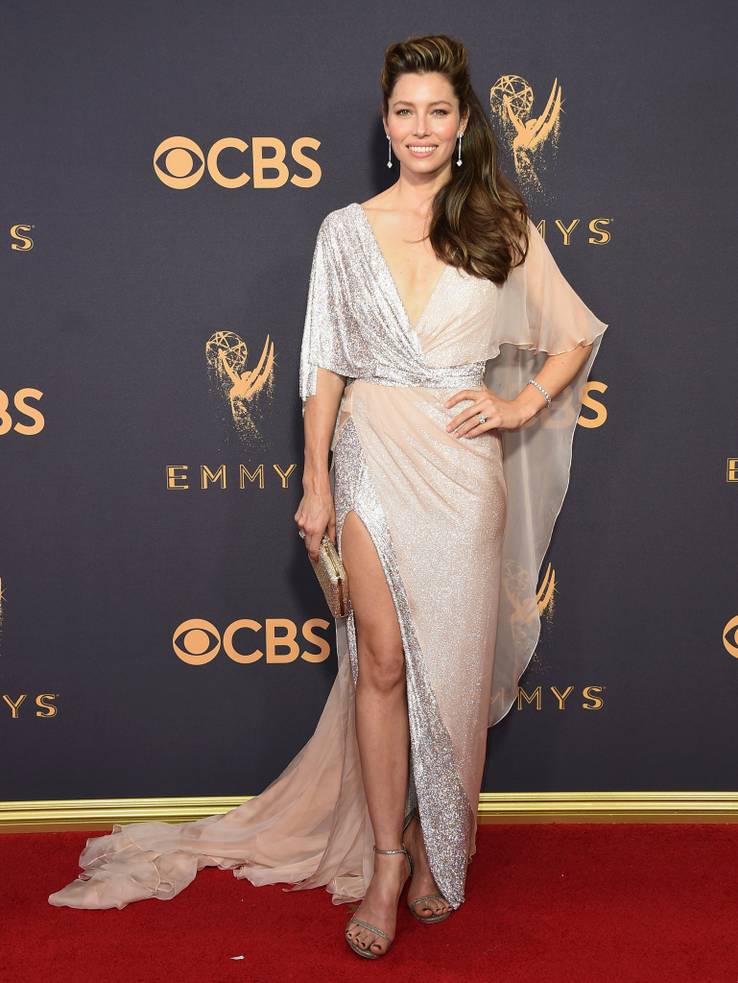 Jessica looked absolutely stunning when she arrived at the Emmy's a few years back in this Grecian-inspired, silver, sparkly dress. She literally looked like a real-life goddess. Her tousled, half-up 'do complimented the whimsical look, while her sparkly sandals and clutch matched her gorgeous dress perfectly. The plunging neckline and high slit showed off a lot of skin, but the billowy fabric helped even things out.
The actress has long been revered for her good looks, going so far as to once be named 'Sexiest Woman of the Year.' But Jessica said it was never her intention to have her career founded so much upon her outward beauty, though she doesn't deny what its done for her career. "It's not my plan or whatever in my life to be a s*x symbol. It never is," she explained.
"You are who you are, but you can't help what you look like. And when you do a film, like for me, it's just not about that," Jessica continued. "I would prefer to downplay it. I prefer to downplay the s*x appeal." Jess's humbleness is definitely commendable, but with good looks like this, we doubt the public is going to stop taking notice any time soon.
24

wanted to look away: Leave The Leather At Home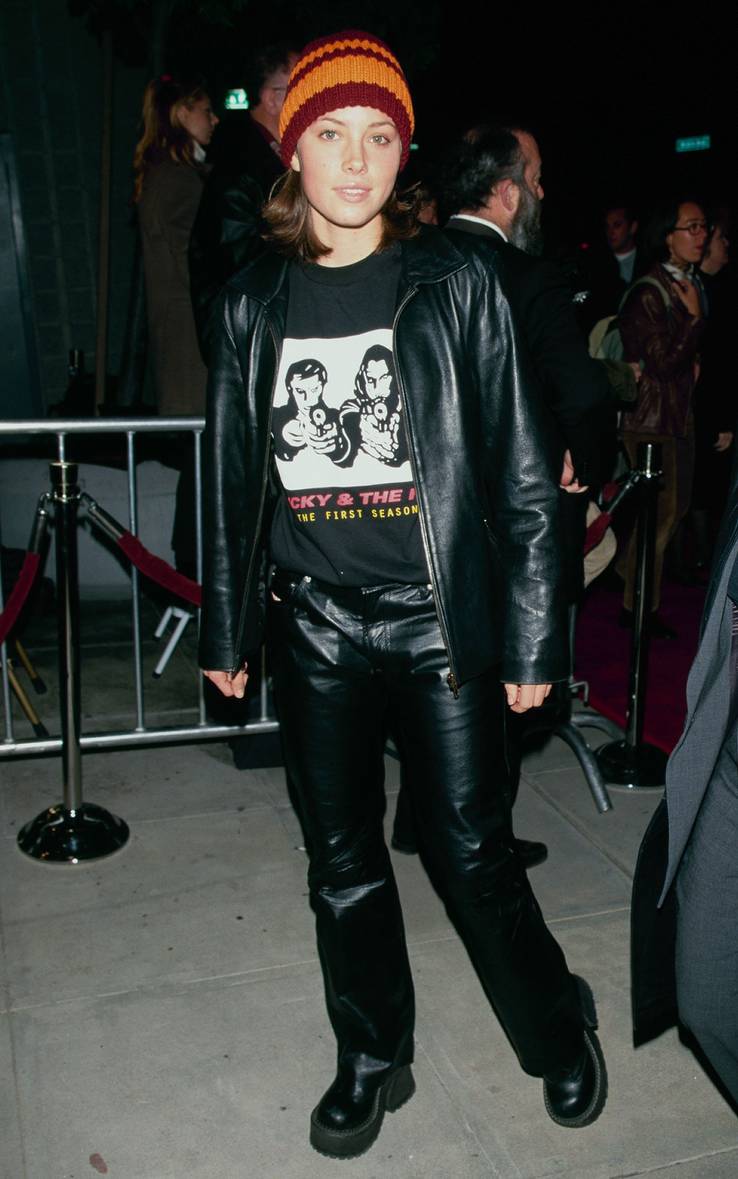 Most of the time, you can't go wrong with an edgy leather look. But then we have this travesty of an outfit! Back in the '90s, Jessica proved that you can go overboard with leather when she stepped out in this edgy outfit. The star didn't look like herself in baggy leather pants and a matching leather jacket. She finished off the grungy outfit with a beanie, graphic t-shirt, and platform shoes. Oh, how this look screams the '90s…
Jessica has admitted that she went through a rebellious phase in her teens (likely when this photo was taken).
"I had my bad-boy moment in my teens. I'll never do that again. It wasn't pleasant, and I learned my lesson," she explained while referencing an anonymous ex-boyfriend. "It was mysterious, and it's like, 'Look how cool they are,' but it's just not worth it. He was lying to me."
Well, given that Jessica is currently married to the handsome Justin Timberlake, we bet she has no regrets when it comes to her dating life. But given this questionable outfit, we bet the same can't be said for her clothing choices! Don't worry Jess, we all made bad fashion decisions in the '90s.
23

all eyes on her : Red queen On The Red Carpet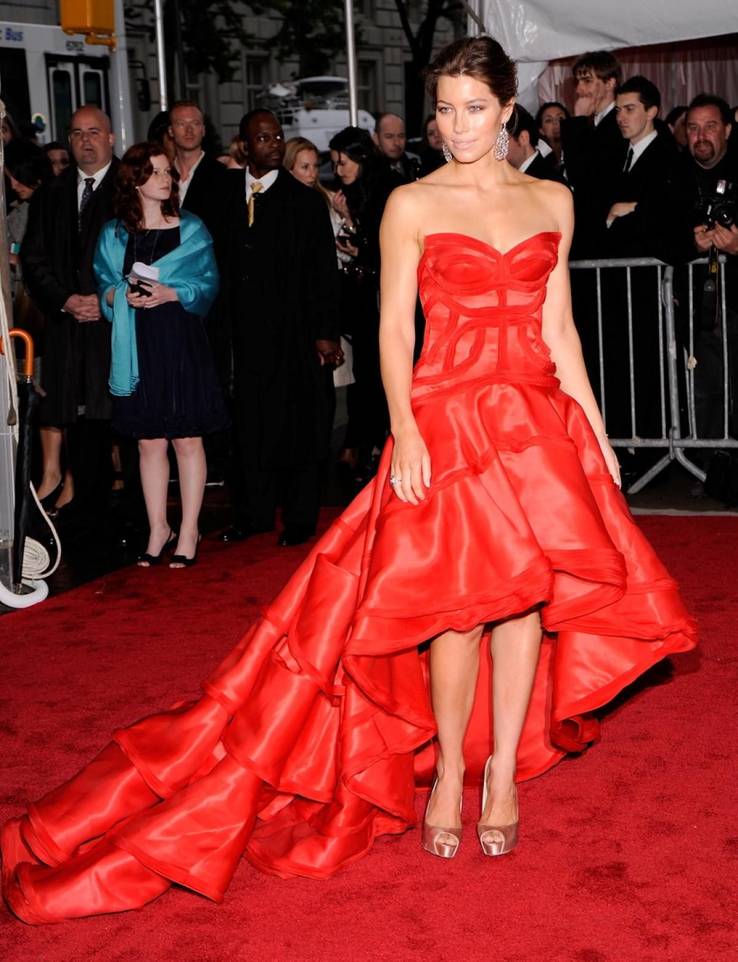 Jessica was on fire when she hit the red carpet in this stunning red gown. The strapless frock showed off her toned arms and shoulders, while the tight bodice flaunted her small waistline. The bright red colour looked amazing against her tan skin, while the asymmetrical hem added a modern, dramatic twist. This look is the definition of red hot!
As great as she looks at events and premieres, Jessica insists that what fans see on the red carpet isn't representative of celebrities IRL. Rather, Jess explains how she feels like she's playing a role when she gets on the red carpet. But when she gets home, it's time for the fake eyelashes and heavy lipstick to come off! We've never heard anything more relatable.
"On the red carpet, I'm playing a character," the star explained. "As soon as I get off that thing, I think, 'Oof, wipe that gloss off.' I'm wiping and wiping and pulling my hair out and trying to change my outfit. I'm immediately trying to get comfortable. It's really a part I play." We'd honestly do the same if we were a celeb, especially considering the amount of makeup and fancy outfits they have to rock on regular basis. It probably gets old fast.
22

wanted to look away: Dazed and Confused, Literally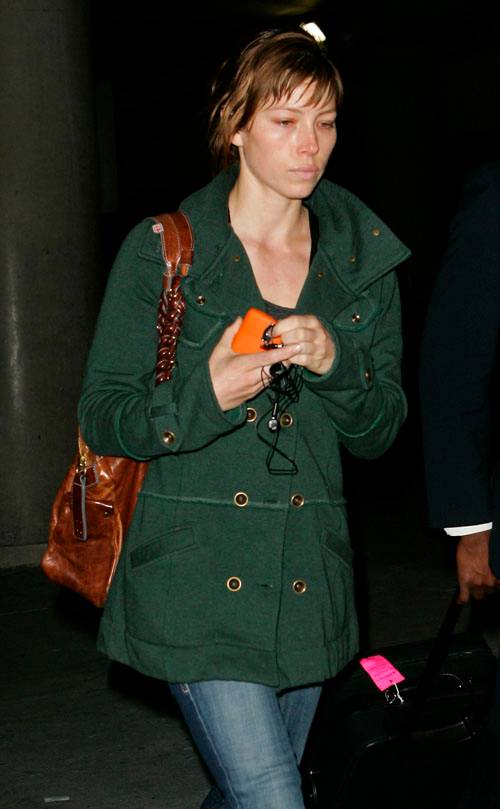 Jessica didn't look much like herself when this candid shot was taken showing the celeb heading home after a long day!
The celeb looked dressed-down in a casual green jacket and loose jeans. Jessica opted for a makeup-free look and pulled her messy tresses back in a low ponytail, proving that even the stars have days where they don't look all glammed up. It was clear that her busy schedule was getting to Jess as she appeared tired and grumpy while the paparazzi snapped on. Then again, if you had a bunch of random strangers following you on a daily basis trying to get your picture, you'd probably be cranky, too. Jessica has worked long and hard to solidify her place in Hollywood, so we bet she has her fair share of long working days.
"For a very long time, I wasn't thought of as anyone with any credibility in the film world," she once shared about how much work goes into establishing an A-list acting career.
"Everybody is tramping through the swamp every day in this business. 'I'm worth it, I'm credible – believe me, give me a shot!' That's the way I feel on a consistent basis." You go, girl!
21

all eyes on her: A Silver Screen Siren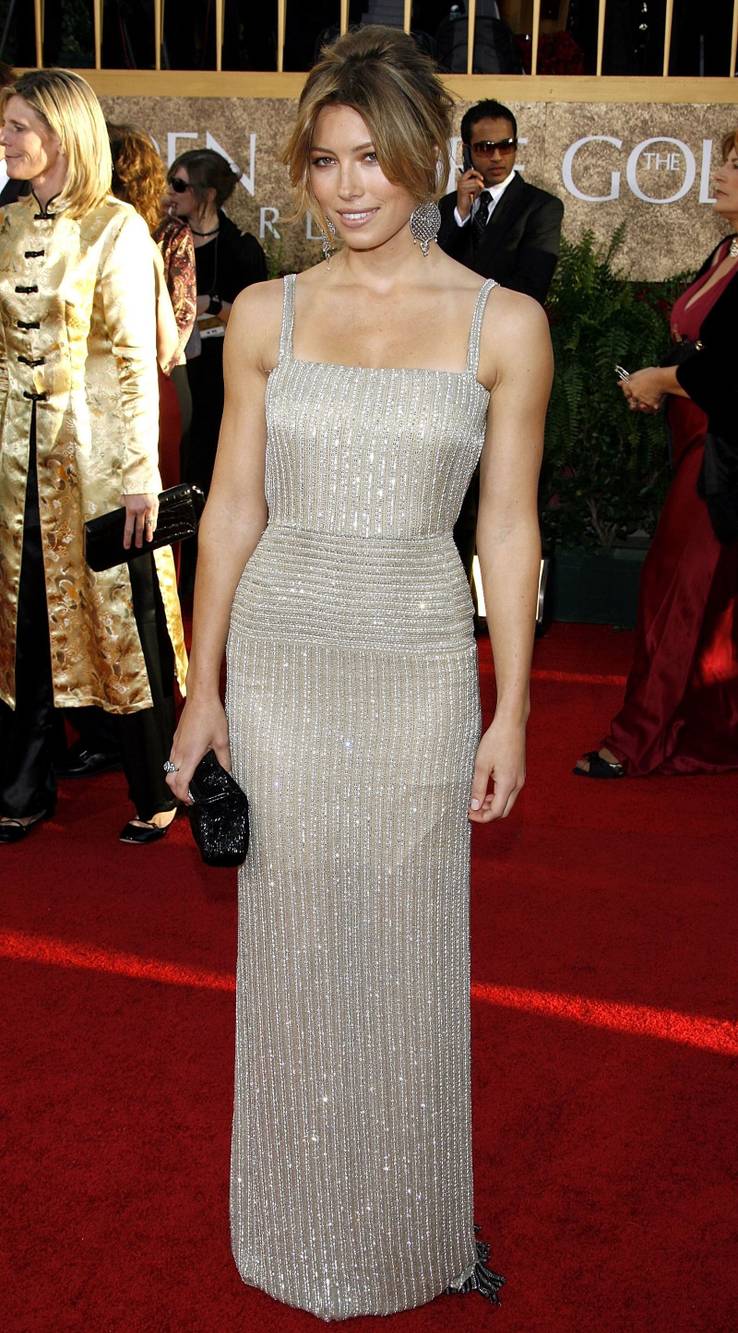 Jessica looked steamy as ever in this gorgeous silver gown. The figure-hugging frock showed off her petite frame and incredibly toned arms- seriously, we need the number of her trainer! Her tousled up-do added to the romantic vibes we're getting from this look, while her massive silver earrings tied the whole outfit together. We bet Justin could keep his eyes off of his stunning wife the whole evening.
Jess has always been open about just how much she (and other celebrities) put into maintaining their figure. Luckily for her, working out has been something she's been passionate about for a long time, and happily incorporates it into her daily routine.
"I concentrate on making everything strong, and you can't do that with just cardio. I strength-train one day- and I'm not talking heavyweights, just a little," the former 7th Heaven star has said.
"I see my trainer one day, next day I take a yoga class or cook. I'm not someone who just opens a pantry and rustles something up." Given how amazing Jessica always looks in pictures, it's clear all of her hard work is paying off. And, seriously, if someone knows the number of her trainer, we'll owe you for life!
20

wanted to look away: Didn't She Know Her Shirt Is See-Through?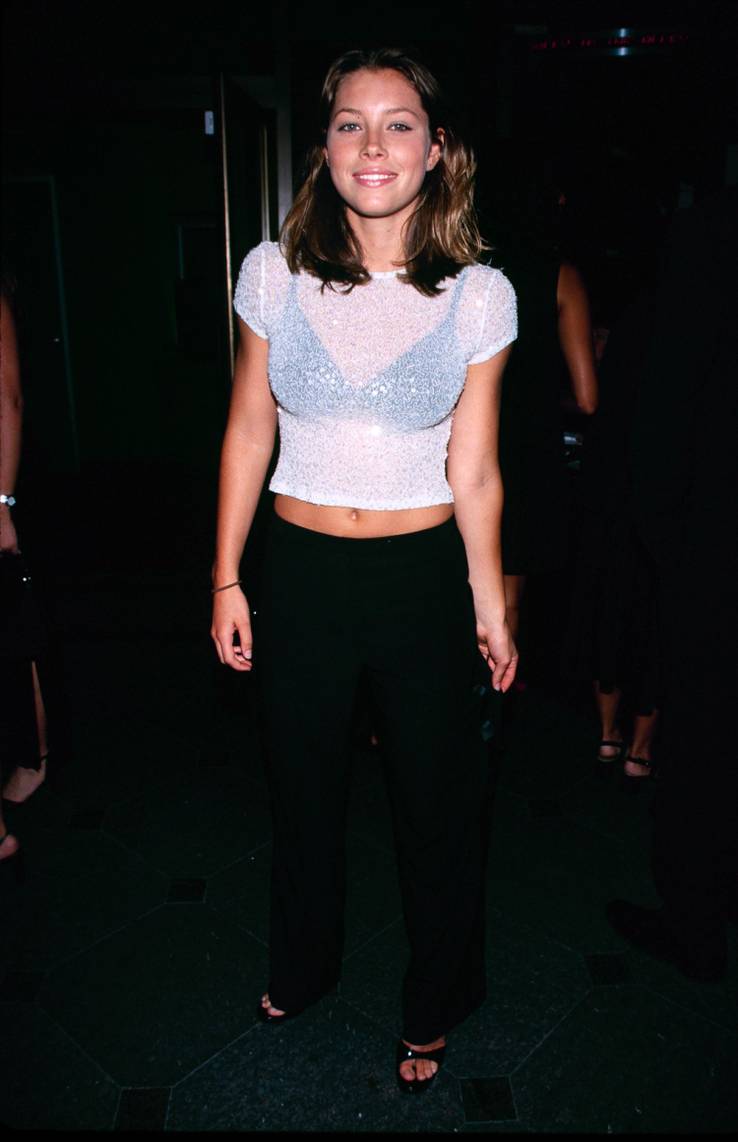 Wardrobe malfunction alert! Jessica had a huge fashion faux pas in the '90s when she stepped out in this t-shirt and trousers combo. The outfit itself isn't half bad… except for the fact that we can clearly see through Jess' top! It's unclear if Jessica meant for her brassiere to be visible underneath her shirt, or if she accidentally stepped out without checking herself in good lighting. Either way, this sheer outfit definitely didn't go as planned.
In the past, Jessica has explained she's never been the best when it comes to fashion or makeup since she had such an outdoorsy childhood.
"We lived in Colorado, and my parents were outdoorsy mountain people," she's explained. "My father would always say, 'Go out and don't come back until you have something to show me.' Which meant he wanted me to come back with a scraped knee or an injury. When I went out to play, I felt like I'd better get hurt."
Doesn't Jessica's childhood sound fun? Even though Jess pays attention to fashion now (since its technically a part of her job), we love her no-fuss, laidback approach when it comes to getting dressed. More celebs should have her attitude!
19

all eyes on her: She's Going For The Gold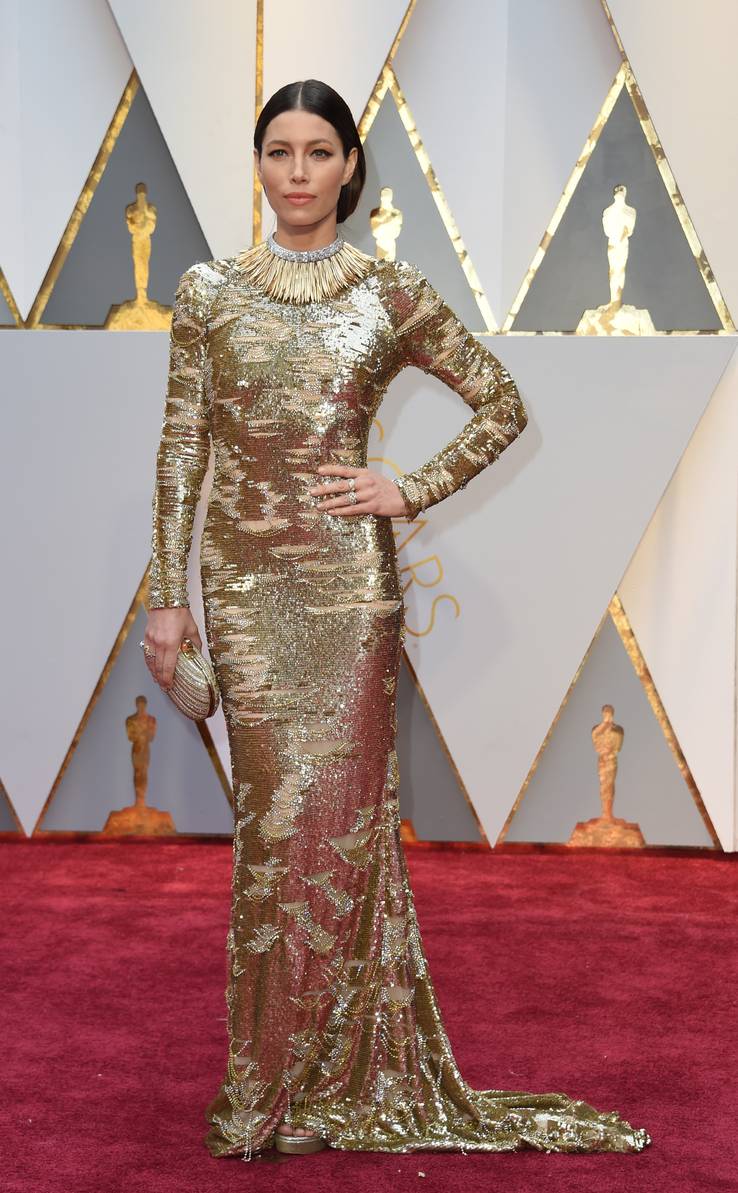 Jessica literally looked like an Academy Award when she showed up to the Oscars in this dramatic gold number. This edgy dress was definitely a risky choice, but we think Jess executed it well. The tight, form-fitting cut showed off her petite figure, while the gold shredding and choker-like neckline added a bit of edginess to the glam look. The star's slicked-back hairstyle and minimal accessories ensured all eyes were on her gorgeous gown.
After rocking this dress on the red carpet, fans couldn't get over how in shape Jessica looked- especially considering she'd just welcomed a baby! The celeb says she owes her fit figure to eating healthy and working out, which she says any celeb has to do in order to maintain a tiny frame. However, she also adds that it's important to treat yourself! "When I'm working and I eat healthily all week, then I give myself one day – usually Sunday – when I eat just what I want," Jessica explained. "You have to; otherwise, your mind goes a little nutso."
It definitely sounds like anyone would go a bit stir crazy having to abide by a celebrity diet and exercise regimen. Kudos to Jessica and others stars for their dedication!
Featured Today
10 Carrie Underwood Outfits That Are Amazing (10 That Are Duds)

15 Female Celebs With Unfortunate Tattoos (And 10 With Classy Body Ink)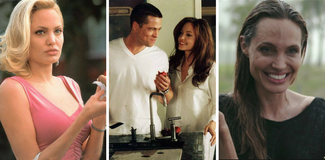 10 Of Angelina's Looks Brad Couldn't Resist (And 10 That Pushed Him Away)

18

wanted to look away: The Dress With No Shape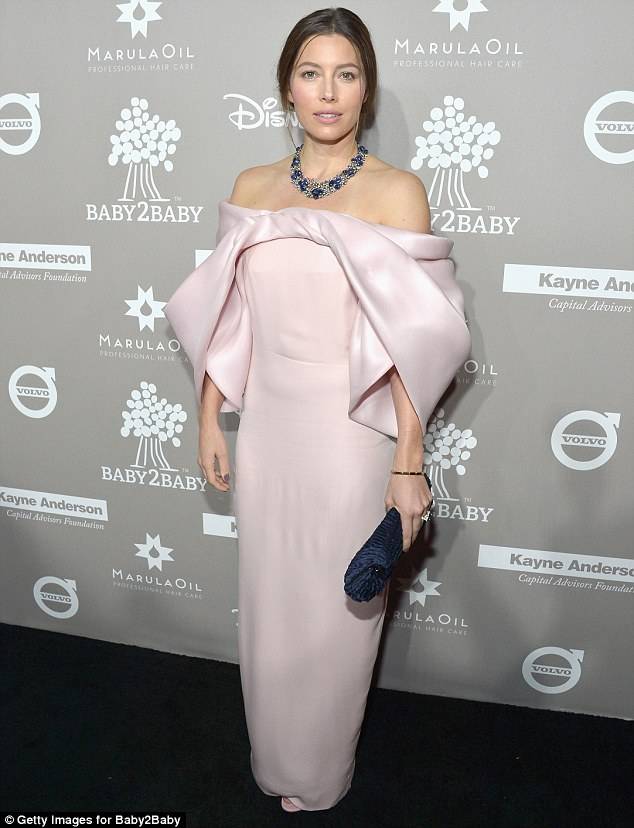 Jessica is always a stunner on the red carpet… well, almost always, that is! This outfit is one rare time that the celebrity totally failed with her outfit. For a Baby2Baby event, Jess showed up in a pale pink frock that did absolutely nothing for her figure.
The gown simply seemed to drape over Jessica's body, while the massive sleeves looked out of proportion with the straight dress. Even more, Jessica's blue necklace seemed to clash with the pastel pink, and her minimal makeup made her washed out against the pale color. All in all, we've seen countless times where Jessica has looked better than this. Sorry, not sorry!
We're going to blame this fashion faux pas on Jessica's chameleon-like fashion sense. The celeb has admitted to being drawn to many different styles, which can make it tough putting together an outfit that flows. "I like really uberfeminine, classic-looking things mixed with something rougher around the edges," she once explained. "I've been looking at Rihanna a lot, checking her out. She's got something going on that I am sort of craving a little bit." Still, despite this one red carpet slip up, we still think Jessica has got an amazing sense of style.
17

all eyes on her: A Look To Remember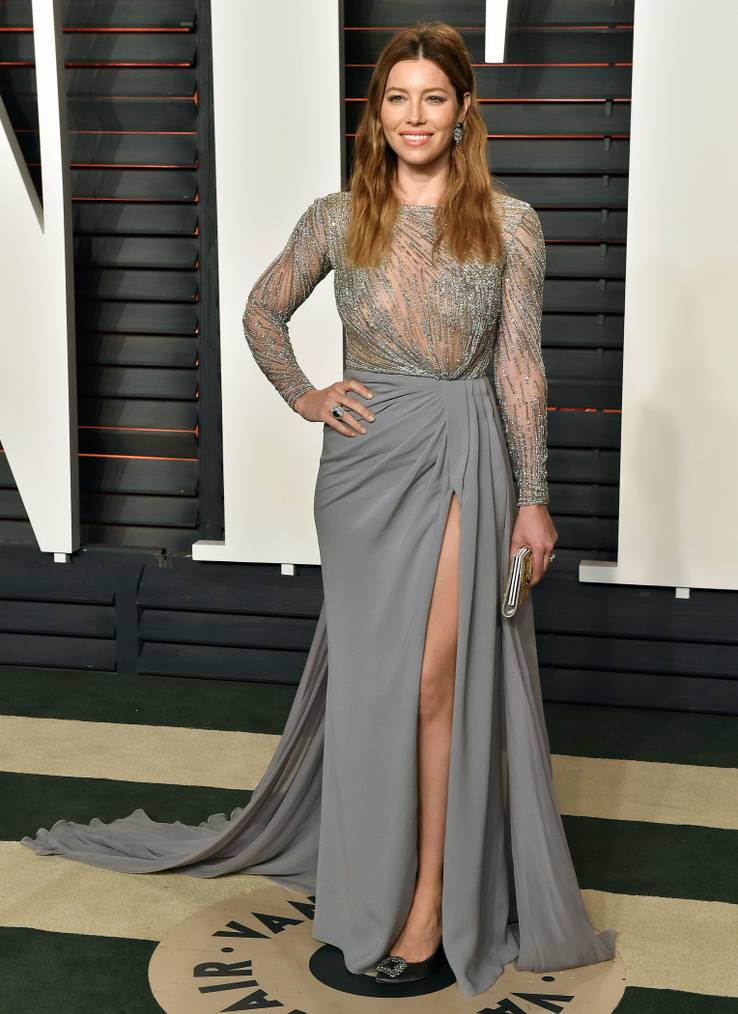 For an event held by Vanity Fair, Jessica showed up in this gorgeous grey dress that made sure all eyes were on her. The sheer top showed off a bit of cleavage, though the careful spread of the sequins didn't take it over-the-top. Her minimal makeup and loosely waved hair balanced out the glamorousness of her gown. The form-fitting style hugged the actress in all the right places and showed off her impressive post-baby body. The tall slit only added to the steamy vibes we're getting from this look- and showed off Jessica's toned calves!
In recent years, Jessica has been increasingly open about her diet and exercise decisions now that she's a mom. The star once said that she credits the Paleo diet for helping her shed the baby weight.
"Eating Paleo just leans you down and slims you up and takes that little layer of fat and water-weight right off your body," she explained.
Jess is also a big supporter of Yoga, which she explains is just as good for the mind as it is the body. "I like to do a couple of yoga classes during the week. Yoga for me is more of an elongating thing," she has said.
16

wanted to look away: The Oh-So Holy Shirt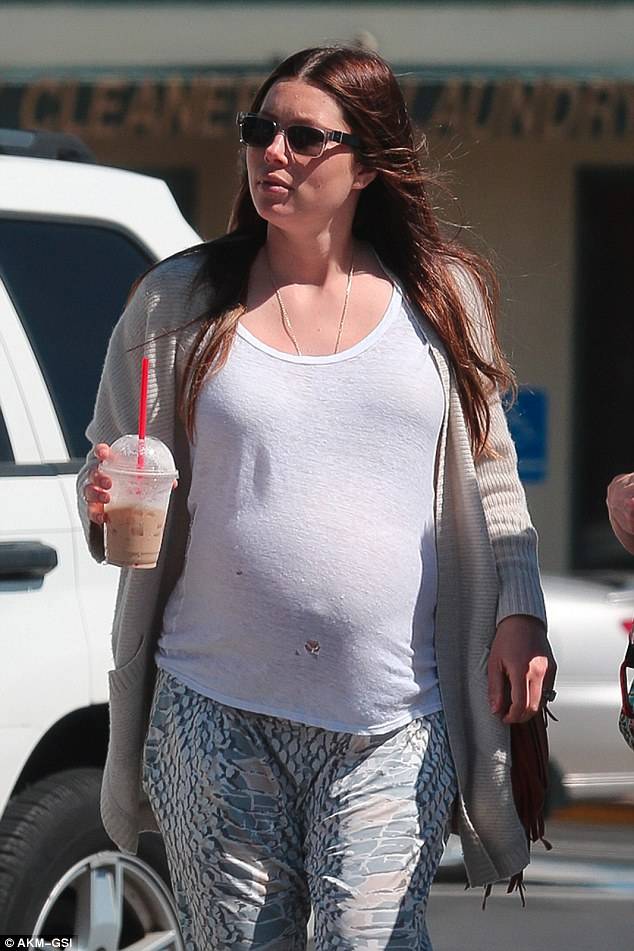 We're so used to seeing celebrities all glammed up on the red carpet, sometimes it can be shocking seeing what they look like in IRL. Like the majority of expectant moms, Jessica rocked comfy clothes whenever she wasn't attending a red carpet event or premiere. While sweats can sometimes look cute, most of the times they just look frumpy, and this is one example.
During a casual day out, Jessica looked nothing like the celebrity she is when she stepped out in a cozy, worn-in outfit. Now, this outfit wouldn't be so bad if it wasn't for the fact that Jess' t-shirt had literally holes in it. Her shirt was literally holy. No, they weren't the fashionable kind that are there simply for the aesthetic look. Rather, this shirt merely looked well-loved and worn in. She added an oversized grey cardigan on top and a pair of cotton joggers, which added to the casual vibes we're getting from this outfit.
Hey, we've all had holes in our clothes, and Jess's shirt could have totally ripped while she was out and about, so we shouldn't be judging. Usually, Jessica looks pretty and put-together, even on casual days, but we all have days where we just don't really care. Celebrities are no exception!
15

all eyes on her: The Dress That Makes A Statement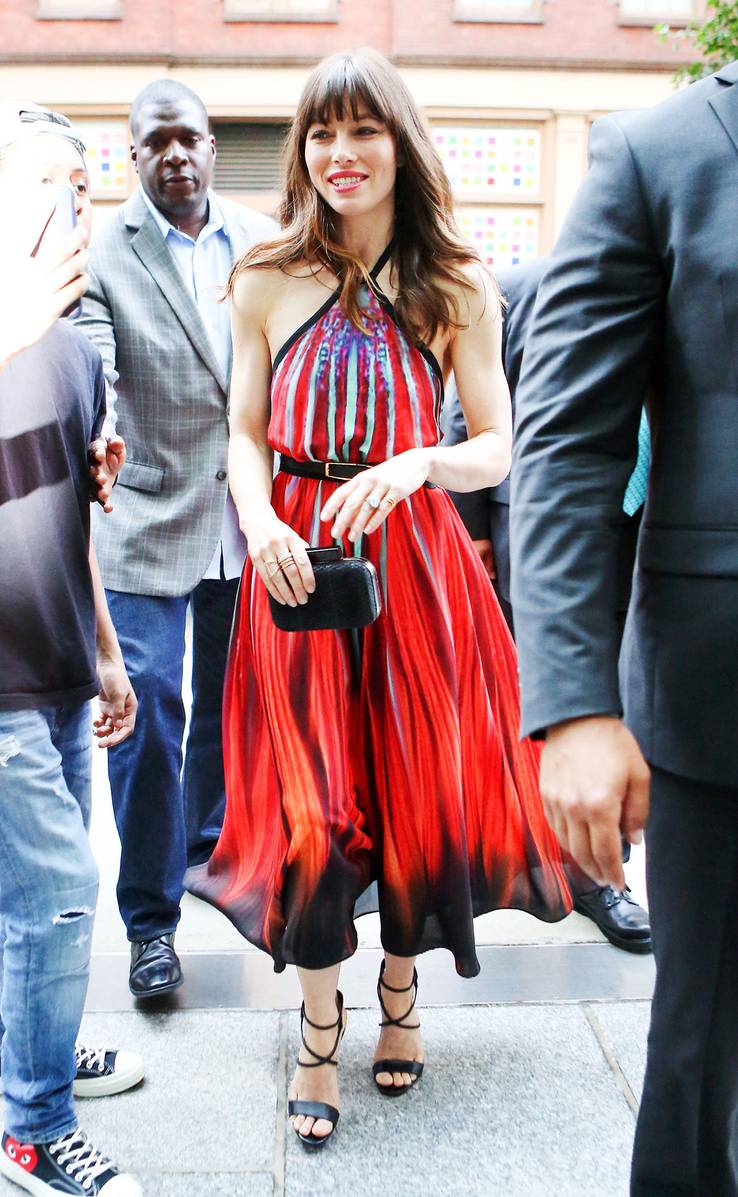 Jessica was absolutely radiant in this red dress that features splashes of blue, purple and white. The bright red complimented her dark brunette hair, which was styled down with blunt front bangs. Jess's strappy heels, black clutch, and matching belt pulled the outfit together. This girl has got a good stylist!
The celeb knows she's revered for her impeccable sense of style, but the celeb has been adamant that she was never interested in fashion growing up. Rather, she explains she had a rather eccentric childhood. Instead of simply dressing her Barbies in new outfits, she'd give them total makeovers!
"My Barbies were usually naked. Once, I took their heads off, cut their hair, drew on their short, spiky hair with some markers, then stuck the heads on Christmas lights," she explained. "Every year, we'd string our tree with those Barbie heads. It looked demonic. My parents were so cool – they saw it as a form of self-expression."
Clearly, Jessica now uses her acting and style choices as forms of self-expression nowadays, and we always love seeing what she comes up with! Does this mean that if we let our kids string Barbies on the Christmas tree they'll grow up to be as talented as Jessica?
14

wanted to look away: Blue Eyeshadow Is Never A Look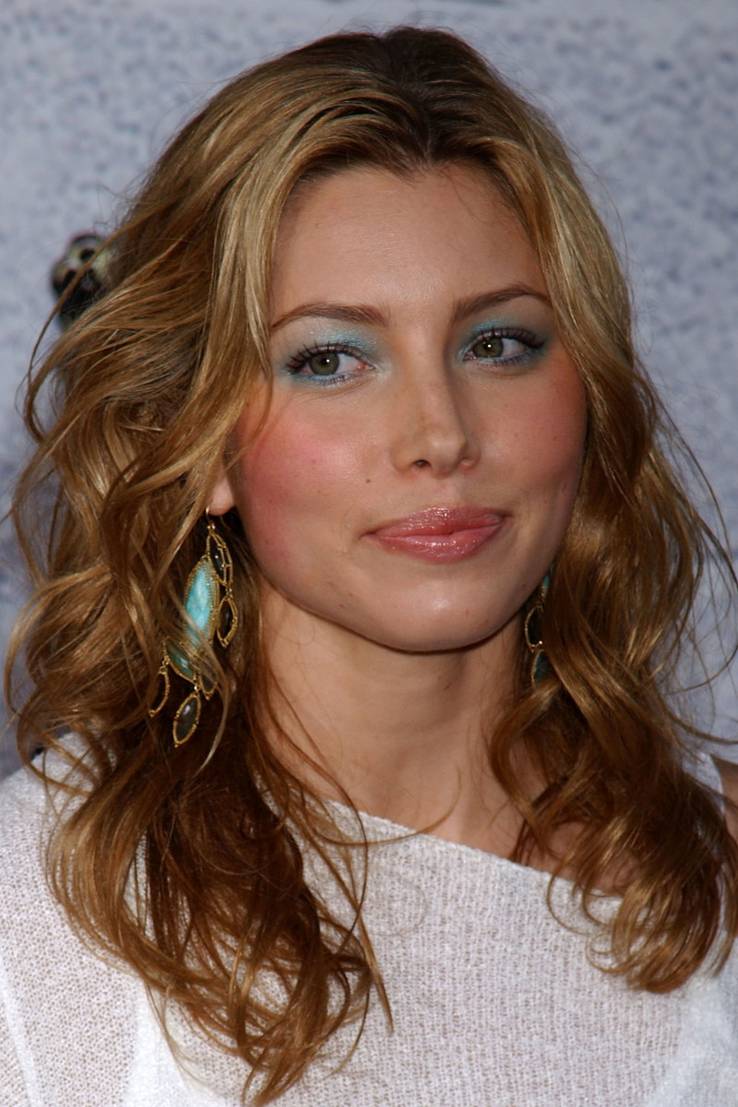 There's an old rule in the world of beauty that one should never wear blue eyeshadow- or at least do it sparingly. But clearly, Jessica missed the memo when she stepped out with this cringey eye makeup. The star's makeup looked messy and rushed with the metallic blue shadow spread all over and under her eyes. The fact that the shadow matched her big earrings only looked tacky, and her spotty foundation and heavy blush made this makeup look disastrous. Hey, no one's makeup can always look spot-on!
Jessica has never claimed to be a makeup artist- actually, she admits to just letting her beauty team do their thing when it comes to her red carpet look.
"I trust my makeup artist to apply dark lipstick, but I get nervous about reapplying it, so I'll just use gloss instead," she once said. "The last time I tried to reapply dark lipstick, I dropped it on my dress and it left a spot."
We're guessing that this beauty fail was probably done by a professional makeup artist, which is proof that even experts make mistakes. If there's one lesson to be learned it's not to wear blue eyeshadow, even if your makeup artist tells you its alright!
13

all eyes on her: Black Is Always A Good Choice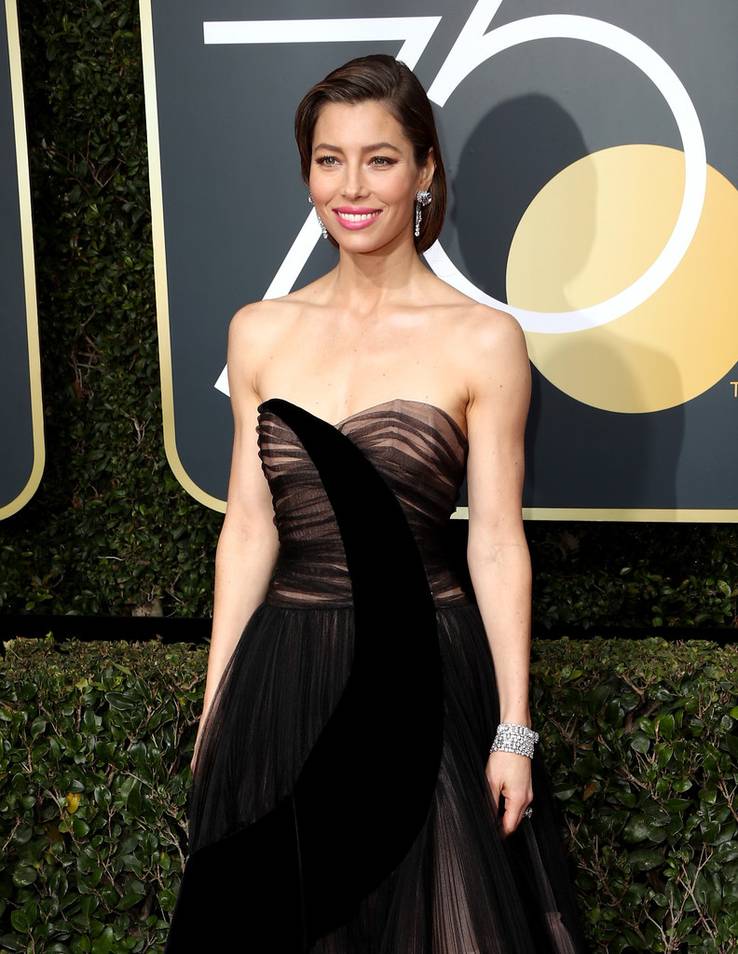 Slay girl slay! Jessica looked radiant in a black organza gown that she wore to the Academy Awards one year. The celeb looked chic with her sophisticated up-do and classic silver jewelry. The sweetheart neckline highlighted her toned arms and shoulders, while the dress's tight bodice flattered her slim waist.
The star has been open about how much preparation goes into red carpet events- and we're not just talking about hair and makeup. It turns out they have to work on getting their bodies in top shape for awards season, too.
"Five, six weeks or two months into the diet and the absolute crazy training regimen is a brutal nightmare sometimes," Jessica once shared. "But in the same breath, that's what is so wonderful about it because it's so structured and your body is changing and you're able to do things that you've never done before. You're stronger than you've ever been before."
Luckily for Jess, she says she's always enjoyed keeping active, so it's no problem for her! "I've always been physical. I have no concept of what life is like without physical activity," the actress once said. We guess that's why she has such a rocking figure!
12

wanted to look away: The '90s Want Their Look Back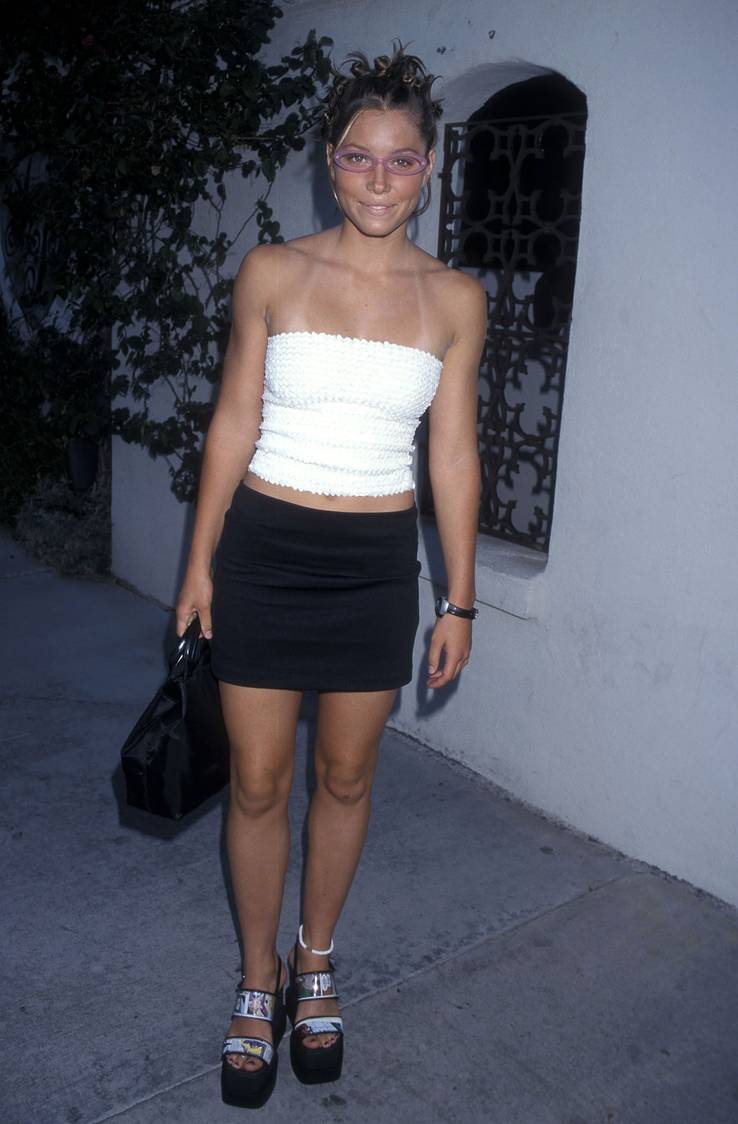 Jessica looked like a true child of the '90s when she stepped out in this vintage look. Her white strapless shirt showed off some major tan lines, while her tiny black skirt looked ready to pop off of her at any second. Jess's platform sandals, tiny pink sunglasses, and handbag only added to the retro vibes in this outfit. Her mini-space buns only added to the cringe-worthiness of this look. Back in the '90s, this outfit would have been pretty trendy. But, looking back on it now, we bet this is one look Jess wishes she was never photographed in.
One thing worth noting is how Jessica has managed to maintain her slim figure throughout the past two decades (and one pregnancy)! It definitely helps that the celeb is so passionate about maintaining her physical activity.
"I love the discipline. I love the schedule of pushing your body to an extreme and getting it to a particular type of physical shape," Jessica once said.
"Learning a new self defense or some kind of martial art that I didn't know before and the loving of that is also hating that at the same time." We wish we had the same enthusiasm about working out as does Jess!
11

all eyes on her: Looking Crisp In White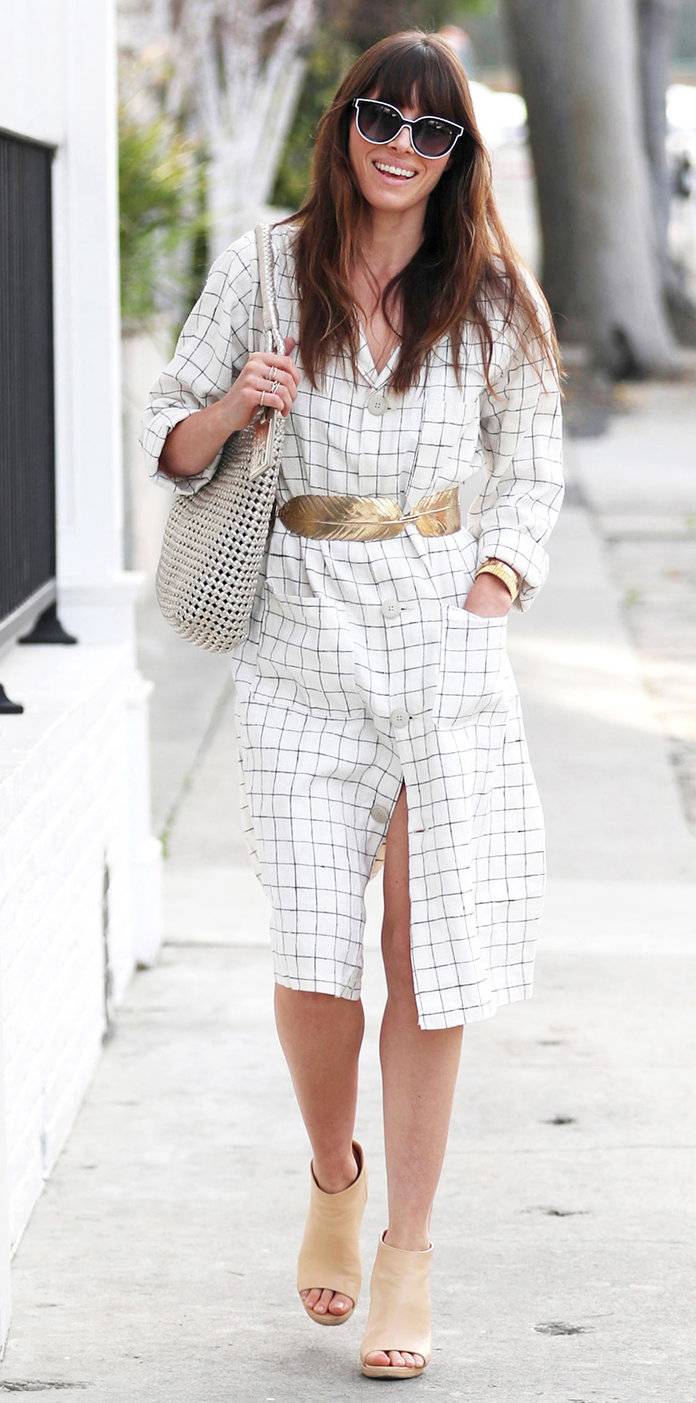 Jessica looked polished and pulled-together in this crisp, trendy outfit during a casual day out. The star belted a loose t-shirt dress with a trendy gold belt and accessorized with oversized sunglasses and nude mules. Her loosely styled hair and minimal makeup completed the fresh look.
"Being S*xiest Woman Alive definitely didn't just open all the doors for me, which I thought it would," Jessica has said about her status as a symbol in Hollywood. "I thought, 'This is going to be huge for me!' And it really wasn't at all." Despite all the attention she gets for her good looks and great sense of style, the star admits that she still has her insecurities. "Everyone has areas they're not comfortable with, and mine are my bum, thighs, and legs," she once admitted.
The celeb reminds her fans that no one is perfect, especially not here. "I'm not a perfect person who doesn't mess up, eat bad, not work out – I do all those things," Jessica has said. "It's just for the most part, when I'm working, I don't feel like I have the choice. I have to bring my A-game."
10

wanted to look away: It's Time For A Day Off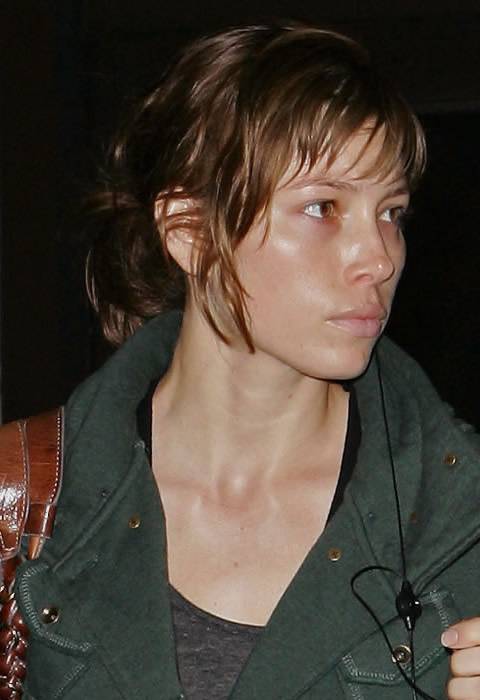 Jessica looked like she'd seen better days when these candid photos were snapped of the celeb during a casual day out. The actress looked slightly disheveled thanks to her messy hairstyle and oily, makeup-free skin. She had obvious bags under her eyes and looked like she'd been working hard (and needed a day off ASAP). Her casual outfit sure wasn't helping to help glamorize this look.
Aside from the red carpet, Jessica has admitted she's not as into beauty or fashion as her fans may think. Actually, she was pretty much a Tomboy while growing up.
"I've been involved with sports my whole life, which made clothes and makeup and handbags not that important as a kid. I just didn't care," she once said.
About her childhood, the celeb says she learned to play rough at a young age.
"I'm not squeamish at all," Jess has said. As a child, I dragged a dead squirrel home on my skateboard and cut it open and tried to look at its brain."
We love that Jessica isn't afraid to admit that fashion and beauty aren't her natural forte. Though, for someone who says she isn't into fashion, she has an incredibly impeccable sense of style.
9

all eyes on her: See, Sequins Can Be Classy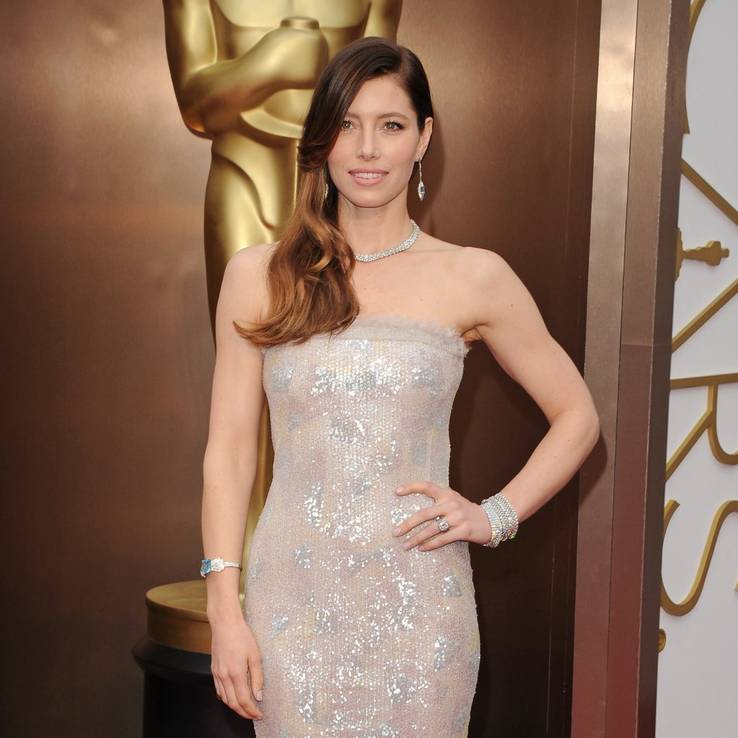 Jessica looked ethereal in a sparkly silver gown, which she wore to the Academy Awards a few years back. The tight, strapless fit of the dress showed off her impeccable figure, while the silver accessories finished off her feminine look. Her loose hairstyle kept the dress from feeling over-the-top or too flashy.
Despite looking like a total natural on the red carpet, Jessica admits she doesn't always feel like herself in front of the flashing cameras. Rather, she explains that it feels like she's playing a role in a movie.
"I don't feel very glowing, especially after wearing makeup – and not necessarily my choice of makeup – for 12 hours straight," she has said. "When I'm playing a character, her look is sometimes different from my own."
We can totally see where Jessica is coming from. It must get monotonous to always have your hair, makeup, and outfit looking perfect for every single event. And we're sure celebs have A LOT of red carpet events to attend. Plus, who likes worrying about having to always look your best for photos (ones that the entire world will see)? From what we can tell, Jessica is navigating the waters of Hollywood pretty well. Keep doing you, girl!
8

wanted to look away: The Definition Of Frumpy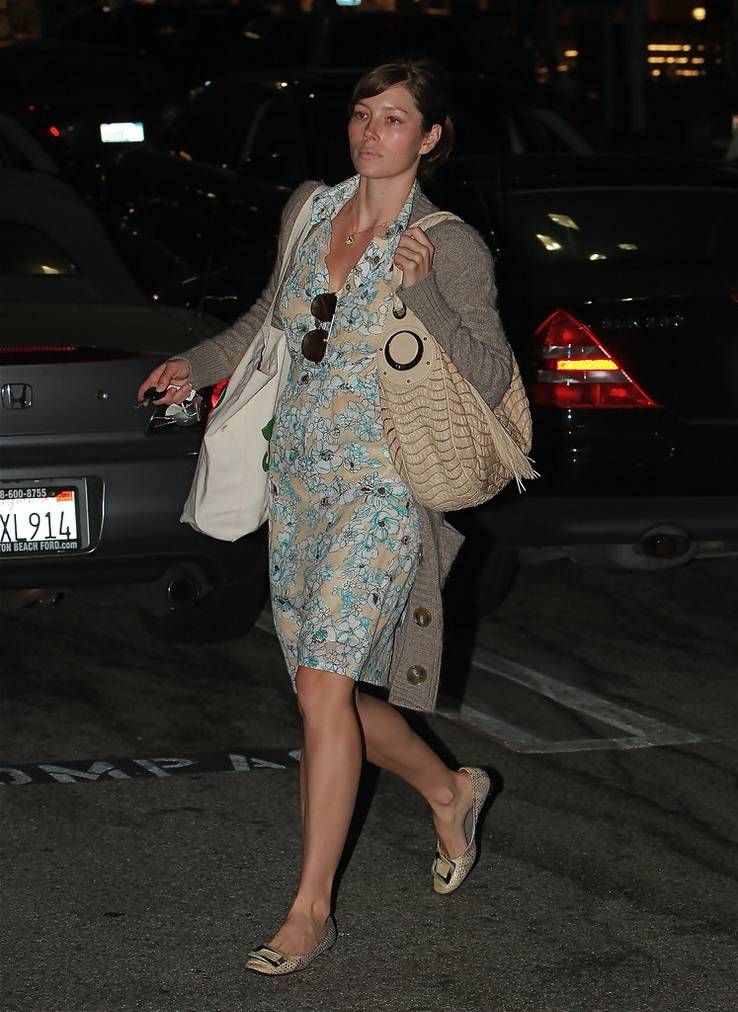 Jessica proved just how normal she can look when she stepped out in this casual outfit. The star didn't look horrible or strange. But what was unusual is how average she looked in the outfit- and by average, we mean that she looked like any other stranger you may see on the street without thinking they might be a celebrity. But in the world of fashion and beauty, that isn't necessarily a good thing.
The mom-of-one kept it comfy in a loose-fitting floral dress, which hid her slim figure due to its billowy fabric. She accessorized with a worn grey sweater and a pair of simple flats. Jessica sure had her arms full as she balanced two full bags on either shoulder. This isn't the glamorous side of Jessica we're used to seeing!
Jessica has been the first to admit that it's difficult trying to always fit into the Hollywood beauty standards. "You've got to love this business. You have to be able to take rejection," she has said. Interestingly, Jessica has said she thinks the reason she's never landed a romantic comedy is because of her athletic look. "I've never gotten to do romantic comedy like most of the girls," she once explained. "Maybe because I'm fit, people assume that I'm not funny?"
7

all eyes on her: Go Sheer Or Go Home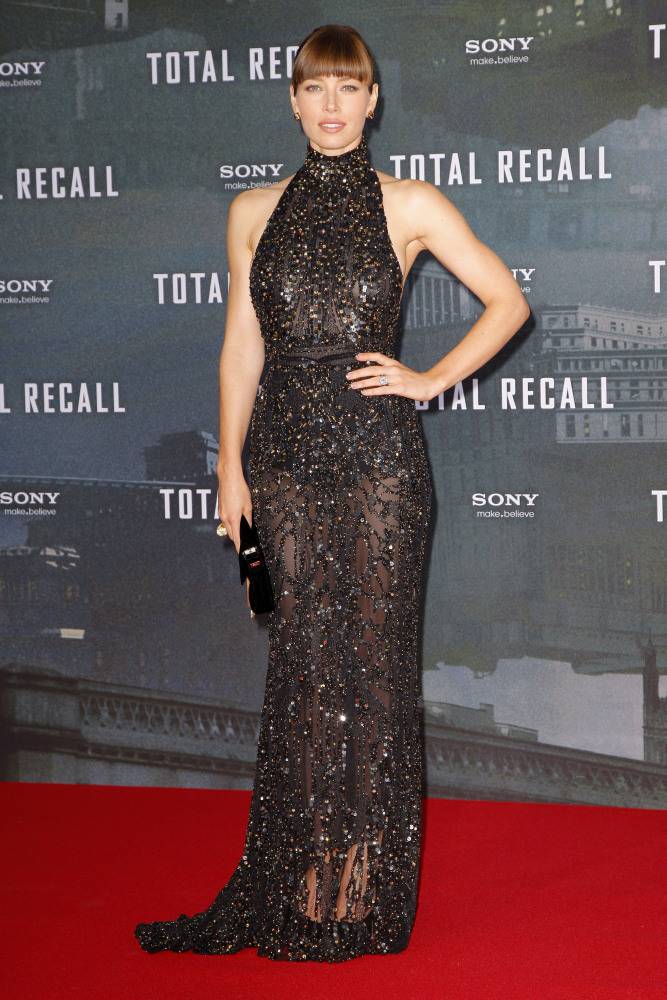 Call the fire department, because this girl is on fire!
Jessica looked her best in this stunning sparkly, sheer gown. The dazzling gown features intricate, eye-catching detailing that made Jess stand apart from the other celebs. The sheer bottom showed off her toned legs, and the figure-hugging cut showed off her slim frame. Her fringed up-do made sure all eyes were on her gorgeous gown.
The actress has previously admitted that awards shows and red carpet events aren't always as glamorous as they seem in photos. "In the car on my way to premieres and awards shows, I'll sit with tissue paper under my armpits so I don't soil the delicate dress fabric," she once dished.
"The whole time, I'm telling myself, 'Please don't sweat, please don't sweat.' I throw the tissues out right before I step out of the car, and nobody ever knows! I just put on a smile and fake it."
Clearly, Jessica's trick works since she always looks flawless on the red carpet! On another note, we don't want to imagine how stressful going to one of these events must be. Like, you have to worry about sweat stains on your dress? I'm too clumsy for that.
6

wanted to look away: Never Skip The Hairbrush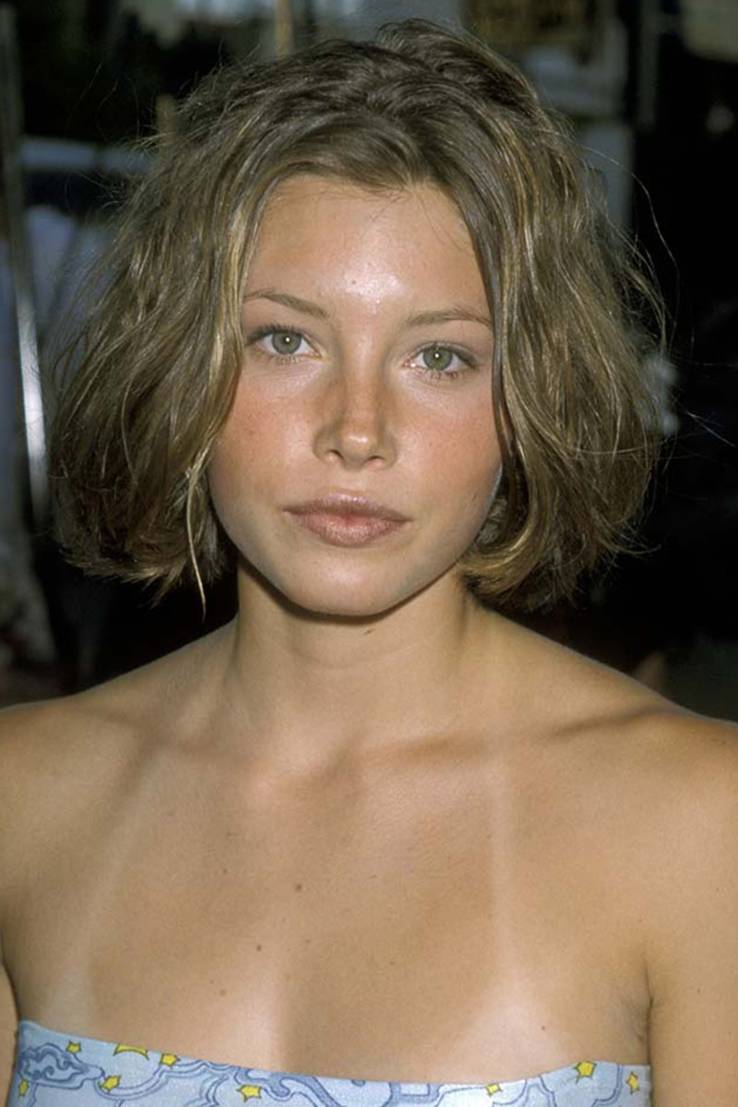 Jessica looked young and doe-eyed when this photo was snapped all the way back in the '90s- back when she was still starring on 7th Heaven! Despite showing up for a red carpet event, the actress looked a little worse for wear. For starters, her minimal makeup left her skin looking oily and tired. Clearly, contouring wasn't a thing a couple decades ago. But the worst part of this look has got to be Jessica's unkempt hair. Mind you, it was the style to have short, messy waves back then, though the same can't be said for now. We seriously want to take a hairbrush to this messy 'do ASAP!
Despite the tragedy that is this beauty look, one thing that hasn't changed is Jessica's eye-catching gaze, er, smile.
"Smile. Even when your life is at its worst, you never know when you'll meet the one who takes your breath away!" the starlet once said after being asked for her biggest piece of advice.
It turns out she also has a special trick when it comes to smiling for the camera. "My grandmother, whom we call Biel, thinks it's very unbecoming of me not to smile for the paparazzi," Jessica once revealed. "So every time I see them, I think, 'Smile for Biel!'" It's definitely working in her favour!
5

all eyes on her: A Little Bit Of Edgy, A Whole Lot Of Cool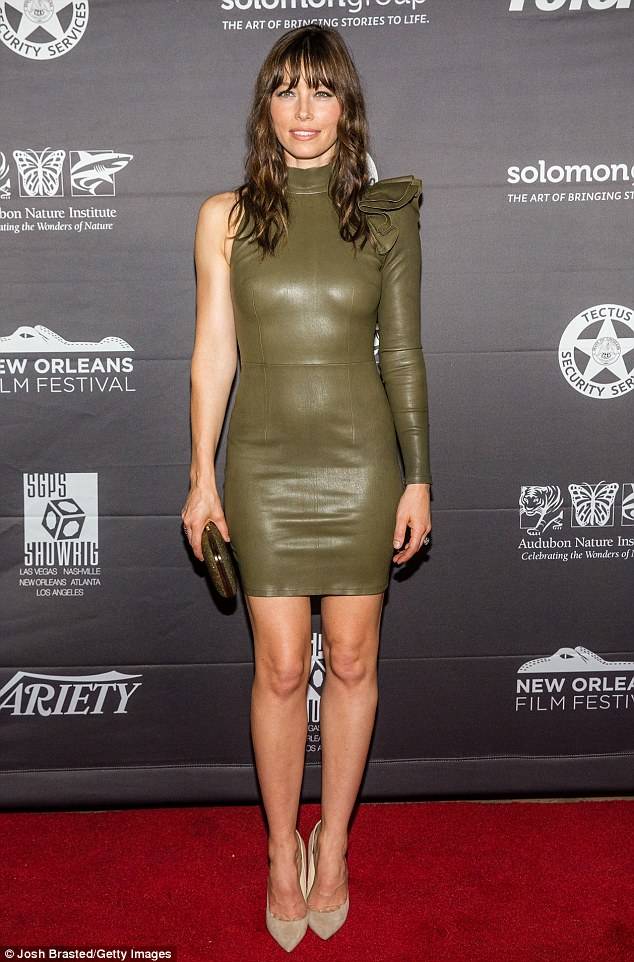 Jessica has never been known for having an overtly edgy sense of style. That's why we were all happily surprised when the star showed up to an event in this rock-n-roll inspired dress. Her olive green leather dress looked funky with its asymmetrical sleeve and ruched detailing on the shoulder, while her nude heels and gold clutch perfectly accessorized it. Jess kept the edgy vibes going by rocking a tousled hairstyle and heavy eyeliner. If we didn't know she was an actress, we'd totally mistake her for a rock star (maybe she's taking inspiration from her husband).
Although the celeb looks like a total natural in front of the cameras in this photo, the celeb has admitted that her line of work is pretty nerve wracking- especially when it comes to auditions. "As much as I hate auditioning – it's so hard and awkward – it's way better to walk out of that room and win a role because of what you did," Jessica has said about the process of scoring a role. Given how stunning and talented Jess is, we don't think she should feel any worry when going into an audition- if they don't give her the part, then it's totally their loss (and this photo is proof!).
4

wanted to look away: The Pants That Had No Waist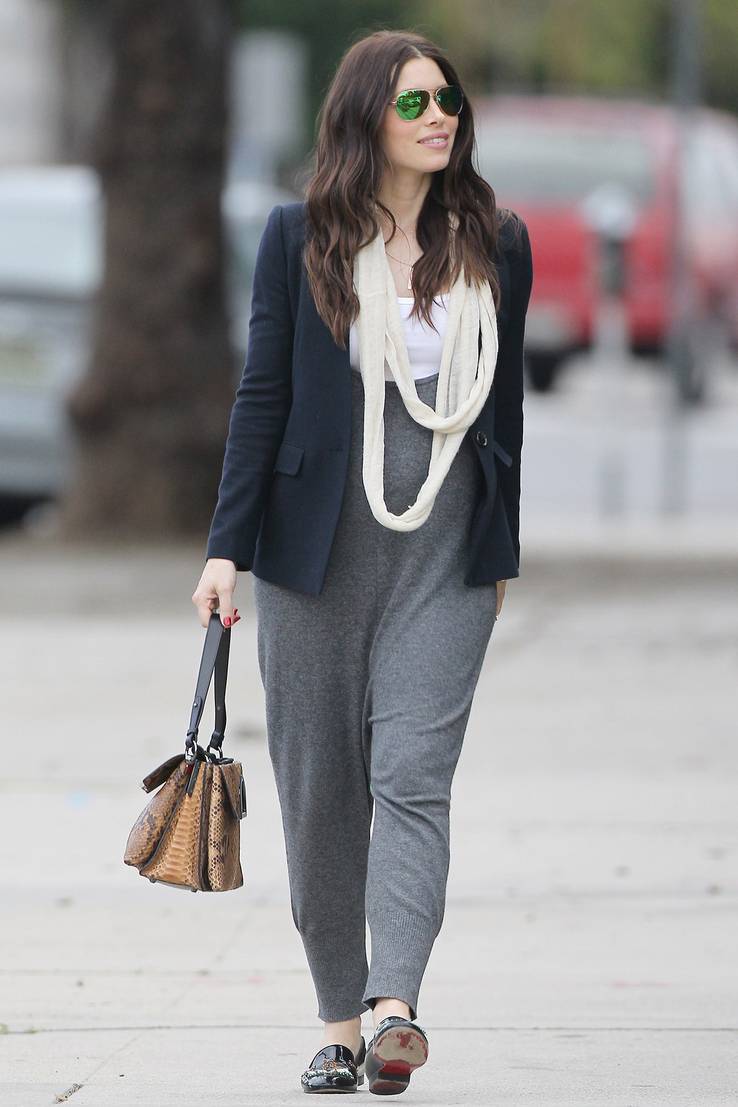 When the heck is going on here with those pants?!
During a busy day out, Jessica stepped out in this unique pair of pants that left many fans scratching their heads. The trousers almost looked like a pair of pajamas thanks to heir cotton material and bagginess. But the most ridiculous aspect of them was that the pants literally go up to Jessica's bust line. Most pants stop at the waist max but never before has there been a pair of pants to go up this high. Maybe Jessica was just wearing them wrong, or perhaps the designer had a vision that no one else can quite grasp.
Either way, Jessica seemed too busy to care about her looks. Since becoming an established name in Hollywood, Jess has been branching out into other projects aside from acting.
"I'm not going to give up doing interesting things. I'm going to do it as long as I possibly can and hopefully have longevity in this business," the celeb has said of her career path.
Even more, Jessica has admitted she's interested in writing scripts! "I'd like to start writing scripts. I think I'd probably be inclined to write a very dark comedy or a tragic romance. As a kid, I used to write really dark stuff," she has said. Maybe the next time we see Jessica's work on the big screen it will be as a writer rather than an actor!
3

all eyes on her: Being Dramatic Is A Good Thing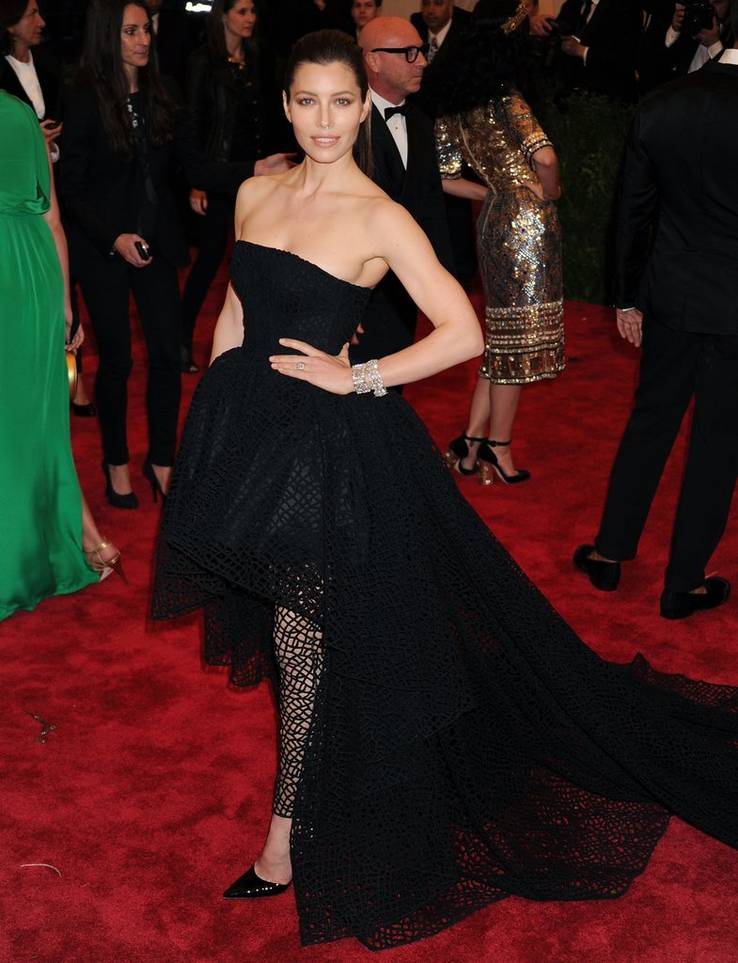 Jessica owned her dramatic side when she stepped out in this gorgeous black dress. The asymmetrical hemline, extremely long train, and mesh detailing were both vivid and eye-catching. Jessica kept the rest of her look simple with a chic, slicked back 'do and strong yet subtle makeup, so the focus was on her dramatic dress. The actress has admitted that she loves dressing up for the red carpet.
"I love being someone I'm not for a period of time. I love every minute of being in someone else's skin," Jessica has said.
At the same time, the celeb has never been afraid to speak out against the harmful beauty standards Hollywood perpetuates. "There is so much pressure to look a certain way in this town," the star has said. "But it's nice to have a little meat on you, and I hope I inspire women to appreciate their muscular calves," Jessica admits that she loves indulging in her favourite foods, and that we shouldn't feel bad for having a healthy appetite (or weight). "I do like potato chips, French fries and Barney's burgers in L.A. with seasoned curly fries," the celeb once admitted. We feel the same way too, Jess!
2

wanted to look away: Cue The Catholic Schoolgirl
Here's a very rare photo of Jessica as a teen! The celeb was decked out in her high school uniform, which included a pleated skirt, button-down shirt, and blazer. Back then, Jess was wearing her hair in a Tomboy-ish, short bob, and it looks like she also skipped makeup when heading to class.
The actress has never been shy to talk about her childhood, describing her parents as 'hippies' and detailing how she spent most of her youth in the great outdoors. Let's just say she wasn't the typical girly-girl we envision actresses to be!
"I was never one of those girls who dreamt of Prince Charming," Jessica once admitted. "To piss off my mom, I would say, 'I'm never having kids and I'm going to be a fabulously rich old maid with cute butlers and dogs.'"
On the topic of her childhood, the star has added, "I definitely had dolls when I was a kid. I don't remember being very thorough with them and making sure they got fed in my make-believe world." She continued, "A lot of Barbie haircuts were given, though. I had a Tamagotchi as well, but I think that thing died really quick. They were hard to do!"
1

all eyes on her: She Makes Glamorous Look Easy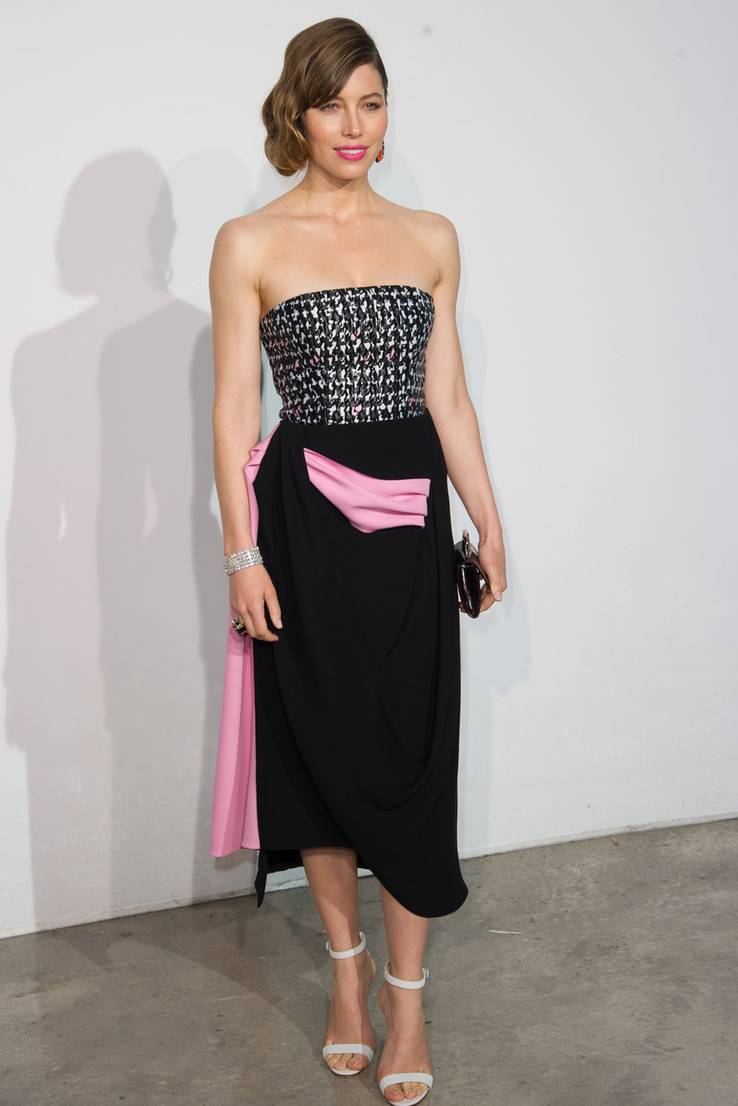 Jessica looked completely effortless (and flawless) when she stepped out in this unique, abstract dress. The strapless design showed off her toned arms, while the draped, tea-length hemline added a modern feel to the dress. The pink sash expertly matched Jessica's bright pink lipstick, and the unique hemline showed off her cute white heels.
Despite being known as a bombshell, Jess admits she doesn't like to go out of her way to appear beautiful. Rather, she thinks it's best if people learn to embrace their natural features and stand up for their beliefs. "My definition of s*xy is not just using what you got from God, but also that you represent what you believe in," Jessica has said. "I don't want people to think I'm sexy for what I look like, I want them to find me sexy for who I am and what I do."
While Jessica is undeniably beautiful, it's clear that she's also incredibly talented and intelligent. Not only do we love her style, but also we love her positive outlooks on life, health, and fashion. Hollywood needs more celebrities who are as humble, genuine, and stunning as Jessica. Justin Timberlake is sure one lucky man to have snagged this gem!
Sources: BrainyQuote.com
Source: Read Full Article