Gigi Hadid interviewed her sister Bella about fame and rumors, showing another side to the supermodel.
For such a long time, Bella kept a stoic expression for years whenever she was on set or on the red carpet. Her nonchalant, no-smile feature has become her signature look in the fashion industry. Many people had told her she looked mean, bored, and uninterested. In the interview originally published in Harper's Bazaar, Gigi commented: "I don't see you that way at all. I have my own vision of you as someone who is kind, friendly, and very gentle. Does the negativity on social media ever get to you?" To which Bella replied with:
"For a while, I fought a lot of battles—with myself, with people online—and it brought me down. When people would say, 'Oh, she's so mean,' I wanted to say, 'Maybe I've just had a bad day! Or maybe I've just been crying,' you never know what people are going through."
At one point in her life, Bella got very sick. She, her younger sister Anwar Hadid, and her mother Yolanda Foster were diagnosed with Lyme disease, an invisible disability that requires neurofeedback training to treat its condition. According to the International Society for Neurofeedback & Research, neurofeedback treatment involves monitoring and then training the central nervous system and brain activity. In 2015, Gigi's and Bella's mother uploaded a photo of her and Bella lying on the bed together while Bella receives fluids through an IV. While in pain, the model still carried on her job.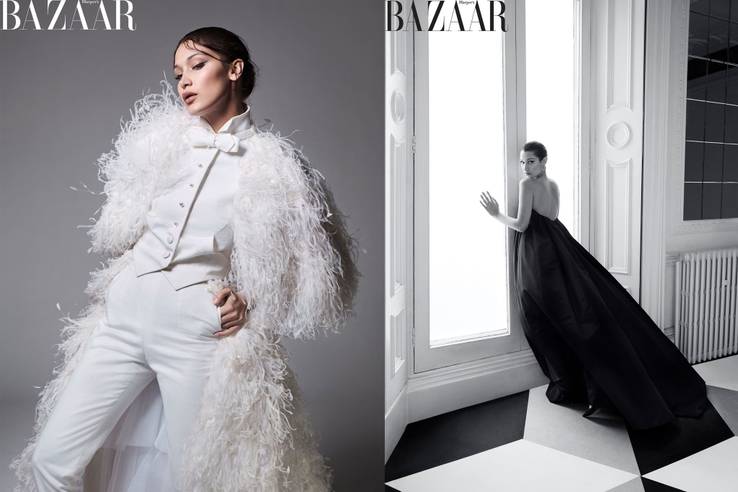 Bella said that she agreed with her sister Gigi—she is not the one-sided mean-face person that social media users presume that she is. In fact, she has a bubbly personality. She is cheerful, patient and compassionate. Bella is also a very friendly person.
"After a long day of work, you always remember everyone's name, and you always give people hugs," Gigi said. Bella traced her behaviors to their shared childhood. It was the way their mom taught them that impacts how the sisters react to the public, especially fans that made time for them. "Everyone's time is important. That's why I always stop for fans. They could be at home with their families, but they're not: They're standing outside our hotel in the cold just to give us a hug. That means something!" Bella told her sister during the interview.
"Another thing people don't realize about you is that you're a homebody," Gigi mentioned and Bella "totally" agreed to that description. She also mentioned that after such a long day at work, she won't be able to finish her duties as a public figure since she still needs to smile at around 40 strangers, paparazzi included.
The supermodels are now at the height of their careers. Attending fashion shows, parties, opening events; walking down the red carpet; surrounding themselves with people almost all the time, yet Bella enjoys staying in. She is the type of person who enjoys some downtime and surrounds herself with people that she loves.
❤2015-Watching my brave babies suffer in silence in order to support me in my journey has struck the deepest core of hopelessness inside of me, it is because of them that I continue to fight relentlessly……. I will not allow them to live a life of pain and suffering……. I will prevail and walk to the end of the earth to find a cure for them and millions of others debilitated by this invisible disease!!!! We all deserve to live a healthy life, don't you think? #LymeDiseaseAwareness #FightingTheInvisible #RealLifeProblems #SoulPower #WeMustFindACureAffordableForAll #RHOBH @bravotv @bravoandy @evolutionusa Link to MY BLOG on tonight's episode is in my bio-please check it out 🙏
A post shared by YOLANDA (@yolanda.hadid) on
She mentioned at Cannes that even though she came home mostly just to re-pack and go somewhere new, there is always a couch full of friends waiting for her. "My girlfriend go-tos are the girls I've known for 10 years and that have known me before all of this," she said. "My best friend Ally [Aflalo] has been my best friend since I was 14. My God sister, Olivia [Perez], who was literally in the delivery room when I was born, we lived together for two years in New York. They're just so proud of me, and when I get home, I just want a hug, and they're just always there."
Living in the spotlight, having each and every action of you scrutinized by the public will put all celebrities on their toes 24/7. The media has such a big impact in their life. Bella told her sister that in order to keep herself grounded and calm before any storms the media have to throw at her, she makes it a point to stay away from her phone for the first 30 minutes of each morning. She explained her reasons as a method to help her brain "start functioning before [she] get[s] completely overwhelmed by the media."  Another way for the Dior representative to stay centered amid of hectic time is listening to meditation music because it helped her "zone out and fall asleep." She also loves knitting, it's one of her deepest passions.
Bella recently mentioned in an interview with Insider that her no-smiling era is over. She is at the moment in her life where she is most centered. She has more control with her career, she is pleased with her position in the present. Now, she has something to smile for. She was reportedly saying that: "I'm such a people person, and I kind of lost that when I wasn't feeling well, so now that I'm back working all the time, getting to do press like this is really fun. I love interacting with people. I'm figuring myself out along the way." Another reason many fans believe that she is content at the moment is because of the potential reunion with her ex-boyfriend The Weekend. Sources spotted the two kissing at Coachella, and now at Cannes Film Festival. Although there is no confirmation from neither Bella nor The Weekend, many hopes that the two are back to be happy love birds.
Source: Read Full Article