While you surely have your go-to shades, this season's fresh offerings are here to up your sunglasses game. Just in time for all your warm-weather outdoor activities, we've zeroed in on the six sunglass trends to try this season, because nothing refreshes a look quite like a pair of statement shades.
So scroll on through; no matter your vibe — or face shape — there's a pair (or several) here you'll want to add to cart asap.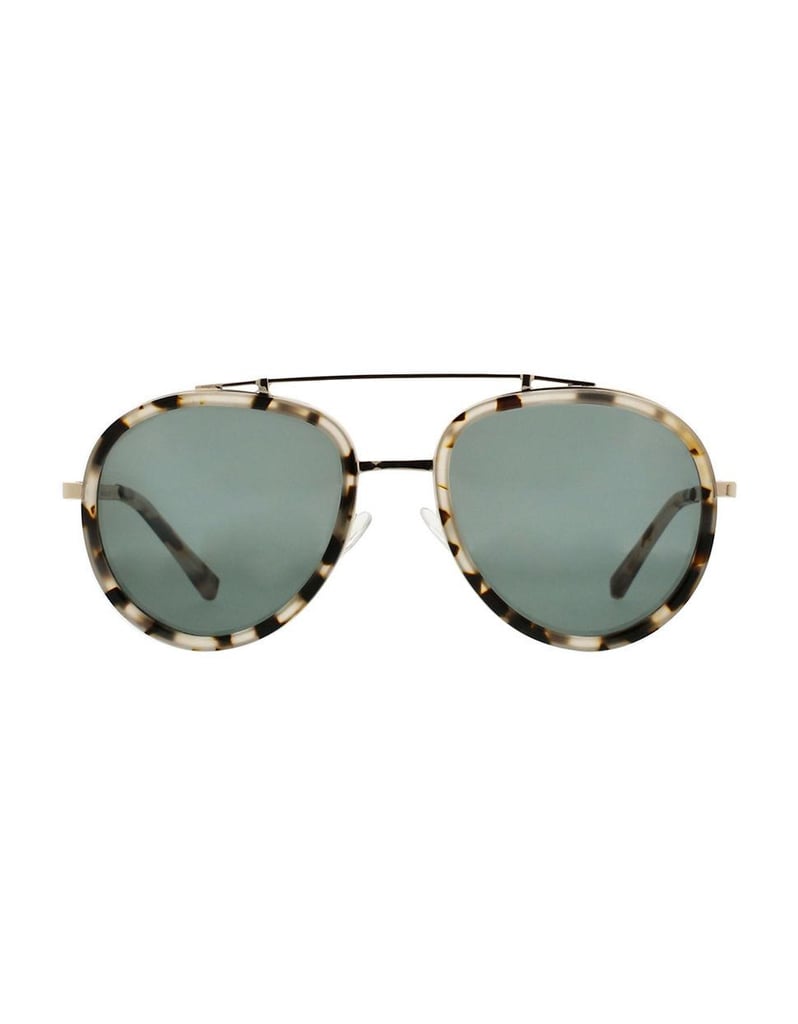 Why we love them: In throwback plastic and acetate, these '70s stunners give us all the Boogie Nights vibes. The bolder version of their classic, wire-rimmed cousins, these are total notice-me sunnies. Case in point? These Kendall + Kylie Jules 58mm Aviator Sunglasses ($170).
Warm up with these honey-tone Chloé Tortoiseshell Aviator Sunglasses ($310).
Having trouble picking a frame color? Don't. This ASOS 2 Pack Plastic Aviator Sunglasses With Flash Lens ($23) includes tortoise shell and black.
The hardware on these A. J. Morgan AJ Morgan Aviator Sunglasses ($19) makes them look way more expensive than their under $20 price tag.
Borrow from '70s cool with these Karen Walker Women's Jacques Sunglasses ($365).
The shape of these Wildfox 60MM Two-Tone Round Aviator Sunglasses ($56, originally $179) is super flattering and the neutral color goes with everything. Combined with the double digit price tag? Irresistible.
These Tom Ford Cedric Oversized Aviator Sunglasses ($475) are a take on the trend with classic appeal.
Get your Ron Burgundy on (minus the polyester) with these retro cool Marc Jacobs Mirrored Plastic Aviator Sunglasses ($130).
If anyone is committed to the '70s revival, it's Gucci. Into it? Try these GUCCI 57MM Mirrored Aviator Sunglasses ($400) with a neckerchief or a tie-neck blouse for good measure.
Go for a rich color in these ultra-flattering Stella McCartney Rounded Aviator Sunglasses ($285).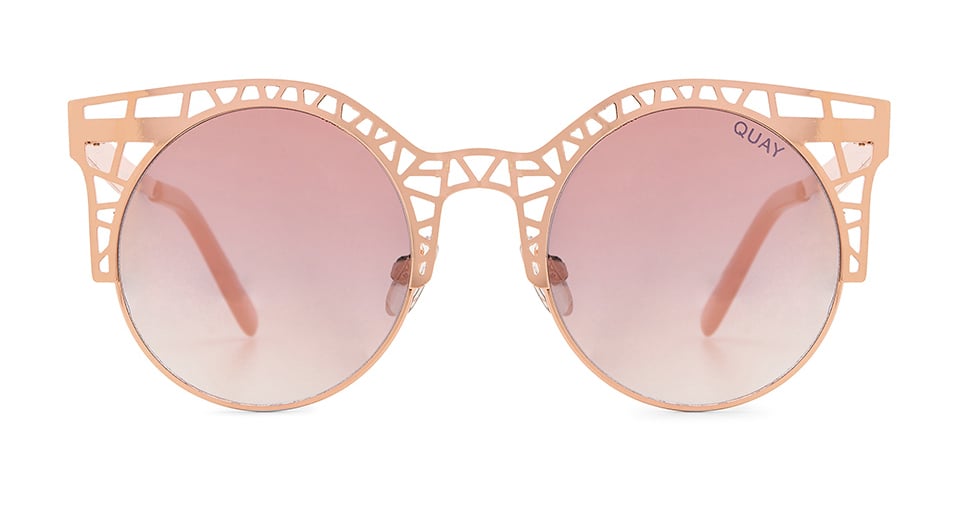 Why we love them:A little bit '70s, a little bit naughties (think American Hustle meets Bono), this season's colored glasses let you see the world through any hue you like. And yes, that includes rose, as per these Quay Fleur ($60) beauties. Choose whatever shape/color combo suits you for a quick and easy way to brighten up for Spring.
We're here for the old-school 3-D movie vibe of these Super by Retrosuperfuture Gals 50M Mirrored Square Sunglasses ($209). Popcorn not included.
Behold the power of millennial pink on these Illesteva Women's Leonard Mask Sunglasses ($190).
Everything will be sunny in these super fun Krewe St. Louis Sunglasses ($255).
Sonix Highland 61mm Square Sunglasses ($98) break up the blue with a dose of classic tortoise.
The purple lenses and pink frames of these Dior Sculpt Cat-eye Sunglasses ($395) make for a girly but glam mix.
The ability to transform from a cat-eye to a round silhouette makes these bold Fendi Removable Cat Eye Printed Sunglasses ($630) totally worth the investment.
These Forever 21 Replay Vintage Aviator Sunglasses ($28) let you hit two trends at once. Winning.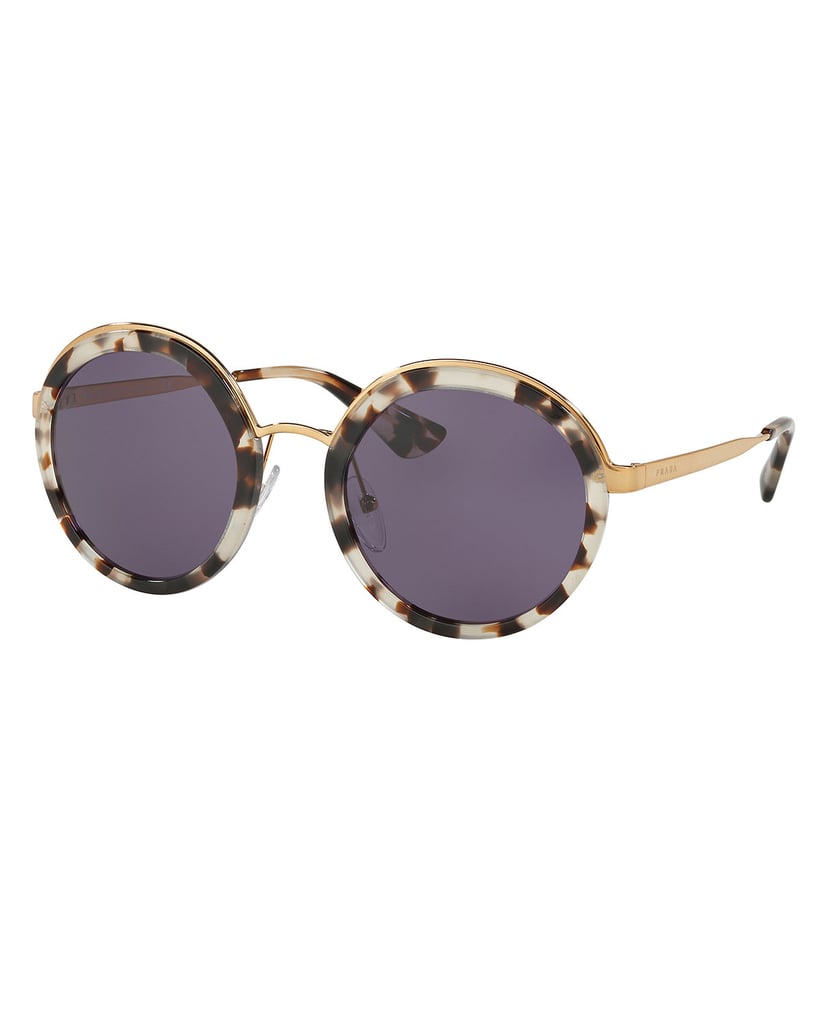 Why we love them: Sleek circular frames were all over the Spring runways and they totally work IRL, too. Get yourself a pair like these Prada Trimmed Monochromatic Round Sunglasses ($360) for a playful look that's street style worthy.
You'll be surprised how these retro-leaning Ray-Ban Oversized Round Blue Sunglasses ($175) transform your outfit.
The velvet trim of these luxe Miu Miu 48mm Round Sunglasses ($420) makes them total conversation starters.
Have fun and go bright pink with this pair of oversize Topshop Bevelled Round Sunglasses ($38).
Clear frames like these Raen Nomi Sunglasses ($180) are pretty much guaranteed to go with everything.
These Zanzan Mizaru Acetate Sunglasses ($147, orignally $210) are offbeat but ladylike. We dig it.
The subtle glitter frames of these Karen Walker Joyous Plastic Round Sunglasses ($250) are quirky without looking kooky.
Take the trend for a test drive in these blue on blue Marc Jacobs 54mm Round Sunglasses ($170).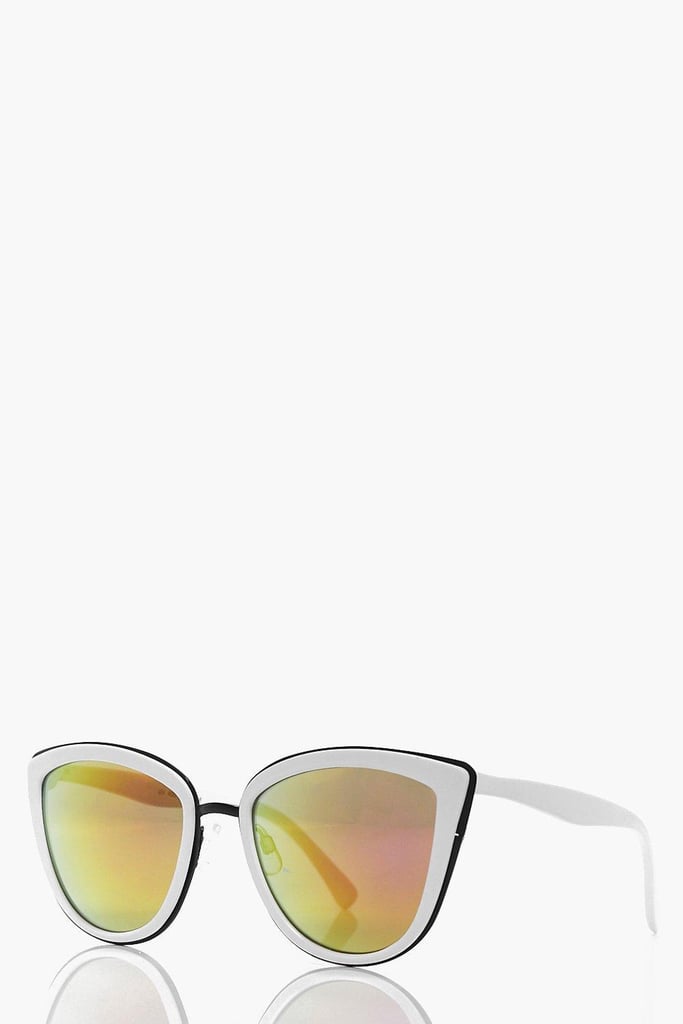 Why we love them: Classic cat eyes look good on pretty much everyone; hence, their evergreen status. For Spring 17, go super retro with thicker rims like these Boohoo Connie Revo Lense White Cat Eye Sunglasses ($14) or whatever color suits you.
Black frames look anything but basic with pop color lenses like these Illesteva Boca Cat-Eye Acetate Mirrored Sunglasses ($220).
Go Palm Springs retro in these Sole Society Pearl Frosted Cat Eye Sunglasses ($40) — perfect for convertible weather.
Whole outfits are made with statement shades like these Westward Leaning Fhloston Paradise 1 Cat-eye Acetate Sunglasses ($275).
Channel your inner SoCal chick in these GX by Gwen Stefani Women's Full Rim Cat Eye Sunglasses ($60).
Rounder frames in baby pink soften the typically dramatic cat-eye. Go for the girly in these D'BLANC Modern Lover 49mm Cat-Eye Sunglasses ($170).
With all the money you saved shopping her Target collection, consider investing in these Victoria Beckham Layered Cat Sunglasses ($530).
You'll be anything but invisible in these see-through Thierry Lasry Wavvvy Cat-eye Acetate Sunglasses ($580).
If you're into darker frames but want to veer away from black, try leaning into color with these Perverse Dahlia Dark Green Cat-Eye Sunglasses ($50).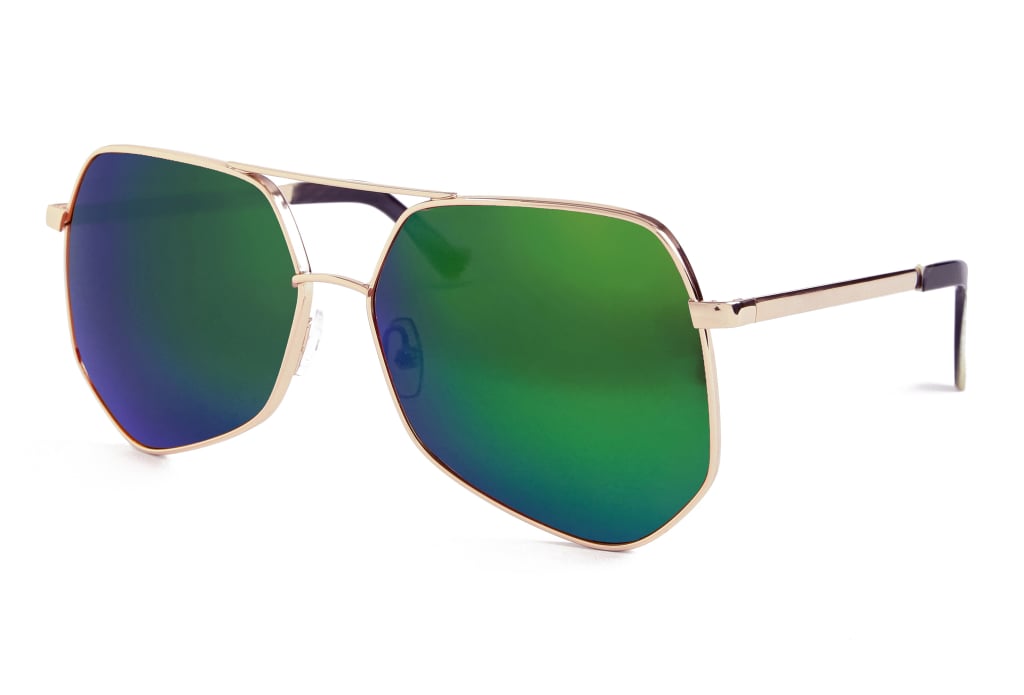 Why we love them: Picking an angular, outside-the-box silhouette (literally) like hexagonal or pentagonal frames adds a dose of quirky cool to any look. These Grey Ant Megalast II Aviator Sunglasses ($420) are a next level take on a classic style.
These days there's no such thing as too much pink and these tonal Karen Walker Jacinto Sunglasses ($315) are proof positive of that.
Soften the angular shape by going rimless in these Linda Farrow Luxe Geometric Sunglasses ($695).
Go sleek in black and gold Dolce & Gabbana Hexagonal Aviator Sunglasses ($240).
Missoni Women's Wire Embellished Hexagon Sunglasses ($120) are eccentric without being off the wall.
Everything's rosy inthese Bonnie Clyde Figueroa Sunglasses ($74)
Whether you're festival hopping or beach bound, these ASOS Hexagon Sunglasses In Rose Gold ($22) will be your instant summer outfit makers.
Why we love them: The silhouette made iconic by Kurt Cobain is proof that '90s redux is still going strong for Spring. And whether your vibe is girly or grunge, there's plenty to choose from, including these Sunday Somewhere Kurt Oval-Frame Acetate Mirrored Sunglasses($250), named after the man himself.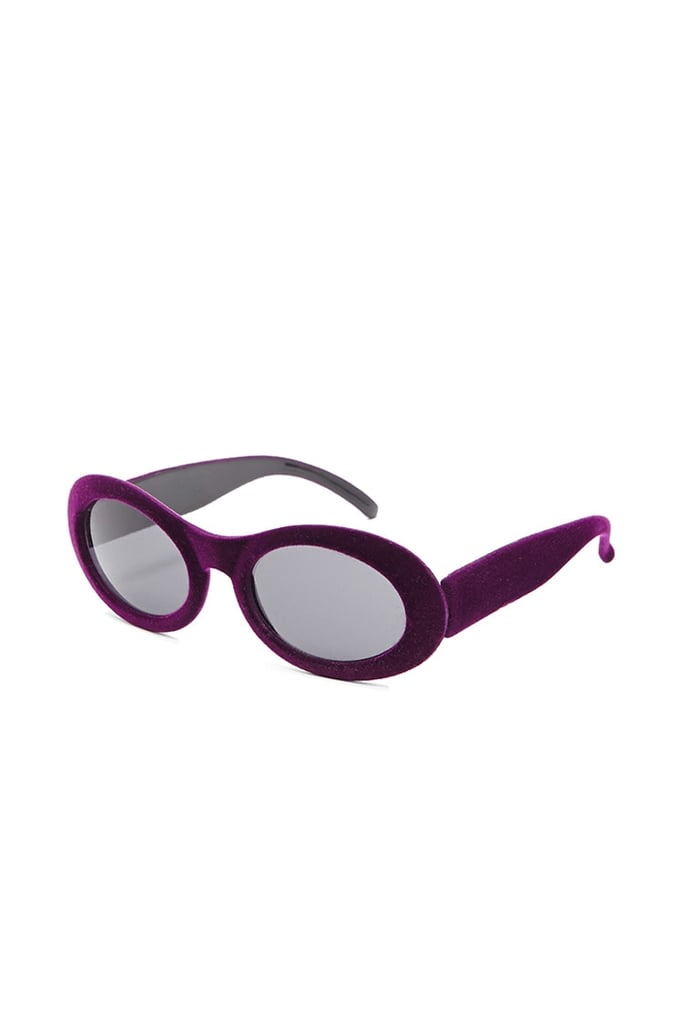 Play with texture with these velvetForever 21 Replay Vintage Oval Sunglasses ($18).
Just throw on these Krewe Iris Gradient Oval Sunglasses ($295) to add instant wow factor to any look.
These Saint Laurent Ivory SL 98 California Sunglasses ($345) have got us experiencing eyewear nirvana. (See what we did there?)
Keep it classic in these ASOS Oval Sunglasses ($19).
The ultra retro Elizabeth and James McKinley ($185) is a favorite of the celeb set, including Kendall Jenner.
In rich burgundy, these Oliver Peoples Parquet Monochromatic Oval Sunglasses ($420) hit a sophisticated note.
Source: https://www.popsugar.com/fashion/Sunglasses-Trends-2017-43430885