Just like how underwear comes in different styles, so too do bikini bottoms. The cheeky, the high waist, and the hipster are some terms you may have heard of. Not to get all technical, but when you shop for body-flattering swimsuits, you should be somewhat familiar with the different styles. They play a role in your overall look! Though bikini bottoms can be an amalgam of two styles (you can wear a high-waisted bottom that also has a deep-V cut), we've narrowed down the categories to six common selections. These are the ones you'll come back to time and time again.
Hipster
High-Waisted
Cheeky
High Cut
Boy Short
Classic Bikini
Related
8 Swimsuit Trends You're Going to See Everywhere in 2017
For ladies with a narrow waist or small hips, the hipster-style bikini bottom will be your savior. This style sits lower on the hips and comes in various designs, from side ties to ruffles, which are on par for Spring. It gives you the same coverage as a classic bikini, save for the flattering cut at the . . . hips! Give this marigold color from Heidi Klein ($125) a try.
What's a better way to show off your hips than to draw attention to them with ruffles? This striped bottom ($25) works for the playful gal.
Simple and classic, this is J.Crew's ($44) take on the hipster style.
Both Taylor Swift and Gigi Hadid are fans of the high-waisted bikini style, which embodies a retro vibe. The cut provides ample coverage of your lower half and you can find the swimsuit across all retailers. That's better for you because the options are endless. Our first pick? This Mara Hoffman indigo print bottom ($125) meant for a day at the pool or beach.
Thankfully, Kiini ($135) makes high-waisted styles too, and we love this white one with neon trimming.
If you're looking for a two-toned option, go with Solid & Striped's Brigitte bikini bottoms ($78).
Just like the name, a cheeky style shows off your best (ahem) assets to the world. While the front is a traditional triangle cut, once you turn around, the back gives that sexy buttock cleavage. If you've been hitting the gym a lot, we suggest showing off your hard work in a pair of Same Swim's cheeky bikini bottoms ($185).
The ruched back on Victoria's Secret's Itsy Bottom ($23) is a great little detail if you're searching for something unique.
Made from Italian fabrics, Fella's swimwear bottom ($75) already seems as luxurious as it looks.
There's no doubt swimsuit bottoms with a deep-V cut are popular for Spring and Summer. The style is super flattering because it sits high on your hips, giving the illusion of longer legs. Bella Hadid has several pairs, indicating it may be time for you to finally invest in one too. Test out the bikini bottoms with an affordable option from Forever 21 ($13).
Minimalists will appreciate this beige option from Asos ($19).
Agent Provocateur doesn't only make lingerie. The brand also offers sexy swimsuit styles ($145), too.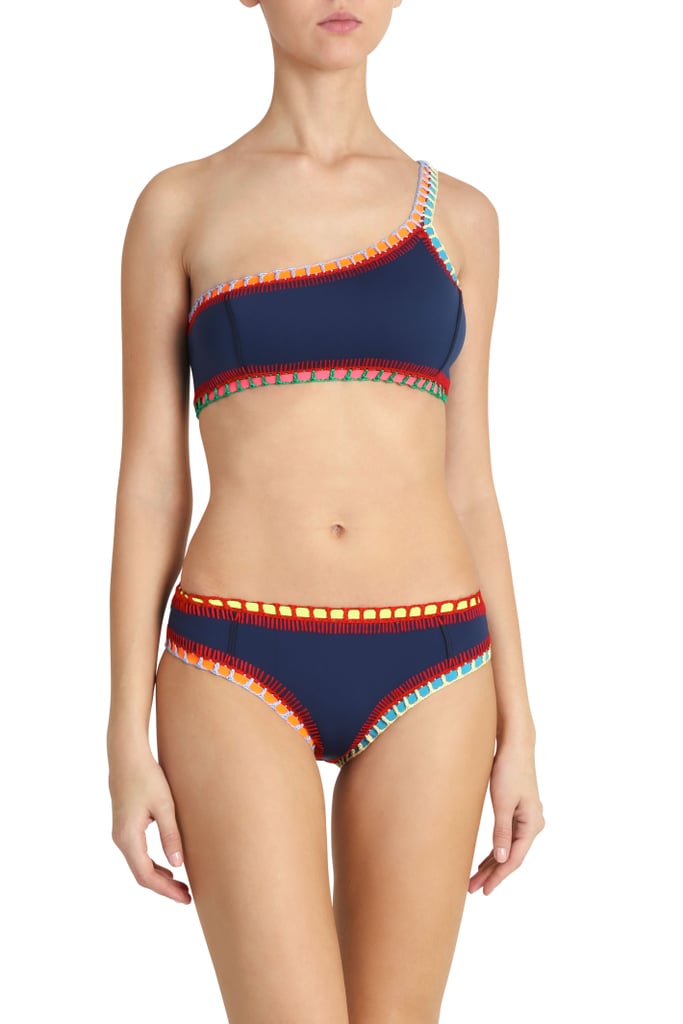 Much like the name, boy shorts have a tomboy quality to them. The athletic style speaks to ladies who aren't into a cheeky or string bikini. That said, current selections can also be pretty flirty and girlie, with offerings in bright colors and even side cutouts. This one by Kiini ($129) is the perfect example.
Love being active on the beach? We suggest wearing boy short swimsuits ($13) to keep the bottoms from riding up.
When someone tries to tell you the style isn't cute, just show them this cutout bikini bottom ($108).
Most of us have probably owned the classic bikini bottom at one point or another. Your's might have come with strings to tie at the sides or just a simple slip-on style. They're perfectly proportional and you never have to worry about exposing too much. You won't regret buying one in a rose print from Dolce & Gabbana ($255).
Allergic to color? We recommend the classic string bikini in black from H&M ($13).
For the trendier girl, try Marysia Swim's scallop bikini ($141).
Source: https://www.popsugar.com/fashion/Types-Bikini-Bottoms-43423222