If Meghan Markle's Mom Is Wearing Burberry to the Wedding — OMG, What Does It MEAN?

Meghan Markle's mom, Doria Ragland, is one of the many special guests attending her daughter's wedding — but of course! The two share a close relationship, and it's safe to say Meghan, or perhaps her stylist, Jessica Mulroney, had a hand in assisting Doria in her search for the perfect dress to fit the established dress code. Burberry is one of the designer names that's been tossed around when it comes to predicting Meghan's gown — either her first or second — and Meghan's worn the label before.
So, it makes perfect sense that Doria was spotted with a garment bag from the British fashion house on her way to LAX to catch a plane for her trip across the pond, that sure-to-be-beautiful Burberry garment in tow. Does that mean Burberry will dress various other members from the bridal party? We can't know for sure, but we do feel confident that Doria is bound to impress the queen with her chosen look, no matter what her role in the ceremony may be.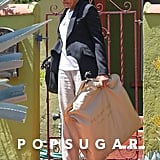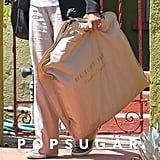 Source: Read Full Article