Stars Wars branding is off the charts RN, with Solo: A Star Wars Story set to hit the multiplex on May 25. So many fashion and beauty brands are dropping Star Wars-themed products. Last night, actor Thandie Newton wore a custom, Star Wars dress by Vivienne Westwood on the red carpet at the Cannes Film Festival. But it wasn't simply depictions of or inspo taken from the most familiar characters. Newton and the designer found a clever, fresh, and touching way to pay tribute to the black actors and characters that are critical to the franchise.
It was also a brilliant way for Newton to celebrate her own work in the film. She is the first black actress to have a starring role in the franchise. She marked the occasion by making a statement with fashion and honoring those who came before her.
Newton's gown had a mullet silhouette. It was short in the front and long in the back, with a train. According to PEOPLE, the frock featured renderings of figurines taken from the actor's personal collection. Wow, right?!
The dress immortalized Samuel L. Jackson, who portrayed Mace Windu, along Forest Whitaker's Saw Gerrera, Hugh Quarshie's Captain Panaka, John Boyega's Finn, and Billy Dee Williams' iconic Lando Calrissian.
What a lovely gesture on Newton's part — both literally and figuratively.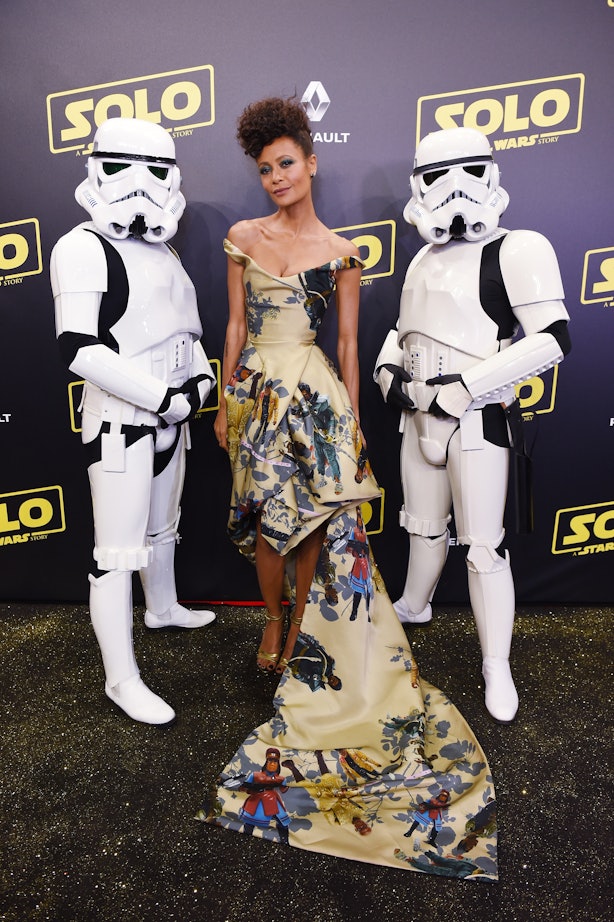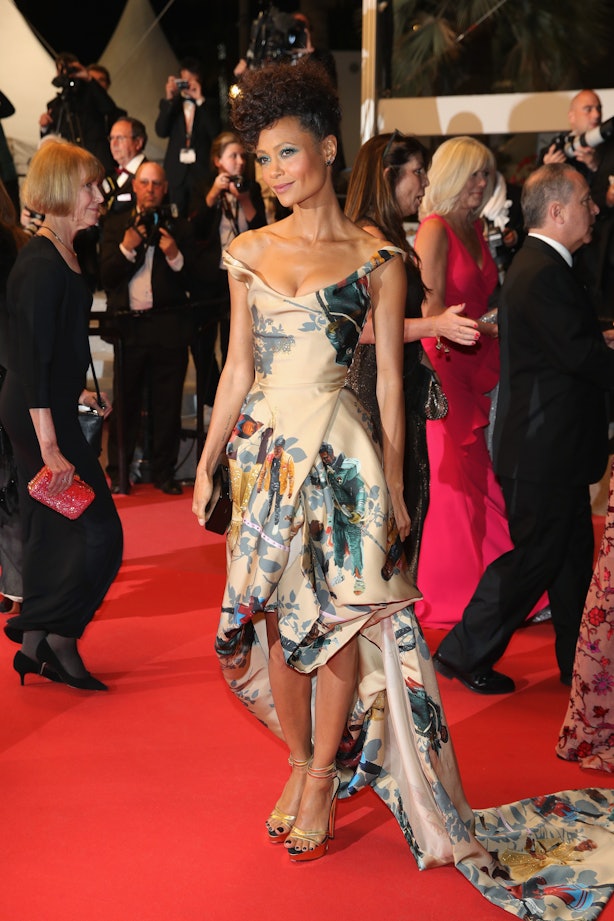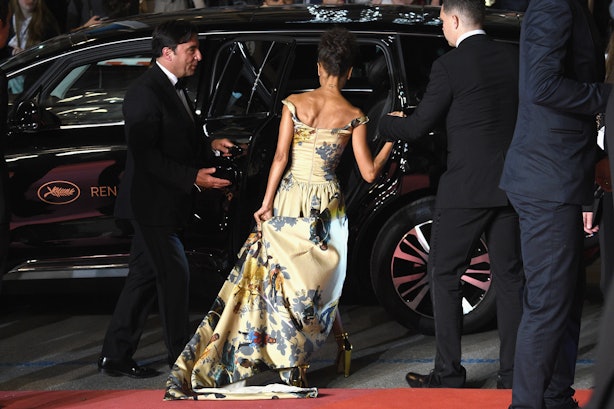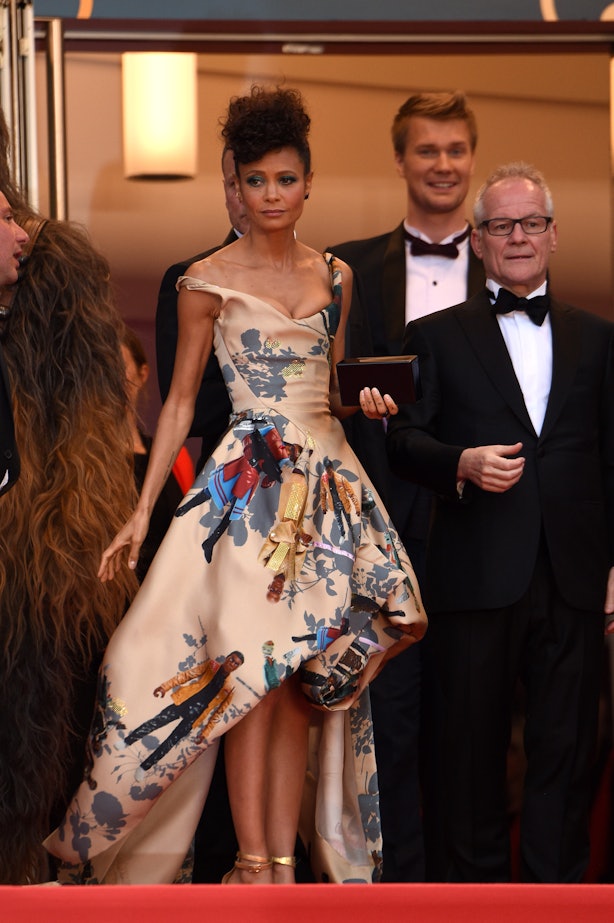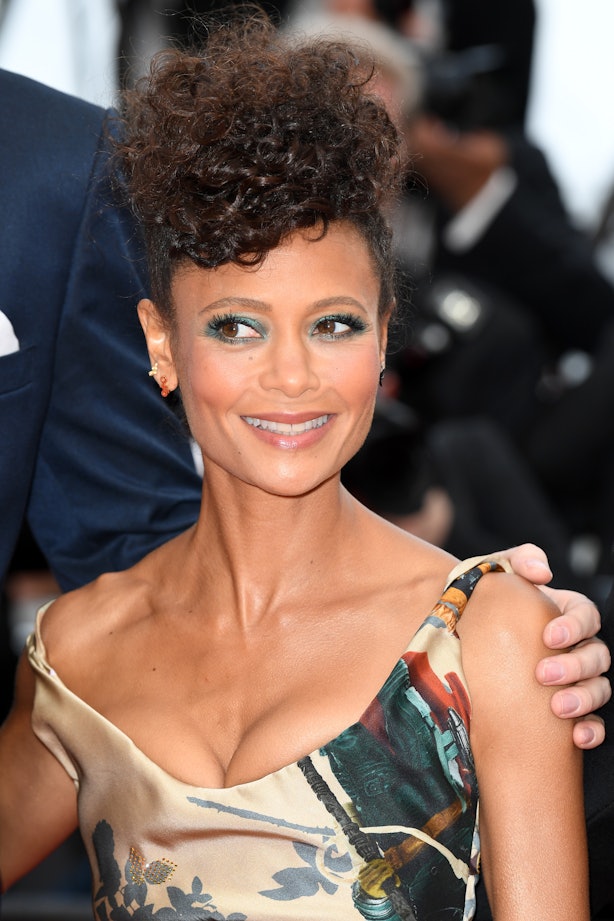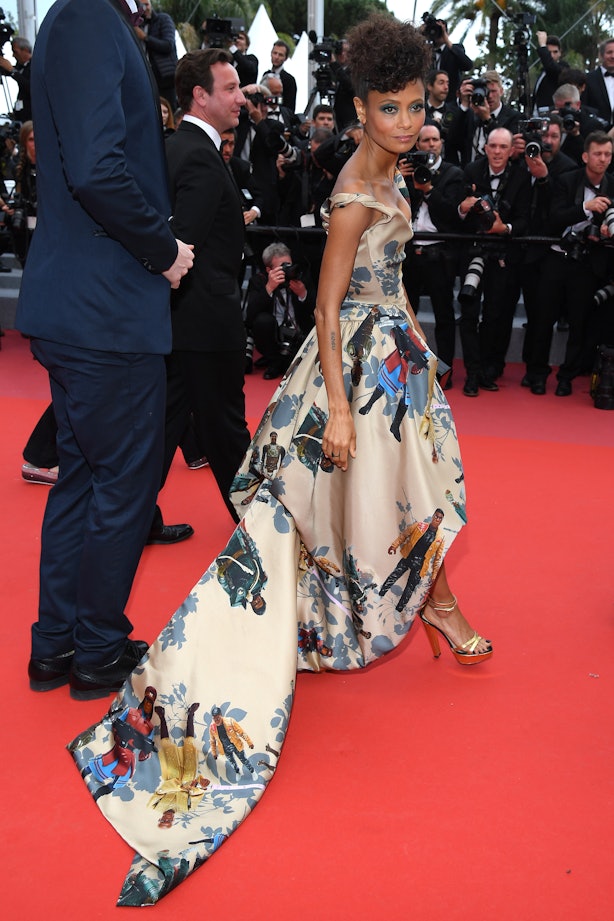 The dress effectively played with volume and was super versatile — it looked entirely different from every angle. Also, Newton's chunky and strappy gold heels had a '70s vibe. Her footwear worked perfectly with the aesthetic of her dress. Can we also take a second to talk about how awesome it is that Newton owns a collection of Star Wars action figures? Her nerd chic is next level.
This Twitter user certainly agrees. Of course social media was abuzz about Newton's dress How could it not be?!
Newton made a serious fashion move and served up a lewk.
This tweet sums up all of the feels. You could literally not care about fashion one bit but still be totally moved by this dress.
Newton clearly won the red carpet, Cannes, and the Internet with her Star Wars dress. There was so much thought and consideration put into it. Factor the personal collection into the design and we're blown away on every level.
Since you can't cop this dress for yourself, there are plenty of other Star Wars-branded collabs available.
The Kipling x Star Wars bag collection is loaded with adorable and wearable accessories and bags.
The Terez leggings collection lets you run errands or work out while displaying your fandom.
The fashion force was most definitely with Thandie Newton and her Vivienne Westwood dress. It can be with you in other ways!
Source: Read Full Article