The release of Deadpool 2 is just right around the corner. It's so close that we can almost taste it. No one was quite sure how people would take Deadpool when he first came on the scene, he's not like other Superheroes, in fact, he has no interest in being one. He's just out for revenge. But the first movie turned out to be a financial and critical success. It was also completed on a small budget which made producers even happier. Ryan Reynolds, with his amazing sense of humor, made Deadpool what he is today and now we are gearing up for the second instalment of what could be a very cool franchise. How could we not love a movie that is as different as Deadpool is? We're used to superheroes who are out doing things for the good of mankind and that's just not Deadpool's goal.
It's been two years since the first one came out, but everyone is still pretty hyped to see it hit theatres. We are sure that it's going to be worth the hype and more. We are sharing Instagram photos and other shots from the movie. If you are hyped to see the movie, then you are sure to love these behind the scene photos of the movie and some fun things that went on while the movie was made. Check out these 25 behind-the-scenes photos of Deadpool 2 every Marvel fan should see.
20

Josh Brolin Shows Off His Good Heart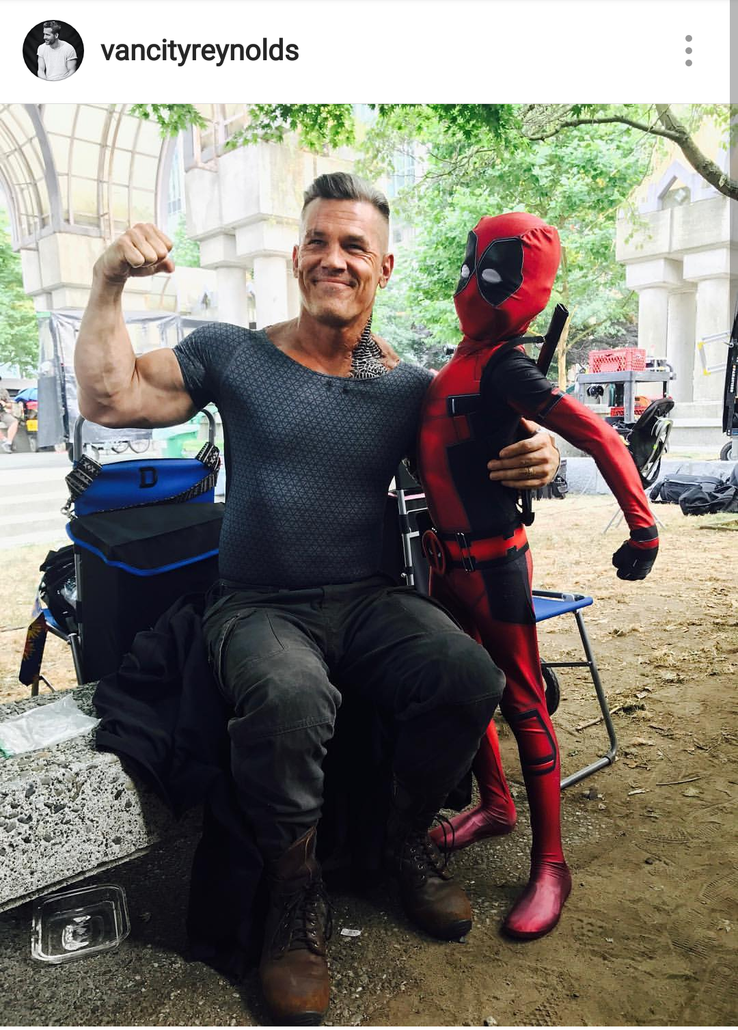 Here's a great photo of Josh Brolin and Ryan Reynolds together on the set of Deadpool 2. Oh, wait a minute — that's just Brolin with a young fan. Many people were skeptical of Josh Brolin playing Cable in the movie mostly because he had just finished playing a mad tyrant in Avengers: Infinity War. It wasn't long before he proved that he was the right man for the job. We do have to ask, when did Brolin get so jacked? His muscles are insane right now. This is a cute picture that actor took with a young fan and we just love the cute little Deadpool costume. Brolin understands what it means to be part of a superhero franchise and he's doing a great job with the fans. You may not be aware of it, but Brolin has always had a crush on Ryan Reynolds, way back to when he played alongside Sandra Bullock in The Proposal. He told EW,
"I was a secret fan of 'The Proposal,' having watched it several times by myself. I told Ryan. I was like, 'I don't know why this is, and I don't know what this means psychologically, behaviorally, emotionally, but I have kind of a crush on you.'"
Reynolds, however, isn't too sure that he believes it. "He's mentioned it many times, which is weird to me because he's so tough," he responded.
19

A Visit From Salma Hayek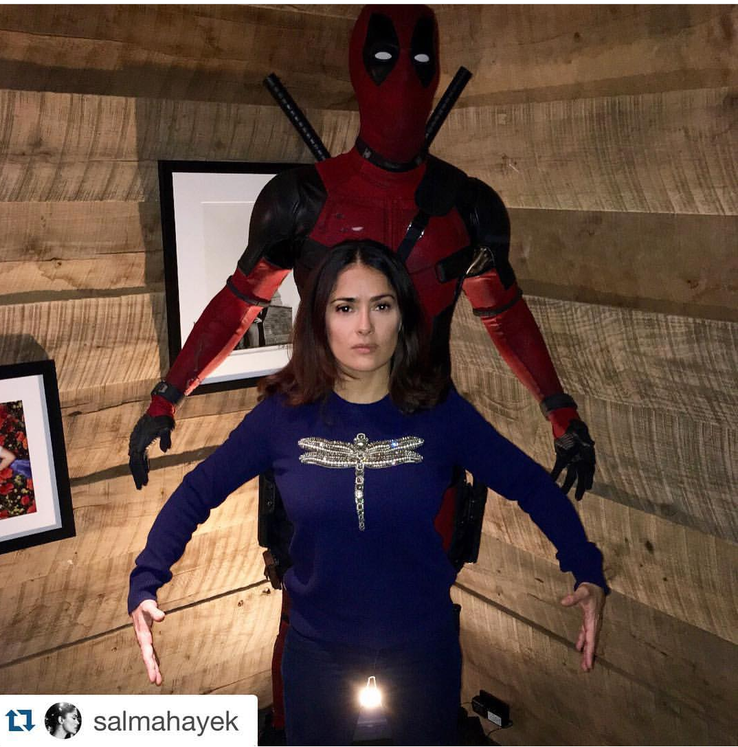 Before you get too excited, she was not part of the cast for Deadpool 2, but apparently, she and Ryan Reynolds go way back because they starred together in The Hitman's Bodyguard. The two became so close in fact that Reynolds invited her to a dinner party at his home. Must be nice! Could you imagine Blake Lively, Ryan Reynolds, Salma Hayek, and possibly her billionaire husband all sitting around the dinner table? It's just a little too much to take. Blake Lively also costarred with Hayek in the movie Savages, so they are really just one big happy family. Lively is definitely the chef in the family and Hayek joked around that Reynolds invited her over so that she could do the cooking. "When your friends invite you for dinner and you end up doing all the work," Hayek captioned a photo on Instagram. She must have taken the opportunity to visit the Deadpool 2 set and see one of her favorite actors in action. She would make an awesome superhero and she should be cast in one of these movies. She's also a huge fan of Lively.
"I still have never met anybody that at such an early stage in their life, had such a sense of self, so much courage. She knows exactly what she wants ― she has a lot of senses. She has a great sense of family, she has a great sense of honorability, fantastic values, she has a great sense of fashion, sense of humor.
She is the ultimate mother ― even to me, she's been a mother to me."
18

Deadpool In Crocs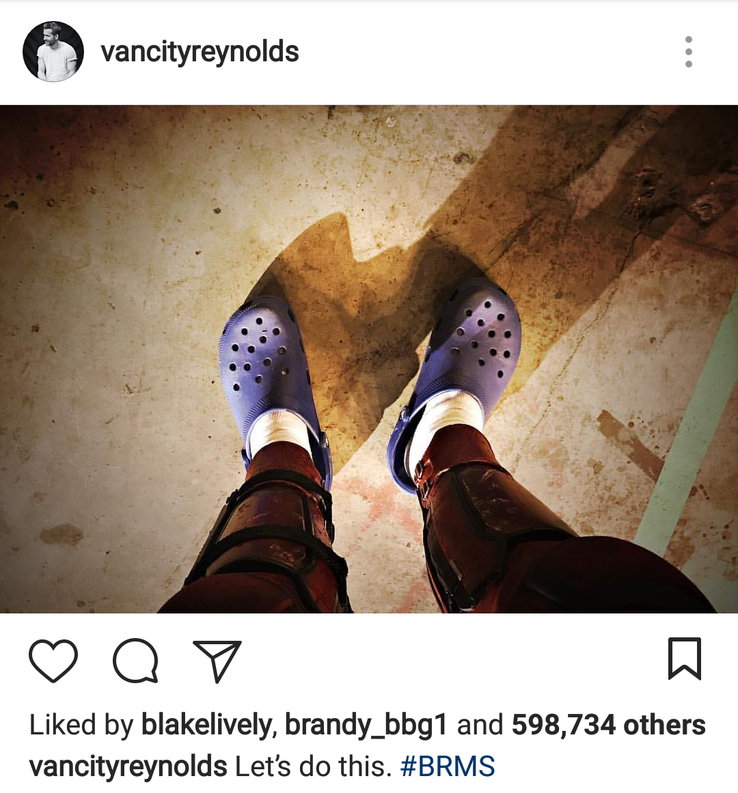 If you have ever wondered what Deadpool wears when he is just lounging around the set, now you know. Purple crocs. Seriously, the color alone. One of the things that made Deadpool as popular as he is these days is his goofy humor. That, of course, is made perfect in large part by the fact that they cast Ryan Reynolds in the part. He's the perfect person to play the role. He has the same kind of goofy and dry, sarcastic humor in real life as he does in the movie. We really couldn't picture anyone else in the role. We could totally see him wearing these crocs in real life because he's the goofy kind of character that will sit there and draw violent sketches while discussing a love for unicorns. He's bizarre and weird and that's what everyone loves about him. There are no filters or lines drawn, he will say or do anything that he wants and we really never know what's going to come out of his mouth next. This photo was taken by Reynolds while he was on a break from the set. We won't know until the movie is released whether this is an actual behind the scenes shot or if we are likely to see Deadpool wearing crocs in the movie.
17

The Makeup Is A Lot Of Work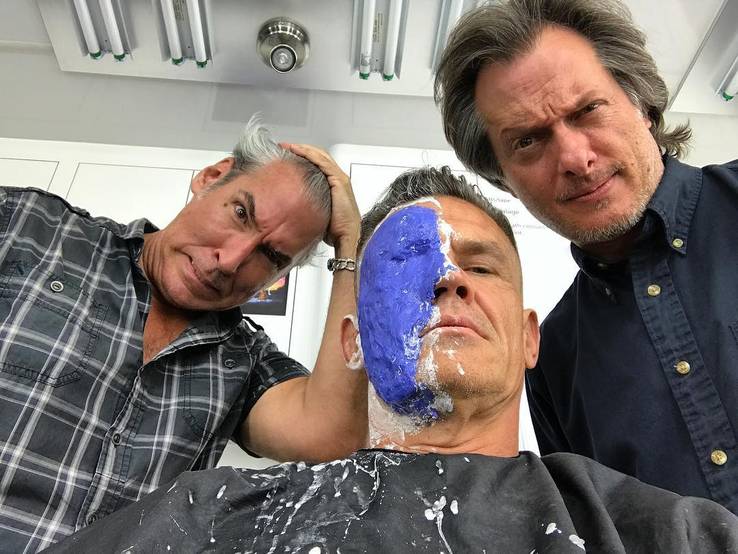 We definitely don't give these makeup people enough credit. When we watch these amazing characters onscreen we rarely think about how much work is involved in making these characters look the way that they do. Sometimes these actors are sitting for hours in a chair while makeup artists work their magic. The cool thing about social media these days is that stars are so much more willing these days to show us every aspect of their day to day acting lives. It's awesome. That's how we are able to see these cool behind-the-scene shots of the actors in the makeup chair.
Josh Brolin plays Cable in the movie and he has a very distinct look. His face is full of scars and the makeup crew has to show every one of them. This is just part of the process that Brolin had to sit through in order to get to the heart of the character. "We all have that one, grumpy, heavily-armed uncle from the future," Reynolds wrote in a tweet. Many people wondered why he was playing a villain in two different superhero movies but Marvel Studios head Kevin Feige is fine with it. "We don't have anything written into our contracts about other roles that people can do," said Feige. "Indiana Jones and Han Solo are the same person — it hasn't been a problem. And I think Thanos and Cable are two very different characters."
16

Deadpool And Celine Dion Bond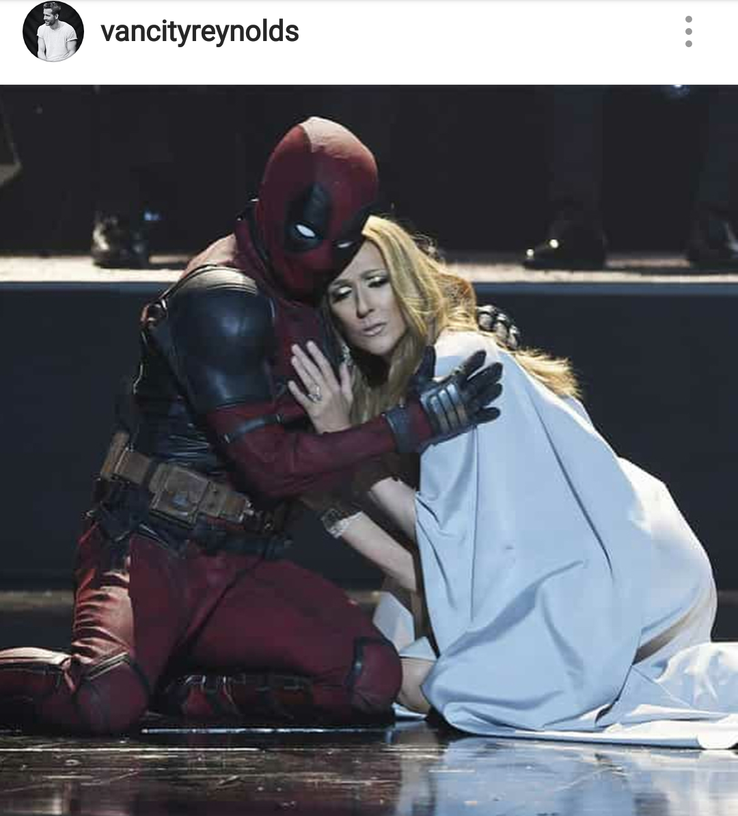 There are so many questions that go through our heads when we look at a picture like this one. You might be shocked to hear that Celine Dion has a restraining order against Deadpool and we're not really surprised. Of course, Dion has a sense of humor and we see that in the behind-the-scenes photos of the making of the Deadpool music video. What a team! "You look good, are they real?" she asked while feeling the superhero's chest. "Yeah, they're like an A- cup," Deadpool joked. "Me too," she replied. Humor aside, Dion had nothing but good things to say about Reynolds.
"What a dancer! Passionate, emotional and impossibly fluid. What's left to say?"
she wrote on Instagram. Reynolds revealed that he had bones removed from his body in order to be able to do such amazing dance moves. "Including my collar bones and seven inches of spine, all so I'll just be a little bit more fluid," the hero said in the clip. He's definitely dedicated to his craft. But how hilarious is it that these two got together to do a music video? At the end of the video, Reynolds tells Dion they will have to shoot the video again because she was too good. "This is Deadpool 2, not Titanic," Deadpool cracks. "You're at like an eleven, we need to get you down to a five, five-and-a-half tops. Just phone it in."
15

A Casual Day On Set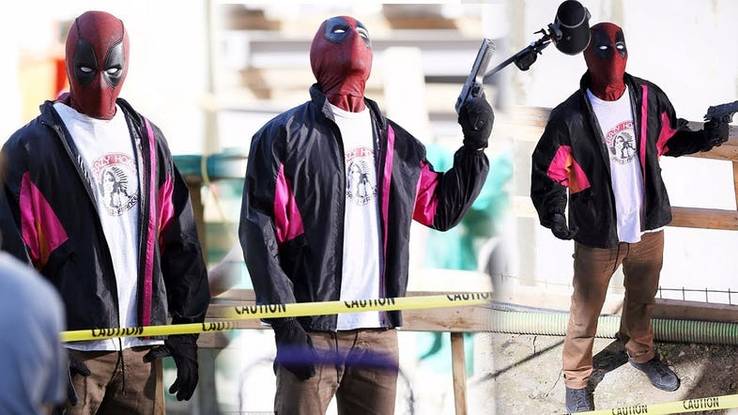 We're not sure what to make of this photo from the set of Deadpool 2. We're not sure what kind of shirt he is wearing, but it's humorous, to say the least. The shirt that Wade is wearing in the scene is a Crazy Horse Paris T-shirt. It's weird that he's wearing it over his costume which puzzles us further. He also has an '80s-inspired jacket to go along with the whole look paying homage to a cabaret show in Paris. Considering the dance moves, he showed us in the music video maybe cabaret is going to be his next adventure. Wade is obviously a fan of musical theatre because in the first Deadpool movie, he was wearing a T-shirt for the play Rent. When it came down to talking about what to include in the new movie Reynolds claimed that it was all about ridiculous scenes.
"Those conversations were happening really early, like on the set of the first 'Deadpool.' Most of the time, we were just pitching utterly absurd scenes, two of which are in 'Deadpool 2' now. At the time we were just, 'What if we did this and that?' It was utter nonsense.
If someone could have heard us, they would have just been like, 'Nobody will make that movie, honey.' But somehow here we are."
14

It's All About the Kids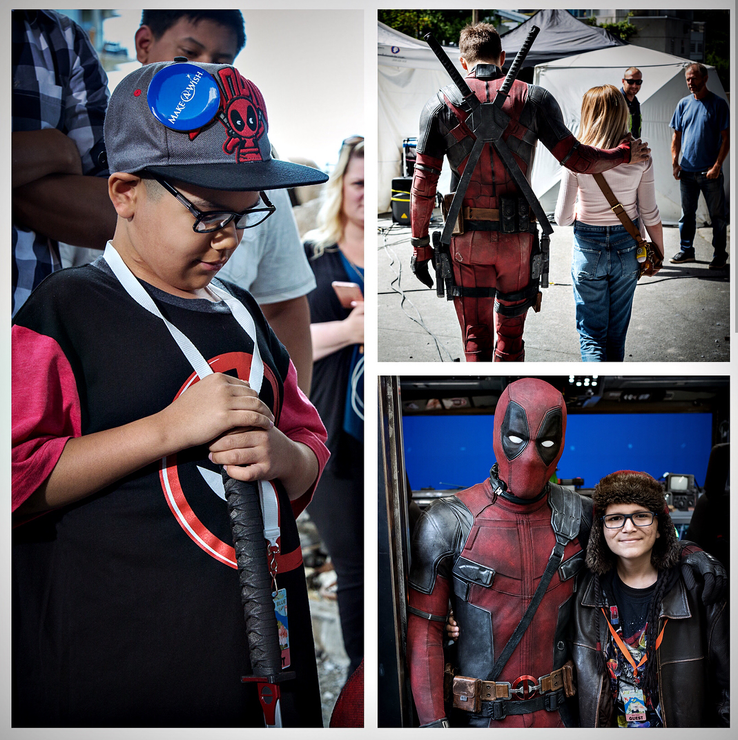 Ryan Reynolds has a big heart and it's not the first time he's been involved in helping kids who are sick. He and his wife Blake Lively once went to a Canadian hospital just to hold premature babies. Deadpool loves his fans and in this case, they are very special ones. There were a few kids from the Make A Wish Foundation or Children's Wish Foundation on set and it's just so sweet to see Reynolds and the crew interacting with them. It's so awesome to see these kids have their dreams come true. It's actually surprising how many parents let their kids watch Deadpool since it's rated-R, but there are certainly a lot of children fans of the character. Deadpool may not like kids, but Ryan Reynolds sure does. For those fans who aren't aware, there is definitely a "Kidpool" in the comics, so we might just see Deadpool with a little sidekick one day. "One of the best parts of playing the Big Red Jackass is welcoming @makeawishamerica and @childrenswishfoundation onto set. Deadpool kicked cancer in the taint, but these kids do it for real every day.
These foundations make dreams come true for a lot of super brave kids. They also make dreams come true for parents, who just want to see their kid smile.
Huge thanks to our prop master, Dan Sissons, for making sure every kid left with his/her own sword. (Bamboo versions. Not stabby-stabby versions.)"
Featured Today
20 Images Of Sasha And Malia Obama That Would Surprise Barack

10 Actors Who Made It Big With One Role (And 10 Who Couldn't Recover)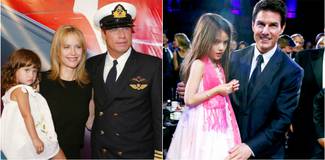 15 Surprising Celeb Kids Born Into Scientology Because Of Their Parents

13

There Will Be Some Amazing Cinematography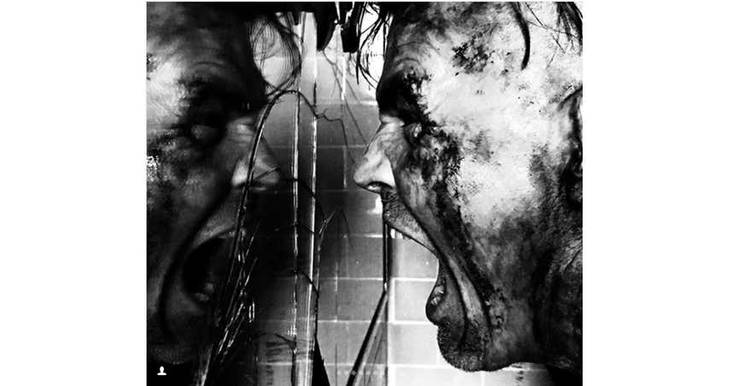 One of the things that we noticed about the first Deadpool movie was that it wasn't like most superhero movies. They took risks to make it a stylish movie that had a bit of artsy flair to it. We would expect the same flavor for this movie even though it's under a different director. Tim Miller will not be returning to the director's chair and he was the one that provided us with action scenes that were visually refreshing, cinematic, and spectacular. There is no need to worry though, they do plan on keeping the same style with the second movie. In this photo, we see Cable looking like he's having an emotional breakdown. It's a cool shot and a great example that proves that we are in for some amazing cinematography. It's like the special effects will surpass the first movie and we are pumped to see it. Josh Brolin thinks both of his superhero movies are going to be awesome this year.
"They're both really good. That's what I know. I couldn't say anything about them before, but I've seen 30 minutes of 'Infinity War' and I thought it was amazing. 'Deadpool' I know is going to be very fun and funny, fresh, because it's very different than the first 'Deadpool' and I really enjoyed them both."
It's been a big year for Brolin, and if there's one person who could take on a big scary character, it's him.
12

Special Effects Aren't As Cool Behind The Scenes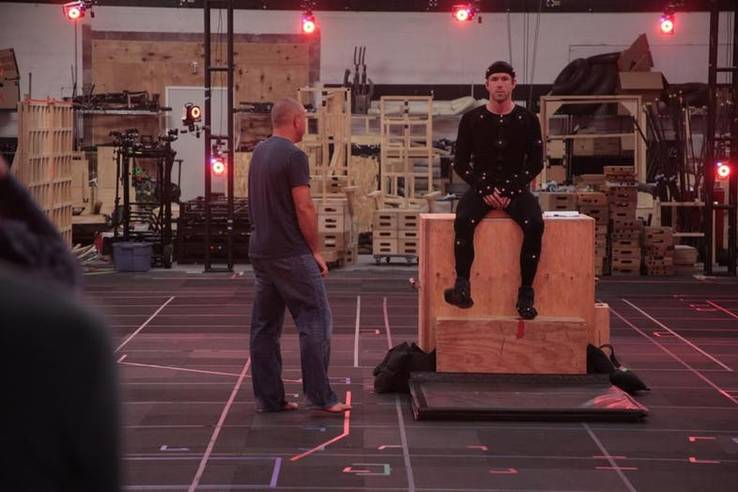 We love when action movies have great special effects, but when we look at the behind the scene shots of them, they are anything but exciting. It's the kind of shot that makes your heart hurt because it almost takes away from the awesomeness of the film. When we watch these awesome things happening with Ryan Reynolds on the big screen, it seems out of this world and a picture like this one just kills our vibe. Reynolds is wearing one of the green screen suits which means nothing is as it seems. When we see shots like this it doesn't make us excited to see the movie because we know what we are seeing is fake. Not that we are totally deluded, but we like to be immersed in the special effects without knowing how it all comes together.
One secret that slipped was the fact that there may be some Thanos jokes written into the 'Deadpool' movie to poke fun at Brolin for playing two different characters.
"I can't imagine there's not going to be any. [Laughs] I'll put it that way. I'm up here right now in snowy Vancouver doing reshoots for Deadpool. Given that it's a satire of all superhero movies, especially Marvel movies, how can you not?"
11

Tragedy On The Set Of Deadpool 2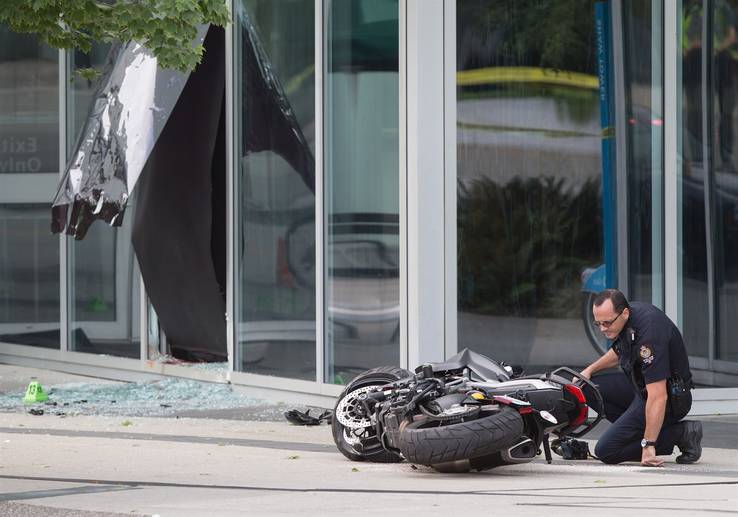 What you may not be aware of is the fact that someone died on the set of the movie Deadpool 2. A female stunt driver was killed after she lost control of the motorcycle she was driving. She ended up crashing into a building in downtown Vancouver. The photo shows the crumpled-up motorcycle that was left at the scene close to the shattered window of the Shaw Tower near the waterfront. Many crew members were in tears and clearly distraught over the incident.
"She lost control really quickly. It happened in a split second," said Nathan Kramchynski, who works inside the Shaw building and saw the whole accident from the seventh floor. Nathan had been watching the stunt rehearsals from across the street. When it came time to shoot the scene, the driver picked up speed and crossed the street. "She kind of weaved through, almost hit a pedestrian," he said. "She was going full throttle and then there's a building there." Ryan Reynolds posted on Twitter that he was "heartbroken" about the whole thing. "Today, we tragically lost a member of our crew while filming Deadpool. We're heartbroken, shocked, and devastated, but recognize nothing can come close to the grief and inexplicable pain her family and loved ones must feel in this moment," he said. "My heart pours out to them — along with each and every person she touched in this world."
10

Deadpool Has to follow Orders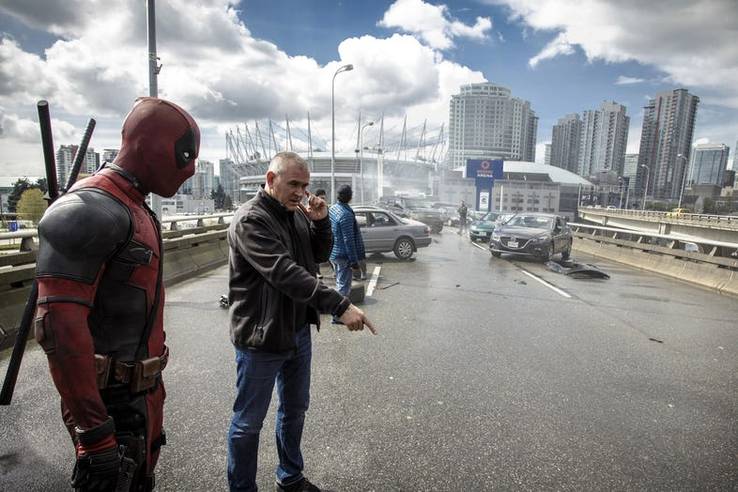 From what we know about the character of Deadpool, he does whatever he wants, whenever he wants. So, it always interesting to see behind the scene photos where he's literally being told where to stand and what to do. The reason why Tim Miller wasn't invited back for the sequel of the movie was that in the first one there were creative differences between Ryan Reynolds and the director. Whether he liked it or not, he had to follow orders and it also takes away the illusion that we had of Deadpool in the first place. When it comes to Deadpool, he doesn't take orders from anyone. But for Ryan Reynolds, he has to do whatever it takes to get the job done and get paid. Something that might surprise you about the actor is that he's had a lifelong struggle with anxiety. "I have anxiety. I've always had anxiety," he told Harper's Bazaar.
"Both in the lighthearted 'I'm anxious about this' kind of thing, and I've been to the depths of the darker end of the spectrum, which is not fun."
Which is crazy to think about considering he's an actor and it would be the worse job ever for someone with anxiety.
9

Work Wife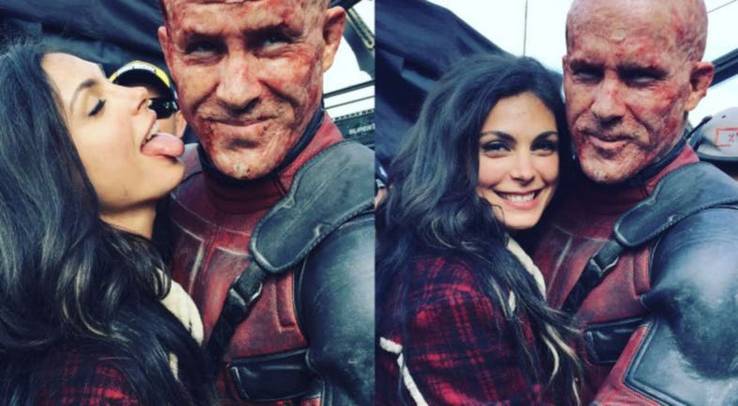 Now, this is just the epitome of true love, isn't it? Wade assumed his girl would want nothing to do with him once she saw that he was a little crispy. But that wasn't the case at all because deep down she loved him for his weird, twisted self. After he received his burns, he wasn't as pretty as he was at the beginning of the Deadpool franchise but Morena Baccarin doesn't seem to mind it one bit. She doesn't seem to think he looks horrific at all. We can't imagine how many hours it took in the makeup chair to achieve this look. It's nice to see that the makeup isn't CGI either. Kind of like his character Deadpool, Ryan Reynolds went through an "unhinged phase" when he was in his 20s.
"I was partying and just trying to make myself vanish in some way,"
he explained. He said he would often be "paralyzed by anxiety"over the thought of his future and career.. At the time, a few of his friends had died of an overdoses, so that was when he decided to tone down on all of the partying.
8

He Loves Hanging With the Crew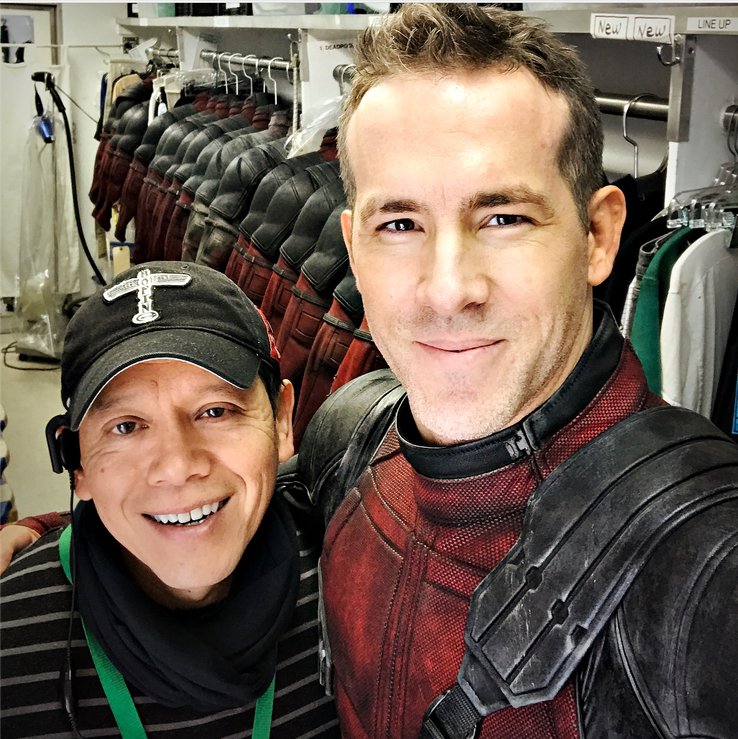 Seriously, Ryan Reynolds is such a nice guy in so many ways. He's so friendly and genuinely seems to care about everyone. He's not one of those actors that snubs the crew and thinks they are below him. It's obvious by this photo how much he appreciates the cast and crew that are on the set of the movie. We feel so bad that Ryan Reynolds deals with the anxiety that he has and it's something that plagues him through the entire process of making a movie. "When there's built-in expectation, your brain always processes that as danger," he told the Times. When it comes to all those public appearances he believes in the "fake it till you make it" approach.
"When the curtain opens, I turn on this knucklehead, and he kind of takes over and goes away again once I walk off set. That's that great self-defence mechanism. I figure if you're going to jump off a cliff, you might as well fly."
He probably uses his awesome sense of humor to deflect on the nervousness he feels when he's out in public. He's doing a great job of it because we had no idea he dealt with so much anxiety.
7

Saying Goodbye to The Movie
Ending a movie is not only a relief, but actors are filled with a sense of fulfillment and bittersweet feelings as well. You may not have known that Vancouver is actually Ryan Reynolds' hometown which must have made the movie that much more special. It was probably his idea to have the movie shot in his hometown that way he could visit family and friends while he was there. He captioned this photo on Instagram with this message, "That's a wrap on Deadpool 2: A Song of Fire and Ice! Thank you to our beloved Captain, Mr. @davidmleitch.
Words are too clumsy to properly acknowledge your giant heart and talent. I love my hometown of Vancouver and our obscenely gifted crew. From our PAs, (who are first in and last out) to our set decorators and prop department, riddling this film with Easter eggs in almost every scene.
Thank you. I already miss being on set. Which is why I've decided to continue shooting the film in my underwear from Josh Brolin's well-appointed living room." We just love the Easter eggs and we can't wait to see all the ones that were placed in this movie.
6

Adding In Another Cast Member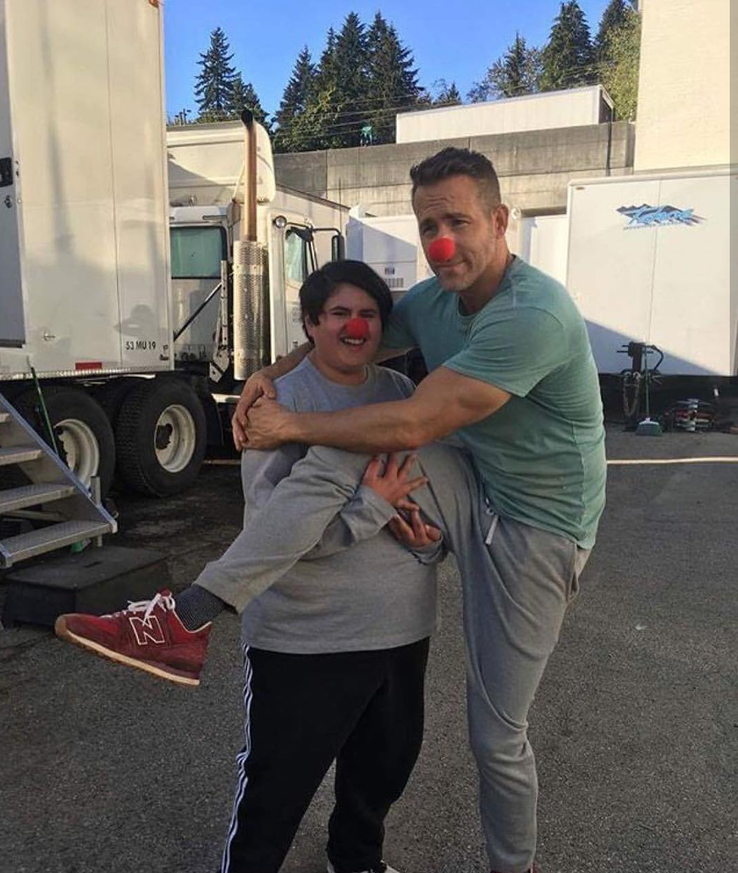 When a new sequel comes around, it's sure to be filled with some new cast members. There are so many supporting roles that are part of the movie that makes the sequel so much better. It was confirmed that the young star from Paper Planes and Hunt For The Wilder People New Zealand came on for the sequel. It's pretty obvious that Reynolds is pumped to have Julian Dennison on the set with him. We're not sure what character he plays as of yet, but we don't think that he's any kind of villain. Reynolds has called the young actor "the greatest," and it's clear that he's a big fan of the boy.
"And I'll tell you one thing about that kid, he is hitting an absolutely tiny target to hit, every day on that set. I'm so proud of him and I just love him so much."
So how did they find the kid? "I'm very good friends with Taika," Reynolds said. "So that's kind of how I found him. Obviously, I saw Taika's film and I was like 'Who is this kid and what voodoo did you put on him to make him this good?' And Taika said, 'He just is that good.' He was the only one we ever considered for the role."
5

Working Hard At the Gym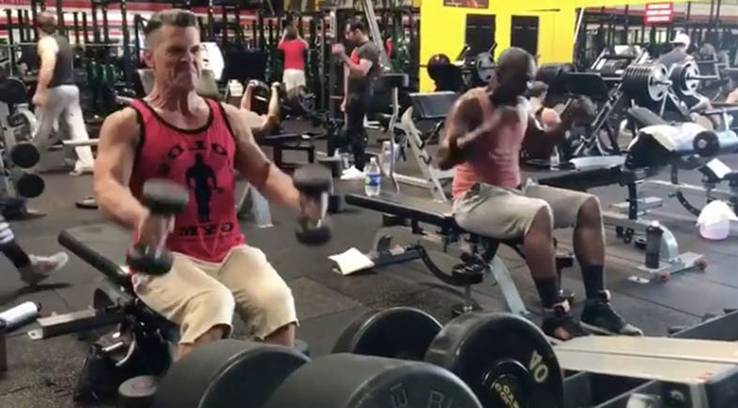 When you are playing a character like Cable, then you have to look jacked. Even Ryan Reynolds is sporting some sweet muscles. We can see here that the cast members are hitting the gym pretty hard when they are not on set. Josh Brolin trained really hard for his role as Cable in Deadpool 2, we couldn't believe the muscle he has put on over the years. He's come a long way since his role in Hollow Man. Obviously, Cable is huge in the comics, so he has to be huge in the movie and we would hate to see another CGI version of a superhero. Golds Gym must have loved the free advertising when it came to getting Brolin ready for his role as Cable. We loved the fact that the character is going to be a real version instead of a jacked CGI version. Reynolds is a big fan of Brolin and posted an Instagram joke with the caption,
"Josh Brolin and I love to just hang out and chat between takes. He calls me his lil' Shake Weight."
Now, how cute is that? It's pretty obvious that these two have a bit of a bromance going on.
4

Tireless Makeup Exercises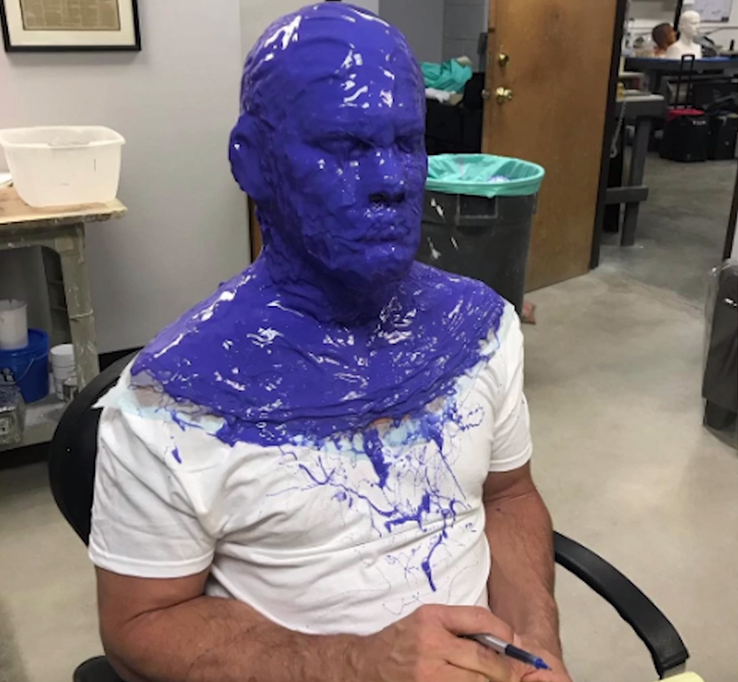 We can't even believe what this poor guy had to go through just to achieve the authentic look of Cable. Brolin posted this photo on Instagram with the caption, "You know, just meditating." It's about the only thing he could do at the time with a face like that. This little exercise was called the Scarception and it was basically how they cast a mold to actually create the scarring on his face. They wanted it to look as realistic as possible, so we are getting the real deal.
Many people complained about the fake-looking Thanos in Avengers: Infinity War because they didn't like all the CGI that was added to the role. So, it says a lot about all the effort that was put into the Cable character. It's a hilarious photo and we have to give him credit for being so patient. As we said before Brolin is a big fan of Ryan Reynolds, "He's an amazing guy, very smart and really sweet — and really handsome," Brolin said. "He's a smart guy, he's the one who saw this and tried to get this movie made for eight years and was unable to. I think [he] has such a perfect sensibility."
3

The Crew is Always Working Hard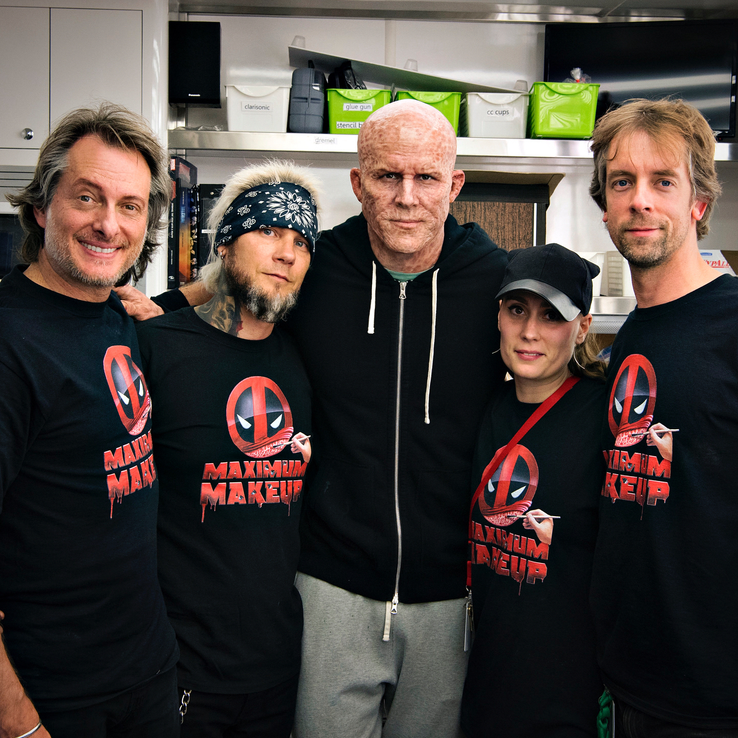 There is obviously a ton of work involved when it comes to the actors in the movie, but there is just as much work if not more going on behind the scenes. Without the crew, a movie wouldn't even be able to be made. Without an amazing crew to back up the movie stars, a film can only go so far. It's obvious that Ryan Reynolds had a cool crew backing him up every step of the way and he's appreciative of their efforts. These guys are obviously from the makeup department and we already know how hard they have been working on the sequel, in fact, we look forward to admiring their good work. Ryan Reynolds had actually wanted to play Deadpool for quite some time, but it took him forever to convince producers that there were many Deadpool fans out there. "I was such a douche, because I was like, 'I told you so.' I still get angry, because I remember saying,
'You know, there are more Deadpool fans out there than you realize, and they're not going to be happy with this.' I was met with a plausible reason, which was: 'We don't have enough time to develop a proper Deadpool suit and make him the fully-realized version of the comic, so we're going with this.' But I was like, 'Then don't do it at all!'"
He was, of course, talking about the creepy version of Deadpool that was shown in X-Men Origins: Wolverine.
2

The Man Behind The Dance Moves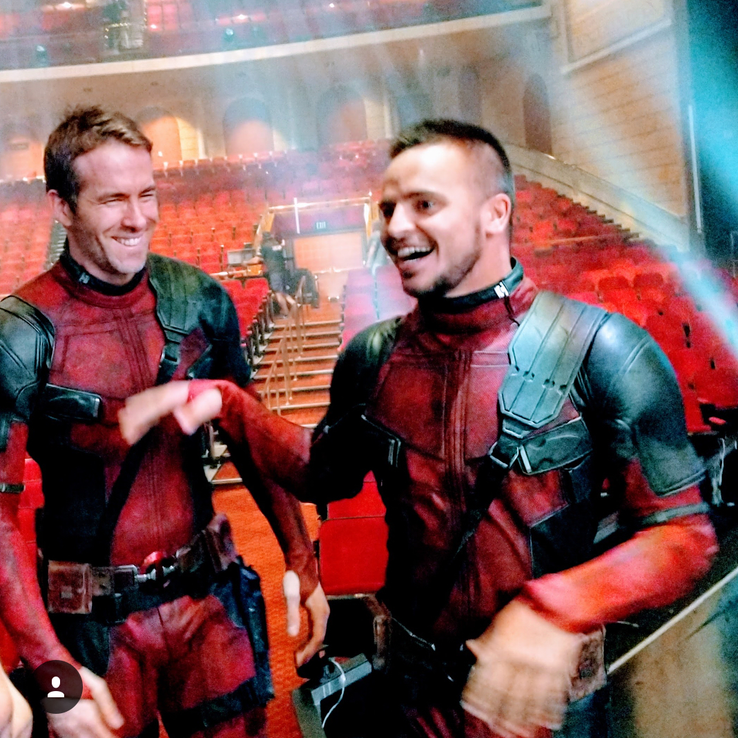 Seriously, Ryan Reynolds could never look hotter than he does in this photo, we just love that smile. If you thought his dance moves were epic, it's all thanks to stunt double Yanis Marshall, or would he be considered a dance double? We're not sure what his official title is, but he makes Reynolds look good. As you can see they are both in the Deadpool suit in this photo and Reynolds is a big fan of the guy. He captioned this photo with,
"Ever wonder, 'How does Ryan Reynolds dance so beautifully?
Did he have 8 bones surgically removed from his body in order to move as if a graceful swan did it with Fred Astaire?' The answer may surprise you. Yes, I did have 8 bones removed from my body. But the dancing was all @yanismarshall. This man is not just a dancer, he's an elite athlete, hero, and all-around hilarious person. Follow him on Instagram. Put him in movies. Throw confetti at his feet when you see him. He is a gift to this weary world. #Deadpool2" It's all pretty cool and it just goes to show how much goes on behind the scenes that we aren't aware of.
1

Blind Al is Returning in The Sequel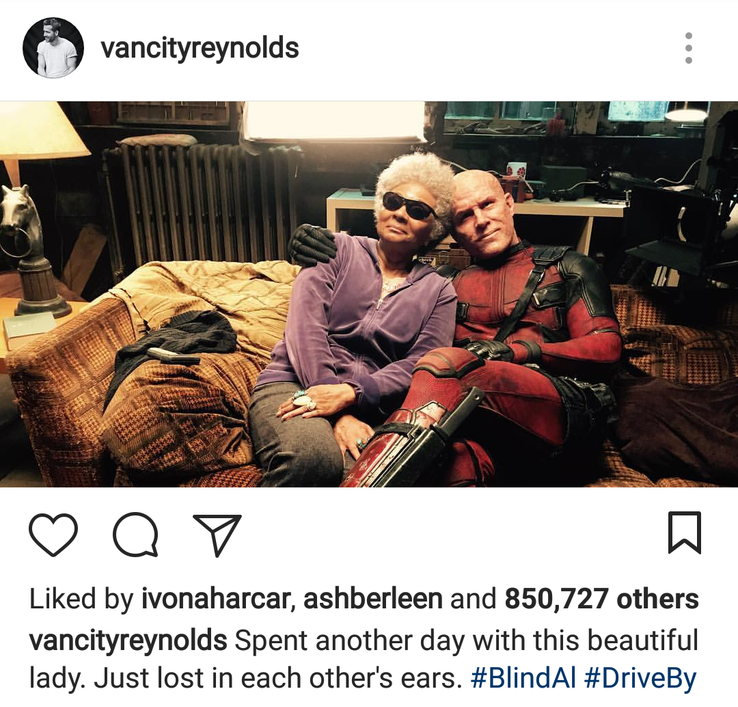 Wade and Blind Al certainly had an odd relationship in the movie Deadpool, but she always looked out for him. Blind Al didn't have that big of a role in the first movie, but that didn't stop them from bringing her back for the second one. She's an important part of Wade's life in the comic books, so it really does make sense for her to be in the movies as well. She has a dry sense of humor which is perfect for Deadpool and she adds value to the movie. We can see how much Ryan Reynolds values his co-stars and this photo proves that the franchise isn't about to forget its roots. Reynolds posted the photo on Instagram with the caption, "Spent another day with this beautiful lady. Just lost in each other's ears." Reynolds actually wanted to play Deadpool before he took the role of Green Lantern. It's too bad he wasn't able too because he could have dodged that Green Lantern bullet but then again, he may not have met his future wife.
"I wrote a letter to my executive at Fox saying, 'I'm going to take this movie Green Lantern if you guys aren't going to make Deadpool. I'm at the altar, about to say, 'I do' to somebody else, but tell me you want to spend the rest of your life with me, because I want to spend the rest of my life with you.'
And they said, 'Unfortunately, we can't green-light that movie, and I don't think it's ever going to get green-lit.' So I was like, Okay, I'm going to move on with my life, then, I guess."
References: news1130.com, menshealth.com, gq.com, harpersbazaar.com,  accessonline.com
Source: Read Full Article