We have a lethal combination to talk about here, and we are talking about that of the gorgeous and talented Giada De Laurentiis and her mouthwatering cooking. Long gone are the days where everyone was talking about the enthusiastic Gordon Ramsay (yes, sarcasm), it is now all about the splendid Italian chef Giada De Laurentiis. The truth is, watching De Laurentiis cook in the kitchen is so great to watch because she is easy on the eyes, and evidently, so is the food she creates. She also makes cooking seems as delightful as sitting in Italy, on a sunny afternoon with an Aperol spritz in hand. What we also love about De Laurentiis while watching her on the Food Network, is her Italian over-pronunciation of words like spaghetti, pasta and prosciutto — hey, that's amore.
However, the starlet is now known for more than just her delicious cooking; De Laurentiis has become famous for her style, her authenticity, her restaurant, her adorable daughter and her huge social media following. We love De Laurentiis for her warm personality, and her heartwarming demeanor, and that is amongst the many reasons why she has become America's most beloved Italian chef, along with the Food Network's most successful woman chef. There is so much to the chef's success, who is now also a celebrity chef because of how she rose so quickly to fame. De Laurentiis, who was born in Rome, Italy, and now resides in California, has a lot more up her sleeve than just recipes, and we are here to show you our favourite De Laurentiis moments — because she is now an icon.
20

De Laurentiis Knows What's Important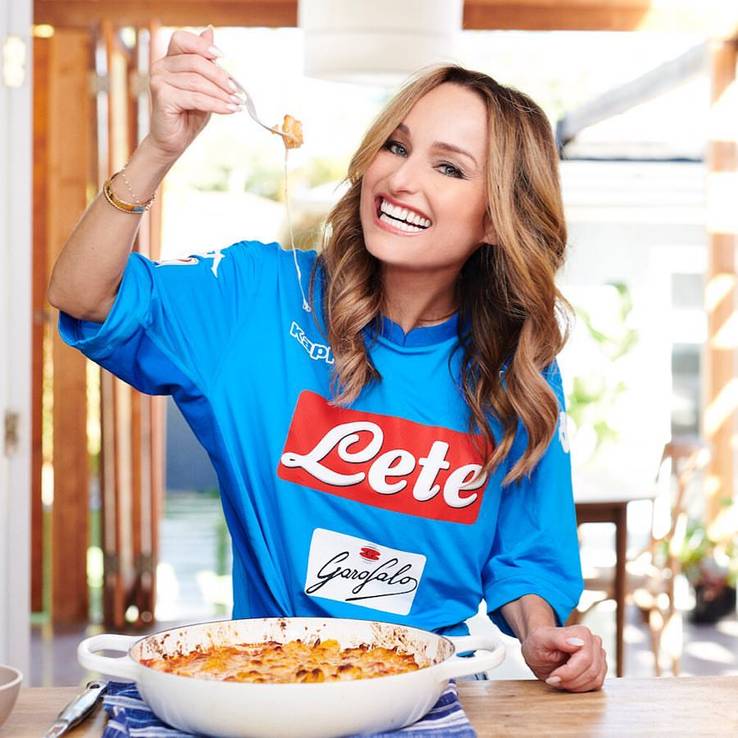 Is there anything foxier than an attractive woman cooking? Yes, there is — the beloved and stunning Italian chef in a sports jersey. The jersey trend has been in fashion magazine pages for the past couple of months, but De Laurentiis takes the cake with her photo of herself in a soccer jersey posted to her Instagram page that boasts over 1 million followers. We know that De Laurentiis, who was born in Italy, but became largely successful in America, has until this very day, remained very true to her heritage and she has not been ashamed of it, nor has she hidden it.
In fact, her true Italian charm has a lot to do with her success because she showed America what it truly means to be a real Italian — and any real Italian follows soccer like it's a religion.
And since watching and following soccer is like religion in Italy, then it is no surprise that De Laurentiis would make a point of following the endearing sport as well and showed her support by sporting a SSCN soccer jersey; which is the official jersey for Napoli. And like any Italian, pasta is usually a favoured meal, and De Laurentiis' smile says it all — if only we all looked that decent eating a plate of pasta.
19

De Laurentiis And Company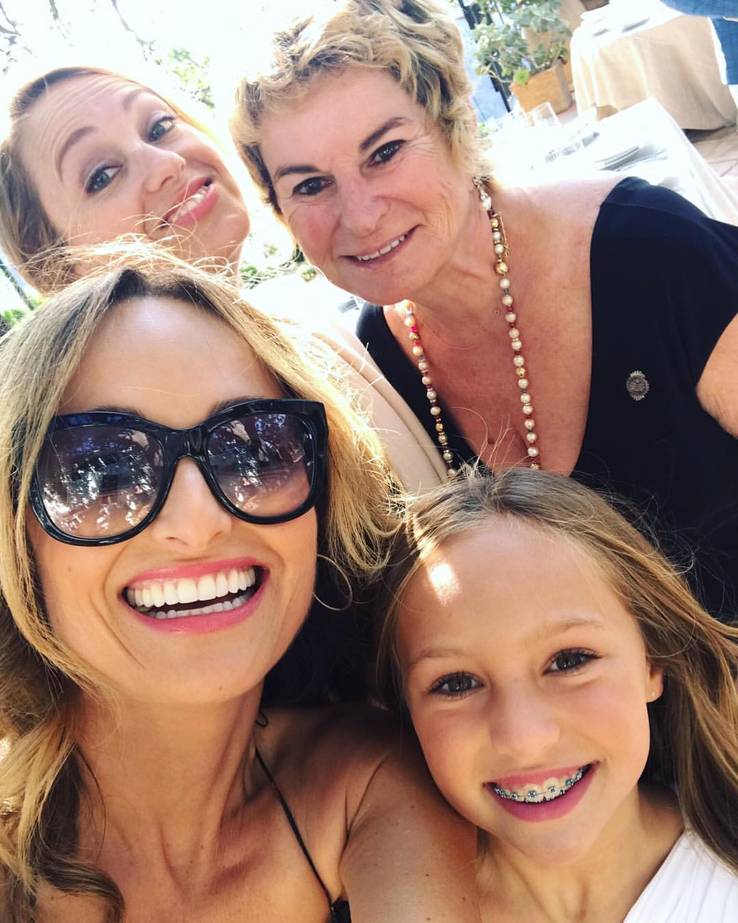 De Laurentiis is beautiful on the inside and out, and so, we can see how so many fans have truly fell in love with the celebrity chef, who is also a down-to-Earth mother. And we also believe that the way to anyone's heart is family and food. Despite being an author, having her own restaurant and own television shows, the star does not forget one thing, and that is her family.
Parenting is hard work, and with all that is on her plate (pun intended), we are inspired by how balanced the celebrity chef is; we see on her social media accounts how important family is to her.
Besides her exceptional skills in the kitchen, one reason De Laurentiis won over so many viewer's hearts is because, despite her fame and tremendously hectic schedule, she has made a point of always spending time with her loved ones, and that is what she is pictured doing here. Posted to her Instagram account on International Women's Day, De Laurentiis posted an adorable photo with very important women in her life, that includes her mini-me daughter, and her Aunt Raffy, who De Laurentiis has often emphasized was her inspiration for cooking. And who can ignore that genuine and pearly smile on her face?
18

De Laurentiis Is Graceful And Hardworking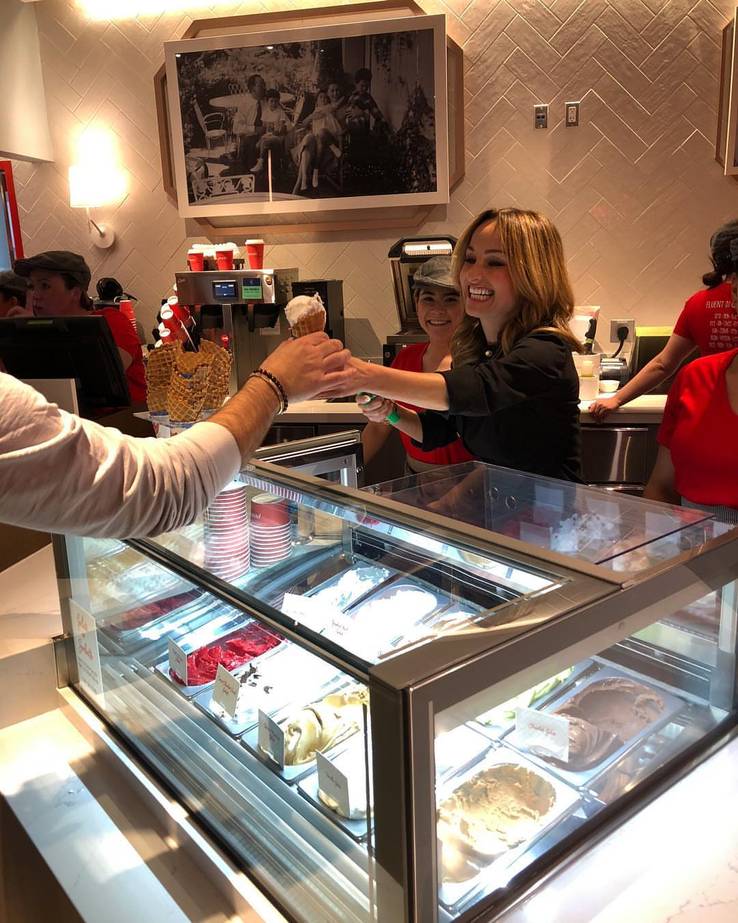 This woman is a woman boss, and she deserves all the praise in the world; a brave, hardworking and independent woman that many could lookup to. Besides having her own shows on the Food Network, De Laurentiis took all her success and did something no other woman did thus far. What are we talking about exactly?
Those in love with De Laurentiis would know that she was the first woman to open a restaurant on the infamous Las Vegas strip. 
She took advantage of her TV fame and reached a whole new level in her career. De Laurentiis who is an extremely hard worker, wasted no time after giving birth to her beautiful daughter and rapidly opened the restaurant in the heart of the Las Vegas strip on the second floor of the Cromwell Hotel. However, just a few months ago, De Laurentiis did something even bigger and opened another restaurant under her name, this time, at the Caesars Palace. This picture is a favourite because we see how humble and devoted De Laurentiis truly is to her work and fans by taking the time to serve gelato!
17

De Laurentiis And Jade Are Always Cooking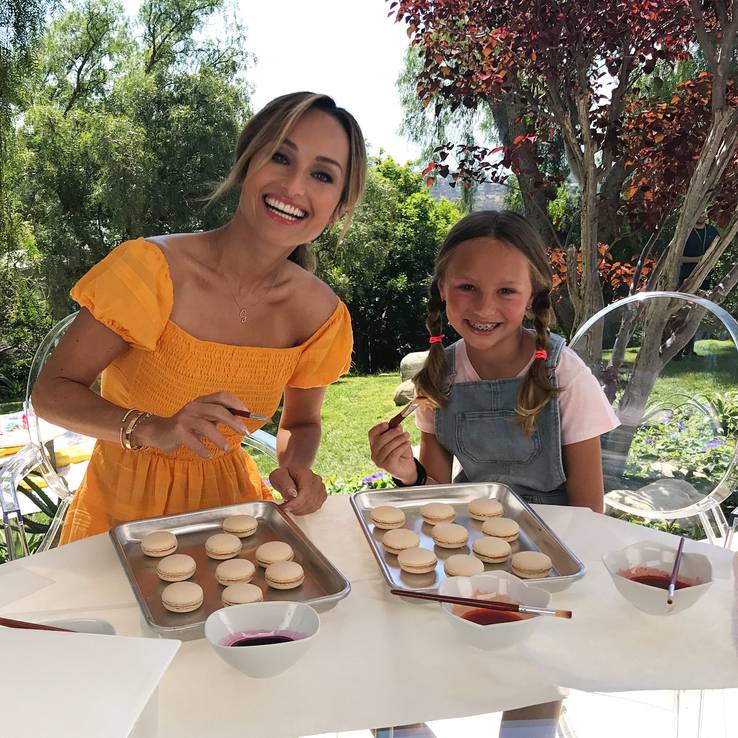 We don't know what looks better in this photo, the classic macaroons or De Laurentiis in her golden yellow dress? Sometimes we wonder if De Laurentiis is actually a chef — she is just so petite and tiny. De Laurentiis posts many photos with her daughter, and we love each and every one of them, but we love seeing how De Laurentiis shows her daughter various recipes and all with a big smile on her face. Jade is just as beautiful as her mother and both have incredible personalities that make it so easy to watch them bonding together.
We also find that this photo stands out amongst the numerous photos of the duo because the mother-daughter bonding took place while they baked together outside in California and that is awfully precious. The two always look like they are having a blast together, and this picture is no different; honestly, which daughter would not want to paint macaroons with their mother? We know we would. Looking at this photo of the two outside and sharing a special moment on a beautiful sunny day, makes us smile as much as De Laurentiis is in the photo. The Italian heritage very much stresses the importance of family being together in the kitchen, and De Laurentiis is keeping tradition alive.
16

Who Can Resist A Woman Who Can Eat Like A Champ?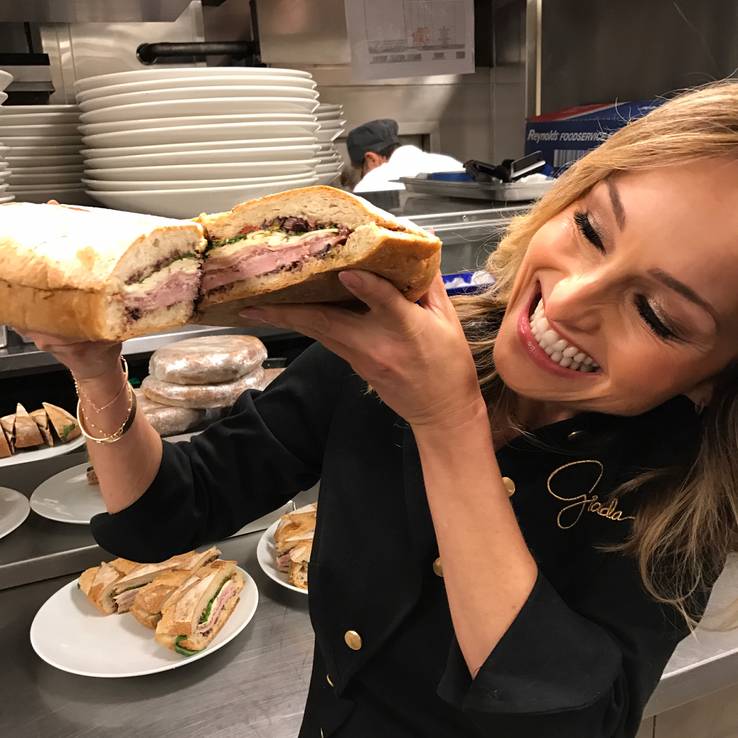 We are going to have to take a trip to Vegas soon to get our hands on one of those! What makes Giada, Giada? Her jaw-dropping and mouthwatering food — please forgive us for having our jaws glued to the floor. If you are an avid fan of De Laurentiis and follow her show, then that may have happened one too many times — shame on you De Laurentiis for doing this to us, but we forgive you. Even though De Laurentiis is always smiling, we would be smiling just the same if we had a delicious and enormous panini in our hands; we do not blame De Laurentiis from smiling from ear to ear while looking at her creation, we would do the same. The thing we adore most about the mother and down-to-Earth celebrity chef is her appetite for life, no matter what, she has the biggest grin on her face and that makes the attractive and famous chef even more lovable. Seriously, after posting this picture on her Instagram account, between her smile and the sandwich, we are pretty sure De Laurentiis has thousands of male suitors waiting for her — who can resist a woman who cooks and who can eat like a champ?
15

De Laurentiis And Jade Share A Special Moment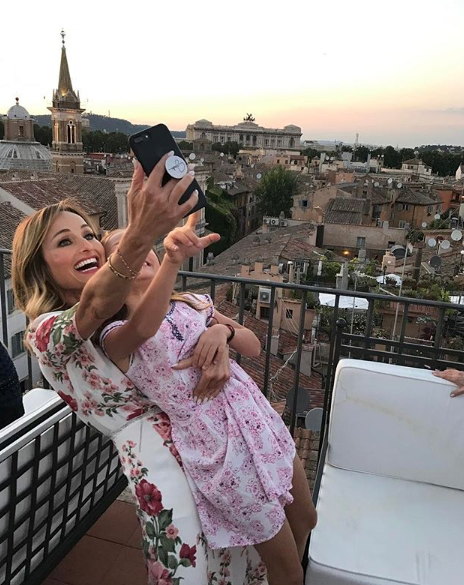 If you haven't fallen in love with this triple threat yet, you sure will after seeing this adorable picture. De Laurentiis has a very strong attachment to her only daughter Jade, and she does not shy away from showing it. There are some celebrities who are totally against having their children or child in the public eye, but for De Laurentiis, it is the complete opposite. As a mater of fact, after all these years, people have gotten so used to seeing De Laurentiis with her mini-me that without her, it would not be the same; there is something so unique about their bond and sharing it with the world spreads smiles and love.
Though we see several photos of the two together, most of them are either in the kitchen or of them out and about, but in this photo, we could tell that the two are home together and relaxing. It is great and refreshing to see that despite such a frantic and manic schedule, that De Laurentiis is still able to make time for downtime with her daughter. The TV personality is very public in the love she has for her daughter, and this kiss between the two has to be the sincerest of her entire photo collection.
14

De Laurentiis Is A Typical Italian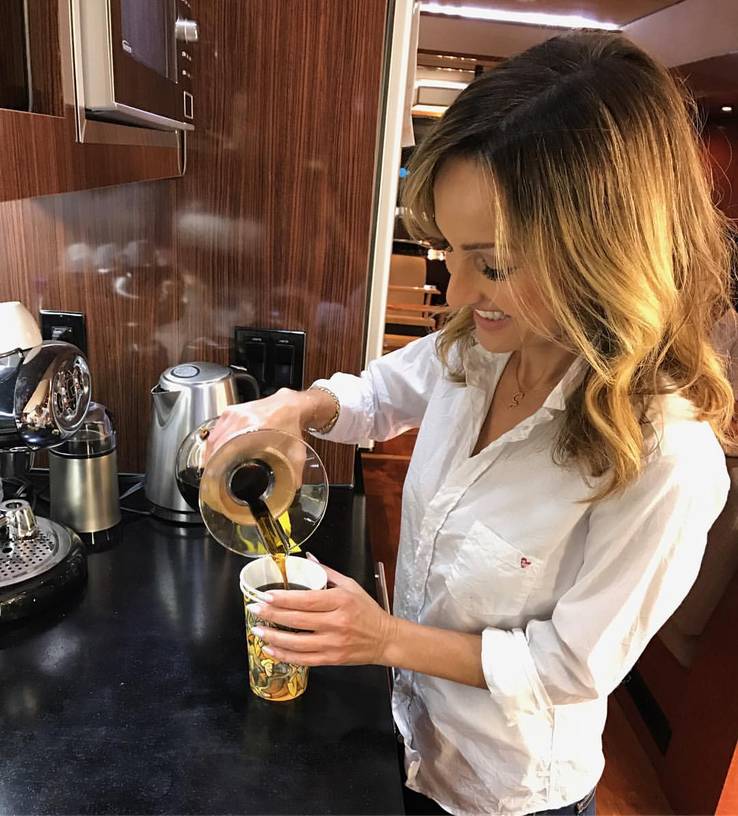 The Italian-born American chef is not only loved in America, but worldwide too, and fans in Italy have graced her for showing North Americans that Italian food consists of more than just pizza and pasta. However, another thing that is vital for Italians and the Italian culture is coffee, whether it be an espresso or a cappuccino, having coffee is just as important as praying every night and going to church for Italians. We rarely see De Laurentiis take a moment for herself, so we love this photo of the Italian chef just taking a second to enjoy her cup of coffee.
Although she moved to America in 1977, De Laurentiis has adopted an Italian lifestyle, and sipping on espresso is part of that. It's hard to not admire everything about the chef-turned-TV-personality-turned-author when she remains so humble despite her success. To us, this picture of De Laurentiis smiling while she pours herself a cup of coffee shows firstly how grateful she is for the little things in life and secondly, how important it is to enjoy the simple pleasures of life. She posted this picture on National Coffee Day with the caption "Great excuse to have an extra cup of coffee," but this was actually a great excuse for another great picture.
Featured Today
25 Tumblr Posts That Made Us Rethink These Disney Characters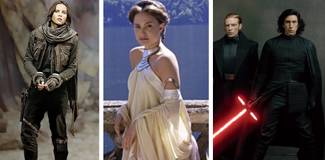 10 Star Wars Actors Perfect For Their Roles (And 10 Who Clearly Are Not)

15 Roles That Meghan Markle Wishes The World Would Forget

13

De Laurentiis And Her Aunt Raffy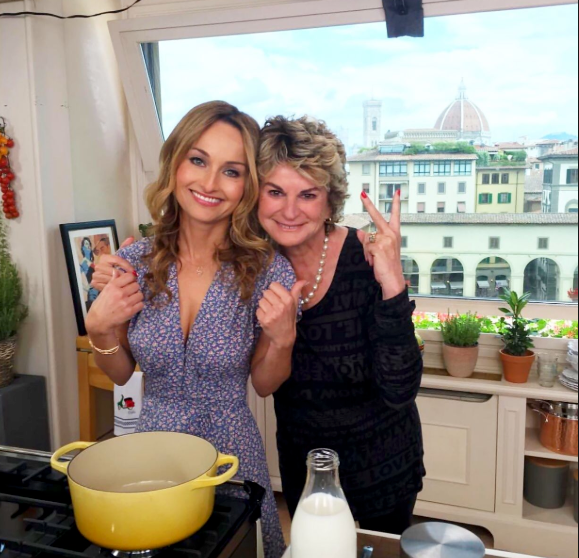 Millions of Americans love to watch the warm and smiley De Laurentiis on television, and along the way, she has often vocalized how important family is to her. Those who are fans of De Laurentiis know the ones that De Laurentiis shares an infinite love for, like her daughter Jade and her aunt Raffy. De Laurentiis makes it very easy for us to understand that her family is extremely close to her heart and means the world to her. And though De Laurentiis' success has gone through the roof, she did not do it alone and she does not forget where she came from – ever. Growing up, many of us have someone or people whom we idolize, and for De Laurentiis, her idol was her aunt Raffy, and she made a point of following in her footsteps. It sometimes proves difficult to follow one's dreams as a child when the parents do not necessarily agree, but De Laurentiis did not give up on her dream and constantly looked up to her talented aunt.
She did not necessarily look up to her aunt because she was a chef, but because she was a woman who followed her dreams despite family expectations. That's the kind of woman I want to be."
Here they are reunited together in De Laurentiis' kitchen — what a dream.
12

De Laurentiis Always Makes Time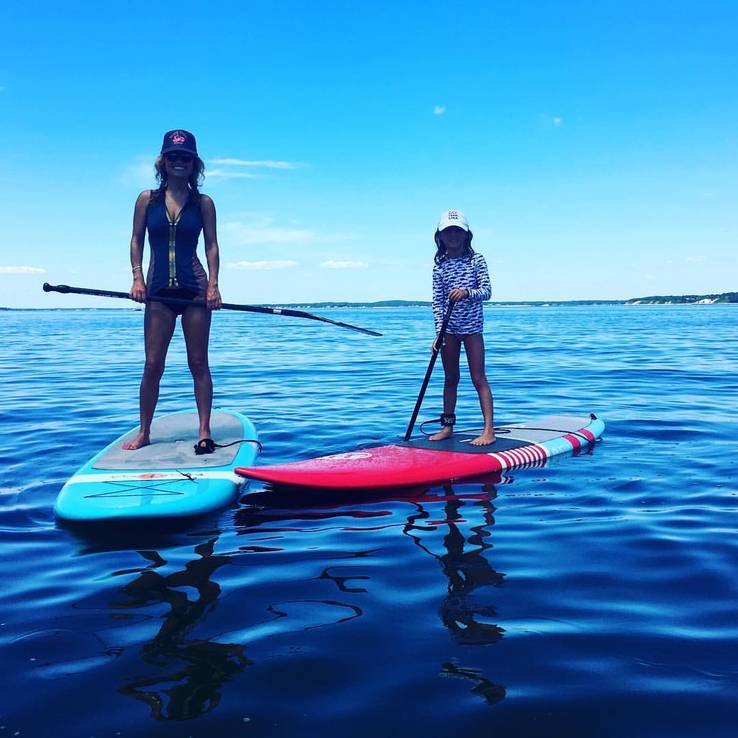 Though De Laurentiis keeps up with her social media because of her huge following, she does not show her followers every aspect of her life, and one part of it all is that De Laurentiis is not the type to post more revealing photos of herself like bikini ones. Though the Italian chef who is also a mother has an enviable figure, she is not the type to post such pictures though she is often on tropical beach vacations, and we love that. We love that De Laurentiis uses her name for the right reasons and stays true to who she truly is, which is a woman who is always smiling, humble despite her success and a loving mother. Here though, in this photo, we see De Laurentiis in a one-piece bathing suit, which is the most revealing post the stunning Roman-born beauty has shared in months. This photo is a true expression of the woman that De Laurentiis is; she is a woman who still tends to adventure and have a fabulous time with her daughter despite the heavy workload. We see a woman who is not afraid to try new things and take risks and have her most-prized possession with her along for the ride, and that is her daughter.
11

De Laurentiis Doesn't Take Everything Too Seriously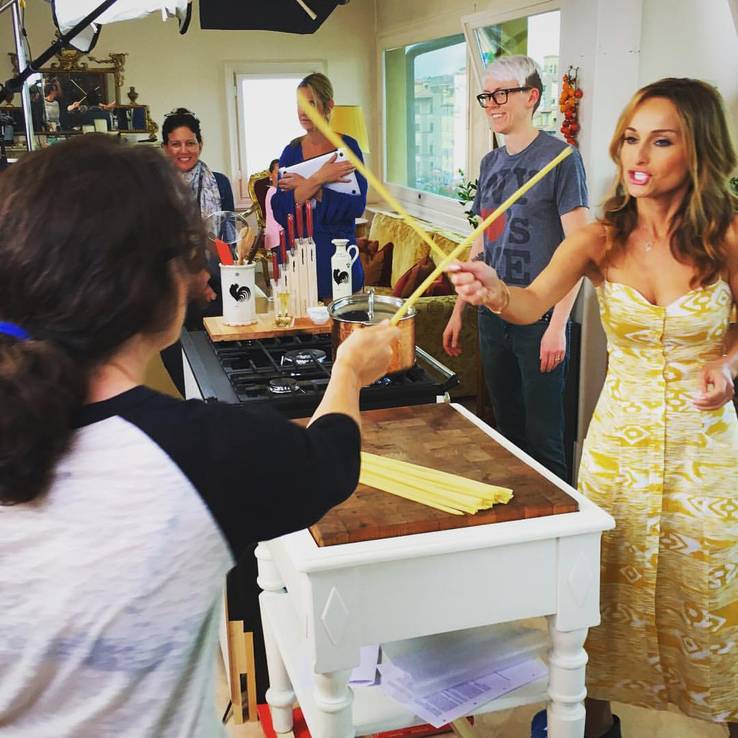 From moving to America from Italy and not being able to speak a single word of English, the star chef has come a very long way, but one thing is for sure, she has not forgotten her roots. And though she has kept her trademark Italian accent, De Laurentiis established herself very well in her new home when she rose like fire to success, and we applaud her. Besides her show Everyday Italian that made us all want De Laurentiis to adopt us, so we can have her savoury food, De Laurentiis had another show named Giada in Italy, that took place in Florence. During the two seasons of this show, De Laurentiis went to her country to visit family members, friends and all that inspired her to be the person she is today. De Laurentiis is a woman of class, so when she is cooking, she remains fashionable and elegant, but behind that smile is a person who adores to have fun, and here, we see her playing aorund with a colleague. We love to see the joy she brings even off-air!
10

What Got Her Famous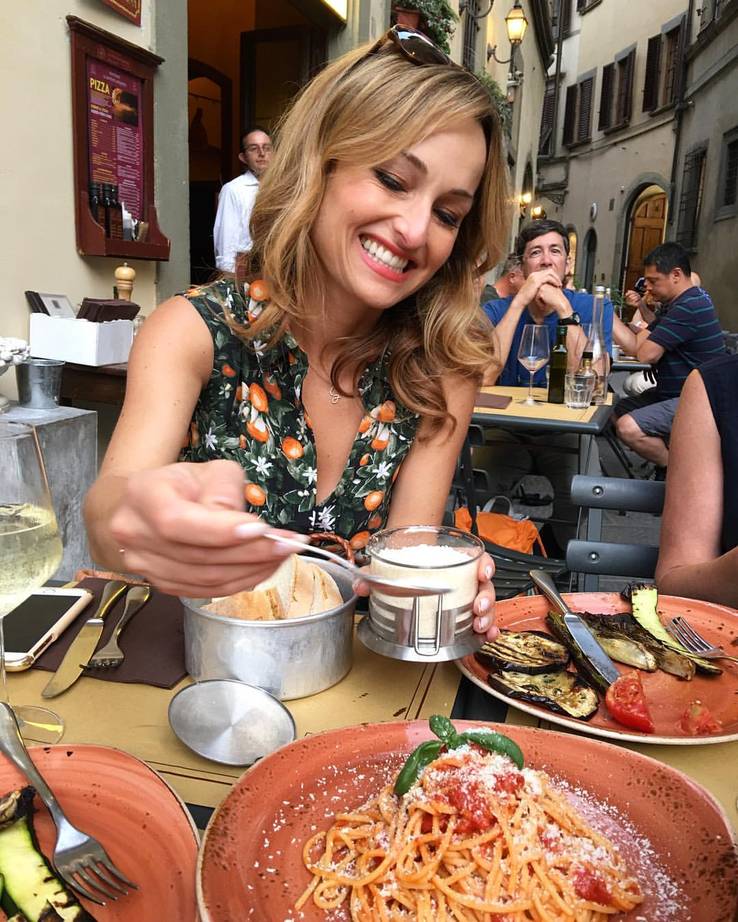 When doesn't this drop dead gorgeous woman smile? She always has a smile on her face that is utterly full of life and we get overjoyed just looking at her. If there is one thing that De Laurentiis is exceptionally excellent at, it is style, whether it be styling herself or food styling. If watching De Laurentiis on television, you usually see her doing her thing in the kitchen, but here she is at a restaurant in Florence, Italy, making her the guest and not the chef.
Before she was even famous, De Laurentiis was actually recognized for her food styling; there was an article written about her in the Food & Wine magazine that Food Network executives spotted, and that is when they reached out to her. 
We say this because in this photograph, we get an image of how De Laurentiis is out when she is being served food and we get to see her in a more natural setting. Putting parmesan cheese on her spaghetti al pomodoro, she looks as happy as a kid in a candy store, and that is the De Laurentiis that we all love. And of course, she looks super cute with her fruity outfit.
9

De Laurentiis Has An Eye For Fashion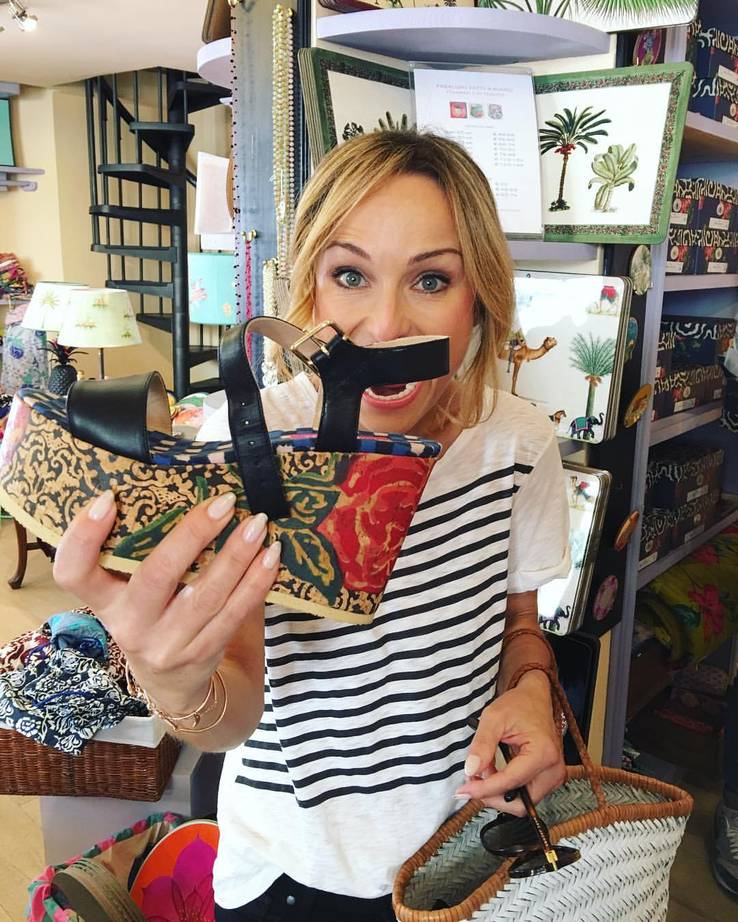 Just because De Laurentiis is a chef and it tends to get messy in the kitchen, it does not mean that she does not have a little bit of Carrie Bradshaw in her. De Laurentiis is always fashionable, and much like food, she has an eye for beautiful pieces. When she's not posting beautiful pics of food or of her family on social media, she's posting photos of her fashion finds. Like any other woman who likes to be girly and dress up, De Laurentiis loves it just the same — in fact, we are convinced that De Laurentiis could be the best personal stylist a woman could ask for. That being said, what do most girls love more than anything in this world, including food? The answer is shoes, and if you know better, then you know that Italy is the country to splurge on some fine Italian-crafted shoes. Her reaction in this photo is priceless; kind of like our reaction when we see her perfect food creations. De Laurentiis looks like she just won an award the way she is holding the shoe like it is the most beautiful thing she's ever seen — we just love how zesty she always is about everything.
8

De Laurentiis Doesn't Only Cook And Eat Italian Food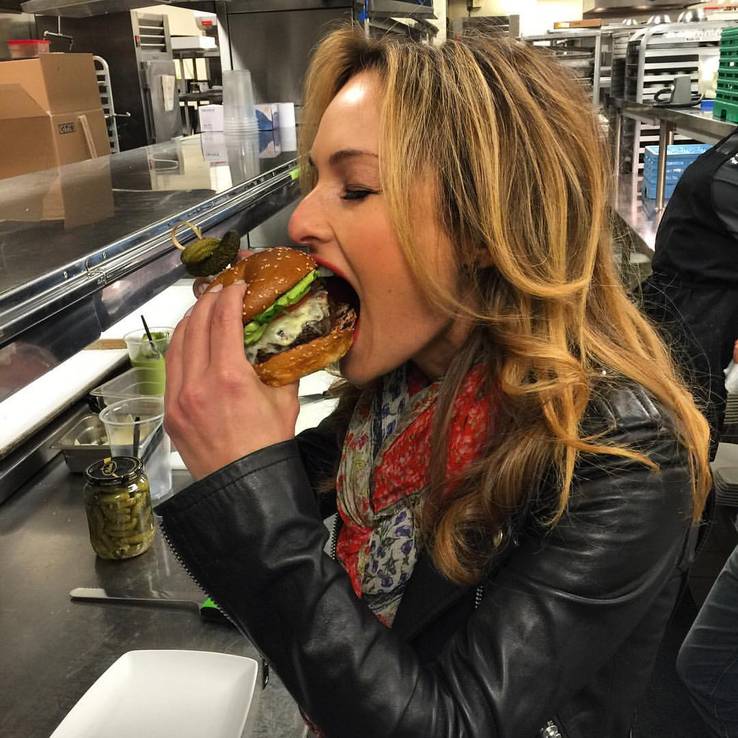 We know that De Laurentiis is one of the greatest chefs, and being so beautiful, we love to watch her do her thing when cooking, but what happens to all that food after? Despite making some of the greatest food in the world — food that is loaded with carbs too — De Laurentiis remains thin with a fantastic body, and we cannot help but wonder how she does it? Not even we can resist the food she makes, and we are watching it on a screen. She obviously knows what is good for the body and what is not, but it still blows our minds how petite she is. And so, we had to obviously include a photo of De Laurentiis happily stuffing her face with food and we love it. If there should ever be an advertisement for De Laurentiis' restaurant in Vegas, it should be this one, because there is something so funny, entertaining and pleasing about the picture. This photo, posted to her Instagram account, was taken at her Las Vegas restaurant at the Cromwell in the kitchen, and it looks like De Laurentiis was too anxious to wait to take a bite. Her caption is what we love most though: "Who says Italians don't do burgers?"
7

De Laurentiis Looks Good No Matter What She's Doing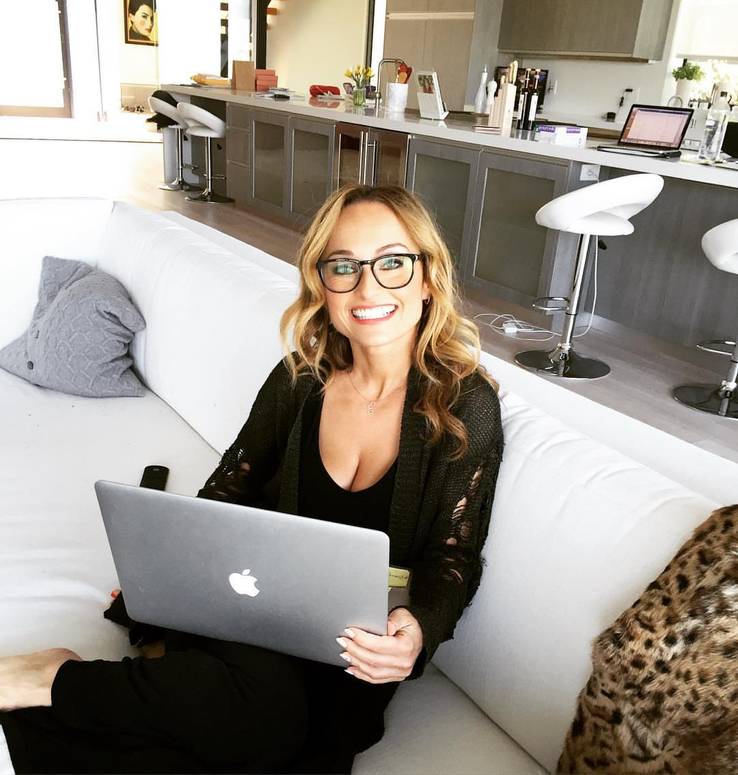 If there is one thing that is rare, it is seeing De Laurentiis kick back and relax. Between owning restaurants, having numerous television shows, being an author and a dedicated mother, it is quite impossible for De Laurentiis to dig herself onto a couch for a couple of hours, so we love to see the star photographed doing none of the above. Despite being an exceptional chef, many people love De Laurentiis because she is so friendly and has such a great demeanour no matter what she is doing, which is usually something, so it is great to see De Laurentiis in complete relaxation mode. She is known for being America's most beloved Italian chef, but her trademark is definielty her perfect smile, and here she is again smiling wide for the picture. We must point out that the celebrity chef looks just as dashing without makeup and looks as natural here as she does on television. We must again point out her sense of style because Italians have the mentality of looking good no matter the occasion; she is rocking the forest green monochromatic look that looks comfortable but still on trend. Did we forget to mention how foxy and rocking the stunning chef looks with glasses on?
6

De Laurentiis And Her Personal Life
Fans of the star know that De Laurentiis had a tough time with love after her divorce with Todd Thompson, the father of daughter Jade. We find that incredibly hard to believe seeing as De Laurentiis is such a catch; she has the beauty, brains, passion, and much more to offer. At the same time however, De Laurentiis always shares extreme confidence and happiness as we have seen in her photos, and on television despite being a single mother. Alas, De Laurentiis finally has a reason to flash the huge grin she always has on her face, and that's her man. If you find that De Laurentiis was smiling much more these last 2 and half years, well it was because she has an amazing man by her side — Shane Farley. In an exclusive interview with People, her boyfriend confirmed what we have been saying all along when he said,
"She's warm and absolutely beautiful — what you see on the outside is there in the inside as well."
We haven't really seen the couple in public, and De Laurentiis does not share photos with him on her social media, but we get a good idea that her new man is besotted by her and that the Food Network star found her fairytale.
5

De Laurentiis Is Young At Heart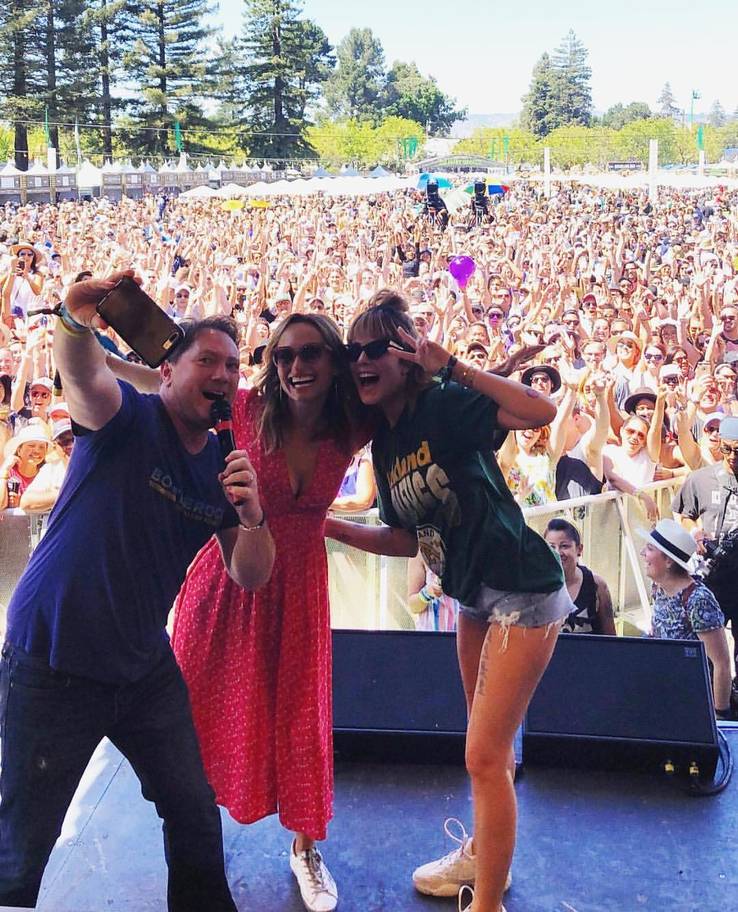 Who says at 47 years old you can't put on a polka-dot dress and have an awesome time rocking out? Pictured here one week ago at BottleRock Napa Valley, which is known for boasting some of the biggest stars in music, food and sports, De Laurentiis was one of the stars at the extravagant festival. It is quite shocking to think that De Laurentiis is 47 years old when she has the spirit and energy of a teenager. The chef has so much going on for her, besides being a chef evidently; she is a New York Times Bestselling Author, and a Today show correspondent, yet, she still finds the time to be available for all events that want her around and she makes a blast out of it. Here she is on stage, and we cannot lie, she looks like a teenager who just got called up on stage with her favourite band from the '80s, but that is De Laurentiis; De Laurentiis is always ecstatic and full of life, and the day pigs fly is the day we will not see her with a big smile on her face. Besides the fact that she looks like a 25-year-old, we absolutely love the outfit.
4

De Laurentiis Knows How To Class It Up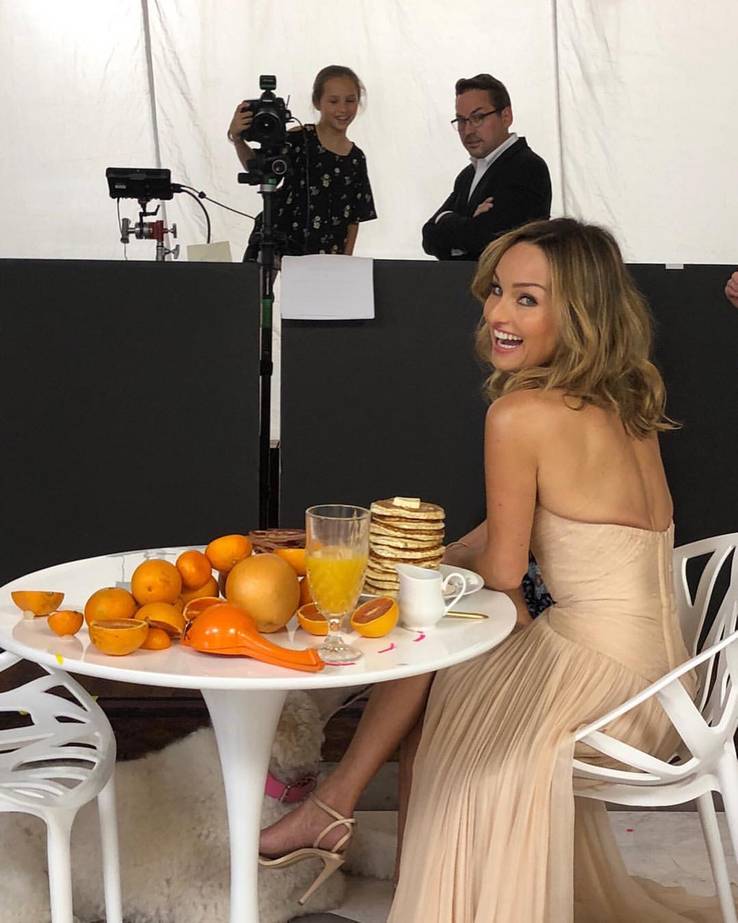 De Laurentiis, since day one, has always been about girl power, and her mentality has shone through and still shines in everything she does! We cannot deny how beautiful and stunning she is, but we also cannot deny the star power she has because of all the great things she has accomplished. We always see De Laurentiis looking stylish — she even wears fancy white tops when in the kitchen — but we do not always get to see De Laurentiis in fancy evening gowns like this one. We don't get to see the whole front of her dress, but we could tell that it is a corset top until the waist and then flows naturally, and De Laurentiis looks like a princess. And let us add, when a woman works that hard, she deserves to be pampered to look like the star she truly is every now and then. However lavish the gown is, De Laurentiis' beautiful face distracts us a little because, as per usual, she always has the cheeriest facial expressions one can have. And then there is a bunch of oranges and pancakes all over the table too, which is why she may be so delighted. We don't know what we are more excited about, but our eyes are glued to the screen.
3

De Laurentiis Would Look Dashing As A Royal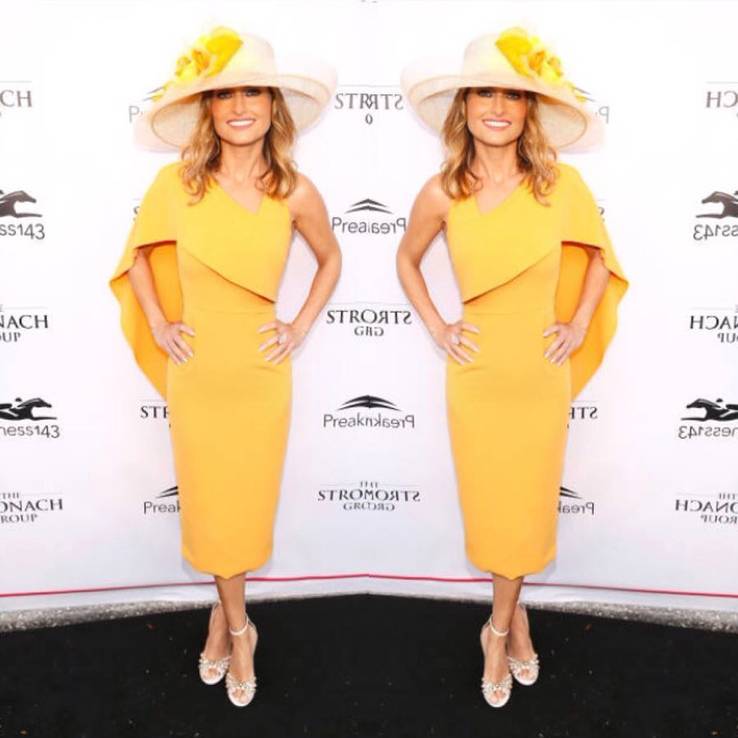 Her flavourful Italian dishes aren't the only thing that people fell in love with, but her easy and simple ways as well. Though De Laurentiis has been in the limelight for many years now, people keep on discovering her for her infectious personality, her picture-perfect food and her photogenic self. As we mentioned before, there is a lot more to De Laurentiis than just her cooking; she is Italian after all, and Italians know their fashion, so it is no surprise that De Laurentiis is so in touch with her fashionista side. The chef, author and TV personality could also add the title fashion guru to her resume, because the chef is always dressed as great as her food looks. They say that food presentation is vital, and De Laurentiis certainly believes the same about her personal style when cooking.
Here is a photo of the celebrity chef in banana yellow midi dress, with one bare shoulder, and we confirm she looks way more appetizing than an actual banana. We wanted to show a photo of De Laurentiis out of the kitchen and at a formal event where De Laurentiis could actually showcase her trendy side without being surrounded by distracting food. Her accessory in this photo, the extravagant hat, definielty makes her look like royalty.
2

De Laurentiis Is The Lady In Red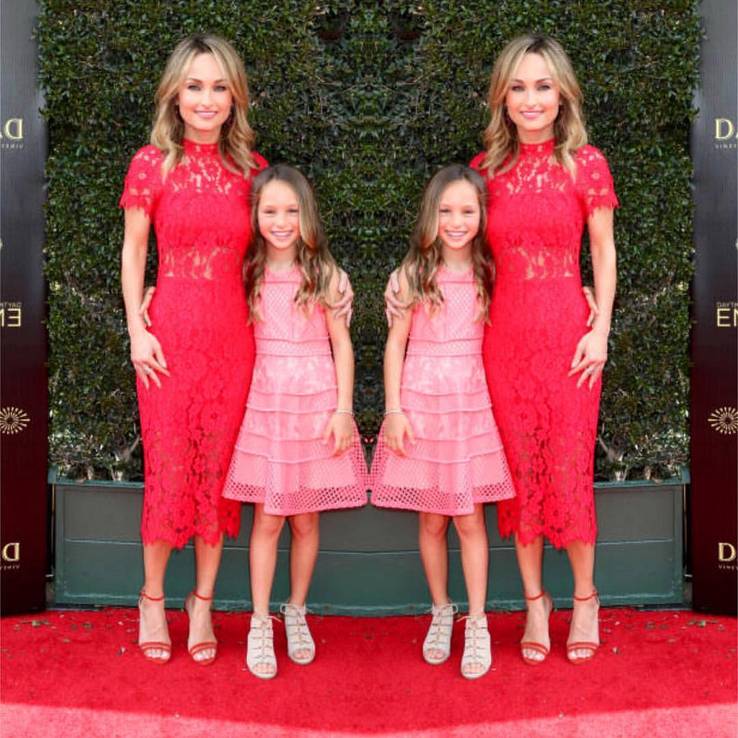 Wait a second, De Laurentiis is a chef, and more specifically an Italian chef, and she is that thin and fit? Where do all the carbs from the homemade pasta and pizza go? Attending the Daytime Emmys with her beautiful daughter, the unique chef stole the spotlight from many with her effortless look. Just like her recipes that are kept relatively relaxed and simple but extraordinary, De Laurentiis does the same with her own personal style; she never overdoes it, but still always looks astonishing. De Laurentiis cooks simple but authentic Italian food, and her style very much resembles her style in the kitchen. Firstly, the red dress looks stunning on De Laurentiis' petite and enviable figure. Secondly, we love how the celebrity chef, who is also a mother, was not afraid to show off some skin; her abdomen is revealed through the lace, and her thighs as well. Since De Laurentiis is very in touch with her fashionable side, she pulled off one of the hottest colours of the year, red, and one of the trendiest styles, the monochromatic look.
We also want to mention, that since this stunning autograph was taken at the Daytime Emmys, that De Laurentiis, also won an Emmy of her own; in 2008, the star won for outstanding lifestyle host of her Everyday Italian show.
1

De Laurentiis Has A Sense Of Humor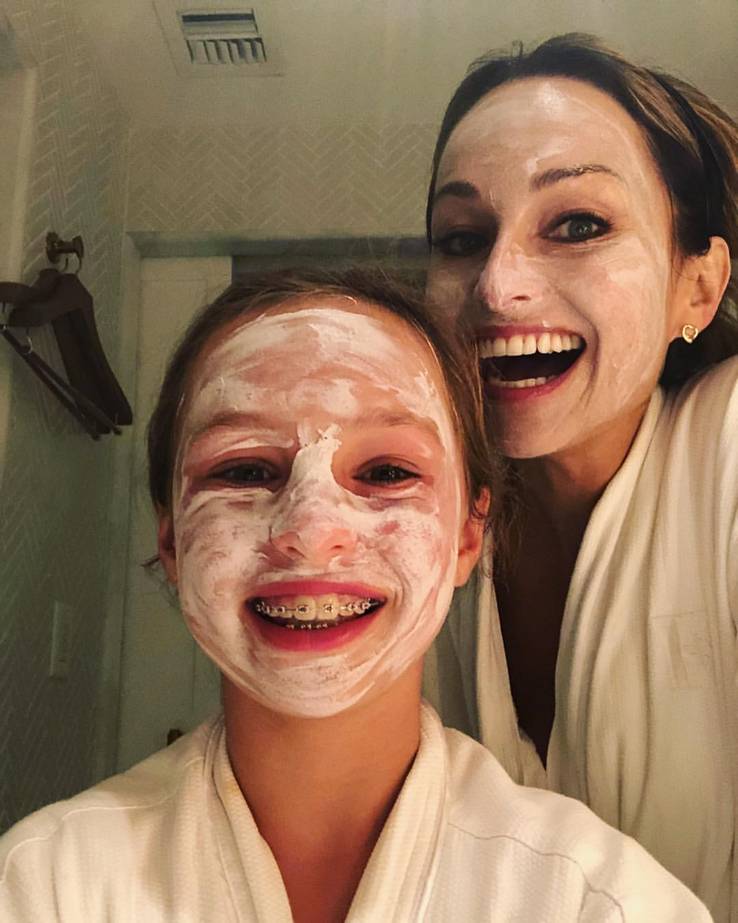 There are many photographs of the star with her daughter Jade, who looks like her twin and will probably be just like her mother one day. The mother and daughter duo are our favourite duo because they are adorable and always twinning practically. Many of De Laurentiis' fans do not only look up to her for motivation for cooking, but also for family inspiration. Through her recipes, De Laurentiis makes it evident that her dishes are done with family love because until this day, she looks to her family for inspiration. Now, when it comes to her relationship with her sweet and fun-loving daughter Jade, she shows to the world that she trusts her daughter with all her heart and that their bond is unbreakable. And when you trust your daughter, and there is a sturdy mother-daughter bond, then moments like these are exceptionally special. The way De Laurentiis warms our hearts with her cooking, she does even more when she publicizes photos of her relationship with her daughter. We love the silliness of this photo and the purity of it all; a mother and daughter just enjoying their time off and doing girly things that De Laurentiis may not always have the time to do. We also love how De Laurentiis was open to show the face mask picture to the world.
References: foodnetwork.com, people.com
Source: Read Full Article