"In the criminal justice system…" Since 1990, that line has been a mainstay of television. Law & Order was unique when it premiered for crafting the modern procedural formula. The first half has the cops investigating a crime, arresting a suspect at the halfway point. The second half focuses on the prosecution trying to put the guy away. The show really took off in the 1990s as syndication made it popular with fans loving the "one and done" storylines. It grew into a variety of spin-offs. Special Victims Unit focused on assault cases; Criminal Intent put a focus on the criminals themselves; Trial By Jury was all about trials, and there was a version in Los Angeles. Today, all that's left is SVU but the rest of the shows live on in what appear to be never-ending runs on syndicated channels. All one needs to do is flip on TNT or USA any day to see a marathon of episodes featuring big stars.
Obviously, the franchise goes for big-name guest stars in some roles and everyone from Julia Roberts to Jeremy Irons have shown up. But more notably is that the show has boasted a fantastic bevy of actors who would go on to major fame. Box office stars, TV icons, Emmy and even Oscar winners have graced the screens of L&O at some point. When he hosted the Tony Awards, James Corden got a huge laugh noting how literally every nominee had done at least one (or five) L&O episodes at some point. It's remarkable to count how many future names abound there and showing off at a young age. Here are 30 stars you forgot were on these series and makes watching reruns all the more fun.
30

Emily VanCamp
A major complaint by fans on SVU is that it can go a bit too far in some wild twists. Such a case would be "Dependent." Emily Vancamp plays the daughter of a mob boss and his departed wife. Her name was Charlotte, who the detectives find after a night of wild partying that leaves her barely able to remember anything. What looks like a straightforward case gets crazy when Stabler tracks down Charlotte's girlfriend, a suspect, who dies in the arrest and Stabler investigated for misconduct. Despite this, Vancamp did show some appeal in the role as the bratty teen who does have a major dramatic turn in the climax. The actress had just come off her role as the good girl love interest in the family drama Everwood but this showed she could handle serious stuff.
Just after the episode aired, Vancamp landed a part on ABC's hit Brothers & Sisters which raised her profile. When that wrapped up, she starred in the hit Revenge and then added playing Sharon Carter in Captain America the Winter Soldier and Civil War. Currently, Vancamp plays a doctor investigating some crimes on the surprise Fox success The Resident. But she showed via SVU that she could handle some darker material early on.
29

Lili Reinhart
This lovely blonde actress has found fantastic success due to her role as Betty Cooper on Riverdale. Lili Reinhart had revitalized the classic property as Betty is a "good girl" but can get wicked at times. Her relationship with Jughead is surprisingly well handled and she also deals with the insanity of the town. While it's Reinhart's breakthrough, it's not her first TV role. In 2013, she starred in the SVU episode "Lost Traveler." The title refers to a young boy lost in New York and the squad racing to find him. It's too late and the investigation soon reveals a pair of teenage girls who basically tortured the kid for their own amusement.
It's amazing to see Reinhart in the part, She is cold and acting like this is just a prank that got out of hand. Her final glare at Benson as she's cuffed is chilling and shows a dark side. She told a TV Guide interview she enjoyed the part. "[Courtney is] the queen bee of school. She's very mean. Obviously, she tries to control Emma in any way she can. And, overall, she's just not a nice person. Courtney doesn't really get affected." No wonder Reinhart handles the insanity of Riverdale well as she's already used to dark material.
28

Allison Janney
With her striking height of six feet tall and her great sass, Allison Janney has become a major TV favorite. But even she had to start somewhere, including starring in some Law & Order episodes. First came season two's "Star Struck" as a soap opera actress who is attacked on set. Janney played one of the crew, a brief walk-on part to give a few lines before leaving. The true culprit turns out to be a troubled man who's confused the soap with reality. Two years later, Janney had a bigger role in "Old Friends." It had the detectives discovering the hit and run of a woman was made to cover up her discovering her company had ties to the Russian mob. Janney played an executive who knew what was going on but she was terrified of testifying for fear of her life.
Janney showed grit in the role that led to some minor movie roles. In 1999, she landed her star-making part of CJ Cregg on The West Wing that won her three Emmys. Janney continues to be busy, starring in the CBS hit Mom which has added another Emmy to her shelf. She truly hit the heights by winning the Oscar for her turn in I, Tonya. Thus, L&O can boast to having one of the most honored actresses of her generation as a future star.
27

Claire Danes
Many believe Claire Danes basically came out of nowhere in 1994 with her role in My So-Called Life. Her turn as angsty teen Angela was a winner with critics and broke out majorly. The show was surprisingly canceled after just one season but remains loved by critics. However, the reality is that Danes' first major TV role was on the third season Law & Order episode "Skin Deep." The cops are investigating the passing of a photographer and soon discover the man was making a seedy side living that may have brought him to his fate. DNA evidence is linked a woman (Alberta Watson) who was one of his former "models" and had a motive. Danes played her daughter and it should be obvious there's a big twist regarding her role in the case.
Only 12 at the time, Danes showed great promise in the role, handling the twists and the darker turns. Danes would move onto various movies like Romeo & Juliet and others. In 2011, she landed her part as Carrie on the hit Homeland which won her two Emmy awards. So here's another case where Law & Order managed to find an actor who would go on to become a huge TV favorite.
26

Adam Driver
The handsome actor has become a sci-fi icon but he is probably the biggest future Star Wars name to be connected to Law & Order. He first popped up in the 2010 L&O episode "Brilliant Disguise." After several escorts are attacked, suspicion falls on a college student who could be using this to cover his debts. Adam Driver played a fellow student who's called on to testify and soon getting himself deeply involved in the case and the cops suspicious of how much he truly knows as the case takes the usual wild turns.
Two years later, Driver showed up in the SVU episode "Theatre Tricks." It focused on an actress attacked during an "interactive performance" and thus plenty of suspects. Driver was the socially-awkward hacker who turned out to have been stalking the woman and even popping up to talk to her as if they were in a relationship. It was really the red herring as the true attacker was a judge who everyone worries may be mentally addled. Driver would get attention for Girls before landing the role of Kylo Ren in the Star Wars sequels. Looks like he was already attuned for the Dark Side thanks to this show.
25

Phillip Seymour Hoffman
His passing at only 46 years old was shocking as Phillip Seymour Hoffman had become a major star. With his amazing ability to sink into roles, the actor could do drama and comedy easily, bouncing between independent movies and blockbusters. This included such acclaimed movies as Doubt, Boogie Nights, Magnolia, Almost Famous and the Hunger Games series. A four-time Oscar nominee, Hoffman won for his acclaimed turn as Truman Capote and was still working all the way to his passing in 2014. Even some of his own fans may not be aware that the start of this incredible career was on Law & Order in the very first season of the show.
"The Violence of Summer" begins with the trial of three youths accused of going for a reporter. However, the D.A. puts the charges aside in order to strengthen the case and so we have the "Order" part coming before the "Law." Hoffman played one of the youths who seemed to be treating the whole thing as a joke to get attention, seeming like he didn't understand what would happen in concerns of the case. Hoffman looks amazingly young in the part, but his talent, of course, was beyond his years. Thus L&O can boast to being the true start of a fine career.
24

Sarah Hyland
With her doe-eyes and amazing looks, Sarah Hyland has found huge success with the hit sitcom Modern Family. Her Hayley is a good-hearted but rather dull in the head young girl, who often uses her beauty to get away with things. So it might be surprising to know that twice Hyland got into darker material courtesy of SVU. First came 2001's "Repression" where a teenage girl comes to the police, claiming that a therapist has helped her recover repressed memories of abuse by her father. The father denies it and it leads to several dark turns. Hyland plays the girl's younger sister who denies any wrongdoing. It all turns out to be a tragic mistake and a terrible twist to show how tricky memories can be.
Eight years later, Hyland returned to the show in the episode "Hothouse." This involves a teenager found dead and so Benson goes undercover as a high-class "madame" to catch a trafficker. It turns out the girl was actually the product of abuse by an overly stern teacher. Hyland plays a key role as the best friend, an incredibly tightly-wound fellow student who takes it far too seriously and that helped lead to tragedy. Just months after the episode aired, Hyland began her work on Modern Family yet this shows a far different side to the actress.
Featured Today
10 Times Kate And William Were Great Parents (10 Times They Dropped The Ball)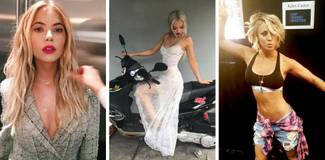 25 Blonde Actresses That Hollywood Just Can't Get Enough Of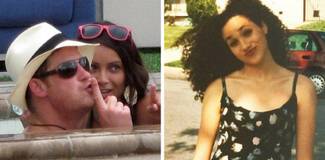 24 Rare Photos of the Royal Family Throughout their Reign

23

Zoe Saldana
Before her current fame as a sci-fi icon, Zoe Saldana showed up in the SVU episode "Criminal." The team is investigating the passing of a young woman and evidence points to her professor (James McDaniel) who was also her lover. Cragen has a long past with the professor, as he once busted the man as a crook years before the fact. The guy is arrested and put on trial, but evidence comes along and says that he is innocent. Saldana plays his daughter who coolly informs Cragen they're suing him and the NYPD for millions of dollars for wrongful arrest. However, she later comes to Cragen in tears, saying that she found a note from her father that mentions how he is going to get revenge on the person who deserves it.
This was actually Saldana's second brush with the L&O franchise as she had guest-starred in a two-part L&O storyline in the minor role of a witness to a passing. Saldana would bounce around in minor roles before 2009 made her a star with her dual parts in Star Trek and Avatar. She's since added her iconic role of Gamora in Guardians of the Galaxy and its sequels.
22

Kerry Washington
2001 was a busy year for Kerry Washington. The New York Native got attention for a small role in Save the Last Dance and then worked in four different TV credits. One of these was on the L&O episode "3 Dawg Night." A shooting occurs at a nightclub and the investigation soon targets a popular rapper. Washington plays Allie Lawrence, the man's producer/agent who clearly has had to work hard in order to keep him out of trouble. She fights with the detectives on the investigation, showing a rather sassy manner handling them. But she has a bigger stake in the case then it seems that plays into the climax.
Washington would find success in movies like The Last King of Scotland and various small TV shows. Of course, she shot to huge stardom thanks to her role as Olivia Pope as Scandal who has become nearly a TV icon. She's stepped up as an outspoken activist and often took on the sort of violence the L&O franchise is built upon. But this early part showed Washington already had experience as a "fixer" and how it cut her teeth to portray a woman handling the law in various ways.
21

Leighton Meester
Usually, a "future star" appearance on Law & Order is playing a key member in a case. They'll be either the suspect or the victim, or a witness, really anyone that can help. But every now and then, you'll see a future famous face in a very brief appearance. Such a case is in "Disciple" as the detectives are called in when a teenage girl is found to have passed away while in the emergency waiting room of a hospital. Evidence indicates she was beaten and they realize she was a runway. They check out a local shelter where a young teen gives them some information. They eventually catch the suspect who offers the bizarre claim she was driven to do this by the voice of a saint in her head.
The role of the teen is just a single scene, shown the photo of the victim, giving some info on her and that's the last we see of it. It's not until the end credits you even find out her name of Alyssa Turner. But the role was played by a young Leighton Meester. The actress, of course, would find huge fame for her role as Blair Waldorf on the hit Gossip Girl and continues to pop up on TV today. It is fun to look at how one of her first credits was a "blink and you'll miss it" given how the woman turns heads today.
20

Sebastian Stan
L&O is famous for their "ripped from the headlines" storylines. Despite how they'll put up a disclaimer on how "the following story is fiction and not based on real events," it's obvious when they use real-life criminal cases for inspiration. Such a case was in the 2003 episode "Sheltered" which was based on the D.C. Sniper attacks of late 2002. When a series of seemingly random events take place, the detectives have to find the culprit before the city goes crazy in panic. Suspicion soon falls on a former Marine (a pre-Modern Family Ty Burrell) as his former boss was one of the victims. But then his son comes up and says he did it himself to help his dad.
To make things more complicated, it turns out this isn't his real son but rather a boy Burrell, who was kidnapped and basically brainwashed into a soldier. Today, the role might seem more than slightly ironic for the actor. Sebastian Stan had several credits to his name but is best known for his role as Bucky Barnes in Captain America. The character seemed to die only to return as…a brainwashed shooter called the Winter Soldier. One wonders if Stan was channeling his former L&O role to play the popular MCU character.
19

Elizabeth Banks
One reason actors love to go on SVU is to break away from their usually clean-cut images and show more dramatic chops. Such a case was Mark-Paul Gosselaar as the former Saved By the Bell star was featured in the SVU episode "Sacrifice." The detectives are investigating his character who's shot outside of a club that is a safe space for people who love the same gender. They naturally assume he was a customer until his wife shows up, played by Elizabeth Banks. It soon turns out she has no idea of her husband's secret life and they believe she's just in denial.
Of course, it's not SVU without some twists. It turns out that the couple was taking part in a certain set of movies to pay for their daughter's medical treatments. When their producer is taken out, the couple becomes the prime suspects with each willing to take the fall for the other. Banks would continue to do work before rising to fame thanks to Pitch Perfect and her role as Effie in The Hunger Games. She's also well regarded as a director of movies, and no, they are not the same kind of movies that her character was starring in.
18

Emmy Rossum
Law & Order loves to play with how a case seems to be going one way then takes a twist. "Ritual" begins with the passing of a doctor who had just done some work in the Middle East. Thanks to various evidence, the cops think they're tracking a terrorist planning to bomb the Statue of Liberty. It turns out to be a doctor himself who's been brought in for a controversial operation on a young girl. This is causing friction between the American father and the Egyptian mother and soon leads to more tragedy. Emmy Rossum played one of the other daughters who talks to Anita about how she overheard her parents having a huge fight. But she's reluctant to repeat the story in court as she's afraid of how this will affect her family.
Rossum was only a child then but seemed older than her years. She would get attention as Sean Penn's daughter in Mystic River and later movies like The Day After Tomorrow and The Phantom of the Opera. Today, Rossum is best known for her raunchy role in the wild Showtime dramedy Shameless. That leads to some pretty adult material. Her L&O episode showed Rossum already had a grasp of how to handle some dark stuff coming her way.
17

Sam Rockwell
It's almost impossible to typecast Sam Rockwell. The actor is known for playing a wide variety of quirky roles, able to bounce between high drama and nutty comedy. He can be the bad guy in Charlie's Angels, the slimy industrialist in Iron Man 2 then do fun stuff like Galaxy Quest or Cowboys & Aliens. Rockwell has gotten his due by winning the Oscar for his acclaimed turn in Three Billboards Outside Ebbing Missouri and still loved by critics. Before all that, Rockwell showed up in the third season L&O episode "Manhood." It touched on a very tricky subject for TV back in 1993 and rather daring even today.
It started with the passing of a police officer which naturally gets the detectives riled up and soon they begin to investigate. Various turns and false leads lead them to the discovery the officer was hiding, which was that he liked the same gender. This soon brings up the troubling idea that his own fellow officers might have refused to aid him in a shootout because of this. Rockwell played the rookie of the trio who the detectives realize is the weak link. Sure enough, he folds in interrogation and gives up his buddies. Sadly, it doesn't quite work out but it does show the great talents Rockwell would use for his fine career.
16

Laura Linney
A key reason for the creation of SVU was the producers realizing that certain storylines did not mesh well with the regular series. Before that, you would see plenty of episodes with storylines better suited for SVU. A key example is season five's "Blue Bamboo" as the cops investigate the passing of a producer. Various turns follow before they center on a singer named Martha Bowen. When arrested, Bowen claims she was often hurt by the man and reacted in self-defense. The D.A. has to figure out if that's true or just an excuse.
The role was an early one for struggling actress Laura Linney. She would have to put up with movies that were not fantastic, such as Congo before roles like Primal Fear got her respect. She soon crafted a great career with three Oscar nominations. She also remained popular on TV, winning Emmys for her work in the mini-series John Adams and starring in the comedy The Big C. Even at this younger age, Linney showed the drive that would make her one of the most dependable actresses of her time and a popular one to boot. L&O was a good start to playing characters who are more than they seem.
15

Idris Elba
In 2001, with "rap attacks" commonplace, it was only a matter of time before Law & Order used it for a storyline. "3 Dawg Night" has a shooting take place at a popular nightclub owned by the even more popular Lonnie Liston. He insists he knows nothing of what happened but it's not long before the detectives find out that he had a beef with the victim due to a bad DJ job. They also suspect the guy of turning a blind eye to dealings in his club. As it happens, Lonnie is just the typical red herring, as the real suspect is a famous hip-hop star which leads to the main trial. The role of Lonnie was played by Idris Elba who was trying to make a break in Hollywood after getting attention in his native England.
A year after the episode aired, Elba landed his breakout role as Stringer Bell on HBO's acclaimed drama The Wire. He soon gained attention for the dark police drama Luther before finding fame in movies such as Beasts of No Nation and playing the role of Heimdall in the Thor movies. Even at this young age, he dominated the episode in his small role with his charisma and standing and thus showing the great talents that would lead to his stardom.
14

Bradley Cooper
Back in 2001, NBC was trying to really dominate with Law & Order. Besides the main series, SVU and Criminal Intent, they also had Trial By Jury, a spin-off meant to focus on both sides of a criminal case. To beef it up, they would do a big cross-over episode with guest-stars. "Night" began on SVU with a series of events linked to a troubled artist (Alfred Molina). However, his ultra-rich mother (Angela Lansbury) uses her connections to try and crush the investigation. Not helping is the man's ultra-slick lawyer who uses every dirty trick in the book to get his client out of jail. It soon turns out that the lawyer may be trying to keep his own dirty past secret.
Playing the role was Bradley Cooper who did a great job as this borderline psycho. Two years later, Cooper landed his breakout role as Will on the hit series Alias. That would lead to a couple of short-lived TV shows before The Hangover made him a box office star. With Oscar nominations and slews of fun credits, Cooper is known for his hot manner and loved by female fans. Which is interesting given one of his first big roles was as someone most women would run from.
13

Lauren Graham
In 2010, NBC shocked fans of Law & Order by canceling the mothership series after 20 years. They then announced a new spin-off, set in Los Angeles. It had promise but it seemed fans didn't take to the California vibe as well as New York. The show faltered and underwent several retoolings but still ended up being canceled after a single season. Maybe the producers should have gotten the hint as they'd tried to mix the show with a Los Angeles vibe already. In the seventh season, L&O did a three-part storyline where a case leads the detectives to Los Angeles and ties to a movie studio. This causes issues of jurisdiction between New York and California law that makes trying the case harder.
The story wasn't too popular with fans. L&O works better as single episodes than longer story arcs, so that is probably why fans grew a little tired of it. But a highlight was Lauren Graham as Lisa, a studio executive who asks the cops to help with a police drama script. Rey takes advantage to press her about their case. It's clear Lisa wants more but the married Rey turns her down. While the role was small, Graham did show a great talent in it. The actress would go on to become a beloved TV mom with Gilmore Girls and Parenthood. It's fun to see her in a less motherly role in this show.
12

Rooney Mara
The Mara sisters are linked a lot in acting and that includes within the L&O franchise. Kate had appeared on L&O in a minor role as the daughter of a lawyer and SVU as a gymnast. Her sister Rooney would follow her. The actress rose to major fame playing hacker Lisbeth Slander in the U.S. version of The Girl With the Dragon Tattoo and adding to her resume with roles like Carol, for which she got an Oscar. Before all that, she starred in the SVU episode "Fat." At the time, Benson was on an assignment so Stabler was partnered with a tough cop (Anthony Anderson) to investigate the death of a high schooler. Mara played a teen who specialized in being unkind to obese kids, but then having a taste of her own medicine.
Mara would complain about it in Allure magazine, hating the idea that her character was acting up because she used to be fat herself. "It's ridiculous. Who would ever do that? Who would beat someone up because they're fat?" Mara would clarity to the Huffington Post that she meant "humanity is ridiculous" but it shows she wasn't exactly thrilled with her turn on SVU.
11

Will Arnett
With his great comic timing and wild antics, Will Arnett is a natural when it comes to comedic hits. So it's surprising that one of his early notable TV roles was a truly dramatic one. The 2002 SVU episode "Angels" has a boy found locked in a bus trunk and the detectives discovering he was used as a dark "ring." Arnett shows up as a man who uses his travel agency as a cover for the ring's activities. When he's busted, he makes it clear that "I'm not one of those freaks" and he was in it strictly for the money. The realization of the fact that he was set up, makes him turn on the rest of his team.
Arnett did showcase his early knack for playing slick scumbags. A year later, Arnett landed his star-making role as Gob on the Emmy-winning Arrested Development. He's added to his resume with movies like Blades of Glory and was loved for his voicing of the Dark Knight in the Lego Batman movie. Yet this episode shows a much darker side to Arnett as the cops make it clear they consider someone profiting off such misery to be even worse than the ones doing it.
10

Viola Davis
Fans today can watch Viola Davis tearing up a courtroom on her hit TV show How To Get Away With Murder. Her role as hard-as-nails attorney/teacher Annaliese Keating has won raves and earned Davis an Emmy and a Golden Globe. It's just the biggest of her numerous roles as tough women which includes The Help, playing Amanda Waller in Suicide Squad and winning the Oscar for her turn in Fences. But L&O fans know well that Davis was a rather familiar face for the shows. She first showed up on Criminal Intent in "Badges," playing a long-time cop friend of L&O's Anita Van Buren. Anita would naturally be horrified to find her "friend" is a corrupt dealer using her skills to cover up her crimes.
The producers liked Davis so much that she became a recurring presence on SVU as defense attorney Donna Emmett. She appeared in eight episodes, taking on a variety of clients and seeming to really care about their defense. Her role usually just consisted of warning the cops and D.A.s of their actions but did show grit in the courtroom scenes. The role was small but Davis dominated with the same charisma she'd use for her acclaimed career.
9

Melissa Benoist
Every fan of the show knows the opening scene. It always starts out as a normal day, one that is quiet, simple, until someone stumbles on something they would rather not see. The writers can have fun with the show in that way, before they get into the nitty-gritty of the case. Those actors just pop up there and are never seen again and thus don't seem too important. One SVU episode opened with such a scene as a couple of kids at a beach party find the body of a woman. The female of the couple was played by an unknown named Melissa Benoist.
This was actually the second half of a Benoist L&O set. Just weeks after that episode aired, Benoist was featured on the Criminal Intent episode "Delicate." She played a ballerina who's the target of a rival, who bullies her. When that dancer turns up passed, for other people to find, Benoist is a key suspect and has to put up with interrogations before the truth comes out. Benoist would later do a turn on Homeland, then Glee to get attention. Today, the actress is best known as the CW's Supergirl but cut her dramatic teeth with L&O.
8

Stephen Colbert
It's always fascinating to see an actor known for comedy parts in a serious and dramatic role. The L&O franchise has given several comics a chance to get serious and even dark at times. Such a chance went to Stephen Colbert in 2004. At the time, he was still known as the rather pompous correspondent on The Daily Show and just comedy stuff. His turn on the Criminal Intent episode 'The Saint" shows a much different side to Colbert. He plays James Bennett, a man a bit too close to his mother, who's given much of her money to a Catholic church. Convinced that he could be wealthy without that money given away, James begins a strange plot. He uses his master skills at forgery to cast doubt on a priest being considered for sainthood in hopes of destroying the church's charity. Naturally, it gets totally out of hand, as all things do on the show.
Colbert showed serious chops in the role such as his fantastic final scene breakdown when Goren and Eames arrest him at his home. A year later, Colbert created his over-the-top pundit character for The Colbert Report, crafting an Emmy-winning show. Today, fans can see Colbert cracking jokes constantly on The Late Show but this shows a much different side to the actor.
7

Julianna Marguiles
Mention Julianna Marguiles and Chris Noth together and most will instantly think of The Good Wife. Their up and down relationship as husband and wife fueled the long-running CBS hit with Marguiles winning two Emmy awards for her turn as lawyer Alicia Florrick. That was added to her winning one for her star-making role on ER. However, the two actually worked together long before that show on Law & Order. Season three's "Conduct Unbecoming" has the detectives investigating the passing of a Navy officer (this was a decade before NCIS would come along). Marguiles is an officer herself who's a key witness. She and Noth share several scenes as it becomes clear Marguiles is hiding something.
It turns out her character was the victim of an attack, and what she did was only payback. Complicating matters is the Navy doing their best to hush the whole thing up so it won't create a scandal. This was only Marguiles' second-ever acting credit yet even then, she showed great talent in the part as she handles the case. This got the attention of the ER producers who cast her in a role meant to be in only the pilot. But Marguiles won them over enough to become a regular and launch her career. But it should be remembered L&O really pushed her up in the first place.
6

Ellen Pompeo
You can probably do an entirely separate list for future Shonda Rimes stars who showed up on Law & Order. Chandra Wilson alone played three different characters on the shows. So it's no shock that the very first ShondaLand lady should have had a role sometime. In fact, she had two. First came 1996's L&O episode "Savior" as the wife and children of an executive are attacked. Ellen Pompeo played the older daughter who survives and is naturally rocked by it all. Things take a turn when the detectives realize that her father is down on his luck and may have set this whole thing up for the insurance. Pompeo refuses to believe it and her difficulty in testifying just complicates the case more.
Pompeo returned in 2000's SVU episode "Fools for Love" as an attack occurs at a video store that seems to be the clerk taking down a robber. Pompeo played the sister of a girl who was taken down in the crossfire, but she was the one who dated the attacker. You end up finding out throughout the episode, Pompeo is the one who actually set the whole thing up. Five years later, Pompeo landed her role as Meredith Grey but these two episodes show how she was already used to some dark and wild storylines.
5

Jennifer Garner
Even the longest-running TV shows take a chance now and then on a different styled episode. The sixth season L&O finale "Aftershock" is truly unique. There is no case, no investigation, no trial at all. Rather, it opens with the characters watching the final moments of someone that they put away. The episode then focuses on how they deal with it in various ways. Rey Curtiss (Benjamin Bratt) just goes for a walk around New York and at an outdoor fair, where he runs into a pretty college student. They start talking, as Rey seems happy to unload his feelings on someone else. They eventually head to her place and have drinks, and the scene fades so that you don't know what happens next. The next season, Rey confesses to Briscoe that he did spend the night with the woman which nearly ruins his marriage.
The part was played by an actress who back then just had minor bits in other TV shows. But Jennifer Garner would be boosted by the part and move onto roles such as Time of Your Life. In 2001, she landed the starring role in Alias which launched her to stardom. Well known today for her work in movies and her marriage to Ben Affleck, Garner owes L&O for one of her early notable roles.
4

Hayden Panettiere
Here's a case of an actress who made not one but two different entries on the same L&O show. In the season 2 SVU episode "Abuse," the detectives are concerned over the treatment of the children of a popular singer. Hayden Panettiere played the woman's daughter who the detectives believe is trying to do bad things to herself to get attention, in order to show how her mother is neglecting her. The young actress had just gotten attention for her scene-stealing role as the football-obsessed kid in Remember the Titans and showed a fun charm. But she had some good stuff in this episode as a kid just wanting to be loved. Panettiere would then move on to playing Calista Flockhart's daughter in the final season of Ally McBeal.
Four years later, a teenaged Panettiere returned to the show in the episode "Hooked." Finding the body of a teenager, the detectives discover the girl had gotten herself into a very dark life. Panettiere played her best friend who seems innocent at first but in reality, is covering up her own involvement in this. Her role got the attention of producers who cast Panettiere in her star-making role as cheerleader Claire on Heroes. The actress remains popular with Nashville but L&O is what proved her acting chops.
3

Amanda Seyfried
While she had already starred in a few things like Mean Girls, Amanda Seyfried was still mostly an unknown when she stopped by SVU. In "Outcry," Seyfried plays a young woman who is found duct-taped inside a construction site. The workers recognize her from the papers as a girl who's gone missing with a huge media blitz over the event. She claims she was abducted by a trio of army cadets, setting off a huge row of a trial as the detectives clash with the Army to charge the men. But the girl's story starts to fall apart as it seems she's covering up what really happened. Sadly, this makes prosecuting her real attacker all the more difficult.
Seyfried showed surprising dramatic chops in the role as she deals with her ordeal and how her desire to keep quiet has ruined so many other lives. The actress would rise up with her amazing acting abilities to star in hits like Big Love, Mama Mia and more to show off her skills nicely. Although she is a beautiful woman, what we love about her is her intense acting skills which she put on full display for this role.
2

Samuel L. Jackson
Yes, the man who seems to make about a dozen movies a year was on Law & Order. As hard as it is to believe, Samuel L. Jackson was actually an unknown once. In the early 1990s, he was just another struggling actor making a variety of rather forgettable roles in movies like Patriot Games. He showed up in the very first season of Law & Order in the episode "The Violence of Summer" where a TV reporter is attacked by a trio of men. The attack would be better suited for SVU but that show was almost a decade away from being created. Jackson is the trio's lawyer and of course, stuns with his talent.
Today, fans might be mistaken in thinking the character was based on Johnny Cochran but this was a few years before the O.J. Simpson trial made Cochran famous. That was all Jackson, grandstanding in the courtroom and showing his great flair clashing with the D.A. Two years later came Jurassic Park and then his star-making role in Pulp Fiction to launch Jackson's career. But he has to rank as one of the biggest "before they were famous" faces to cross on the L&O roster.
1

Jessica Chastain
It's still amazing how fast Jessica Chastain rose up in Hollywood. The actress basically burst onto the scene in 2011 with her terrific roles in The Help and the Tree of Life. She would add on hits like Zero Dark Thirty, Interstellar, Molly's Game and more. Known for her fun humor and great beauty, she's been a standout in any role she's in. That includes a few Law appearances. Trial By Jury was a short-lived spin-off that focused on the main D.A.'s office but also showed how the defense attorneys handled their side of things. A big pull was Jerry Orbach reprising his role as the beloved Lenny Briscoe, now an investigator for the D.A. Sadly, Orbach would pass away after just a few episodes and that may have played a part in the show only lasting 13 episodes.
Chastain had a recurring role as Sigrun Borg, the oddly-named assistant D.A. who worked in the office. She didn't have too much to do but still helped out with giving information and helping the main D.A out as well as co-chairing a case now and then. Maybe if the show had gone on longer, it would have expanded. But as it happened, it was just a minor step for Chastain's rise to A-list stardom.
Sources: IMDB, Law & Order Wikia
Source: Read Full Article