As WWE star Mike Bennett once put it, "When you hear 'wrestling couple,' there is always a negative connotation." Is this perhaps because a lot of the WWE romances are only for storylines that produce shock or horror, or that the term makes it seem as though the duo are not a couple first? Or is it that there are some people in the profession who have been linked to multiple co-workers? In the world of wrestling, entertainment is important, but that doesn't mean that all the romances we have seen on TV are not real— although, some fans continue to wish that their favorite star is single to increase their own chances.
There are some people in the wrestling world who fell hopelessly in love and have gone on to get married and form a strong partnership; one that is filled with mutual respect, love, and understanding. Some of these romances may have started as a storyline, while others met through various industry events like Diva Search, where The Miz and Maryse had a particularly rocky start. Below are 15 couples who are living proof that sometimes you can be in the profession of your dreams, and still have a successful relationship.
15

Daniel Bryan And Brie Bella Have Been Together For Four Years— And Counting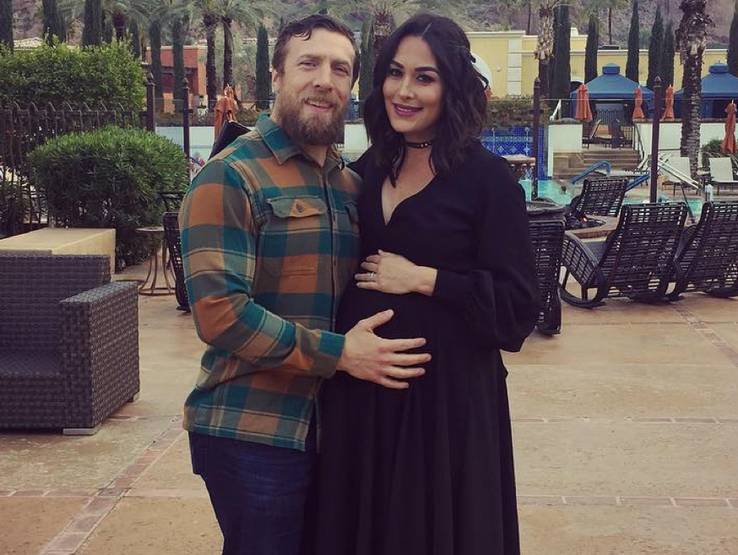 Brie Bella is one of the most popular female wrestlers, and she managed to bag herself one of WWE's Superstar's, Daniel Bryan. The couple first met when they were paired up for a storyline, and Bryan spoke to PWMania about how their relationship first came about back in 2013. He said, "It actually started as a storyline and then we really hit it off. Actually, it was shortly before our storyline ended we kind of started dating each other. We kind of started off real slow, but now we've been together for two and half years…."
Both Bella and Bryan have been incredibly successful in the wrestling world, but they have enjoyed much more than just professional success, and their relationship has gone from strength to strength, which is why it came as little surprise when they decided to get married in April of 2014. The wedding was a romantic affair at L'Auberge Resort and Spa, where they were surrounded by close friends, family and other WWE stars, E! News reports.
They are also proud parents of a little girl, Birdie Joe, and have big dreams of expanding their family. In 2018, Bella spoke to Access and revealed, "My husband would love to start trying now for baby No. 2… I'm like, 'No, there's so many things I wanna do!' But we said definitely 2019's our year to start trying again, which is right around the corner."
14

It Wasn't Love At First Sight For Natalya And Tyson Kidd But It's The Everlasting Kind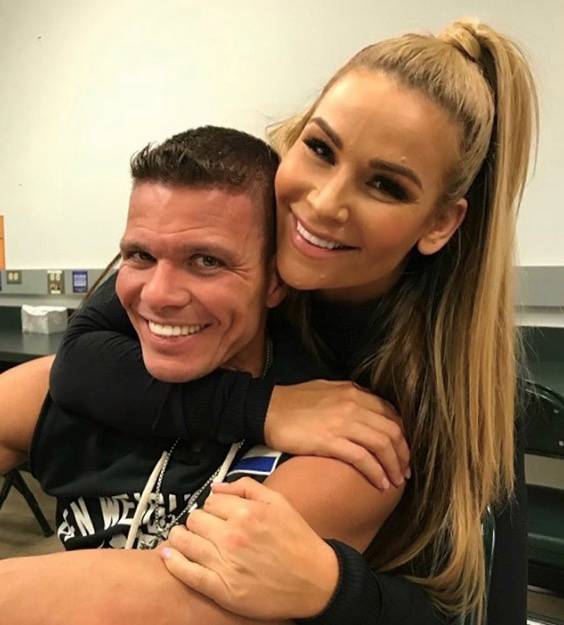 Nattie Neidhart, who goes by the ring name Natalya, and Tyson Kidd (real name Theodore James "T.J." Wilson) have known each other for almost three decades and are living proof that sometimes you can really have it all. They first met when they were just teenagers, and Kidd recalled these early days in an interview with Yahoo, saying, "I can remember meeting Nattie at her grandfather's house — and about five minutes later she told me off."
It wasn't love at first sight then, and Natalya even admits that it took her a little more time to realize she had romantic feelings for her now husband. She said, "For me, it wasn't love at first sight. It wasn't until I started learning how to wrestle that there was this connection with T.J. that changed everything. He always would catch me, he'd always put himself on the line to make sure that I was safe, and when you're in the ring and you're learning how to wrestle, it's all about trust with your partner."
After a decade together, the pair decided to make their relationship official by getting married in 2013, and the bride told E! News that the ceremony was held at a private home and beach in Sarasota, Florida, while the reception was at an upscale restaurant called Michael's on East.
13

Dean Ambrose And Renee Young Are Proof That What Happens In Vegas Is Sometimes The Real Deal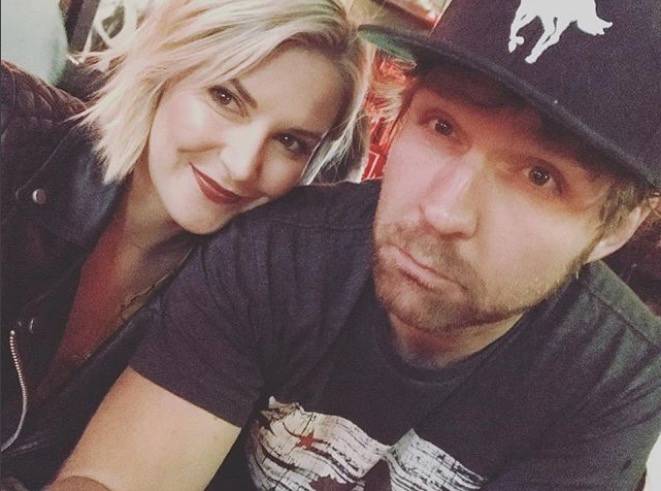 Dean Ambrose and Renee Young got married in 2017, and they are not one of those celebrity couples who spent months planning and forked out millions on an overly fancy celebration, instead, these two managed to plan a secret ceremony in record time.
In an interview with E! News, Young spoke about their wedding decision and how it happened rather spontaneously, although, they had gotten their marriage license several months earlier. She said, "I wouldn't even really say that we were engaged. We've been together for three and a half years and we knew that we wanted to have a Vegas wedding because we live in Las Vegas we just figured we'd do it there and we'd just do it super low-key. We got our marriage license about six months ago when we were in Reno. There was a live event in Reno and I was there with him and we just happen to walk up to city hall and we went and got our marriage license then. So we'd been sitting on it so we could do this spur of the moment, 'hey, let's get married tonight,' kind of thing." She also gushed about how it felt "right" to be married, adding, "It does feel more special, it feels different and we're in that fun, honeymoon stage. I love it."
12

Sasha Banks Wouldn't Have Achieved Her Dreams Without Sarath Ton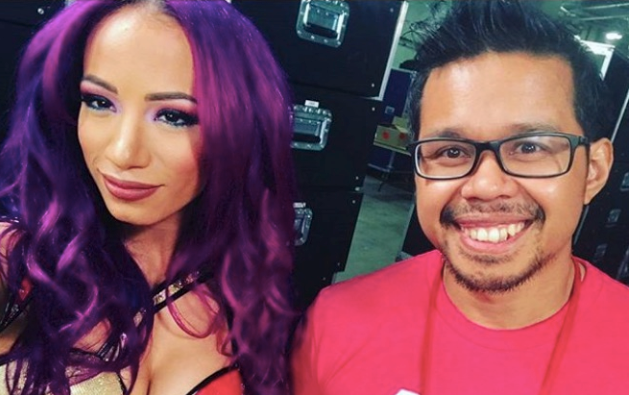 Sarath Ton was once better known as the wrestler, Kid Mikaze, but these days, he makes wrestling costumes instead and is married to a female wrestler, Sasha Banks. According to Wrestling Inc., the couple first met with Banks was training to be a professional wrestler in Boston, Massachusetts, but she was initially secretive about their marriage. The couple made the decision to keep their marriage a secret, with Banks revealing on Lilian Garcia's podcast, Making Their Way To The Ring (via WrestlingInc.), that they did this because fans can be a little too intense. She said, "I just think fans are just so crazy. And, like, I see what they write to him [on] Twitter and I don't like that stuff. If you're saying he's ugly, or he shouldn't be with me because of this or that, like, that hurts me."
She also admitted that he is an "amazing" person and that without him by her side she wouldn't be where she is today, confessing, "And, legit, wrestling was always my dream, but if I didn't have him help me through that whole situation from NXT, and FCW, and everything with my brother, I honestly don't know how I would have lasted."
11

The Miz And Maryse Had A Rough Start To Their Love Story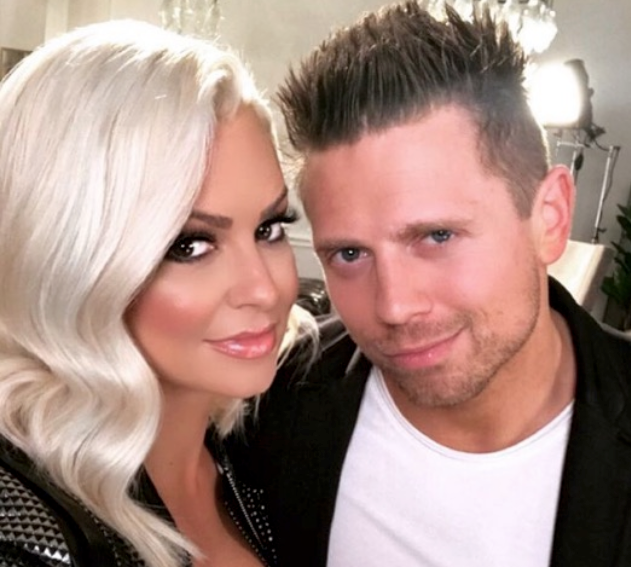 The Miz is one seriously romantic guy because when he finally decided to ask Maryse to marry him in 2013, he did it in a very memorable way. He took the love of his life back to the convention room at the Los Angeles Ritz Carlton, the same place they had their first meeting when she was auditioning for the Diva Search in 2006. Although this is a super romantic story, Maryse wasn't exactly falling head over heels when she first met the wrestler. The reason? Well, she told WrestleTalk TV that her now-husband was a judge on the competition and had been critical of her for not speaking English (she is from Canada).
"He was so mean to me," she said. "Oh my God. I couldn't speak English, and he was rubbing it in my face. He was just like, 'You can't speak English. What are you doing here? You can't work with the biggest sports entertainment company in the world if you don't speak a word of English.'" Despite this initial hiccup, the couple started dating around a year later after a Monday Night Raw show, Heavy reports.
The duo got married in February 2014 in the Bahamas, and more recently, two became three. In March 2018, the couple welcomed their first child, a daughter, Monroe Sky Mizanin, People reports.
10

The Undertaker And Michelle McCool Are Still Going Strong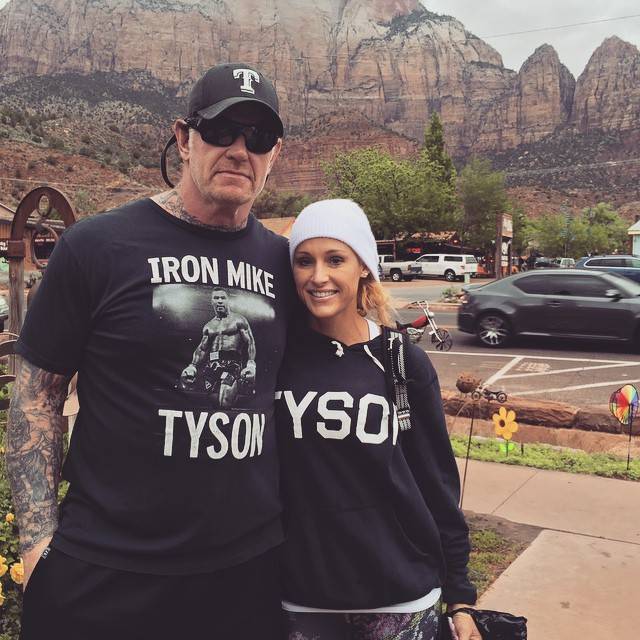 The Undertaker and Michelle McCool met when they were both full-time wrestlers in early 2000's, The Sportster reports. McCool is retired, but fans may remember her from her time on WWE, particularly the SmackDown Live brand, The Sun reports, and her last match was reportedly in 2011.
There seems to be a lack of information about the exact time that they started dating, and the couple is notoriously private, but what we do know is they got married in 2010, and it seems that not everyone was shipping the relationship. According to Sportskeeda, following McCool's retirement, she was asked about whether she faced any resentment about marrying The Undertaker, to which she replied: "Bottom line: People in our business are always going to look to find reasons to see the negative in somebody and to become resentful. I don't really know where it began: probably with me getting the tag as 'Diva Search reject.' But I don't know anybody who, if they had an opportunity like the Diva Search, they wouldn't jump at it. If they didn't jump at it, they'd be idiots."
She added, "People can say what they want to say, but at the end of the day, I can look at myself in the mirror. I know how hard I fought. I know how many storylines I pitched. I know how hard I worked in the ring. I can't tell you the number of times I was one of the first people at the arenas or at TV, constantly trying to better myself. I can honestly say that my hard work paid off…"
9

Alexis Rose Thinks Being Married To A Ginger Like Jack Gallagher Is Amazing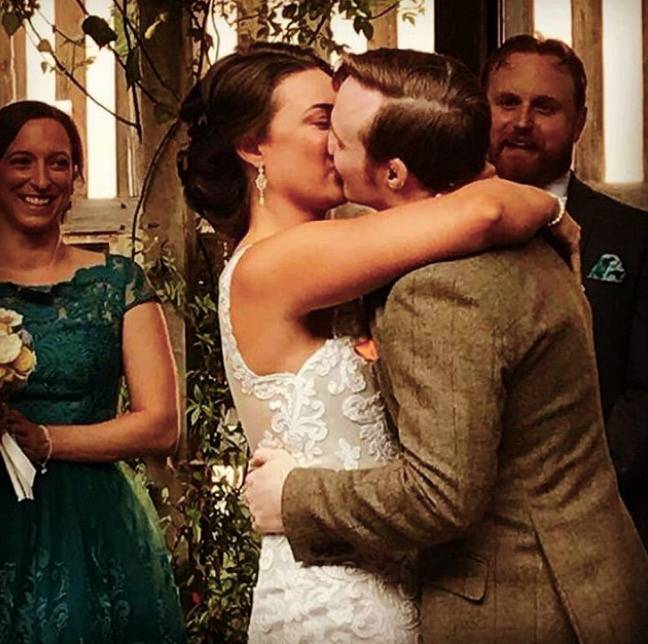 According to PopCulture, 205 Live Superstar, Jack Gallagher, married Clara Sinclair, a British wrestler who competes under the name, Alexis Rose. The couple wed at Brinsop Court Estate in England in September of 2017, and the bride posted an adorable photo of them kissing at the altar.
This couple is not as well-known as some of the other wrestling stars on this list, and perhaps, that's because they are relative newcomers. According to a BleacherReport article from 2017, despite Gallagher's career with the WWE just starting out, he has been in the industry for over a decade and is even the topic of the documentary film, An Extraordinary Gentleman.
What we know about their relationship is that they appear to have a lot of fun together and aren't too serious; Rose has shared photos of herself and her husband on Instagram, mentioning that they are not too old for water fights, and joking about having a ginger husband at the time that England's Prince Harry married the actress, Meghan Markle. Sharing a throwback photo of herself and Gallagher on their wedding day, she wrote,"Congratulations to Prince Harry and Meghan Markle. In my opinion, there is no finer choice in a husband than a ginger one."
Featured Today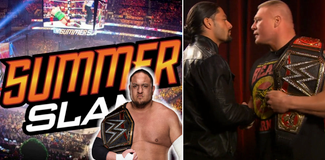 8 Rumored SummerSlam Scenarios We Hope Are Not True (And 8 We Do)

10 Wrestlers That Would Say No To A WWE Contract In 2018 (5 That Would Accept)

8 Related Wrestlers Currently Working Together (And 7 Fake Relatives WWE Created)

8

Lana And Rusev Had Not One, But Two Weddings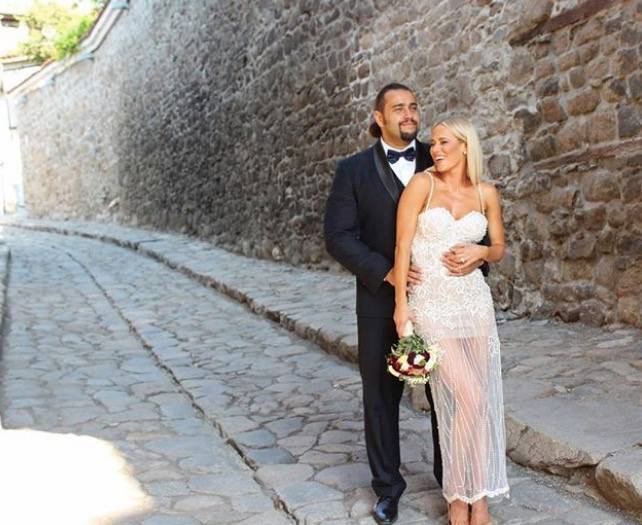 Lana and Rusev have worked together a lot in the wrestling world, and in 2015, they were meant to be in a storyline in which she betrayed Rusev for Dolph Ziggler, but the WWE had to change this when news broke that the couple was engaged in real life, Fistful reports.
The couple got married, twice, in 2016. Their first wedding was a romantic beach celebration in Malibu, but Rusev wanted to have a second celebration, a traditional Bulgarian wedding. It was important to Rusev to pay tribute to his traditions, and this included not allowing his new wife to have her sister as the maid of honor. According to Wrestling Inc., he told her that his best friend and his wife were to be the head of the bridal party, despite her protests. Another thing worth noting about this second celebration is that according to TMZ, there was no expense spared when it came to the bride's dress, and it was reportedly worth $75,000.
Lana has also referred to her husband as the "love of her life" and she did this in an Instagram post paying tribute to Rusev on his birthday. She added, "Thank you for bringing so much joy & laughter in our lives & making #RusevDay every day!!!"
7

Mickie James And Nick Aldis Understand The Business, And Each Other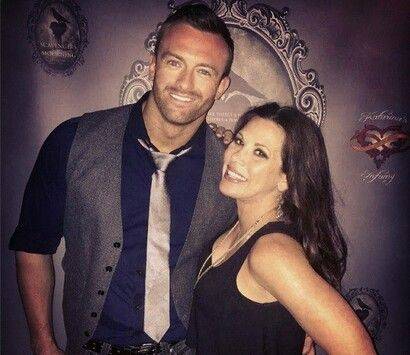 WWE star, Mickie James, is married to former TNA World Heavyweight Champion, British wrestler, Nick Aldis. And even before they got married, he spoke to PWMania about their relationship and how it just works.
In response to a question on what it was like to be with James, who is so involved in the wrestling business, Aldis said: "For the most part it's been easy. It wasn't necessarily something I expected or something that I had planned on. I think we have a pretty healthy balance. We both love the business."
"That's one of the reasons she good at it and exceptional at it because she's a fan of the business and has a very good mind for the business, philosophically and mechanically."
"There will be times when one of us will be talking about something or we'll be watching something. We DVR everything. We don't necessarily watch it all as it happens but we do DVR everything, WWE, New Japan, Ring of Honor, TNA, Lucha Underground which I think is fantastic by the way. We'll sit there and we'll watch it and we'll say what we like and what we don't like and then other times we'll get to a point where one of us will just say okay, no more wrestling. Let's do something else. I think we have a pretty healthy balance…"
He added that this similar interest also helped them to be a "good support system" for each other.
6

AJ Lee And CM Punk Are A Notoriously Private Married Couple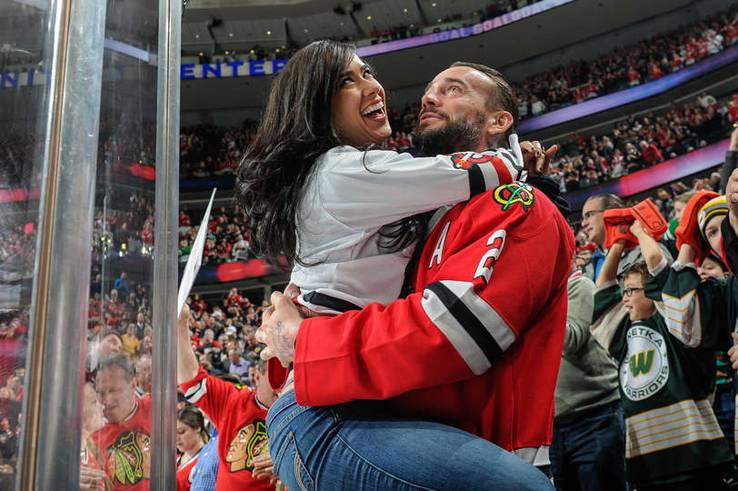 CM Punk and AJ Lee appeared in storylines together on WWE, but they are both pretty private about their personal lives, but fans first realized there was something going on with them when they were spotted at a baseball game in 2013, Sportskeeda reports. This first spotting was not long after CM Punk ended his relationship with Lita, and the couple probably wanted to avoid the public attention, however, the following year they celebrated their wedding.
Their wedding reflected their need for privacy, and it was not a lavish affair with photos that were sold to the media, although, there were photos that were leaked of the ceremony and CM Punk was incredibly unhappy about this. He even took to Twitter to share his unhappiness and told followers that if they tweeted the picture, he intended to block them because their behavior was disrespectful (his language was slightly more colorful than this).
The couple chose to keep their wedding small and, according to TheRichest, there were few guests in attendance. They chose June 13, 2014, as their wedding date, which was Friday the 13th, and they are reportedly big fans of the horror genre. And, despite very little about their relationship being public knowledge, four years on, and they still appear to be going strong.
5

Alexa Bliss Is Almost Married To Buddy Murphy, And She Has Him To Thank For Her Character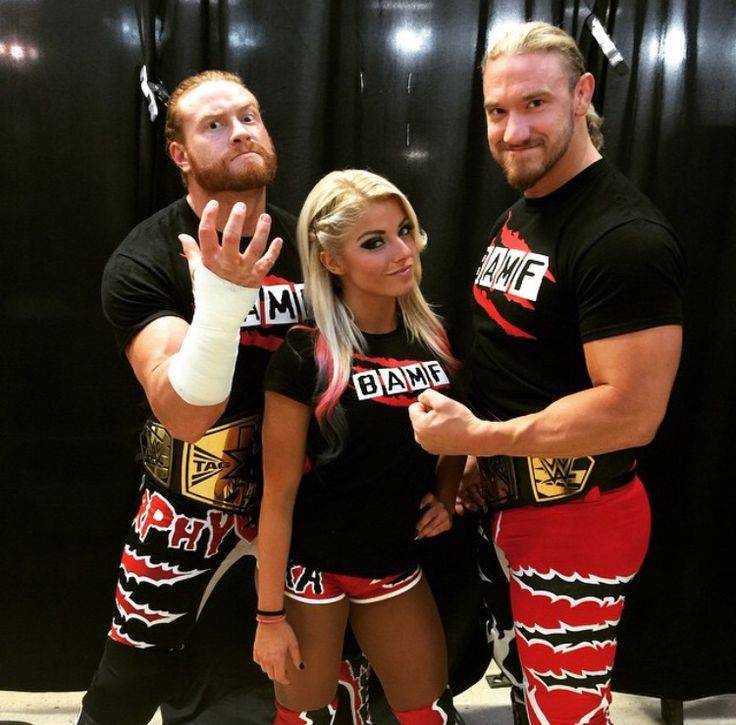 Alexis Kaufman, or Alexa Bliss, as she likes to be called in the wrestling world, is another star who met her love in a wrestling storyline. According to The Sportster, Bliss was a part of Australian native, Buddy Murphy, and his partner, Wesley Blake's, storyline in NXT, and this moment changed not just their personal lives but also Bliss's professional life. She told Sportsnet that she has Murphy to thank for creating her character, saying, "I wouldn't be where I am if it weren't for her [mother], and if it weren't for my fiancé, Buddy Murphy. He's the one who came up with my title pose, he's the one who came up with my 'insult-to-injury' move, he's the one who kind of started the cosplay (look), so a lot of at-home factors of what Alexa Bliss is."
He may have been her fiancé at the time of the interview (and they have been engaged since 2015), and admittedly, they are the only couple on this list to not be married, but they are expected to soon be husband and wife, and already have a little family. Well, a dog family. According to Heavy, the pair share two dogs, Teddy and Izzy.
4

Edge And Beth Phoenix Are A Wrestling Power Couple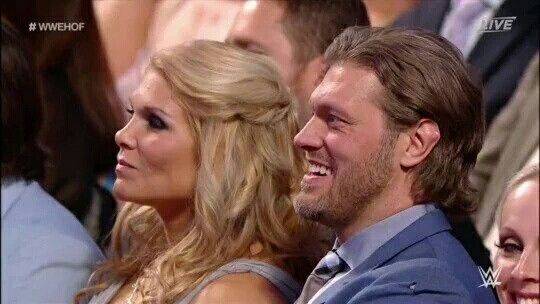 There is no exact timeline for when wrestling favorites, Edge (real name Adam Copeland) and Beth Phoenix, first met, but The Sportster estimates that it was around 2006 when Phoenix made her WWE debut. However, they did not go on a date for around four to five years, as the pair were both in relationships with other people at the time,
They did get together in 2011 after Edge retired, and, according to the publication, this is when they first started a romantic relationship. The couple then married in 2016, and it's clear from Edge's comments that he has a lot of respect and admiration for his wife. He told WWE, "Beth has been, somehow, chasing around a two-year-and-four-month-old, taking care of four dogs, maintaining the household, and getting a master's degree in forensic psychology, all at the same time, while I go and act like a moron with my lifelong best friend. It's a partnership — it has to be, in order to juggle everything. Fortunately, I've got a pillar, so I can go and do the show knowing that everything at home is A-OK. It's been an interesting ride over the past few months."
And during Phoenix's induction into the WWE Hall of Fame in 2017, she made her love and appreciation for her husband known. In her speech she gave special thanks to Edge, saying, "I want to thank my husband Adam," and later gushed about his "unwavering belief in what I want to do." The interesting thing is that according to USA Today, they are the only married couple who are both WWE Hall of Fame members and are a fine example of how sometimes, some people can have it all.
3

Cody Rhodes And Brandi Reed Are Loving Not Having To Hide Their Marriage Anymore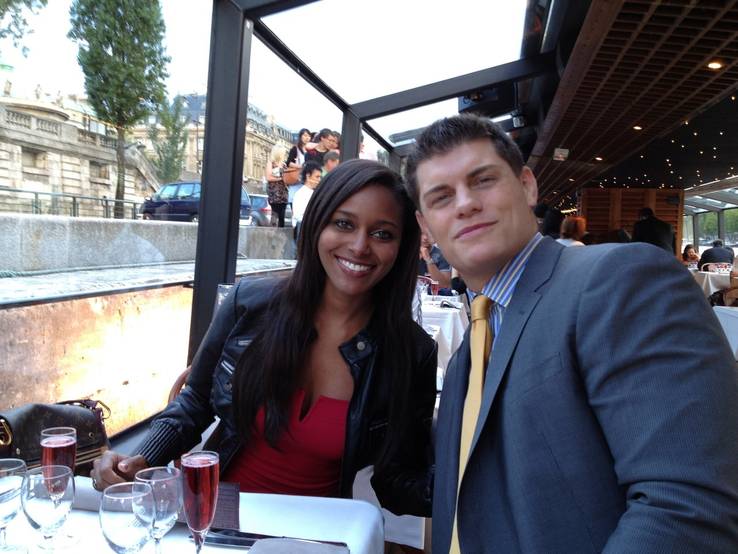 Brandi Reed briefly appeared in WWE under the name, Eden Stiles, and during her time in the WWE industry, she met wrestling royalty, Cody Rhodes (the son of the late WWE Hall of Famer, Dusty Rhodes). The couple got engaged in 2012, and were married in 2013, but ESPN notes that, despite being married, they were told to act as though they barely knew each other when they crossed paths on WWE TV. Leaving this behind has been like a breath of fresh air for Brandi because it's meant that she doesn't have to hide her relationship.
She told the publication, "It's been really fun. We're able to be ourselves. I think it's more exciting for the fans because for so long they've known us to be together and a married couple, and for so long they wanted that acknowledged and it wasn't able to be acknowledged. It's kind of frustrating when you're watching something and you know what's real and then people are telling you no. Fans are very into the idea of good old-fashioned marriage. They don't like pretending when you're married that you're not."
Five years on and they are still together, and there is also no stopping them. In 2018, Brandi spoke to Sports Illustrated about joining the Women of Honor championship, and she stars in WAGS Atlanta on E!.
2

Naomi Met Jimmy Uso When They Were WWE Newcomers And They've Been Together Ever Since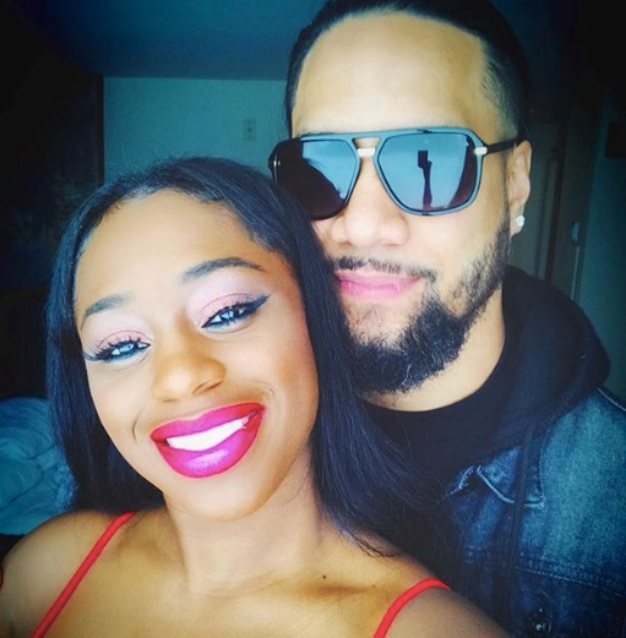 Trinity McCray, better known by her stage name Naomi, first met Jonathan Fatu, also known as Jimmy Uso, in 2009, when they were both WWE newcomers, and they have been together ever since. In 2013, Naomi gave an interview to Jet magazine about her relationship with Uso, saying, "He's my best friend, my supporter, and we're inseparable, seriously."
Then, after a long engagement, the couple exchanged vows in a beachside ceremony on the island of Maui in September 2014. The lovebirds took to Instagram to share photos from their big day, with Uso declaring on an image of himself and his wife: "@trinitymccray you have made me the happiest man alive….love you." The couple's romantic dreams may have come true, but they are also willing to help others achieve the same goals, and according to Uproxx, in 2015, they helped a fan propose to his girlfriend in the middle of the ring before Raw.
Like many other WWE couples, these two have also worked together professionally and have been a part of a storyline. According to Heavy, it was after they were already married and was part of a Monday Night Raw storyline in 2014, in which Naomi was managing the Usos (Jimmy Uso and his brother Jey Uso) and then became apart of their feud with The Miz.
1

Mike Bennett And Maria Kanellis Are Lovers And Parents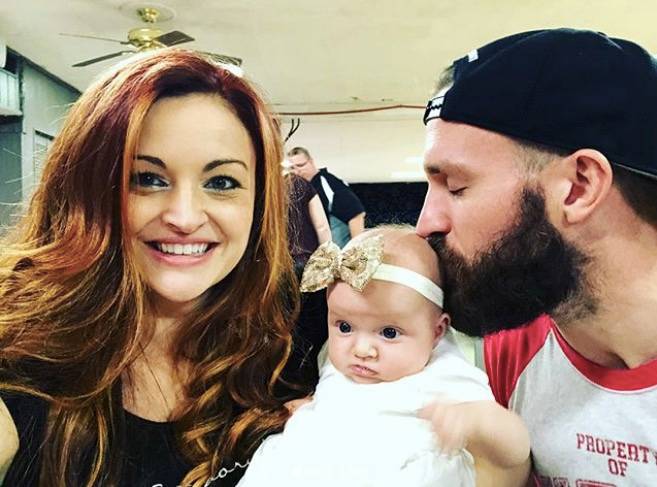 Maria Kanellis and Mike Bennett are another professional wrestling dream team who met at a Northeast Wrestling show, although, at the time, they were both dating other people. Bennett spoke about this first meeting, telling Carver Reporter (via Wrestling Inc.), "We felt a connection but at the time we were both with other people. A few months later when our situations had changed, we started DM'ing each other on Twitter. She was in Philadelphia and asked me to come see her. It took me nine hours to get there because I got caught up in New York traffic. But we hung out and just hit it off."
They are the true definition of a partnership and have also worked together, and when asked about this in an interview with Sports Illustrated, Bennett said, "When you hear 'wrestling couple,' there is always a negative connotation. That's the history of it, but the thing that set Maria and I apart are that we don't consider ourselves a wrestling couple. We just consider ourselves a normal couple and our profession happens to be professional wrestling. We're a couple first, and it comes down to respect. I respect what she does as much as what I do. I look to her for help and she looks to me for help. I respect where she's gone and where I haven't gone, and she respects where I've gone and where she hasn't. She's been on Celebrity Apprentice and been on millions of homes in the pinnacle of wrestling, and I get that. What's good for her is good for the collective unit, so it really comes down to respect."
The couple got married in October 2014 in Chicago, Illinois, and four years later, they welcomed their daughter into the world. The pair named her Fredrica "Freddie" Moon Bennett.
References: PW Mania, E! News, Access, Yahoo, E! News, E! News, Jet magazine, Uproxx, Jonathan Fatu Instagram, Heavy, Wrestling Inc., Sports Illustrated, Wrestling Inc., WrestleTalkTV, People, The Sun, Sportster, Sportskeeda, PopCulture, BleacherReport, Clara Sinclare Instagram, Fistful, Wrestling Inc., TMZ, Lana Instagram, PWMania, Sportskeeda, The Richest, The Sportster, SportsNet, Heavy, The Sportster, USA Today, WWE, ESPN, Sports Illustrated
Source: Read Full Article