NRL fans still wonder where Craig Bellamy will coach next season but the current Melbourne Storm boss has a more pressing issue heading into today's clash with Brisbane Broncos.
That question is who will be in his team when the Storm run out at AAMI Park late in the afternoon.
Five-eighth Cameron Munster, winger Josh Addo-Carr and back-rower Felise Kaufusi all played in State of Origin on Wednesday night and all are either first or second year players at that level while centre Will Chambers will also need replacing after being suspended for this game.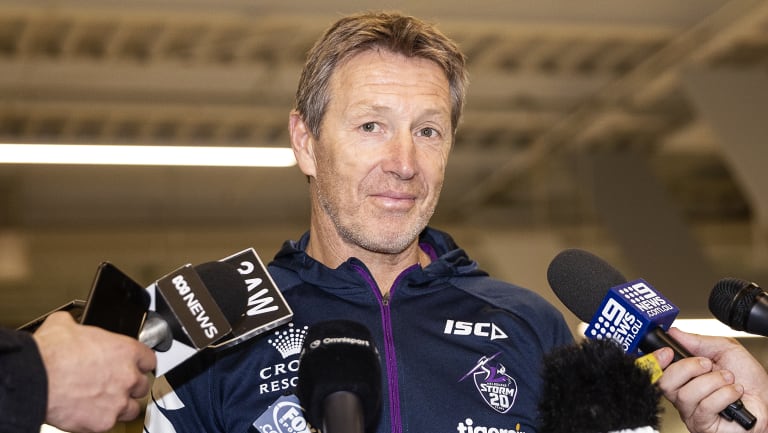 Decisions to make: Melbourne Storm coach Craig Bellamy.
The Storm planned to watch all three stars closely at their Captain's Run on Saturday afternoon but Bellamy also knows post origin soreness can appear late, even on game day, so has kept forward Tui Kamikamica and centres Cheyse Blair and Justin Olam in his squad.
Munster had a badly swollen eye but doesn't appear to have any further damage while Olam is tipped to replace Chambers but Blair can also play centre.
Bellamy said he was conscious of his players suffering delayed soreness and emotional let downs after Wednesday's origin game which saw New South Wales take a 1-0 lead in the series.
Most of those guys who back up from Origin prefer to play earlier rather than later," Bellamy said.
"They think they are not as sore two days after Origin as they are four days after.
"But the other way is that you get a little more time to mentally get over the result and get your head back on for your club team. We have a four-day turnaround and hopefully those Queensland boys will be in a bit better
frame of mind than they were on Thursday.
"It's a huge build-up and when you don't get the result you want it's a let down, especially guys like Munster and Fuze, as that was their second and first games."
The Broncos have lost star back James Roberts after his Origin debut but expect Queensland players Andrew McCullough, Josh McGuire and Anthony Milford to play.
That's a luxury we haven't had for 15 years.
One person Bellamy leaned on this past week was captain Cameron Smith who was with the Storm for the first Origin period in a decade and a half following his retirement from representative football last month.
Having a fit and firing Smith could prove decisive against the in-form Broncos.
''That's a luxury we haven't had for 15 years,'' Bellamy said.
''I made the point during the week to the players, we want to make use of him back there too. And he has been really a big part of our meetings and our training.
''When he came back from Origin sometimes, he was a little bit tired. To his credit, he was in a really good state of mind on Monday and Wednesday. His mood earlier in the week shows he deadset made the right decision.''
Bellamy had no update on his decision between coaching the Storm or Broncos next season and he has set no deadline either.
The Storm play the Broncos at AAMI Park today at 4.10pm.
Source: Read Full Article