Another cruel barrier draw of gate 16 could work  in the favour of Care To Think in the group 1  Stradbroke Handicap at Doomben on Saturday, even though trainer Matt Dunn believes  the four-year-old is still a year away from being at his best.
Care To Think went from a $8.50 to $9 after the draw, but at least he made the final field of 16.
The well-fancied Danon Liberty and Osborne Bulls were left as emergencies after Chris Waller accepted with both his mares, Foxplay and Shillelagh, for Queensland's biggest race despite indicating earlier in the week that  only one would run.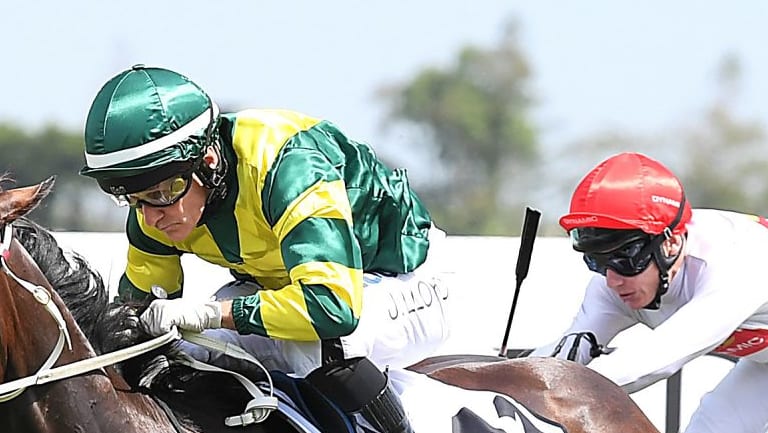 Explosive: Trainer Matt Dunn believe Care To Think can emulate his Magic Millions Cup victory if he settles in the Stradbroke.
Dunn's disappointment was clear when wife Kiera picked up barrier 16 in the blind draw. That will become gate 12 if the emergencies don't get a run. But it is no different to his last five starts where he has drawn towards the outside.
"I think by next year he will have learned to settle better. Physically he is okay, but mentally he is just not there yet," Dunn said.
"He has just got to get it through head that he needs to conserve energy in his races, but as soon as he sees daylight at the moment he wants to go.
"I think the draw might work out in our favour because we will have to go back and follow one. If we had drawn inside it would have been tempting to go forward, and that is not his best pattern."
The wide draw was made harder to swallow as Champagne Cuddles drew the rails and tightened to a $4.20 favourite, while last year's winner and last-start Kingsford-Smith Cup victor Impending got gate nine to be a $6 chance at Ladbrokes.
Perast held his place in the market at $7.50 when he drew barrier 12.
"We just want to get a soft draw for a change with him," Dunn said. "He needs a back to follow and hopefully from out there we can get across and get that.
"He just needs to settle to show his explosive turn of foot, and he can be his own worst enemy.
"I personally think he will get a mile, but he is not settling well enough to run a mile. That's why we pulled the plug on the Doncaster earlier in the year.
"We targeted this race and he is here in really good shape. We have timed it well, and I think the 1350m is his trip at the moment."
Care To Think has been at the top of Stradbroke markets since they opened, and his summer wins in the Buffering Stakes and Magic Millions Cup suggest that he has the quality to compete at the highest level.
"If he is held up like in the Buffering, he can run some super sectionals. That day he was forced to wait because of where he was in the field getting bumped around, and he was explosive," Dunn said.
Care To Think's midfield finishes in the Doomben 10,000 and Kingsford-Smith Cup have lost him no admirers and he drops from 59 to 52.5 kilos in the handicap.
"He is not a weight-for-age horse yet, because you need to do everything right to be winning those warm-up races," Dunn said.
"He was maybe a little bit plain late the other day in the Kingsford-Smith, but he did make a run from the 700m mark.
"I'll be disappointed if we are in a similar scenario on Saturday. I would like to think we can wait, wait, wait – and he has shown ridden like that he can explode."
Source: Read Full Article