Boyd Cordner leans up against the wall of the Allianz Stadium tunnel as his NSW teammates file past him and run onto the field.
Cordner is their captain and will soon join them for the opposed session against the NSW under-20s side — their toughest test yet in preparation for State of Origin III.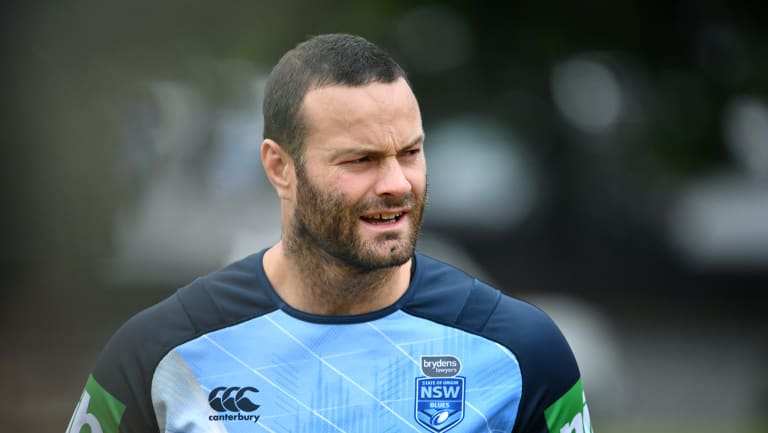 Boyd Cordner … The NSW captain has declared he's recovered from a calf injury ahead of Origin III.
This session holds greater importance for Cordner than anyone else.
A week ago, he was in serious doubt for the match against Queensland because of a calf injury suffered in the game-two victory in Sydney.
He's barely run since then but will now crank things up … not that anyone around the Blues seems overly concerned about his fitness.
A year ago, ahead of this same match, Cordner had a calf injury on the same leg in the same position and was racing the clock to play. He was so desperate he sought the advice of a spiritual healer in a bid to be fit for the decider.
He played, and played poorly, although he wasn't the only one that night, as Queensland captain Cameron Smith tore NSW a new one.
None of those memories are flicking through Cordner's mind here in the Allianz Stadium tunnel as he explains why he won't be a liability on Wednesday night.
"I know my body inside out," he says. "I've had a few injuries, I'm at the physio a fair bit, too, so I know all the lingo now. What connects what. The part of the calf that I have injured is the soleus. That's the muscle that takes all the impact, not the explosive muscle. If you're going to do it, that's what you want to do. That's why I could keep playing [in game two]. They're the ones you want to do, not the gastroc [gastrocnemius] muscle. That's the power muscle. That's when you are in danger …"
Well, that clears that up. Boyd Cordner MD.
It should also appease Roosters fans who remember Cordner missing the next nine club games after that Origin decider last year.
"No, last time wasn't to do with my calf, it was my knee," he assures. "My body feels good, mate. I would've been right to train earlier in the week but because we've got a long week, why not use it all up? I'm confident that I will be able to get through it. I wouldn't play this year if I wasn't. We're sitting good at the Chooks at the moment [in fifth position on the NRL ladder] and I would not want to put that in any jeopardy by missing any games. Even if we had to play Origin five days ago, I would've been sweet."
Cordner's frankness about his injury breaks all the conventions of Origin. About big games, really.
NSW coach Brad Fittler has introduced an honesty to this campaign that we've rarely seen before, and it extends beyond media access and charity work.
In the past, coaches would've turned themselves inside out and then into a pretzel about how they could manipulate the message over Cordner's injury. You can often set your clock to a late-injury scare in the Maroons camp.
Once, a coach called this column with an explosive story the night before an Origin opener, believing it would give his side an edge the following evening. The only problem was he'd mentioned all the same material at a media conference earlier in the day.
Fittler hasn't played any of those games. So, when Cordner says he's right to go, the not-so-sexy story is this: Cordner is right to go.
Still, calf injuries can be tricky, much like hamstrings. Luckily, the Blues have someone who knows their way around muscles, tendons and ligaments better than anyone.
Liz Steet is the pocket-rocket physiotherapist who has been involved with the Blues for the best part of 26 years.
On Sunday afternoon, before the training session started and Blues players warmed up as the sun slowly disappeared, she stood alongside former captain Paul Gallen, who was there with his young children as a spectator.
"I've gone into games with calf injuries, no worries," Gallen said.
"The slower players usually can," Steet joked, before the two hugged.
Steet has been working closely in this camp with Roosters head of performance, Travis Touma, who is also part of the Blues coaching staff, as they prepare Cordner for this match.
Cordner has been ticking off every test required of him. He wanted to train last Friday. Steet said no.
"But I trust Boyd's judgement," she says. "Some players I wouldn't. If he thinks he is going to be a risk, he would say so. He would never put himself ahead of the team."
Yet you could forgive Cordner for some self-indulgence, as NSW attempt to sweep the series after the disaster of last year's final match.
"We don't want to end on a sour note, we want to end on a high," Cordner says, before slapping me on the shoulder, trotting down the tunnel and onto the field, ready to test out the most talked about soleus muscle in the past week.
Source: Read Full Article