The chief executive of the Rugby Union Players' Association has welcomed a review into Rugby Australia's illicit drugs policy and believes clubs and head office should be informed by doctors when a player first tests positive to a banned substance.
The rugby community is still coming to terms with the news former Wallabies skipper and Queensland Reds veteran James Slipper tested positive to cocaine on two separate occasions.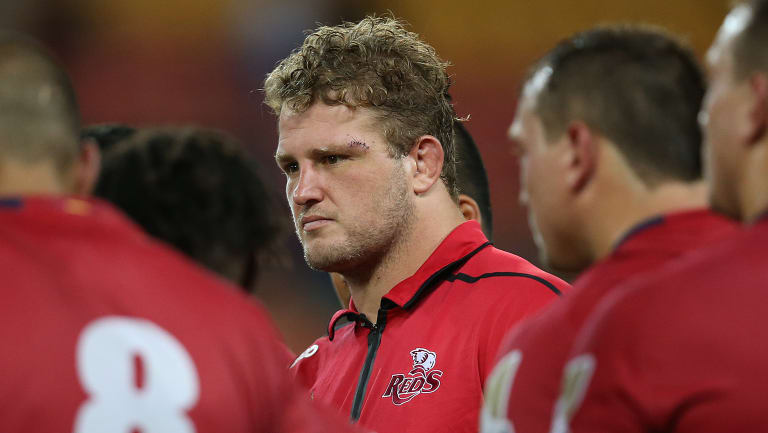 Stood down: James Slipper failed two drug tests this year.
The 28-year-old has been fined $27,500 and banned from rugby for two months, but there is every chance his spell away from the game will be longer than that.
Under RA's illicit drugs policy, clubs are not notified when a player tests positive for the first time, but the player is put into a random testing pool. A second strike results in a mandatory two-month suspension.
RUPA boss Ross Xenos said he was open to discussing the process when it came to first strikes to ensure a duty of care is provided in serious cases, such as Slipper's.
''Does the employer have a duty of care to be informed earlier than a second violation, so they can put measures in place?'' Xenos asked. ''I would argue strongly that both Rugby Australia and the Super Rugby team are informed through their team doctor and the team doctor is the best person to discharge that duty of care.
''[It is about] how do we put some more substance behind the empowerment we give the medical staff to really be able to put in a very thorough program at that violation stage.''
RA chief executive Raelene Castle said that while the policy would be reviewed, she believed it was working. ''There was an agreement that there would be some discussion about this particular policy,'' Castle said. ''We've got examples of NRL, AFL and rugby all having very similar policies. In fact, the AFL has a two-strike [policy] before anyone significant is notified before they get to their third public strike.
''Our numbers suggest that from the number of tests we're doing, that if there is any instances of first strikes, they're not replicating into second strikes. Our view at this stage is the policy is working.''
Xenos agreed, warning against a major overhaul of the policy in place.
''I would caution against change for change's sake just because we've now had our first second violation,'' Xenos said. ''The challenge with making urgent amendments … is we lose a little bit of the thinking and the flexibility that we've drafted in the first place.
''We're really open to reviewing the policy and asking some hard questions about how the policy can be better structured.''
Slipper's Reds teammate Scott Higginbotham said it had been a tough week.
''I'm sad for him,'' Higginbotham said. ''What he's been going through outside of football is not something you want to see. To add this on top, I just couldn't imagine how he's feeling.''
Slipper's drugs ban comes as the Reds try to find a new home for Karmichael Hunt, who hasn't played a game since copping a four-week ban for possessing Xanax. A charge of cocaine possession was dropped due to insufficient evidence.
Source: Read Full Article