Seated last Wednesday in a saddle much bigger than any he mounted in his riding days Pat Webster declared: "There should be a Hall Of Fame for Spider Barker".
"No Spider, no Kingston Town," he claimed.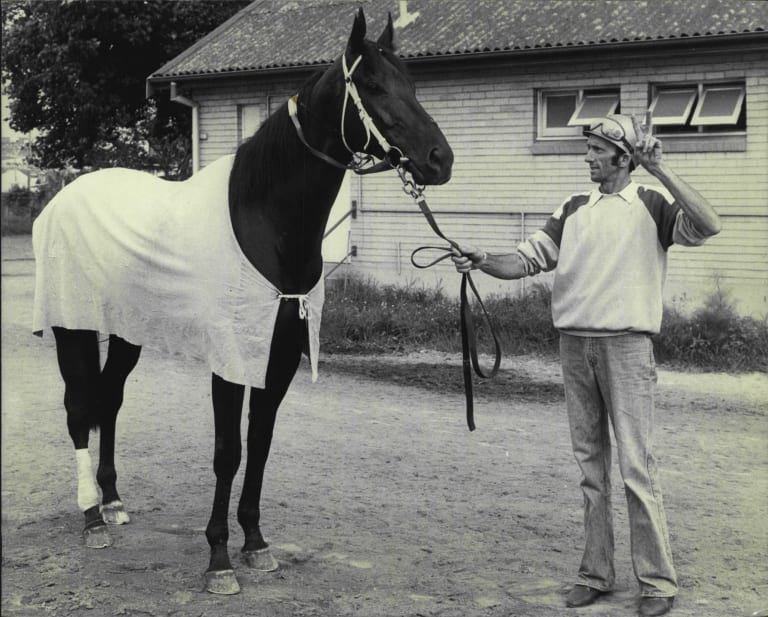 Legacy: Stable foreman Tom Barker with champion racehorse Kingston Town.
Tom "Spider" Barker, a mainstay at Tulloch Lodge, died earlier this week and Webster, trainer of Happy Clapper, was the guest of honour at a John Singleton Mt White soiree, and paid homage to him.
Racing also lost Don Storey, one of the outstanding contributors to the industry. Perhaps Storey was more Tulloch Lodge upstairs sipping white wine and ice cubes with Tommy Smith, while Barker was picking up the horse manure downstairs.
But the Barkers and Storeys of the turf, toiling tirelessly behind captains, are worthy of acclaim.
Anyway, Singleton figured Webster should be recognised for his Epsom-Doncaster feats. Chris Waller, who came under the Webster wing early, lent his chivalry to the occasion at Singleton's new speak-easy with a saddles theme.
Seated at the bar on the tooled leather was a new experience for most but Webster got straight into a gallop.
"Spider was the backbone of Tulloch Lodge," Webster maintained and went into their friendship, established around Randwick racecourse. "Every second day Spider would go past and say 'Webster how would you like to have one like this'. I'd say what are you doing for his joints? 'Putting lard on them,' he said. Spider would soak the bandages in lard.
"We are talking about Kingston Town, the best I've seen."
The Barker feed was special, and appetite with the equine athlete is vital. "It was barley, linseed oil, molasses and a bran mash, made in a bucket. He put a towel over it. Somehow it would keep warm and cooking. It was beautiful. Put one handful in the feed bin and horses loved it.
"He used to leave the bucket in the bullring for me. Walking back one morning Gai Waterhouse said to me 'what have you got there?' She put her finger in, tasted it and said 'it's just like Spider makes'. She probably knew but never said anything."
Certainly the Storey contribution was on a different level. As an STC committeeman he was a playmaker in the triumph of races for fillies and mares like the Coolmore and Queen Of The Turf, which made group 1 status. A racing administrator, the type on the wane, he loved breeding a winner, owning a winner and backing one, particularly at suitable odds.
One of his first trainers was old Vic Thompson, who was followed by his son – young Vic – inaugural trainer at Crown Lodge for Jack and Bob Ingham. Young Vic gave Darley the foundation from which it now operates so well. Old Vic is the grandfather of John Thompson, now doing well at Randwick after a stint with Nathan Tinkler.
Storey was in awe of Waller. "He's bigger than Tommy Smith," he stressed and had horses at Tulloch Lodge, including Billy Bunter.
Waller is on the list of homeless and hungry given sanctuary at the Webster door. On Wednesday, Waller related how Webster was one of the first Australians he met on his original trip bringing horses here for his New Zealand boss.
After being fed by the highly acclaimed family chef "Fighting Harada" the charity was never forgotten. Webster couldn't give visitor board but sent him around to his brother-in-law Wayne Lee for shelter.
Fast forward to 2016 after the George Ryder at Rosehill when Happy Clapper finished second to the Waller developed Winx.
"I was toying with the idea of using blinkers on Clapper and rang Chris. It was 5pm and he had won three group 1s, was in his office, answered the phone and told me to look at the Clapper after the post, reminding me Clapper had been set for the Doncaster next start."
The advice proved beneficial. Happy Clapper ran a mighty second to Winx, emphasising her champion status beating such a great horse.
"I don't know why I telephoned Chris and didn't really expect to get him under the circumstances but he was there and had time to give his opinion on my horse in a race where he had other starters."
"Chris is special."
And so it is only fitting to have Spider and Don Storey on the same page.
Source: Read Full Article