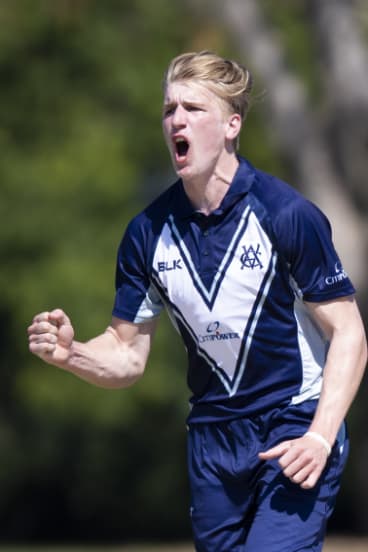 Will Sutherland takes a wicket for Victoria.
Emerging star Will Sutherland is expected to be unavailable for half of the season after scans revealed he has a stress fracture in his back.
The 18-year-old all-rounder had started the season brilliantly, taking 5-45 in the JLT Cup opener against Queensland.
However Sutherland, the son of outgoing Cricket Australia chief James Sutherland, experienced soreness in Sunday's game against NSW.
"Will complained of soreness in the left side of his back during the NSW match at North Sydney Oval," Victorian team physiotherapist Nick Adcock said.
"Scans have subsequently revealed a mild stress fracture in the left side of his back, that is incomplete.
"As a result, he will miss the remainder of the one-day tournament, and will commence a comprehensive rehabilitation program.
"His return to play timeframe will be determined at his next assessment, but it is likely he will be batting first before bowling."
Source: Read Full Article