Collingwood star Adam Treloar is hopeful all Victorians will get behind the Magpies as they aim to keep the premiership cup on home soil for the sixth consecutive year.
For the seventh year in a row, the grand final pits a Victorian club against non-Victorian opposition after West Coast eliminated Melbourne from the premiership race on Saturday to set up a date with the Pies on the last Saturday of September.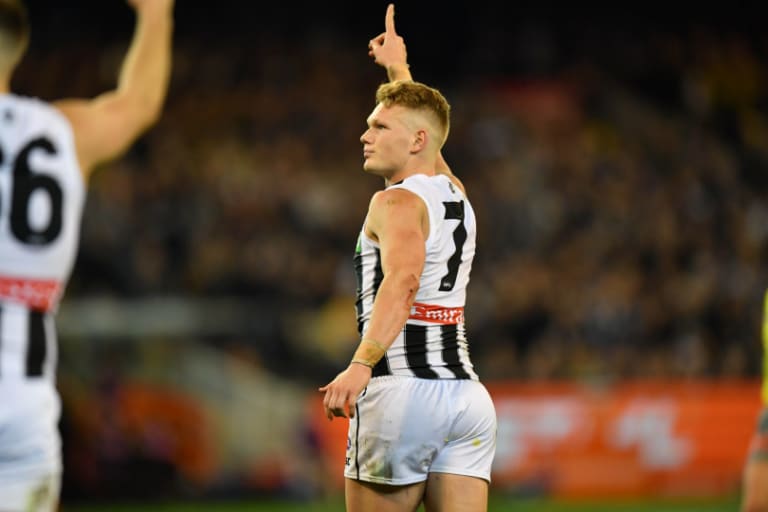 Treloar wants Victorians to put their anti-Collingwood sentiments behind them.
The Western Bulldogs, and to a lesser extent Richmond, were both regarded as Cinderella stories in 2016 and 2017 respectively, earning sentimental favouritism after enduring long premiership droughts.
As the notional biggest and arguably most-hated sporting club in Australia, Collingwood are considerably less likely to have the backing of Victorians who don't follow them.
However Treloar wanted neutrals to become a part of the black and white army, if only for a week.
"I hope so. I think being a fellow Victorian, whenever Victorian teams played when I was a youngster, I always went for them. I hope so. It wouldn't really matter, because I know the 80, 90, 100,000 fans that we've got is enough," Treloar said.
While the Eagles, Adelaide and Brisbane managed to consistently beat Victorian sides and take the premiership interstate in the 1990s and early 2000s, the tide has turned dramatically in recent years. Victorian clubs have won of 10 of the last 11 premierships, and the last four grand finals have been won by Victorian sides who finished lower on the ladder than their non-Victorian opponents. That has led to growing calls for the grand final to be shared with other states, although the AFL signed a contract with the Victorian government earlier this year locking away the grand final at the MCG until at least 2057.
Treloar conceded the Pies were lucky to be able to play the grand final at their home ground, but suggested that the venue would not play a big role in the result on Saturday.
"Finals footy, I don't think it matters really what ground you play on. But because we play there so much, we know it well. Our training oval is very similar to it, I think it's the exact same. So we just know it really well. It's comforting knowing we get to play on that. But I think the Eagles, their ground is the exact same dimensions as the MCG too.
"But it's a grand final. You could be playing on the Noble Park senior footy oval, or the MCG, it really doesn't matter where you're playing
"We are very lucky. We play five away games this year I think. We are very lucky. But teams know that."
Treloar also lauded forward Jordan De Goey who has emerged from a series of off-field indiscretions, including a drink-driving incident earlier this year, to become a dominant player in the Pies' run to the decider.
"Jordy's just so good one-on-one. It was just so hard for anyone to play on him. Why would you change anything that's going so well?"
Treloar said Pies skipper Scott Pendlebury had helped lift De Goey's game.
"[De Goey] could have been a bit more professional. He knows that, everyone knew that.
'Pendles' sort of took him under his wing.
"He's the strongest kid that I've ever come across. But he didn't really express that in the gym much. And 'Pendles' said 'come on mate, let's push it here.' And he did.
"The way he goes about it, it's his way. He's not going to be a Scotty Pendlebury, where he's the most professional, he's the most diligent, he's the best leader. He is his own man, and that's what makes him, and that's why we love him.
"Jordy's built for the big games."
Source: Read Full Article