Royal weddings are interminable television viewing, but the cash-in telemovies that precede them are another matter: a tidy two hour mash-up of mawkish romance, ludicrous dialogue and some fantasy sugar for monarchists.
Via those criteria the latest offering from Lifetime, Harry & Meghan: A Royal Romance, does not disappoint.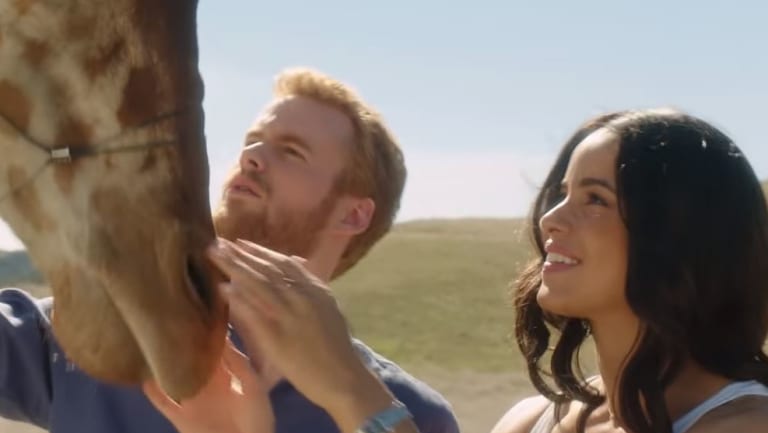 Out of Africa: Harry & Meghan: A Royal Romance has its moments.
It's not car crash TV like 2011's William & Kate: The Movie – for a start, Lifetime have got the casting right. Parisa Fitz-Henley and Murray Fraser actually resemble Meghan Markle and Prince Harry respectively, and the former handles the emotional rollercoaster of getting kissed by a royal and hounded by the paparazzi with genuine commitment.
Initially he's the party boy and she's the career woman who's not exactly dazzled by his status. When Harry's late for their first blind date Meghan tells him off, and later when a drunken Canadian from the crew of Meghan's show, Suits, hassles her date at a party she steps in with a smackdown.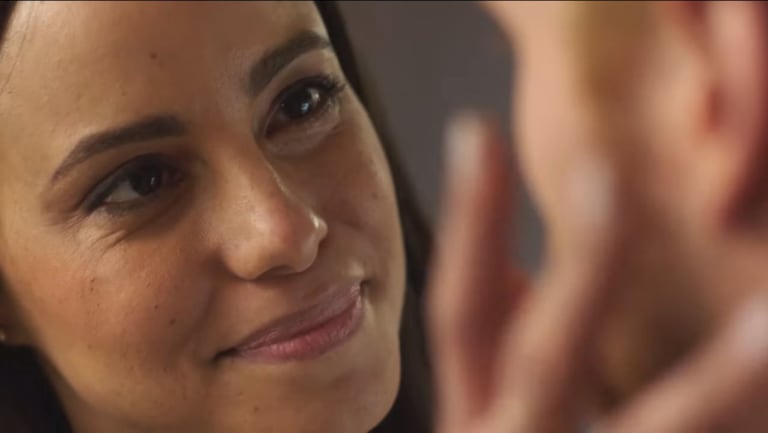 Casting was spot on with Parisa Fitz-Henley as Meghan Markle in Harry & Meghan: A Royal Romance.
The two are Millennials trying to navigate their respective power structures (Hollywood and the royal family), and there's less palatial fantasy with the two comparing childhood trauma. Meghan talks about the racism she experienced as the daughter of a black mother and a white father, and while Harry initially offers up being a redheaded "ginger" as his burden, it all comes back to his mother.
When not watching on as a lion during one of several visits to Botswana, the briefly seen in flashback Diana is a reminder of what life as a Windsor can do to newcomers.
Kissing always cuts to the morning after in bed, and likewise the plot skips through their relationship until like a video game it arrives at the big boss level, where Queen Elizabeth (Maggie Sullivan) has to literally sign off on her grandson marrying an American divorcee.
Royal rebel: Murray Fraser plays Prince Harry in Harry & Meghan: A Royal Romance.
Her Majesty is worried that Meghan is involved in The Crown – "not sure why they have to make it while one is still alive," she remarks – and while she's not you can feel the influence of Netflix's historic royal epic. The best lines are privileged and snippy: "mother's on the currency there," sniffs Prince Charles (Steve Coulter) of Canada.
The key supporting character is the Duchess of Cambridge (Laura Mitchell), who starts by noting how "loud" Americans are, before becoming a tea-bearing bestie who snaps Prince William (Burgess Abernathy) into line and confessing that, "my most important contribution to this country is my reproductive ability".
As a sign of how attention can wane, her sister and former media obsession Pippa Middleton is briefly seen but not heard, while you also have to go through the requisite explanation for American audiences of how the royal family operates and how crucial corgis are in between the long and loving gazes between Harry and Meghan.
All the bold faced names are soon supportive, including Prince Charles and wife Camilla (Deborah Ramsay). That means when Harry has a politically progressive moment decrying British colonialism, the barely obscured racism of two elderly relatives get the generic names of Lady Victoria and Lady Sarah (as opposed to, say, Princess Michael of Kent).
Director Menhaj Huda pushes the buttons he has and while it's not good, Harry & Meghan: A Royal Romance is also not disastrously bad enough to be good fun. Maybe Harry and Meghan really have changed things.
Source: Read Full Article