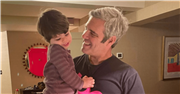 "Happy Hanukkah" —Andy Cohen, who posted this photo of himself and son Benjamin lighting the menorah on the first night of Hanukkah, Nov. 28, 2021
RELATED: Stars in ugly Christmas sweaters
Candace Cameron Bure kicked of Hallmark Channel's "Countdown to Christmas Season" in Los Angeles's Studio City neighborhood on Oct. 20, 2021.
RELATED: Stars who got married in 2021
"#chanukahbreakdown … Chanukiah is the name for the 9 branched menorah we light for Chanukah. Menorah is a general word. Chanukiah is a specific word. And Chanukah is pronounced with a guttural 'ch' no matter how you spell it. 'Old' convention spelled it with an H with a dot under the H to indicate 'ch' but that has lost favor. So do try and say 'ch' if you wish someone a happy Chanukah! But don't spit on them." –Mayim Bialik, who posted this photo on her Bialik Breakdown podcast Instagram page on the first night of Chanukah, Nov. 28, 2021
RELATED: Stars we lost in 2021
Gwen Stefani performs on ABC's "The Wonderful World of Disney: Magical Holiday Celebration," which aired on Nov. 28, 2021.
Scott Disick posted this photo of plates of cookies and sticky window clings wishing fans a "Happy Hanukkah" on the first night of the Jewish holiday, Nov. 28, 2021.
Britney Spears posted this photo of herself with fiancé Sam Asghari in front of their Christmas tree on Instagram on Nov. 24, 2021.
Thomas Rhett posted this sweet photo with wife Lauren Akins and two of their four daughters as they hunted for a Christmas tree on Nov. 27. The country music star captioned the adorable snap, "Favorite time of the year."
Sheryl Underwood, Tim Connaghan as Santa Claus and Jerry O'Connell attend the 89th Annual Hollywood Christmas Parade supporting Marine Toys For Tots in Hollywood on Nov. 28, 2021.
"it's time to light the menorah 8 DAYS OF HAIMUKKAH IS BACK! come back everyday this week for gifts, announcements and special surprises!" –Haim's Alana, Danielle and Este Haim, who posted a video on Instagram kicking off their annual Hanukkah celebrations on Nov. 28, 2021
First lady Jill Biden waves during the arrival of the White House Christmas Tree at the White House in Washington, D.C., on Nov. 22, 2021.
Lucy Hale attends Day 1 of Alo House Winter 2021 at Alo House on Nov. 2, 2021.
Amber Ruffin poses with a Santa hat and a giant candy cane during a sketch on "Late Night with Seth Meyers" in New York City on Oct. 26, 2021.

Source: Read Full Article