The last time America saw Bachelor Canada alum Kevin Wendt on TV, he and Ashley Iaconetti were reveling in their newfound love and Bachelor Winter Games victory. The pair won the Olympic-themed spinoff back in February after striking up a whirlwind fairytale romance, but they broke up after only a few months together. Now Ashley is happily engaged to longtime friend and former Bachelor in Paradise castmate Jared Haibon and Kevin is embarking on his own BIP journey for Season 5. But did Ashley I. cheat on Kevin? Wendt is dishing on their breakup and revealing his version of the story.
Kevin is single and ready to mingle in Paradise. Why is he so ready to look for love on national TV again? Allow him to explain his side. He said on his BIP intro video: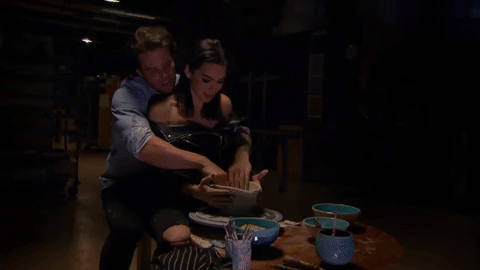 Ashley — always one to remain candid regarding her social life — has previously opened up about the Kevin situation and what led them to call it quits.
"It sounds a little harsh, but it's just that lack of — there's magic. We get along very well, it's just there's a little something missing and you can't really pinpoint what it is. That's just how I feel," Iaconetti divulged on the unfailingly entertaining Ben and Ashley I. Almost Famous Podcast in March.
"The way that he cares about me, and I'm sure that whoever he's with… He cherishes me… It's what every girl wants," she gushed about her ex.
Wendt was actually a guest on that very podcast episode and it appeared there were no hard feelings between the former lovebirds at the time — they even seemed to have a mutual understanding of how the breakup came to be. Wendt added:
Ashley and Jared went public with their relationship in May — just a little over two months after Kev and Ashley announced their split. The pair detailed the timeline of their rom-com-esque saga in a video for KineticTV's The Story of Us, admitting they shared a kiss while on a group trip to St. Lucia in January.
"Bottom line is, I left and thought, 'OK, well that's everything I've ever wanted, but I'm definitely going to continue dating this other guy [Wendt] because I do like him. He has pursued me, he has really liked me, he's been all in the entire time," Ashley explained.
No matter what actually went down, Ashley and Jared seem happier than ever these days and they're prepping for a potentially-televised wedding. Hopefully, Kevin will find what he's looking for in Mexico. All Bachelor Nation really wants is for everyone to get their happy ending, right?

Source: Read Full Article