The newly released Season 6 of Orange Is the New Black introduced a bunch of new characters into the Netflix prison drama, and one of the biggest standouts is the dangerous prankster Madison "Badison" Murphy. But what viewers may not have realized is that Badison and Alex Vause actually have a history together in real life — Badison from Orange Is the New Black was on That '70s Show and played Donna Pinciotti's younger sister. Yep, it was actually a Pinciotti family reunion in the C Block when Badison and Alex met one another.
Before taking the bratty role of Badison on Orange Is the New Black, actress Amanda Fuller has popped up in smaller parts on hit TV shows throughout the '90s and 2000s, including guest spots on Buffy the Vampire Slayer, Malcolm in the Middle, 7th Heaven, and 8 Simple Rules. But the role that will stand out most to Orange Is the New Black fans is Fuller's guest appearance on Laura Prepon's breakout series That '70s Show. Not only did Fuller appear with Prepon's character Donna in the show, she played Donna's younger sister. Fuller's briefly played Donna's sister Tina Pinciotti in one episode of That '70s Show.
Amanda Fuller's character of Tina Pinciotti only appeared in the fifth episode of Season 1, entitled "Eric's Burger Job," in which she crashed Donna's house party and flirted with Fez. Afterwards, though, the That '70s Show creators decided to write Tina off the show in order to make Donna an only child, including a joking reference to Tina having gone missing a season later. Here is what Amanda Fuller looked like playing Donna's 14-year-old sister Tina in That '70s Show: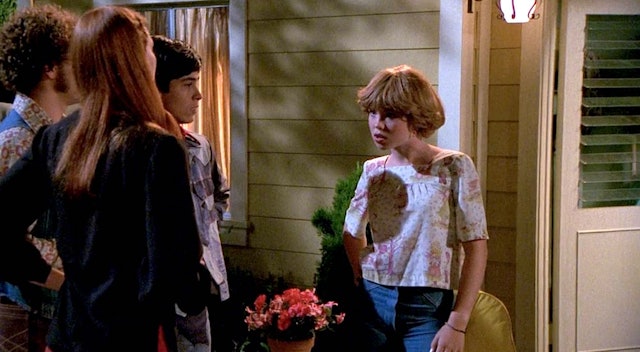 Quite a difference from Badison, huh!? Now 20 years since that That '70s Show episode aired, Amanda Fuller and Laura Prepon are working together on-screen again, except this time Fuller has a much larger role. Spoiler alert: The rest of this post will discuss plot details relating to Badison throughout Season 6 of Orange Is the New Black. On the new season of OITNB, the power dynamic between Fuller and Prepon has flipped from their sitcom past. Badison is the dangerous, taunting second-in-command in max's C Block, and she takes a special interest in bullying Alex's fiancé Piper Chapman.
Although they do not interact too much at the beginning of Season 6, towards the end of the new season, Alex and Badison become tenuous frenemies towards the end of Season 6. Alex tries to make a deal with Badison to get her to stop bullying Piper, which draws her into Badison's dangerous C Block prison family, led by Carol. She works with Badison to start an illicit cell phone business in the block, and later forms an alliance with Badison to continue working on schemes together in exchange for Badison's promise to leave Piper alone.
The season leaves off with Alex still in deep with Badison's illegal activities, which seems to tease that the two characters will be interacting even more in Season 7. Oh how far we have come from bickering sisters in the '70s!
Source: Read Full Article