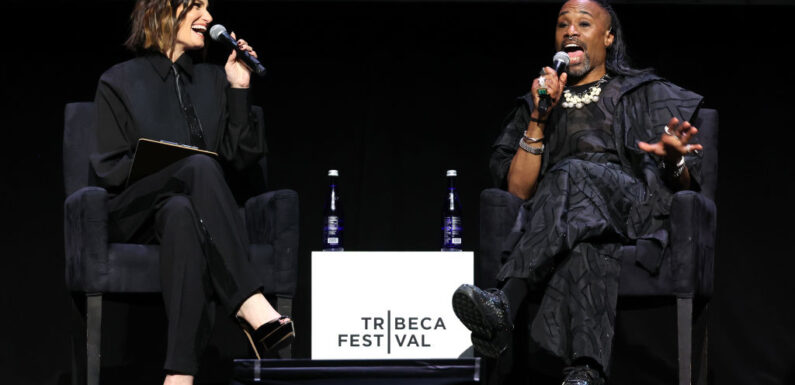 In the buzzing atmosphere of Tribeca's Storyteller's Panel, a great conversation between two long-standing peers, Billy Porter and Idina Menzel took place. Their friendship, born out of shared experiences in musical theater, spans several decades, revealing a mutual respect between them.
Billy Porter, a pioneering actor, singer, and director, has made an indelible mark on both Broadway and Hollywood. From his remarkable performances on Broadway, most notably in Kinky Boots which earned him a Tony award for Best Actor in a Musical, to making history in Hollywood as the first openly gay Black man to win an Emmy for Outstanding Lead Actor in a Drama Series for his role in Pose, Porter has consistently challenged norms and transformed the entertainment landscape. His influence extends beyond his roles, with Porter continually using his platform to advocate for LGBTQ+ rights and visibility.
Related Story
'Waitress, The Musical – Live on Broadway!' Review: A Heartfelt Reimagining Of Adrienne Shelly's Indie Swan Song – Tribeca Festival
Equally influential, Idina Menzel, a renowned actress and singer, has breathed life into Broadway with her electrifying performances. From portraying characters like Maureen in Rent and Elphaba in Wicked, for which she received a Tony Award, to lending her voice to Elsa in Disney's Frozen and belting out the iconic, Oscar-winning song "Let It Go," Menzel has left an indelible mark on the industry.
Amidst an industry that runs on conformity, Porter and Menzel have carved out their own paths, acknowledging their unique journeys during the discussion as they talk about the differences between film and theater, as well as Porter's latest film that premiered at the Tribeca Festival, The Son, which also stars Luke Evans.
Probing Porter, Menzel asks, "What about this idea of people always asking me about the transition from stage to screen to live cons of all the different mediums and how they differ. Do you find that there's a huge difference for you?"
Porter responds by acknowledging those differences between the mediums.
"The training, the craft, and the experience over the years have created an open space for me to show up and respond to whatever the situation requires. Theater, to me, is a marathon. It's eight shows a week, and you must learn how to be present every day, every time for every audience."
He expands stating, "For film, its all of those things. "I wasn't terrified about the level of stamina I needed to endure."
The actor then touches on the sense of community in musical theater versus film and television, noting, "What we love about theater is the community of it. It's harder to create that ecosystem in film and TV because if you're not in a scene with somebody, you don't see them."
Menzel then leads the conversation to this question, "Do you think versatility is a gift or a curse?"
"I think versatility is absolutely a gift. It took me 25 years in this business to get the gatekeepers of this business to take me seriously as an actor," said Porter. Everyone wants to put you in a box because it's easier for them. I was Prey Tell in Pose and before that, it was Kinky Boots and before that, it was Angels in America and now, I am an actor."
At this point in the chat, things take a personal turn as Porter shares his journey, "This is what's so profound about us together on stage, Idina. Prior to our generation, there were few examples of modern contemporary thinking, but here we are, now a part of that expansion," he states.
"I was unemployed and I hadn't worked in a decade. Leslie Odom Jr. and Patina Miller were my students at Carnegie Mellon in 2002, and I told them to be true to themselves. Fast forward to 2013, and I won the Tony Award. It's about owning the space that we inhabit. We fought for this, and we're fucking here!"
Menzel then shifts to Porter's recent movie at the Tribeca Festival, The Son, which she called "beautifully executed." "The Son is a divorce, and child custody drama."
The story is about Gabriel (Porter) and Nicky (Luke Evans), partners for 13 years. Gabriel is an emerging artist grappling to reignite his creativity and personal vitality while simultaneously caring for his young son with his highly driven partner, Nicky. Tensions and anxieties escalate as their relationship reaches a state beyond mending, pushing the couple towards an inevitable separation.
With Porter commenting slyly, "It's like Kramer vs. Kramer, and I'm playing the Meryl Streep role."
He didn't want to stop his career at just singing and acting, Porter aimed to take in as much knowledge as possible to hone his skills in areas outside of being in front of the camera or on stage.
"I went to graduate school in the screenwriting program, and I started directing and writing. I'm fine not being on stage, and fine not being in front of the camera. I wanted to change the purview because all the gatekeepers allowed me to do for years is participate in the millennium coon show. I'm not interested. I'm a human being and I require three-dimensional human characters to play."
The singer admitted the influence that Menzel has had on his career. She seemed surprised by his response. "I watched you from the sidelines and I was like oh shit, this is possible. It can happen."
He follows up, "I saw you and I thought, let me just stay the course because Idina did it, and she's doing it on her own terms. Please know that that was so important for me–for us."
Porter has also dabbled in directing, with his first feature Anything's Possible. It's a rom com about a Black trans girl falling in love with someone at her high school. He knew from the beginning it was destined to be his first film because for him, the subject matter hit home.
"I just started saying I was a director and spoke it into existence." He further explains, "The first 25 pages of the script I wept. I couldn't believe that it was a trans girl living her truth, and not trauma porn. Also it takes place in Pittsburgh, and I'm from Pittsburgh and thought OMG this is the job for me. I was able to foster a lot of authenticity that may not have been there if I didn't direct."
Must Read Stories
Blake Lively Pic 'It Ends With Us' Halted Indefinitely Amid Pickets
'Star Trek: Picard' Stars Patrick Stewart, Gates McFadden & Jonathan Frakes
CFO Christine McCarthy Stepping Down For Family Medical Leave; Interim Exec Set
Susan Lucci & Maury Povich Set For Daytime Emmy Career Honors
Read More About:
Source: Read Full Article