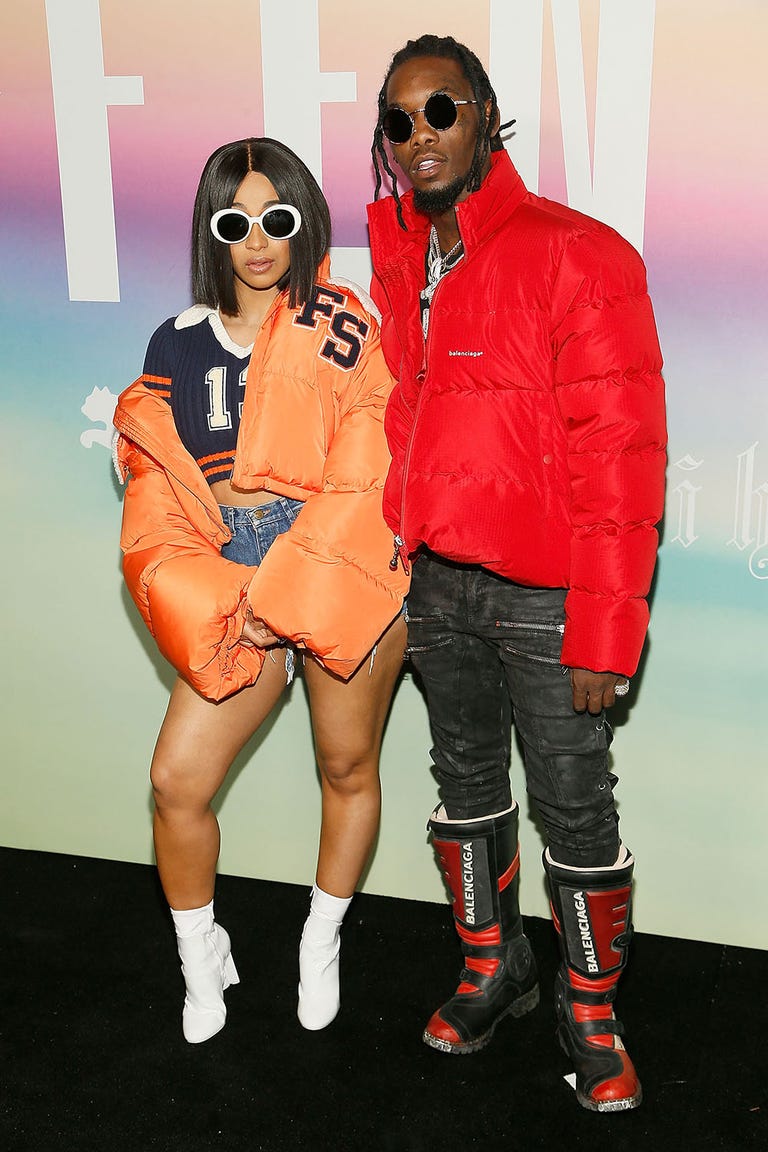 Today, rapper Cardi B announced that she'd given birth to her first child, a baby girl with her husband Offset. She announced the new addition and name in her Instagram, writing "Kulture Kiari Cephus 07/10/18??" as the caption. When news hit the internet, people had plenty to say about her naming her daughter Kulture with a "K," but considering Cardi's real name is Belcalis Marlenis Almanzar Cephus and Offset's is Kiari Kendrell Cephus, maybe everyone shouldn't be so surprised they gave their daughter an equally epic name.
Here are the best reactions to Cardi's baby name:
Cardi B named her child after a freaking Migos album, IM DONE! ✌?
Lissen, Cardi B's name is Belcalis Marlenis Almanza and Offset's name is Kiari Kendrell Cephus, they couldn't just name their baby Jennifer.
I'm here for extra spicy, Hogwarts spell-ass names. Welcome to the world, Kulture!
I hope kulture is pronounced kulturé. That would be an iconic fashion moment
I eagerly anticipate the day we have Supreme Court Justice Kulture.
Are celebrities in some sort of silent competition for the craziest baby names?! Am I just too poor to understand?!?! #kulture
There's a new spell in town.
Kulture Kiari Cepheus. pic.twitter.com/tUILj5bqE8
YES Cardi and offset named THEIR child Kulture. Y'all too broke to have an opinion, say your congrats and move along. pic.twitter.com/PyuAwmY7mg
I guess they did it for the "Kulture" pic.twitter.com/DLmr07028f
"Kulture" or "Bulture" was definitely a conversation in their household.
"they named her Kulture… with a K." pic.twitter.com/CavBBdH1oa
"my name is kulture with a k" pic.twitter.com/gMJEHebhM9
"Hey, Offset, what do you wanna name the album?"
Offset: "Culture…"
"Okay, what about the second album?"
Offset: "Let's doooo…. Culture II."
"Offset, you're about to have a baby! What do you wanna name her?"
Offset: "Kulture!!!! But…with a K this time."
cardi b and offset just named their daughter kulture which is cool and all I just feel like it's going to konfuse some people
Before she gave birth, Cardi talked about how much she wanted to be a mom, saying she didn't want to miss a single minute of her baby's life. In an interview with Rolling Stone, she said she plans on taking her baby on tour with her.
"What I envision is my tour bus has my own personal room, and I just want to be with my baby," she said. "Only time I don't have my baby with me is when I'm getting my hair done, makeup done, performing." "I don't want to miss one second. I don't want to miss no smiles, I don't want to miss no new movement, I don't want the baby to confuse me and the babysitter."
This is Cardi B's first child with Offset, who she married in September, and it's his fourth child.
Follow Emma on Instagram.
Source: Read Full Article