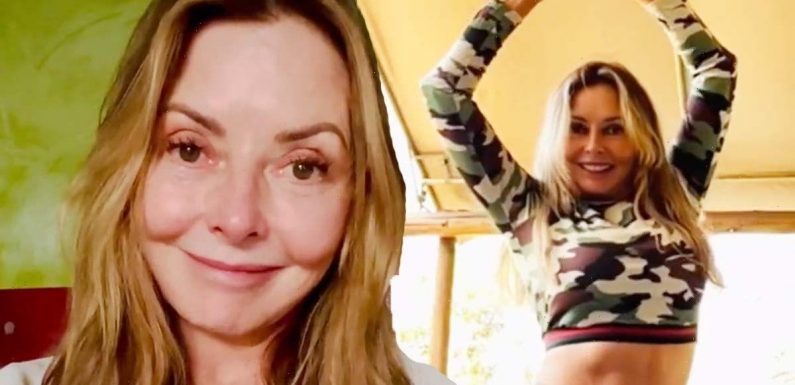 Carol Vorderman looks back on her holiday to Portugal
We use your sign-up to provide content in ways you've consented to and to improve our understanding of you. This may include adverts from us and 3rd parties based on our understanding. You can unsubscribe at any time. More info
Carol Vorderman, 61, looked as youthful as ever as she put on an animated display in from of the camera in a new social media post. The former Countdown star took to Twitter to share a video exercising as she defied critics who recently told her to "act her age".
In view of her 493,500 followers, Carol uploaded a clip of herself in a camp workout ensemble that put her taut abs on full display.
She could be seen swaying her hips and squatting on her porch as she smiled broadly.
Carol captioned the video: "While I was away I was working on some kettlebell sequences…..try following Juice and Toya on YouTube @JuiceAndToya.
"It's all free… Also some squatting sessions for legs and butt with Pamela Reif."
She added in a follow-up tweet: "Obviously taking squatting seriously, not smiling much…..
"It was a heavy 2 hour workout morning….slow and steady with this sesh….…. lols. (sic)
"All of these are free and well put together….gotta have a bit of dancing after tho…
"Happy days can cost NOTHING at all." (sic)
It comes after Carol slammed trolls who criticised her, claiming her strongest body part was in fact her "middle finger".
Taking to her Instagram account last week, Carol shared a stunning video that featured a series of pictures of herself wearing a figure-hugging red workout set.
She could be seen performing a series of exercises while enjoying the sunshine on her porch.
Carol captioned the clip: "Been trying much more yoga and Pilates and 'learning the splits' stretching this summer…..
"Now I've put it into my own routine as pure slow yoga isn't for me, even though it's obviously very good.
"Soooooooo just a few shots from what I now do every morning (not the whole routine)… a bit of the 5 Tibetans (a yoga thing) and adductors and abs and hamstrings all good and firing….
"I call it my… Happy Bird Who's Not Giving In To A Number Routine."
Addressing her critics, Carol highlighted that she was happy with her life despite the trolls making comments about her age.
She continued: "And to anyone who says you shouldnt do 'this or that' at a certain age…and is still living in the 20th or even 19th century….please bear this in mind when you're attempting to troll any woman no matter what their age …
"I love my life I'm alive and fit and happy…..but do you know the strongest bit of my body now?
"It's my middle finger…..and I use that middle finger without apology….so a word from the wise." (sic)
Carol concluded: "Calm Down and Smile and join the happy crowd. It's a much nicer place to be."
Source: Read Full Article