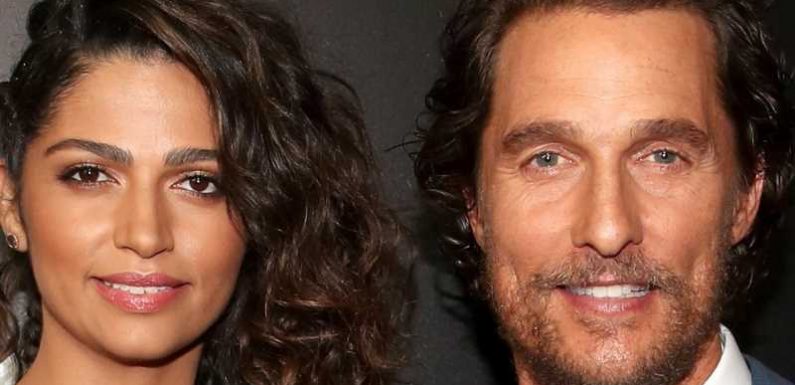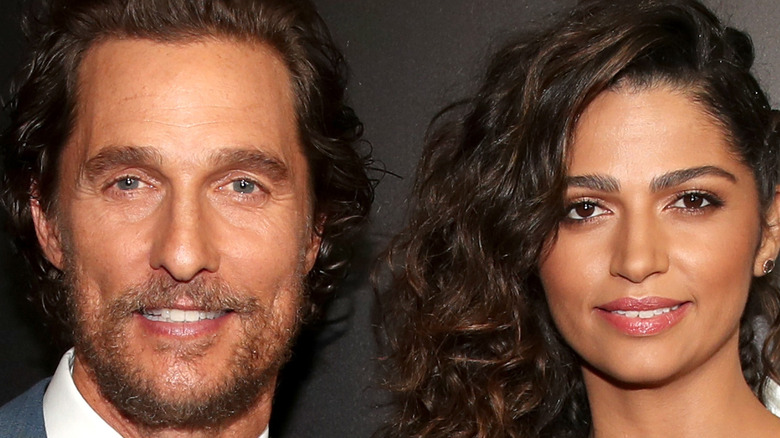 Age is only a number. At least, that seems to be the case for a countless number of celebrity couples. "I keep forgetting that he's 22 years older than me," Harrison Ford's wife, Calista Flockhart, once admitted to Hello!. "It doesn't factor into our relationship at all." Yet, while many well-known duos don't notice their age differences, other people around them do.
In an episode of "Keeping Up with the Kardashians," even Kris Jenner's own children commented on her 29-year age gap with her boyfriend, Corey Gamble, as reported by People. "It's not even the age factor," he explains to them. "It's just the connection." After all, we're all adults here, right?
Sometimes, the perfect partner for you is only one or two — or 20 — years older and, in the end, it just seems to always work out. Here are just some of the many celebrity couples who have major age differences.
Ty Pennington and Kellee Merrell, who have a 23-year age difference, took their time getting together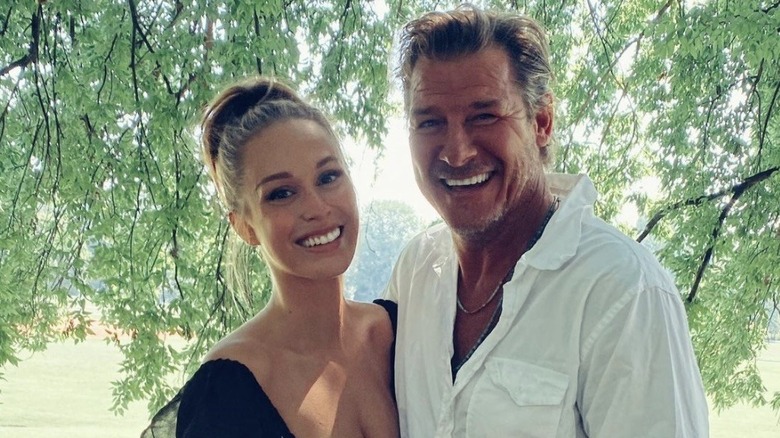 In July 2021, "Trading Spaces" star Ty Pennington popped the question to his girlfriend, Kellee Merrell. Since she's not in the spotlight herself — she's actually a social media manager — the two had always kept their relationship on a low profile. Yet, quickly after their engagement, it became public knowledge that the duo had a pretty big age difference. They're 23 years apart, to be exact.
At the time of their engagement, the famous contractor was 56 years old and his soon-to-be bride was 33. However, just like their love, their age gap seems to have no limits. "Thank you …Universe …for creating this amazing human… who somehow tolerates me," Pennington wrote on Instagram. "Even tho I'm beginning to look like papa smurf after a Willie Nelson concert."
Though the two had met all the way back in 2010 when Merrill was in her early 20s, it wasn't until 2020 that they reunited and made their relationship official. "Luckily, our paths finally crossed at the right time," Pennington gushed to People.
Despite being a decade apart in age, Nick Jonas and Priyanka Chopra are both old souls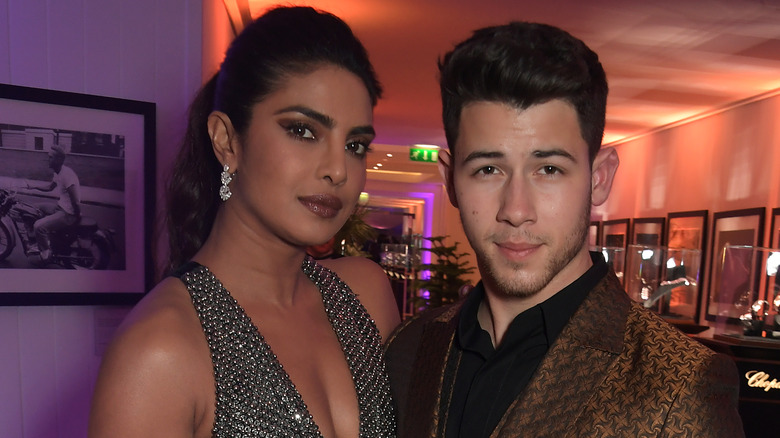 As soon as Priyanka Chopra was first spotted with Nick Jonas in 2017, fans were instantly filled with jealousy. The youngest Jonas brother had fallen in love — with someone a decade older. "People gave us a lot of [expletive] about that and still do," Chopra admitted to InStyle. "I find it really amazing when you flip it and the guy is older, no one cares and actually people like it."
Though everybody else seems to have a problem with the age gap, it's never posed a problem for them. It turns out, though the Jonas Brother is 10 years younger, he's actually an old soul out of the spotlight. "I call him Old Man Jonas," Chopra revealed to Vogue.
Since tying the knot in 2018, the two have made their relationship look easy. Regardless of their age difference, they're clearly head over heels for each other. "I can't believe how lucky I am," the Jonas Brother shared on Instagram.
A 13-year age difference doesn't affect designers Nate Berkus and Jeremiah Brent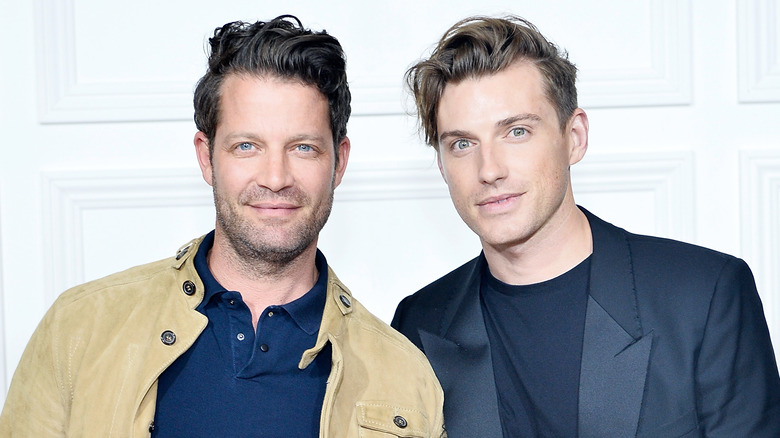 It always seemed to be destiny that Nate Berkus and Jeremiah Brent would make the ultimate designer duo. The two had known each other for years before deciding to go antique shopping for their first date. Though Berkus is 13 years older than Brent, their relationship always seemed to make sense. "I knew that Jeremiah was somebody I would be able to really build a beautiful life with," Berkus explained to People, knowing that "I would be able to meet him at any phase of his life in kind and with respect and with joy for his accomplishments."
Brent obviously agreed that they were meant for each other. In 2014, the two tied the knot in New York and have been together ever since.
In the end, there's a reason they've been able to make their relationship last so long despite their large age difference. "You've got to really kind of understand what somebody else is going through, whether you're in different chapters," Brent explained. "And you've got to constantly have those conversations and those check-ins, and that, I know, is what we do really well."
George Clooney and Amal Clooney had an immediate connection even though they're 17 years apart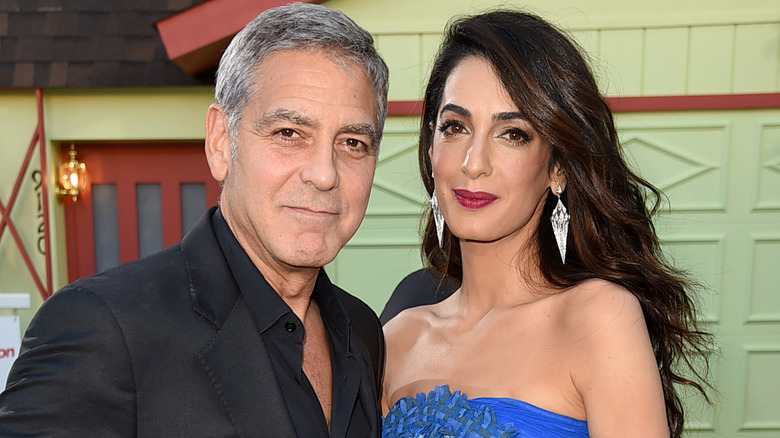 When George Clooney first met Amal, "I couldn't tell if she liked me, you know?" he admitted on "The Howard Stern Show." "I'm 17 years older than her, so she might have thought I was, you know, grandpa." Yet, even with their age difference, sparks seemed to instantly fly between the two of them.
While it was obvious to everyone else why they made the perfect pairing — even his agent knew she was the one for him — it was Amal's father who wasn't sure about their relationship. "The funniest part was that she gets a letter from her father going, 'I'm going to give you 10 reasons why this is a terrible idea to date this guy,'" George later revealed. Their significant age difference may have been on that list, but that still didn't stop them. In 2014, the Clooneys tied the knot in Italy, and they've been going strong ever since.
A 25-year age difference won't limit Catherine Zeta-Jones and Michael Douglas' love for each other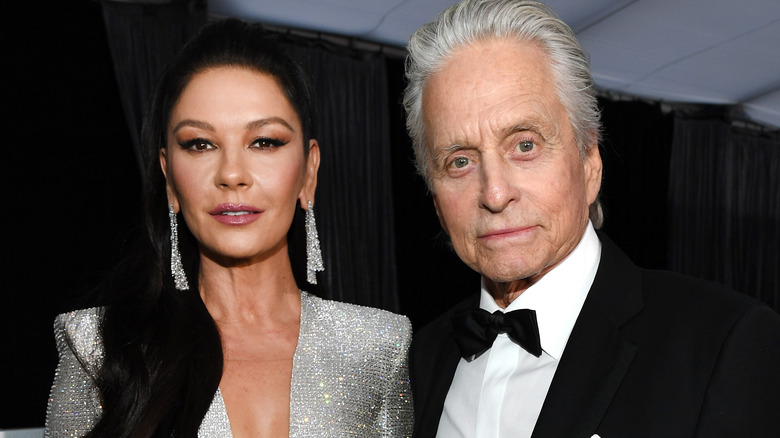 Catherine Zeta-Jones doesn't think it's a big deal that her husband Michael Douglas is older than her. "When my mother was telling me about men and telling me the facts of life, she never actually put an age bracket on it," she explained during an interview with Larry King, so the actress always felt free to fall in love with whomever she pleased.
It was in the '90s when she first met her now-husband. The two were introduced at a film festival, and Douglas was immediately interested in her. They were 25 years apart, and Zeta-Jones hadn't even considered dating an older man — at first. "It's so funny because Michael and my parents are the same age," she admitted. Yet, after a year of chatting over the phone, the two became official and tied the knot in 2000.
Though their relationship has experienced some ups and downs in the public eye, their age difference has never had an impact on their marriage. "Never," Zeta-Jones said, "and Michael never makes me feel like that."
Gal Gadot and Jaron Varsano's 10-year age difference affected their first date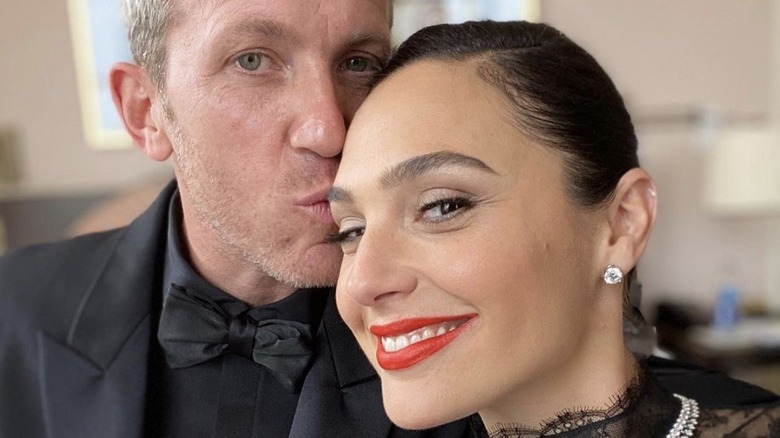 Starting up a conversation with a stranger at a party became something so much more for Gal Gadot. A random retreat in the desert was where she met the man of her dreams, and they've been inseparable ever since.
Her now-husband, real estate developer Jaron Varsano, knew that the famous actress was the one for him from the get-go. "He told me on our second date he was serious and wasn't going to wait more than two years to ask me to marry him," Gadot revealed to Glamour. While he may have seemed confident, the "Wonder Woman" actress wasn't absolutely sure. "I was too young to get it. He did!" she admitted. "He's 10 years older than me."
Yet, regardless of their age difference, the two eventually ended up on the same page. Within those two years, as he had promised, they tied the knot.
Emilie Livingston and Jeff Goldblum are reminded of their 30-year age gap every day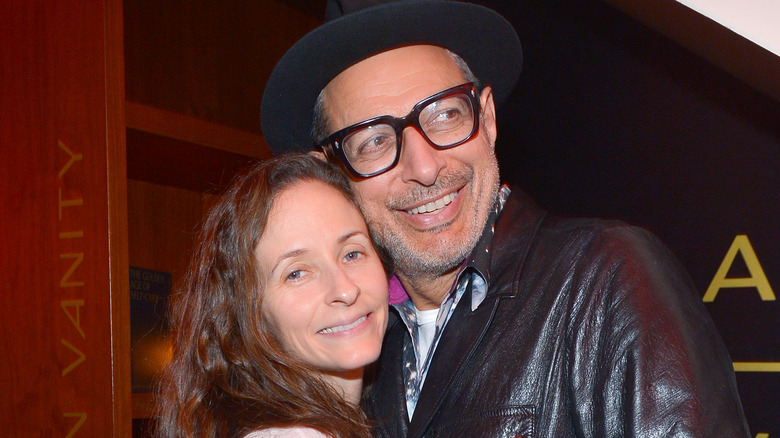 Jeff Goldblum was getting in shape at the gym when he spied his future wife from afar. The famous actor decided to strike up a conversation and, funny enough, former Olympic gymnast Emilie Livington had no idea who he was. "She hasn't seen many of my movies still," he later admitted during an interview on SiriusXM. Yet, she was still interested.
The couple's 30-year age difference never posed a problem in their relationship until they decided to have children. It's only because of their two little ones that Goldblum worries about being older than his wife. "I keep doing the math, and keep extrapolating where they're going to be, and where I'm going to be," he admitted to iNews. "And, when I buy a watch, I wonder who's going to get it." Other than that, marrying a younger woman has been a walk in the (Jurassic) park.
Age has never been an issue for Ellen DeGeneres, who is 15 years older than Portia de Rossi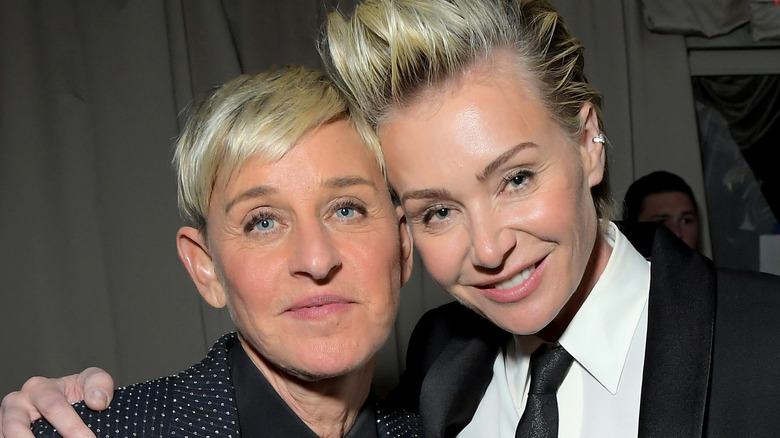 Many fans may not know that Ellen DeGeneres is 15 years older than her wife, Portia de Rossi. Few know because it's never been an issue in their relationship — until the idea of having children comes up. "That's the only time I think about age," DeGeneres admitted to People.
The two initially met through mutual friends and felt an immediate connection. It wasn't until 2008, when same-sex marriage became legal in California, that the two were finally able to tie the knot.
For the most part, they've kept their relationship fairly low-key, but fans have gotten a few glimpses of de Rossi during her appearances on DeGeneres' daytime talk show. As we've watched the famous comedian open up every episode with a dance number, it seems safe to say that her age has never been an issue in any situation. "I forget how old I am," DeGeneres admitted, and her moves prove it. 
Florence Pugh and Zach Braff want people to stop caring about their 21-year age gap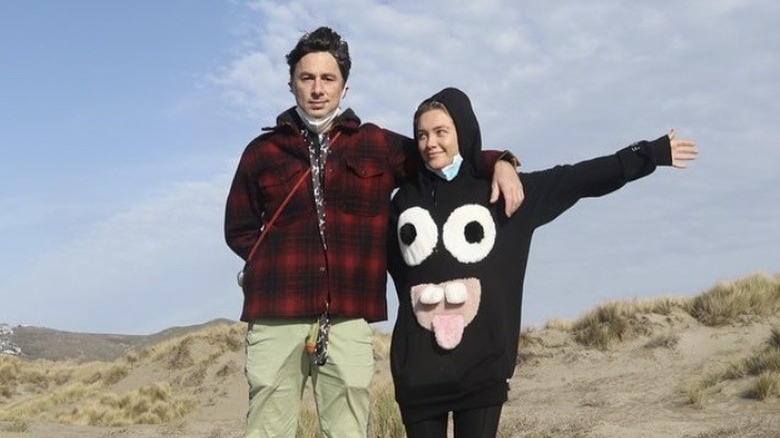 In 2019, Florence Pugh and Zach Braff were spotted together for the very first time. The two had met on the set of Braff's short film "In the Time It Takes to Get There" and seemed to hit it off. Yet, it took no time at all for outlets to start reporting on their relationship. Though the two actors were clearly interested in each other in all of the photos plastered of them together online, their 21-year age gap had people panicking. Fans even headed over to Instagram in order to voice their opinions on Pugh's personal account.
After Braff had commented on one of his girlfriend's photos in early 2020, one follower took the time to drop a comment regarding their age difference — and the hurtful comments haven't stopped there. Yet, through it all, the two have continued to defend their relationship.
Since making their partnership public, Pugh has had the perfect response to everyone doubting her relationship, too. "I do not need you to tell me who I should and should not love," she said during an interview with The Times. "It is not your place and, really, it has nothing to do with you."
Dennis Quaid and Laura Savoie fell in love with each other, despite their 39-year age difference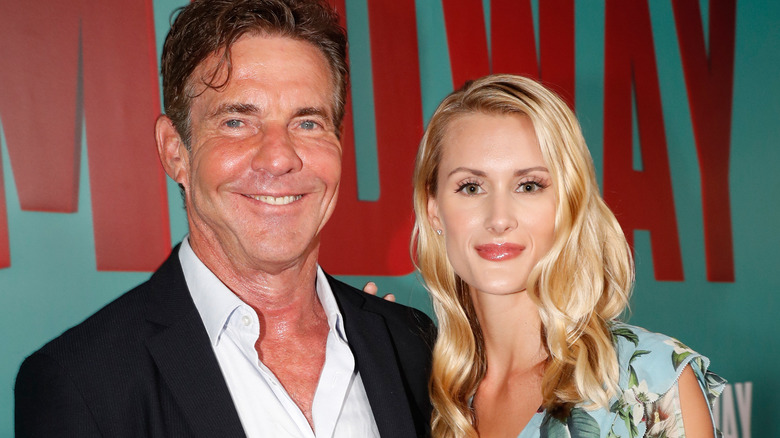 Dennis Quaid knew his wife was the one as soon as he laid eyes on her. The two had a 39-year age difference, but that didn't matter. "You have no control over who you fall in love with," he later told The Guardian.
His wife is the same age as his oldest son, and people the world over have had an opinion on it. Yet, marrying someone like Savoie was never his intention. "I didn't go looking for an age gap or someone really younger than me," he said. It had just happened.
The 65-year-old actor met 26-year-old Laura Savoie during a business event, and he had never anticipated the meeting turning into anything more than that. Yet, the two instantly fell in love and eventually eloped in 2020. "I just love who she is as a person," Quaid told People. "Her character, her intelligence, of course, her beauty. And her point of view of the world."
Matthew McConaughey and Camila Alves met each other at the ideal time, even though they're 13 years apart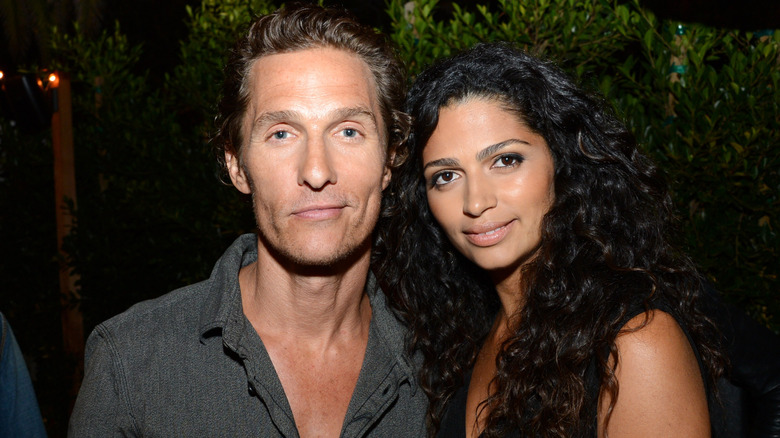 Matthew McConaughey is "not a club guy," he told People. However, in 2006, he made a spur-of-the-moment decision to join his friends at one. Today, he's glad he did. It's where he met his wife, model and entrepreneur Camila Alves. Yet, at the time, "I was not looking," he admitted. "I was very happily single." It's not exactly the kind of cute meetup you would expect from rom-com star McConaughey, but it turned out alright, alright, alright.
Though the Oscar-winning actor is 13 years older than his wife, their age difference has actually been a big key to their successful relationship. "It's got to be the right person, but it has to be the right time," he explained. "I could have met her 15 years ago, and it wouldn't have — maybe not — wouldn't have been." At this moment in time, their relationship clearly works out.
Alec Baldwin and Hilaria Baldwin have disagreements because of their 26-year age difference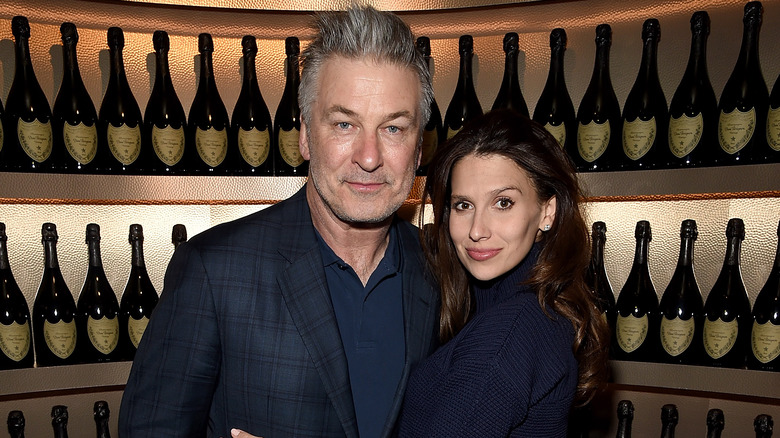 Age is only a number to Alec Baldwin. "My goal wasn't to marry a much younger woman," he explained on "Literally! With Rob Lowe." Yet, he knew Hilaria was the one the moment he was seated at a table next to her at a local restaurant.
Because of their 26-year age difference, Alec Baldwin has admitted that he and his wife clearly have a "generational gap." In order to be respectful while they were dating, he would even end each night with a handshake. "He shook my hand for six weeks and didn't kiss me when we met," Hilaria revealed on "The Ellen DeGeneres Show."
Yet, their "generational gap" seems to be the widest when they're raising their five children together. "We do not always agree," Baldwin admitted to Rob Lowe. "My wife prevails, if you will, but we do not always agree because I'm still much older than my wife." Yet, you know what they say: happy wife, happy life!
Heidi Klum and Tom Kaulitz will never worry about their 17-year age gap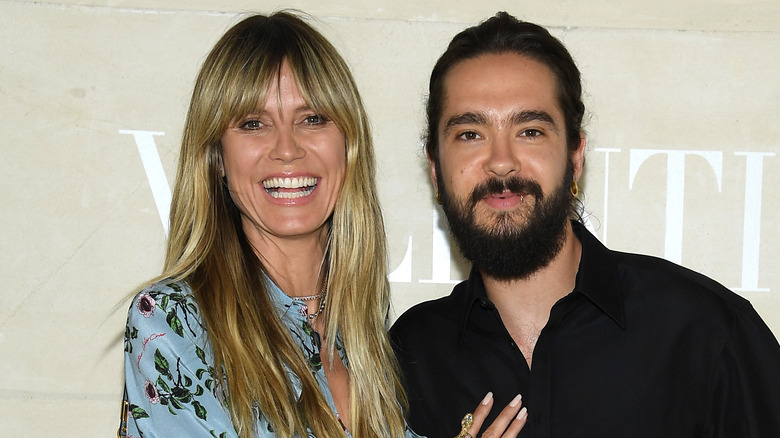 Heidi Klum looks like she hasn't aged a day in the spotlight. However, when she began dating her now-husband, Tom Kaulitz, people seemed to have a problem with the fact that he was 17 years younger than her. "That's really the only time when age seems to be shoved in my face," she told InStyle. The supermodel knows she's getting older like everybody else in the world, but aging is something she doesn't think much about.
Having a major age difference with her significant other isn't anything new for the supermodel, either. She was previously married to the singer Seal, who is 10 years older than her — so it's clear that Klum really doesn't care what the world has to say about her husband's age. "You have to just live a happy life without worrying too much about what people think," she said. "Because worrying is only going to give you more wrinkles," which is some of the greatest advice Klum has ever given.
Because of their 23-year age gap, John Stamos and Caitlin McHugh had a kid together quickly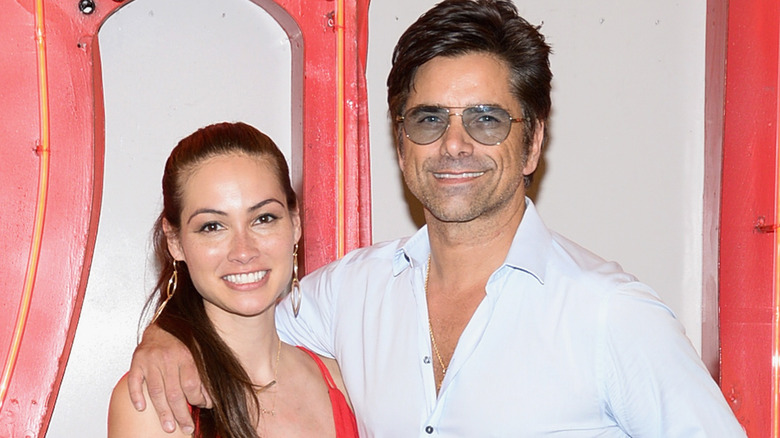 Even though John Stamos is 23 years older than his wife, Caitlin McHugh, the two have a lot of other things in common. "We have the same morals and the same values," he told People. "That all clicked nicely."
They met on the set of "Law & Order: Special Victims Unit" all the way back in 2011, but it wasn't until her roommate appeared on "Fuller House" that Stamos took notice of her. "She was in the audience. I walked in, I went, 'Hey, are you stalking me?'" Stamos explained. "She was like, 'No.' That's why I love her. She's like, 'What? No. I haven't thought of you twice.'" Have mercy!
After that second encounter, the two immediately started dating, and McHugh even suggested they should have a baby as soon as possible. Why? "Because you're old," she told him. In 2018, their adorable son, Billy, was born.
Source: Read Full Article