The only thing more baffling than Riverdale's many absurd plot lines: the IRL relationship between the actors who play Jughead Jones and Betty Cooper. (And considering Riverdale's plot lines have included a farm that harvests organs, a killer called the Gargoyle King, and tickle porn, that's really saying something.) IMO, Cole Sprouse and Lili Reinhart's most confusing relationship moments should be used as inspo for the Riverdale writers, because I truly never know what's going to happen next with these two. Will Sprouse and Reinhart get back together? What will happen when filming for Riverdale Season 5 resumes? Did they actually have a "bacchanalian sex cult"? Your guess is as good as mine.
After more than a year of online flirting and dating rumors, the actors finally went public with their relationship in May 2018, making their official debut at the 2018 Met Gala. Fans quickly began shipping Bughead, and though the two showed each other plenty of social media love, they rarely spoke about their hush-hush relationship in public. But the longer Sprouse and Reinhart dated, the more fans speculated, and the couple eventually became a tabloid fixture — and sometimes, for good reason. Bughead may be over (for now), but these WTF moments still have me like 👀.
When Their Red Carpet Body Language Was Seemingly Tense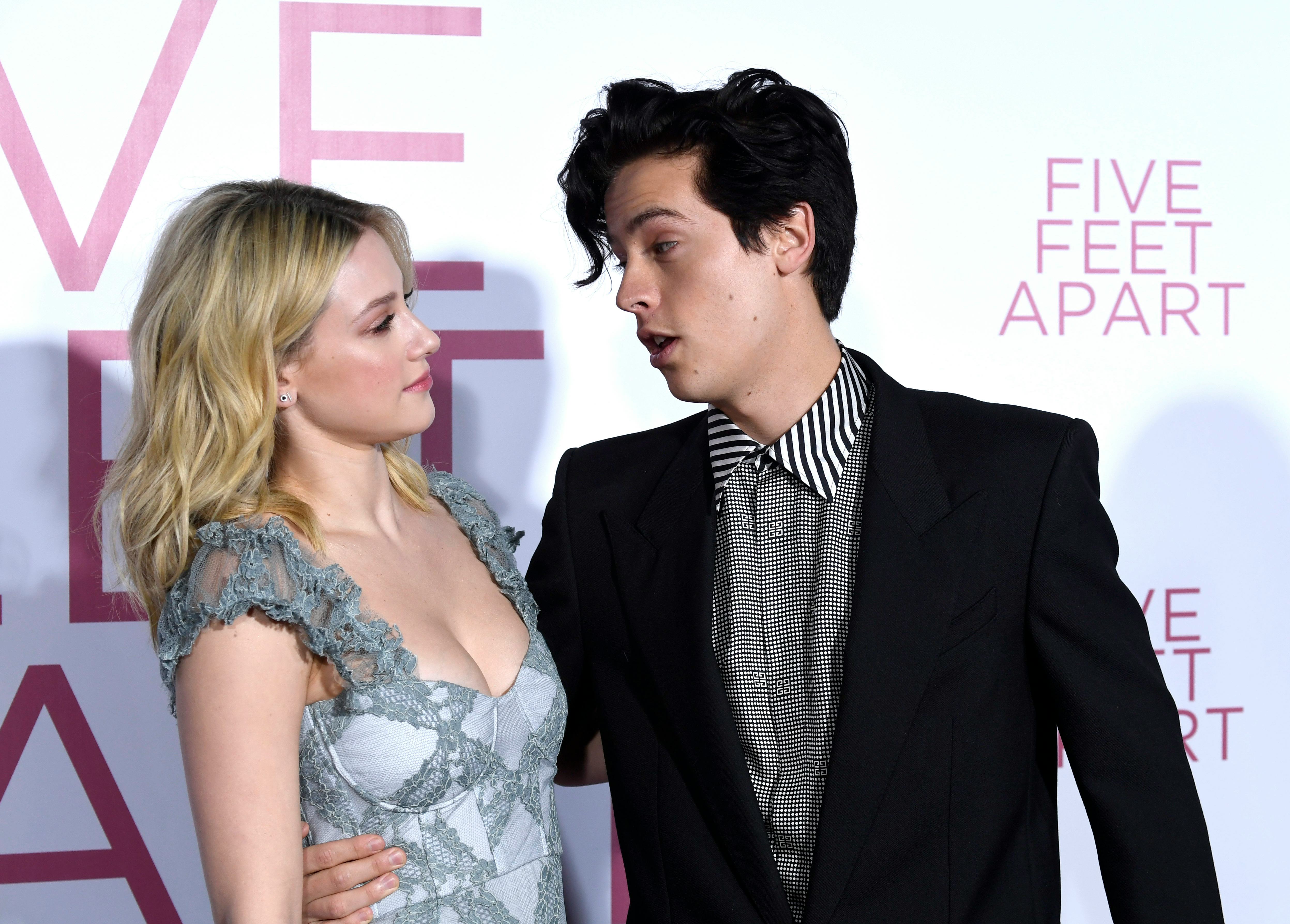 The first time Sprouse and Reinhart's super private relationship raised a red flag was at the premiere of Five Feet Apart in March 2019. Following the event, Elite Daily spoke to body language experts Traci Brown and Patti Wood, who noted that things looked kind of awk on the red carpet. "In all these poses, there's tension," Wood said, while Brown said their body language seemed to reveal "discomfort." However, the couple seemed much more in sync at the 2019 Met Gala a few months later.
When They Reportedly Avoided Each Other At Comic-Con
After a few months passed with no sightings, Us Weekly broke the news of the couple's reported split on July 22, 2019, right after San Diego's Comic Convention. According to Us Weekly, sources claimed Sprouse was reportedly "rarely seen" with Reinhart during Entertainment Weekly's Comic-Con party and was reportedly overheard telling a friend he and Reinhart were no longer together. To make things even weirder, the two sat next to each other at Riverdale's panel the morning after the party. Reinhart later posted a pic of herself seated between Sprouse and KJ Apa on Instagram, which she (jokingly?) captioned, "Please don't put me between these two ever again."
When They Did An Interview About Their Relationship Separately
https://www.instagram.com/p/B0WIHGZgXYx">
Days after news of their reported split emerged, W published a profile featuring the couple on July 25, 2019 that left fans totally perplexed. Though the interviews took place two months before their maybe-breakup, reporter David Amsden started off the piece by revealing the two stars requested to be interviewed separately. "Two months later the two would part ways romantically, lending credence to my suspicions that the separate interviews might have been connected to the two of them being uncertain about their future together," Amsden wrote at one point in the interview. Spouse and Reinhart's quotes were also questionable, such as when Sprouse spoke about the need for their "own separate identities."
To say Sprouse and Reinhart weren't totally pleased with the W cover story would be an understatement. The same day the piece published, Reinhart posted a pic from her and Sprouse's photoshoot, which she captioned, "BREAKING: A reliable source has confirmed that none of you know sh*t," though that post has since been deleted. She also posted a tweet that, again, seemed to dismiss the rumors. "Don't believe everything you read on the internet, kids," she said. "And news sources should try a little harder to be less vile. 'Reliable sources' can kiss my a**."
Even more perplexing was Sprouse's response on IG, which included the same picture Reinhart posted with the caption, "UNPRECEDENTED: Cole Sprouse and Lili Reinhart consume the flesh of 'reliable sources' to fuel their bacchanalian sex cult." Excusez-moi?
When Reinhart Wrote Sprouse A Birthday Poem Amid Breakup Rumors
In honor of Sprouse's 27th birthday on Aug. 4, 2019, Reinhart wrote Sprouse a "sappy" love poem, just a week after multiple sources reportedly confirmed their split. Alongside a picture of Sprouse, Reinhart wrote, "I tried to find a poem that I could send to you. Because my words were failing me. But I searched and found nothing that did you justice. All of these love poems can't get it right. No one else's words could ever fit. They haven't known the fortune it is to love you," concluding with, "sappy nighttime birthday poem for @colesprouse." Sprouse's joking response: "Follow for follow?"
When They Seemingly Joked About Breakup Rumors
After (somewhat) dismissing breakup rumors with Reinhat's birthday poem, Reinhart and Sprouse complicated things by poking fun at those rumors in August 2019. When Variety posted a video on Instagram of Sprouse being interviewed for its Power of Young Hollywood issue, Reinhart took to the comments section to write, "Sources say he's single now- is he available?" She later deleted the comment, but luckily, @commentsbycelebs caught it before it disappeared.
That same day, while speaking to Entertainment Tonight at Variety's Power of Young Hollywood event, Sprouse jokingly claimed he was "incredibly" annoyed by the rumored reports about his breakup. "No, I don't care," he then clarified. "That's the nature of our industry." He added that rumors are "something you sign up for" when you're a part of Hollywood, and that you have to have some fun with it. Then, when asked whether he would respond to Reinhart's birthday poem to him with a poem of his own, Sprouse said, "I'm not a poet. I do not write. I'll figure out something beautiful."
When They Acted Like Nothing Was Amiss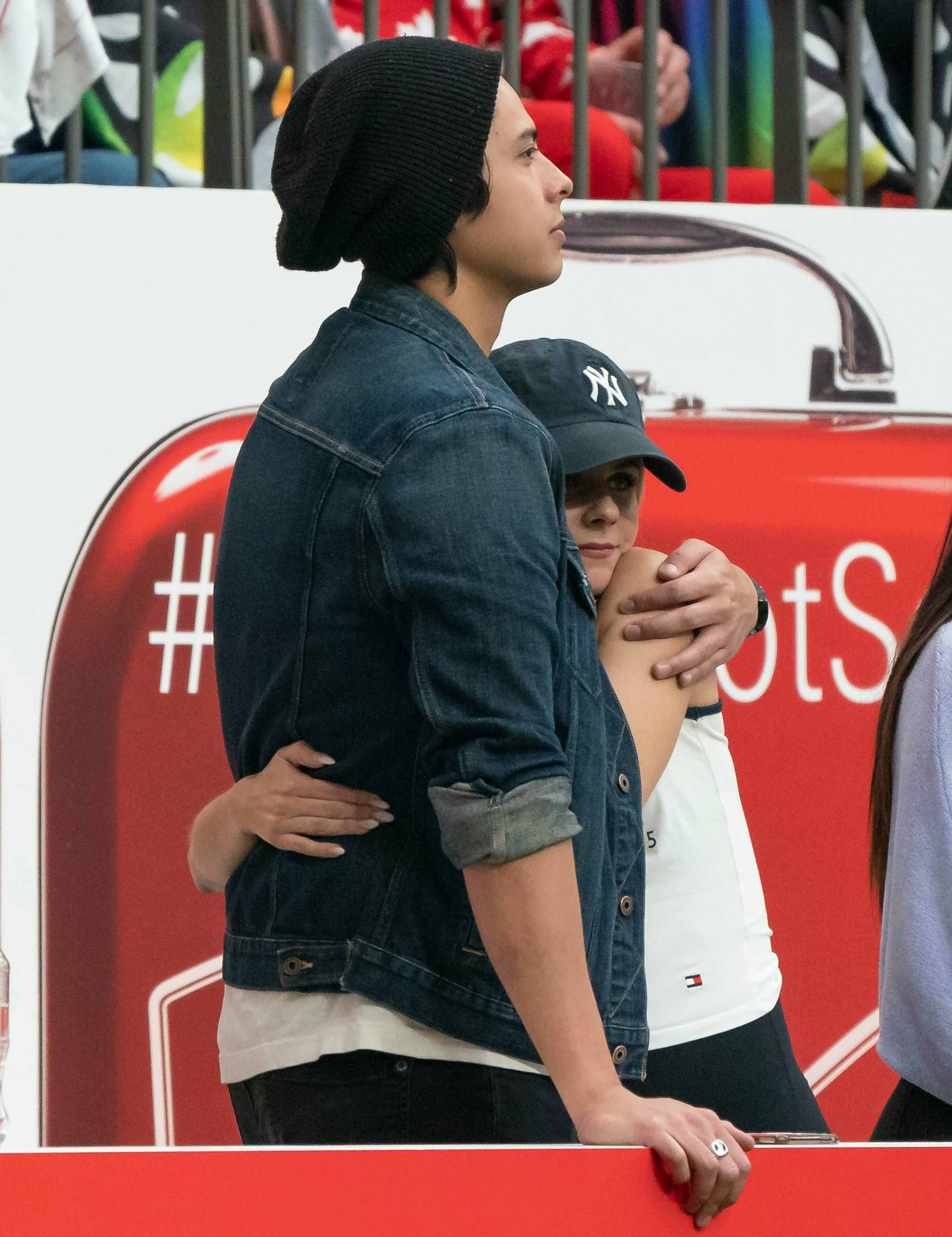 During an interview with Coveteur, which pubbed on Sept. 8, 2019, Reinhart oh-so-casually referred to Sprouse as her boyfriend, though it's still unclear whether they broke up and got back together or never broke up at all. When asked about her Halloween costume plans, Reinhart said, "I think I'm leaning in towards a character for Halloween. I think I'm going to do it with my boyfriend, Cole."
Less than a week later, on Sept. 13, Sprouse posted a tribute on IG for Reinhart's 23rd birthday, writing, "Lil @lilireinhart was born on a Friday the 13th and haven't I just been so lucky ever since?" That post has since been deleted.
When Reinhart Unfollowed Sprouse & Called It A "Glitch"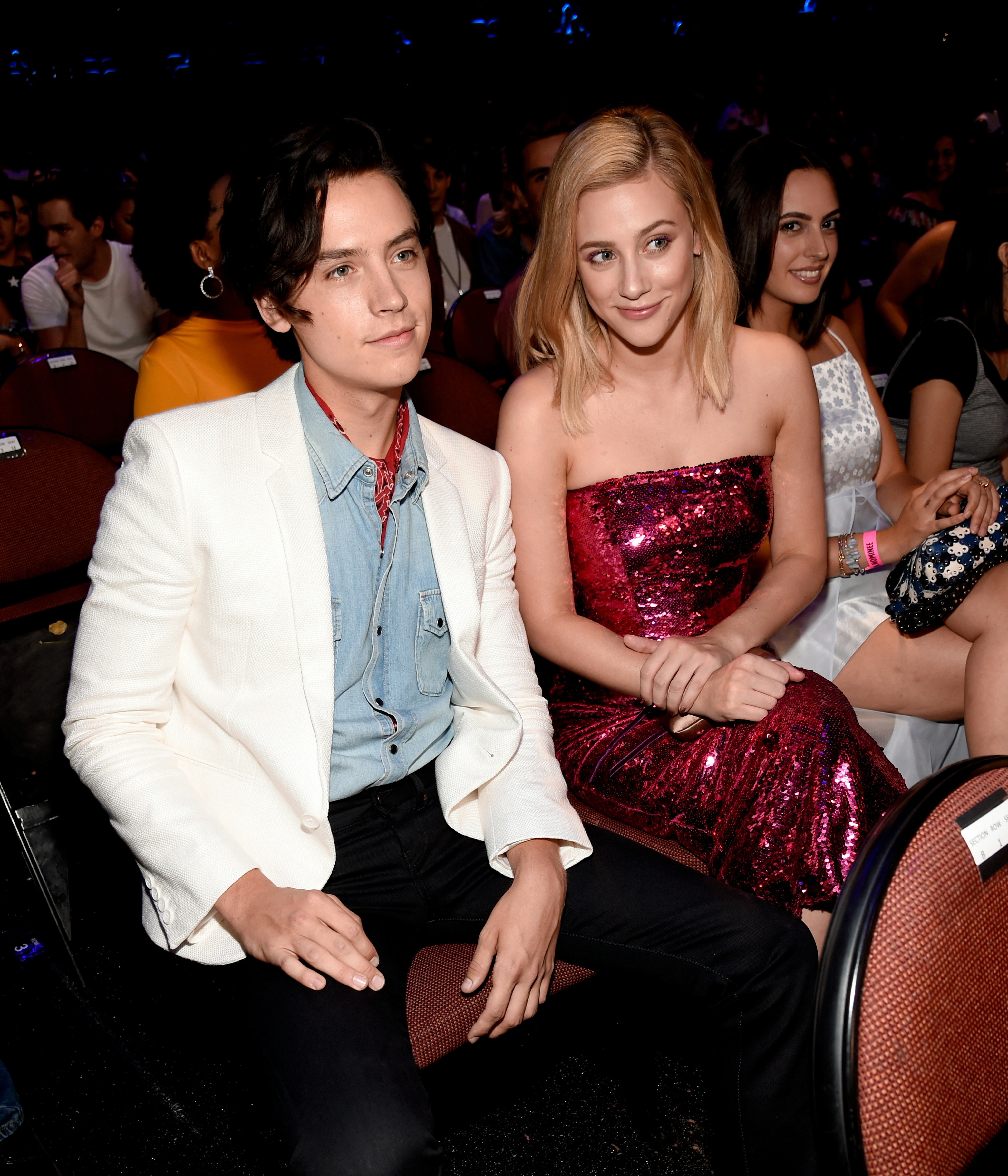 After several uneventful months, fans noticed in early February 2020 the two had unfollowed each other on social media. Reinhart took to her IG Story to assure fans she hadn't meant to unfollow Sprouse. "There was a glitch on Instagram everyone, don't freak out," she wrote. Sprouse never commented on the suspicious social media activity.
When Conflicting Reports Emerged About Their Relationship Status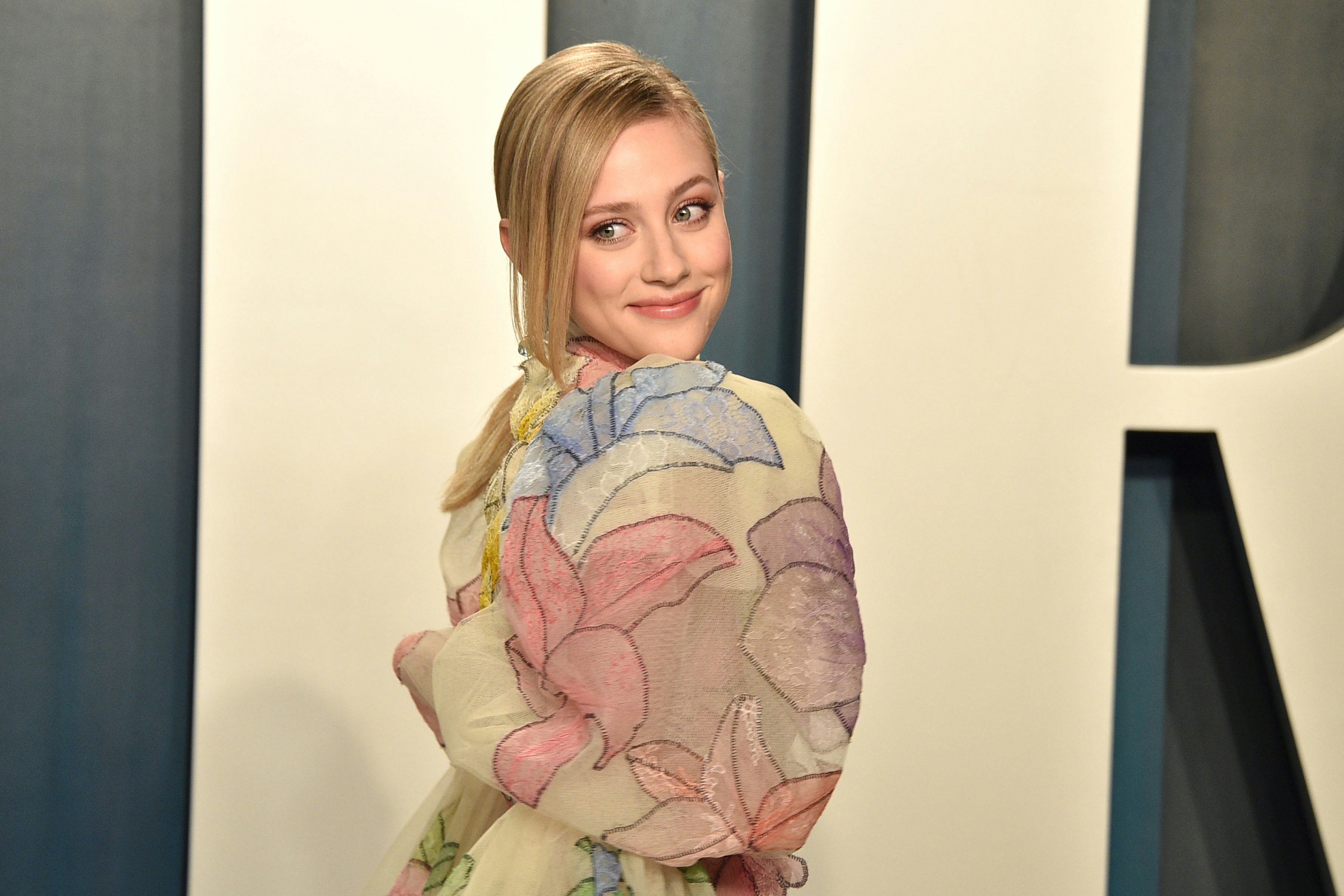 On Feb. 9, 2020, the actors attended the Vanity Fair Oscars after-party, where a source for E! News claimed the two avoided each other. "Lili and Cole arrived around the same time but [I] did not see them hang out together," the insider reportedly claimed. The couple also didn't take pose for any couple pictures on the red carpet, but the next day, on Feb. 10, Vanity Fair posted a pic of Sprouse and Reinhart together at the party, so that's confusing.
And to make matters even more complicated, Allure published an interview with Reinhart on Feb. 11 referring to Sprouse as her "boyfriend." Though Reinhart didn't talk about Sprouse directly, she make a reference to how her life has changed over the past three years, since landing her Riverdale role. "I didn't have a love in my life like I do now," she said.
When Sprouse Was Accused Of Cheating By Fans
In April 2020, rumors about a reported relationship between Sprouse and his family friend, Kaia Gerber, began circulating on Twitter, despite there being exactly zero evidence suggesting any cheating. On April 19, Sprouse slammed the "rumors and slander" about his personal life in a series of IG Stories, asking fans to respect his privacy.
Around the same time, Reinhart deleted several pics of her and Sprouse from her Instagram grid, leaving only pictures related to Riverdale. On April 17, she posted an Instagram thanking the people who have "stood by [her] through [her] best and [her] worst," and two days later, she posted a cryptic quote to Instagram Stories: "It is time to wake up. You have wasted too much valuable time, energy, and opportunity already."
But she also seemingly defended Sprouse with a since-deleted Twitter thread. On May 1, after #ColeSprouseIsOverParty began trending, Reinhart fired off tweets at the haters accusing Sprouse of being unfaithful. After calling out trolls and "abusive" bullies, Reinhart concluded her thread with, "I refuse to keep my mouth shut about things like this. You have no idea how destructive this can be to someone. To anyone. It's abusive. There is no excuse for this. You need god in your life or some form of help if you participate in cancel culture."
When They Reportedly Broke Up For A Second Time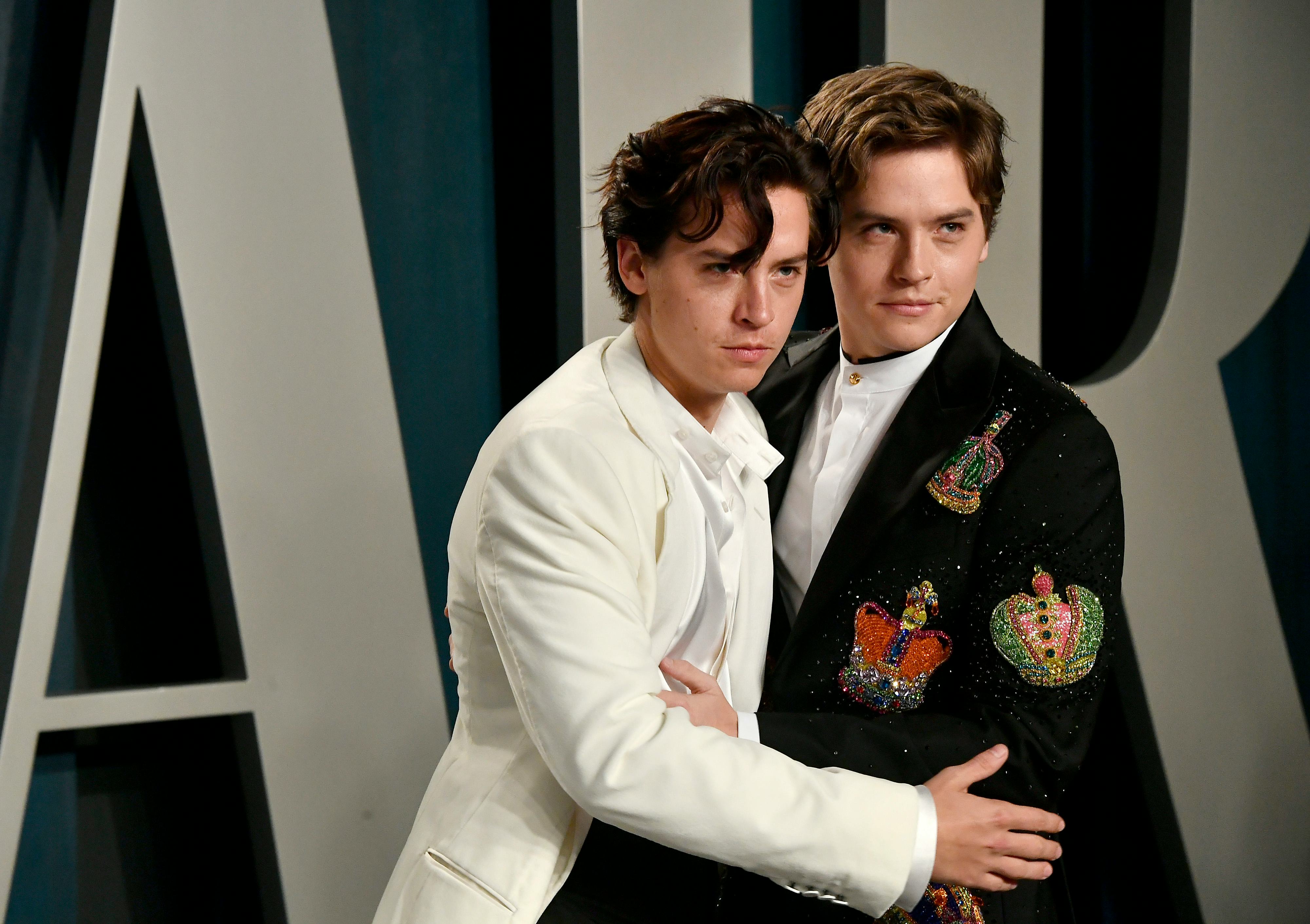 On May 25, 2020, Page Six broke the news of Reinhart and Sprouse's latest reported breakup, with a source claiming the two split months earlier. "Cole and Lili split before the pandemic hit and have been quarantining separately," the insider reportedly said. Neither Reinhart nor Sprouse acknowledged the maybe-breakup for months, even though Sprouse's brother, Dylan, assured Entertainment Tonight during a May 27 interview his brother was doing well post-breakup. "[Cole]'s getting healthy, he's relaxing, and I talk to him every day," he said.
When Reinhart Seemingly Spoke About The Breakup, Then Denied It
A few months later — after she spent Sprouse's 28th birthday on a solo trip for "clarity and healing" — Reinhart seemingly opened up about her reported breakup to Refinery29. In the interview, which published on Aug. 18, 2020, the actor spoke about heartbreak, saying, "The last couple of months have probably [been] the most emotional few months of my entire life, and my therapist [told] me, 'Your body's going through withdrawal from love. You're used to having this exchange of happy chemicals between you and the person that you're with.'"
Though the publication attributed the quotes to her recent breakup, Reinhart later took to Twitter to say her words had been taken out of context, tweeting she'd been "addressing her depression," not her split from Sprouse. "I would never speak so candidly about something as personal as a breakup," she said.
When Sprouse Announced Their Breakup… 8 Months After The Fact
Though Sprouse and Reinhart rarely acknowledge their relationship status, Sprouse posted an uncharacteristically candid Instagram on Aug. 19, 2020 — the day after Reinhart's Refinery29 interview published — that finally confirmed their split. "Lili and I initially separated in January of this year, deciding to more permanently split in March," he wrote. "What an incredible experience I had, I'll always feel lucky and cherish that I had the chance to fall in love. I wish her nothing but the utmost love and happiness moving forward. All I'll say about it, anything else you hear doesn't matter."
Whatever Sprouse and Reinhart decide to do next, I just hope they do whatever's best for themselves and their relationship. Love you two (even when you're confusing the crap out of me).
Source: Read Full Article