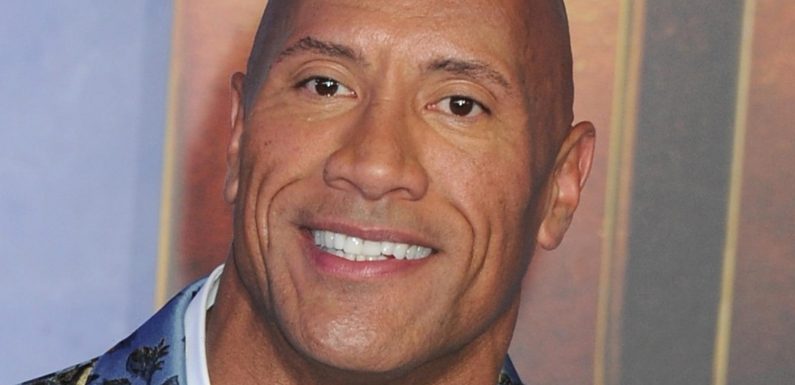 Dwayne Johnson cemented his place in pop culture history before he ever accepted his first film role. The "Hobbs and Shaw" actor started off as a professional wrestler in the then-WWF (via The Rock Gear) . Better known as "The Rock" in the wrestling world, the athlete quickly became a fan favorite with his signature moves such as "The People's Elbow" and catchphrases like "If you smell what The Rock is cooking" (via Essentially Sports). Johnson, who stands 6-feet-5-inches tall and weighs over 270 pounds (via Cinema Blend), was an absolute nightmare for many of his competitors in the ring. He won the WCW World Heavyweight Championship two times during his career and was the WWF Tag Team Champion five times with partners such as Mankind, The Undertaker, and Chris Jericho.
Johnson later went on to become the highest-paid actor in Hollywood (via BBC) and even won the coveted title of People Magazine's Sexiest Man Alive in 2016. He may be one of the most recognizable men in the entertainment business, but his large stature and buff body weren't always his defining features. The actor recently shocked fans when he made a surprising revelation about his childhood that some may find hard to believe.
Dwayne 'The Rock' Johnson was mistaken for a girl
Page Six reports that Dwayne Johnson opened up during an interview on "Sunday Today with Willie Geist." During the sit-down, Johnson spoke about his childhood, which is currently being documented on the NBC television series "Young Rock." The actor admitted that while he's tall and muscular now, that wasn't always the case. In fact, he says that there was a time in his childhood when many people believed him to be a girl. "I would say between the ages of 7 and 11, people thought that I was a little girl because I had really soft features and I had really soft Afro hair," Johnson admitted.
The "Jumanji: Welcome to the Jungle" actor revealed that he moved around a lot when he was young and had attended 13 schools before entering high school. He went on to share one moment that has stuck with him during his life from his first day of fifth grade. Johnson said that he was getting on the bus for the first time when the question of his gender came into play. "I sit down next to a kid, and within 60 seconds, he goes, 'Can I ask you something?'" Johnson said. "I said, 'Yeah.' He goes, 'Are you a boy or a girl?'" His own experiences, as well as raising daughters, has taught Dwayne Johnson the importance of speaking out against gender stereotypes, which is just one of the reasons people love him, per Scary Mommy.
Source: Read Full Article