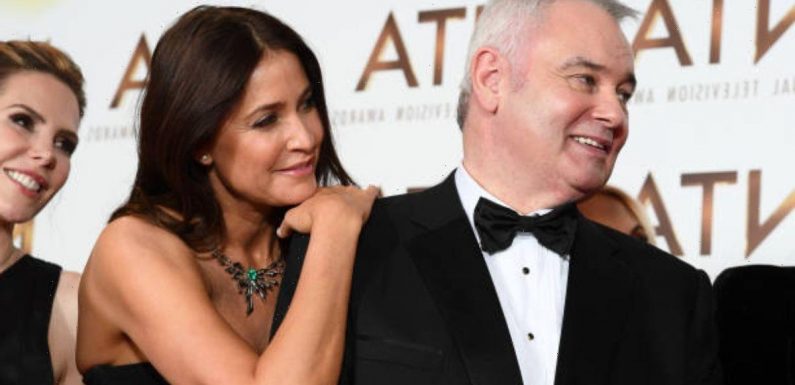 Carol Vorderman discusses aviation mishap with Eamonn Holmes
We use your sign-up to provide content in ways you've consented to and to improve our understanding of you. This may include adverts from us and 3rd parties based on our understanding. You can unsubscribe at any time. More info
Eamonn Holmes, 62, has been flooded with support after explaining a recent health hiccup after having to have surgery. The star took to his one million followers to explain he was in "extreme pain".
He said: "An extra hour in bed ? Have it back if it just means an extra hour of Pain.
"Long night for many of us."(sic)
The former GMTV presenter revealed last month he had been having physio after he discovered he "mysteriously" dislocated his pelvis.
It didn't take long before fans rushed to the comments to share their advice with the presenter.
@Liamcol568 wrote: "Morning mate, I know it's exhausting, have you tried drinking five litres of water over the day, I know it sounds simple but it's effective for some people."
@CounsellorBarry penned: "I'm 54 and have had daily chronic back pain since having spinal cancer age 10.
"It is exhausting and at times depressing. But I try not to let it stop me 'too' much living life! Hard though. Sending you a hug." (sic)
@Auntlelee said: "Eamonn have u looked into a spinal cord stimulator ? I am on the waiting list for one after years of chronic back pain and nerve pain.
"Maybe worth researching it abit.
"Hope u get some respite from the pain today." (sic)
@Teacupcakes wrote: "An extra hour is bliss, keeping warm from Arthritis, polymyalgia, Costochondritis, & sciatica.
"Also back pain which one dr said was wear & tear, another dr ordered scan & I have fractures in my spine. Cup of tea & extra hr in bed – smashing." (sic)
Earlier this year Eamonn shocked fans after sharing a picture of the after effects of alternative treatment cupping.
He posted a message on social media, after spending days away from the GB News to report outside.
It read "Hello all my #ChronicPain sufferers…
"I know [it's] not much help but it does help a little I feel to know we are not alone.
"Therefore from time to time I make these posts so some of you can share stories and just talk to someone who knows what you are going through."
He then added in Express.co.uk: "I pray that God will guide my surgeon's hand this week and help me get back to the man I used to be."
Eamonn also spoke about why he reaches out to his large online following when he suffers more serious flare ups of his chronic pain.
"Last week, during another tough couple of nights, I reached out again and the response was just as overwhelming," he wrote in his column.
"It's sad to think that so many are alone in their pain capsule. You can be surrounded by family and friends and yet the pain is exclusive to you.
"It is your companion."
Source: Read Full Article