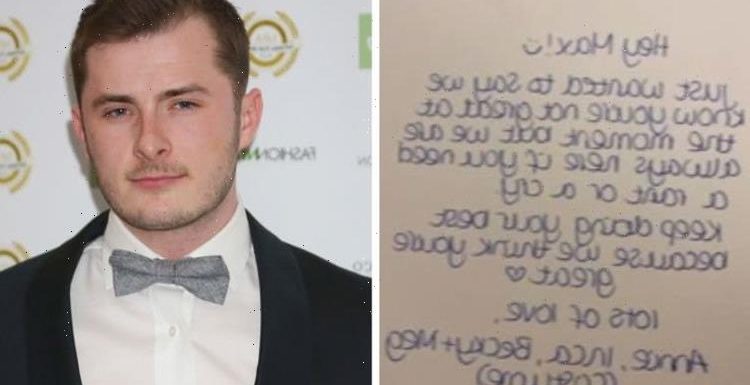 EastEnders: Heather Peace discusses Eve Unwin's story
We use your sign-up to provide content in ways you've consented to and to improve our understanding of you. This may include adverts from us and 3rd parties based on our understanding. You can unsubscribe at any time. More info
Max Bowden has had to endure a rough year, starting with the death of the soap star's agent Terry Mills in February. His pal Luke Goodings lost his life in June, while best friend Maxwell later died in September, understandably leaving the actor heartbroken.
I work with some amazing people

Max Bowden
Thankfully has has been receiving plenty of love and support, taking to his Instagram Story to post a handwritten note from the EastEnders crew, shortly after having told fans he "isn't doing great".
The message read: "Hey Max, just wanted to say we know you're not great at the moment, but we are always here if you need a rant or a cry.
"Keep doing your best because we think you're great."
It ended with the names Annie, Inca, Becky and Meg from the show's camera department.
Max, who portrays the role of Ben Mitchell, was clearly taken aback by the gesture, having inserted the caption: "I work with some amazing people."
Later in the day, the 26-year-old utilised the Story feature once more to share a heartbreaking gift he'd received from his late pal Maxwell before his passing.
It showed a square-shaped box with an engraved message.
It said: "Thank you for being my best friend for 15 years, for walking every avenue with me, entering into battle with me every time, lighting up my every minute of every day, and for loving me like you did.
"I will never have a better friend, and I will never love a man so much in my life.
"You were my soulmate, my rock, my ride or die, my everything – and I am so grateful that I got to call you my best friend. I am so so lucky."
The wedding date at the bottom revealed Maxwell was set to get married in April next year.
Max continued to pay tribute to his friend, who he previously said he deemed as "family" in a follow-up post, mentioning that the hole he had left with his sudden death "will never ever be filled".
In February, the TV star learned that his agent and friend Terry died shortly after contracting Covid-19 in Mexico and falling into a coma.
It's said that Terry had travelled for a business meeting to Cancun, where he contracted the virus and later developed pneumonia.
To make matters worse, Max also had to endure the one-year anniversary of his grandfather's passing, who died in October 2020 after battling cancer.
Max told his followers he had opened a fundraising page to support the Macmillan Cancer organisation, who had treated his grandpa with utmost "love and care" in his remaining weeks.
He urged fans to "give generously" and help raise money for the company and its outstanding staff, who specialise in providing health care, financial support and information to people affected by the disease.
"For that reason I am reposting my longest day challenge website in the hope of raising more money for them.
"Please give generously if you can. Thank you."
EastEnders continues tonight at 7.35pm on BBC One.
Source: Read Full Article