On Aug. 7, Ellie Goulding announced her engagement to Caspar Jopling in a very traditional way — and now, the British singer-songwriter is opening up about the special moment. In a sweet Instagram post where she can be seen kissing her fiancé, the very private 31-year-old star explains how she wanted to thank her fans for all the "many beautiful messages of support and love" she has been receiving in the past couple of days.
"I tend to keep my life very private these days and I have enjoyed the time I've had away from all the madness. But we've had so many beautiful messages of support and love the past few days, as have our families, that we wanted to say thank you so much! We appreciate it more than you could ever know. You're the most wonderful person I've ever known," she writes. "And I can't wait to be your very giggly, in awe and loved up wife x"
Of course, Caspar also posted a sweet shout out to his fiancée on his own Instagram account. "I get to spend the rest of my life with this truly extraordinary and beautiful, beautiful person," he writes. "No one has ever made me feel more full of life, knowledge, happiness, or love. Hope, passion, confidence, and more love. There is no one I have ever been more complete with and there is no one I will ever feel more complete with. I look forward to a lifetime of exploring the world together, crying with laughter at stupid jokes, chatting into the early hours of the morning about art, music, the world, and the future. I love you Elena." No, we're not crying, you are.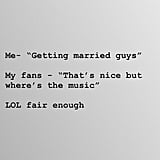 Source: Read Full Article