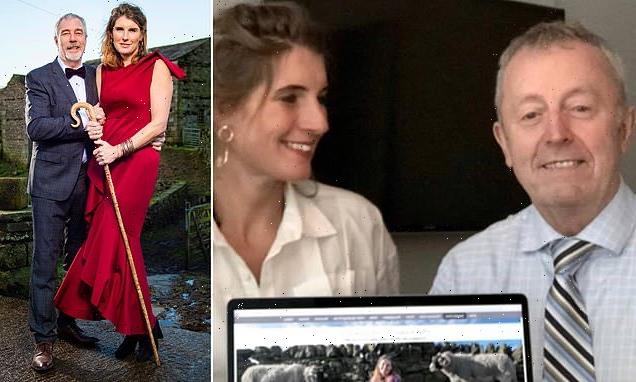 EXCLUSIVE: Yorkshire Shepherdess Amanda Owen was pictured with 'businessman lover' four YEARS ago – and the pair are 'inseparable' after her split from husband Clive
Amanda Owen seperated from Clive in June last year after 21 years of marriage

She is said to be dating web designer Robert Davies, who she met  5 years ago
Here is Yorkshire Shepherdess Amanda Owen with her new businessman lover taken four-and a half years before her marriage collapsed.
Amanda and her estranged husband Clive hired web designer Robert Davies to launch a website to promote her work after she shot to national prominence.
Amanda, 48, and Clive, 68, were married for 21 years and have nine children but announced their separation last June.
In a Facebook post from December 2018, Mr Davies, 71 posted a picture of himself with Amanda and writes: 'Have you been watching Channel 5's series 'Our Yorkshire Farm' about the Yorkshire Shepherdess? I really enjoyed working on her website earlier this year, and very happy that she loves it!'
In a response to a message, he described Amanda as 'amazing.' 
Our Yorks Farm's Amanda Owen, 48, pictured with her new lover  web designer Robert Davies, 71, over three years ago
Split: The TV star confirmed she had separated from her husband of 21 years Clive, 68, last summer, they share nine children together  (pictured in 2020) 
In an earlier post from January 2018 Mr Davies even boasted about having lunch with Amanda and Clive at their Ravenseat farm in North Yorkshire.
Posting a picture of the couple, he wrote: 'Had lunch with these two at their farm in Upper Swaledale. 1,000 sheep, 9 kids and very soon a brand-new website for the Yorkshire Shepherdess.'
He also posted a message he received from Amanda in which she writes: 'I forgot to thank you for making the epic trip in coming to me. That was appreciated. I love the website, I know that j (sic) am hard work and that it has been a long haul but you have achieved the near unachievable in crafting something that I think reflects me. With just a few minor tweaks we will be good to go. Happy . Amanda.'
Businessman Robert Davies, 71 runs It'seeze Web Design Scarborough, which is based in the North Yorkshire seaside town and designed Amanda's website, 'yorkshireshepherdess.com' which was launched in 2018.
He lives in Malton, North Yorkshire and his company has worked with a number of businesses in the area helping them to establish an online presence.
On his company's website, Mr Davies is described as having 40 years of experience working in marketing for some of the UK's biggest brands and boasts that he has the 'expertise to help your company successfully develop its online presence.'
It adds: 'It doesn't stop there however, as Rob will provide continued support and assistance to ensure that you're always getting the most out of your website long after it goes live.'
Life goes on: Yorkshire Shepherdess Amanda Owen is 'inseparable' with a new man – businessman Robert Davies (pictured right), ten months after she split from husband Clive
Amanda is said to be 'inseparable' with Robert and the couple spent the weekend together in Folkestone, Kent.
Pictures obtained by The Sun showing them together on the south coast, where Amanda was starring in 'an evening with' fan event. 
A source said: 'Amanda and Robert have known each other many years — long before her split.
'Now he travels everywhere with her and they've become seemingly inseparable.'
A representative for Amanda has been contacted by MailOnline for comment.
Amanda and Clive still run Ravenseat in the Yorkshire Dales, a remote working farm at which they have been tenants for more than 20 years.
Before their split was confirmed last summer, neighbours revealed to MailOnline that Amanda had moved out of the farmhouse and into their rental property down the road in Swaledale, while Clive had been staying in the farmhouse.
Amanda has since moved back to the farmhouse though, revealing in an interview this month with the Sunday Times that she and Clive have 'two farms that are basically next door to each other, so it's close enough for it to be useful, but far enough for us to have space.'
Exes: Amanda and Clive run Ravenseat in the Yorkshire Dales, a remote working farm at which they have been tenants for more than 20 years (pictured together in 2016)
'Whatever our personal situation, there's a farm to run and nine children to look after so we're just working together, making it happen.'
Speaking to the Radio Times recently Amanda gave her own matter-of-fact take on the split: 'Look, there are two simple facts: if he thought I was brilliant, and I thought he was brilliant, then we wouldn't have separated,' she pointed out.
'It's a fact, isn't it? But, you know what, that's not unique, it's just how things are, pressures, all the rest of it.
'But we have nine kids, with associated friends, girlfriends, and we just have to get on with it.'
Late last year C live's new show Beyond The Yorkshire Farm: Reuben and Clive premiered and saw him launch a digging business with his son.
Source: Read Full Article