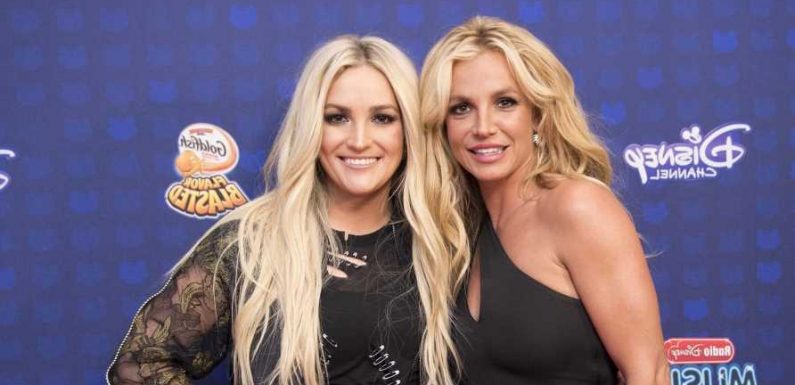 Jamie Lynn Spears' new memoir is out, and it looks like Britney Spears is…unimpressed. To backtrack a minute, Jamie Lynn's memoir initially caused backlash among Britney fans over the summer, when it appeared as though the book would be called I Must Confess: Family, Fame, and Figuring It Out—a pretty obvious reference to Britney's hit single "…Baby One More Time."
The book ended up being titled Things I Should Have Said, and Jamie hopped on Instagram yesterday to announce it:
https://www.instagram.com/p/CU46rueAtwY/?utm_source=ig_embed&utm_campaign=loading
A post shared by Jamie Lynn Spears (@jamielynnspears)
After this announcement, Britney went ahead and posted an Instagram which fans think is a jab at Jamie, writing "Yep 👍 …. I think I got carried away yesterday when I posted four times 😳😳😳 …. Oh well … this is me thinking about it … shit …. I will be cool one day 😂😒😬 !!!! Psss sorry for the uncool participation 🤷‍♀️😢 !!!!! Psssssss also great news … I'm thinking of releasing a book 📚 next year 😜 but I'm having issues coming up with a title so maybe my fans could help !!!! Option #1 … "Shit, I really don't know" Option #2 … "I really care what people think" 😂🙄🤷🏼‍♀️ !!!!" What do you guys think 🤔🤔🤔 ????"
https://www.instagram.com/p/CU8WbrABPMz/?utm_source=ig_embed&utm_campaign=loading
A post shared by Britney Spears (@britneyspears)
As you can tell from the comments, a bunch of Britney's fans assume she is @ing her sister, who she called out directly back in July, saying "I don't like that my sister showed up at an awards show and performed MY SONGS to remixes !!!!! My so-called support system hurt me deeply !!!! This conservatorship killed my dreams."
Fortunately, Britney's father Jamie Spears is no longer her conservator, and there's an upcoming hearing on November 12 to determine if the conservatorship will end entirely. Fingers crossed!
Source: Read Full Article