Hello, hi, how goes it, side boob tattoos are now a thing I'm seriously considering getting thanks to Vanessa Hudgens. The actress hopped on Instagram late last night to debut her new ~ink~, a dainty yellow flower right next to her breast. And honestly, it's cute, I love it, I want one, etc.
https://www.instagram.com/p/B7r49RiBdv8/
Vanessa's tattoo comes amid some major changes in her life: she and her longterm boyfriend actor Austin Butler just broke up, and she's currently low-key dating Lakers player Kyle Kuzma. Vanessa and Austin dated for 9 years, and according to a source who got chatty with E! News, "They're just shooting on two different continents and it's a matter of distance. There is no bad blood at all, and they have a lot of respect for each other."
Meanwhile, Vanessa and Kyle are "just having fun" and while she's "enjoying his company" and "they talk often and have plans to see each other again," their hangs are basically just a "a great distraction for her right now" and she "doesn't want to date him."
Gots it, cool, here's another shot of her tat:
Plus in black-and-white for good measure:
Oh wait, and there's a video:
Kay bye, that's all.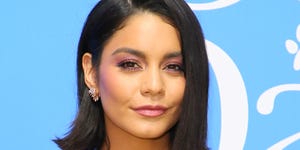 Source: Read Full Article