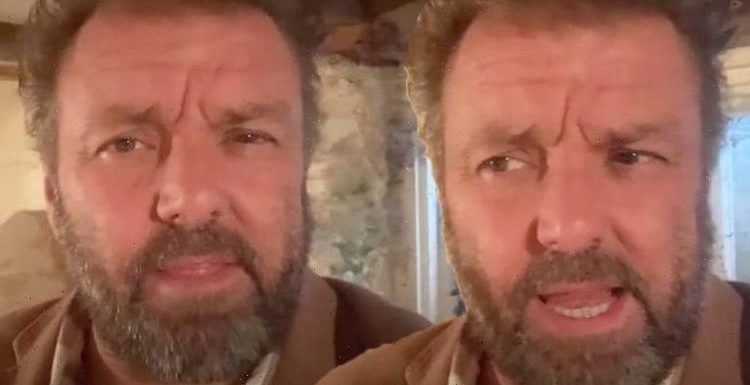 Strictly the Real Full Monty: Martin Roberts gets emotional
We use your sign-up to provide content in ways you've consented to and to improve our understanding of you. This may include adverts from us and 3rd parties based on our understanding. You can unsubscribe at any time. More info
Homes Under The Hammer's Martin Roberts faced some of his childhood fears as he stripped down for Strictly the Real Full Monty. The property expert admitted he had "a bit of a meltdown" as he fought his "childhood demons" to support a cause in memory of his late friend.
"My initial reaction was 'no chance am I getting my kit off in front of people' but then I thought about it and Dave was at the forefront of my mind.
"It didn't take long for me to get the bigger picture," Martin told the Daily Star.
The former I'm A Celebrity… Get Me Out Of Here! star continued: "It's all for an important cause and it's all wrapped up in a fun and dynamic show."
However, the challenging programme brought some strong emotions to the surface for the presenter, who used to get "bullied" as a child.
He said: "It is a real emotional rollercoaster. I did have a bit of a meltdown and I asked if I was the person being made out to be the laughing stock.
"We had to have our photos taken for promo and that was one of the hardest days for me.
"It was the first time we stripped off in front of each other and I had to battle all sorts of childhood demons.
"We got through it, supported each other and I ended up having an all-over naked spray tan.
"Everybody taking part had a story and we really did have a special time together."
But Martin concentrated on reaching his end goal.
The TV star decided to take part in the show in a bid to raise awareness for cancer checks.
He previously explained how his appearance on the programme was motivated by the tragic death of his best friend.
DON'T MISS:
Ben Shephard congratulates GMB co-star on big move away from ITV show [LATEST]
Charlie Dimmock on 'most difficult' part of Ground Force affair [INSIGHT]
Kevin Clifton revealed Rose-Ayling Ellis fell during training [UPDATE]
Martin lost his friend of 35 years, Dave Hughes, to bowel cancer four years ago.
Speaking out on Dave's death in a column for Mirror.co.uk, Martin said his grief left him feeling "rudderless".
Revisiting the moment the pair first met, he penned: "I first met Dave in 1986 when I moved to the South West.
"I fancied a girl I didn't realise was his girlfriend, and when I invited her for dinner, he came too.
"We laughed about it and were inseparable thereafter."
The TV star went on: "We danced on tables in après-ski bars and drank red wine to excess.
"We supported each other through some serious life traumas, and Dave was the steadying influence to my emotional rollercoaster personality.
"There was never any judgement or criticism, just honest advice. Since his death I've felt rudderless."
Source: Read Full Article