This is it! Jada Pinkett Smith promised she would bring herself to the Red Table to finally address August Alsina's claims they had an affair and Will Smith gave his permission — and that's just what she did on Friday!
Hubby Will was there every step of the way as the Matrix Reloaded star finally gave us the real scoop.
But what was it? Go on the roller coaster ride with us, won't you?? Jada begins:
"About fours years ago… I started a friendship with August. And we actually became really, really good friends. And it started with him needing some help — me wanting to help his health, his mental state."
Wait, what is she trying to say? Will adds:
"When Aug first came around he was really sick."
Jada agrees:
"He was really, really sick, yeah."
Where the heck is this going?? Jada moves forward:
"From there you and I were going through a very difficult time…"
Will puts it more bluntly:
"I was done with your ass!"
Wow. Jada confirms:
"We basically, we broke up."
What a bombshell! Will says:
"We decided we were going to separate for a period of time, and you go figure out how to make yourself happy, and I'll figure out how to make myself happy."
Jaden and Willow Smith's mom makes clear at the time, the separation wasn't for some fixed period but rather "indefinite." Man, they really were over! Next Jada says she got herself into "a different kind of entanglement with August." OK, so this is definitely a confirmation of the affair after all!
The 48-year-old prefaces by saying she doesn't like the story going around about Will "giving his permission" to August:
"The only person that could give permission in that circumstance is myself. But what August was probably trying to communicate… because we were separated amicably… I think he also wanted to make it clear that he's not a homewrecker. Which he's not."
Thankfully Will then plays the part of the audience on the edge of our seats and questions his wife's unclear messaging, such as the word "entanglement." She agrees:
"Yes, it was a relationship."
Phew! Admission, finally!
What's made perfectly clear in the convo is that the couple are NOT swingers, they are NOT in an open marriage — they were on a break!
But in all seriousness, it sounds like they really thought they were through. Will even says at one point:
"I wasn't sure I was ever gonna speak to you again. The fact that I'm speaking to you again is a miracle."
Jada reveals she and Will eventually healed their marriage, and that was the end of that. And since they never told the public about their split, it just looked like an open relationship? Hmm… Will next asks on camera something he probably had been dying to know:
"You launched into an interaction with August, what do you feel like you were looking for?"
Jada answers plainly:
"I just wanted to feel good. It had been so long since I felt good. And it was really a joy to help heal somebody!"
Ah, back to that. Man, they sure do make this affair sound altruistic, don't they?! Not even Ross ever tried that move. The couple go on to point out how all of this was handled for them behind closed doors years ago, with all the fighting, therapy, and drama so far behind they never expected to be talking about it in public now.
See the entire conversation (below)!
Jada Brings Herself to the Table
Jada and Will address the recent headlines and share their journey of finding peace through pain.
Posted by Red Table Talk on Friday, July 10, 2020
Related Posts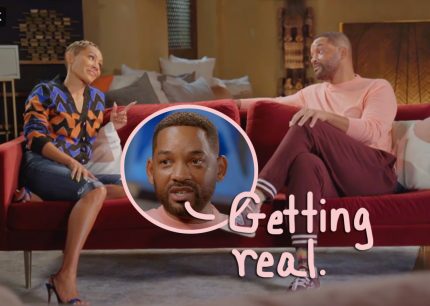 Source: Read Full Article