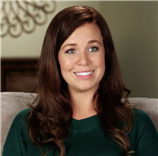 Last Thursday morning, Josh Duggar was convicted on two counts of child p0rnographhy possession.
He faces up to 40 years in prison.
As far as family controversies and scandals go, it doesn't get much more severe than this.
However, one day after the guilty verdict for Josh was read aloud inside of an Arkansas courtroom, the public discovered yet another pox on the Duggar household as a whole:
On September 9, Jana Duggar was arrested and charged with charged with endangering the welfare of a minor.
This is a third degree misdemeanor and Jana was quickly released at the time on $430 bail.
The incident was initially reported by the Instagram user Without a Crystal Ball, who wrote late last week:
"Last night a family insider contacted us about a Duggar Family member being charged with Endangering the Welfare of a Minor."
The social media user continued:
"After the insider revealed the information, we reached out to Elm Springs District Court in Arkansas," and the County Clerk backed up this report.
"The family insider told us that Jana Duggar allegedly pleaded 'Not Guilty' to the charges and her next court date is in January," added this account.
"We are still working to confirm more details at this time."
Now, more details have been confirmed.
According to Without a Crystal Ball, Jana fell asleep while watching Anna and Josh Duggar's three youngest children.
Mary Ella, the estranged couple's 22-month old daughter Mary Ella, then wondered off and was discovered a half mile away… near the highway… by a stranger who called the police.
As cited previously, this charge is only a misdemeanor and it's very unlikely Jana is headed to jail.
But this is both depressing and, sadly, likely telling, isn't it?
Anna Duggar now has seven kids (including a newborn) and no husband at home.
She will probably need child care help often, she may need to turn to her in-laws as a result — and we can only imagine how she must be feeling to know that many of them are unreliable.
Jana is the eldest Duggar daughter and second-eldest child of Jim Bob and Michelle, following her convicted brother Josh.
Jana is also a twin to brother John-David.
She's single and doesn't have any children of her own.
Unlike other members of her infamous family, Jinger has NOT yet said anything about Josh's conviction and/or the victims of his abuse and addiction.
She last updated her Instagram page way back on October 8 with a clip of her and sisters Joy-Anna and Jessa visiting a vintage market in northwest Arkansas.
Last year, Duggar opened up about her relationship status and what she's looking for in a partner during an episode of Counting On.
She basically admitted at the time that she's desperate to get marriedd.
"I used to be a little more strict," she revealed at the time.
"I felt like, I just want to find someone that would either move to Arkansas, or is already from here, but I think as time has gone on, I've found I do love to travel more than I thought I did.
"So now, it's more like, okay, if I really love the guy, I'll follow him to the ends of the earth. I'll want to go wherever he is.
"So far I just haven't found that one."
Amy Duggar, meanwhile, who has never been afraid to call out her relatives, most notably her pedophile of a cousin, actually came to Jana's defense a few days ago after this Jana news broke.
"I will call out what is right and I will call out what is wrong," Amy wrote in an Instagram Story on Saturday, December 11.
"This couldn't have been intentional.
"Thank God the child was OK and found!"
Concluded Amy over the weekend:
"I bet you were exhausted, stressed and just emotionally worn out.
"Watching multiple kids is hard! Bc there's so many of them and you only have two eyes!
"It's a very sad situation going on and my heart goes out to @janamduggar love you."
Source: Read Full Article