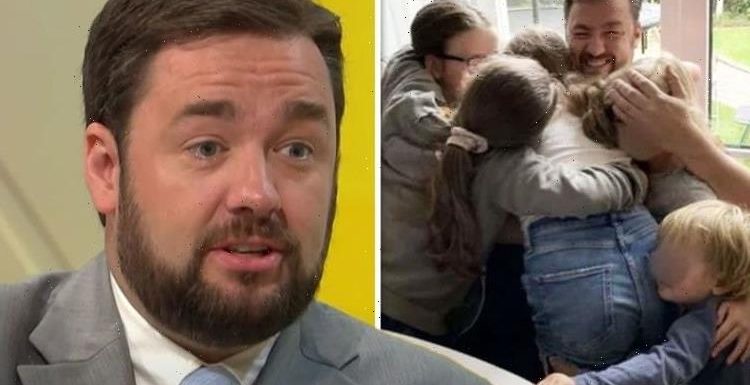 Jason Manford recalls train ticket incident with daughter
When you subscribe we will use the information you provide to send you these newsletters. Sometimes they'll include recommendations for other related newsletters or services we offer. Our Privacy Notice explains more about how we use your data, and your rights. You can unsubscribe at any time.
Comedian Jason Manford, 40, has candidly opened up on his worst moment as a parent to his six children. The star revealed that he has a "brilliant" cleaner who has been working with his family "for years".
However, Jason was left furious when his daughter began to take advantage of their cleaner's hard work around the house rather than taking on chores herself.
Speaking about the moment on Dave Berry's Dadpod podcast, Jason said: "This is something I would never usually admit to, but we've got a cleaner, you know, comes in and cleans the house, and she's brilliant.
"We've had her for years, and this was probably the worst moment of my parenting career.
"So, Suzanne comes in all the time… And my daughter had not tidied her bedroom and I come upstairs, she's about seven at the time, and I said, 'what's going on? Why's your bedroom such a mess?'
"She was like, 'what do you mean?' I said, 'make your bed'. She said, 'I don't want to'.
"I said, 'well if you're not gonna make it, who's gonna make it?' And she said, 'Suzanne, the cleaner', and I went absolutely nuts."
Jason went on to inform Dave that he told Suzanne to avoid making his children's beds following the incident.
He added: "So, that was four years ago and she's never made their beds since."
Jason has four children – twin girls, a daughter, and a son – with his ex Catherine.
He has been married to second wife Lucy Dyke since December 2017 and they share two children together.
Jason revealed he can be "a bit pushy" with his children, as he wants to keep their feet on the ground despite them having more opportunities than he did as a child.
He explained: "I struggled, and I had a tough childhood… I had an under-privileged childhood.
DON'T MISS:
Jeremy Clarkson: Police called as hundreds rush to visit his farm shop [INSIGHT]
Our Yorkshire Farm's Amanda Owen turns heads in low-cut dress [PICS]
Gemma Atkinson to undergo tests to see if she has what killed dad [HEALTH UPDATE]
"I found out later because at the time, I didn't know.
"I just, I had nothing to compare it against and I just spent my childhood laughing and having a good time and playing and, you know. I didn't really notice it.
"But my kids obviously have got all these opportunities and I think I'm a bit pushy when it comes to certain things."
Elsewhere, Jason previously shared in an exclusive interview with Express.co.uk that one of his daughters "wasn't happy" with his "secretive" antics when he appeared as Hedgehog on The Masked Singer UK in 2020.
He recalled: "My daughter wasn't happy when she found out I was on The Masked Singer because everyone at school was saying, 'That's your dad'.
"And she was saying, 'I think I would know!'
"I loved it, it was great, a really fun experience.
"Very different, the team are great fun, and the whole secretive thing was nuts, but it was a lot of fun," the star added, despite the youngster's frustrations.
'Dave Berry's Dadpod' is available from Apple Podcasts, Spotify, the Absolute Radio app, absoluteradio.co.uk, and all mainstream podcast providers.
Listen to the full episode here: https://planetradio.co.uk/podcasts/dave-berry-dadpod/
Source: Read Full Article