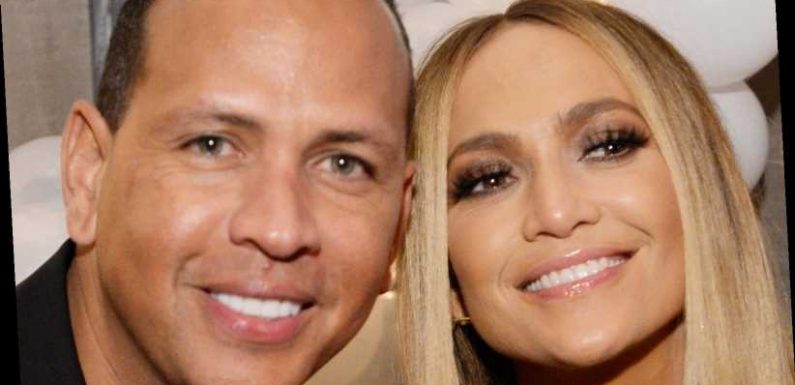 Fans of Jennifer Lopez and Alex Rodriguez have been waiting for any updates on the status of their relationship following the shocking breakup rumors earlier this month (via People). The couple got engaged during a romantic trip to the Bahamas in 2019. The pair had been dating for two years when Rodriguez popped the question. Sadly, the duo later admitted that they had to postpone their wedding because of the COVID-19 pandemic. "We postponed the wedding twice. We had planned what we really, really wanted to do, [but] I don't know if we'll be able to re-create that," Lopez told ELLE of her wedding plans. "We canceled it, and since then we haven't really talked about it. There's no rush. We want to do it right when we can do it." 
During their quarantine period, Lopez admitted to Allure magazine that she and Rodriguez took the time to work on themselves and their relationship, even seeking professional help for some issues that they had. "We got to work on ourselves. We did therapy. I think it was really helpful for us in our relationship," she told the outlet. However, in early 2021 news broke that the pair were having some major issues.
What is Jennifer Lopez and Alex Rodriguez's relationship status now?
Jennifer Lopez and Alex Rodriguez didn't wait long before they addressed the rumors of their split (via Us Weekly). The couple released a statement to TMZ debunking their breakup. However, they did admit that there was trouble in paradise. "All the reports are inaccurate. We are working through some things," the couple confirmed. Rodriguez later flew to meet Lopez in the Dominican Republic where she's filming a new movie. A few days later the two were seen engaging in some sweet moments, and even kissing as they enjoyed the gorgeous view, per The Daily Mail.
This week, the former MLB player added an eye-catching new photo to his Instagram feed. In the snap, he cozied up to a smiling Jennifer Lopez as they both held bottles of vitamins in their hands. "Jennifer and I are very excited to announce that we've joined forces with Goli Nutrition. They've revolutionized the health and wellness industry with their innovative, delicious and nutritious gummies!" he captioned the post. While it appears that Lopez and Rodriguez are still together, fans will likely continue to be on high alert for any news regarding their romance as they navigate through their relationship issues.
Source: Read Full Article