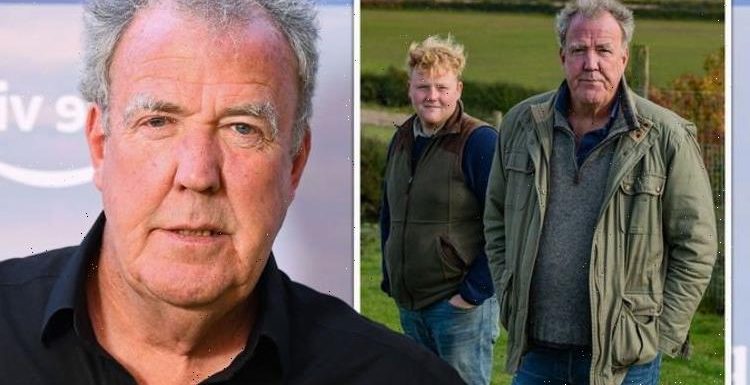 Clarkson's Farm: Jeremy Clarkson stars in Amazon Prime trailer
When you subscribe we will use the information you provide to send you these newsletters. Sometimes they'll include recommendations for other related newsletters or services we offer. Our Privacy Notice explains more about how we use your data, and your rights. You can unsubscribe at any time.
Jeremy Clarkson is back on TV screens with his new Amazon Prime series Clarkson's Farm. The eight-part programme, which was released earlier this month, documents his life on Diddly Squat Farm in the Cotswolds.
The television presenter, who is best known for fronting car shows Top Gear and The Grand Tour, can be seen turning his hand to farming in the show.
Some scenes were filmed during the coronavirus pandemic.
In his latest newspaper column, Jeremy addressed the programme's early reviews.
He pointed out that one publication had given them a lowly one-star rating.
"GREAT news – my new farming show has received a one-star review from the Guardian.
"This means you'll almost ­certainly enjoy it," he hit back in The Sun.
The review branded Jeremy an ignorant buffoon and said the show was "wearisome, meretricious rubbish".
Others praised the 61-year-old for being authentic and getting stuck in on the farm, which is in Chadlington near Chipping Norton.
They also delighted in seeing local characters who have helped Jeremy along the way.
The show features local farmers and experts including Kaleb Cooper, who provided advice on the TV star's tractor driving.
Shepherdess Ellen Helliwell and Gerald Cooper, a dry stone wall specialist, also make an appearance.
As does, Jeremy's girlfriend Lisa Hogan, who runs the farm shop selling local produce.
Following the release of the series, the shop has been inundated with customers.
DON'T MISS…
Kirsty Gallacher responds to production issues on GB News [iINSIGHT]
Nick Knowles asks Gary Lineker 'why are you surprised' over Euro views [UPDATE]
Kevin Clifton: It'd be 'criminal' if Strictly doesn't support Graziano [INSIGHT]
Jeremy took to social media earlier this week to issue an apology to local residents.
"People of Chadlington. I'm truly sorry about the traffic around our farm shop last weekend.
"We are doing everything we can to improve the situation," he wrote on Twitter, in view of his 7.2 million followers.
Many took to the comments section of the post to thank the car enthusiast for shining a light on the farming industry.
"Jeremy lad you've helped farming so much. Farmers love you. Well done to you, the show is absolutely brilliant," one social media user wrote.
"Love the show – my 6 year old son thinks you are amazing & very funny and obviously so do we!"
"We took him to the farm shop on Sunday & was so desperate to see you – whoops you were not there but still couldn't believe he was on your farm," another added.
"The world needs season 2. Please please please. Best show I have seen since the massive hunt," a third person remarked.
Clarkson's Farm is available to stream on Amazon Prime Video now.
Source: Read Full Article