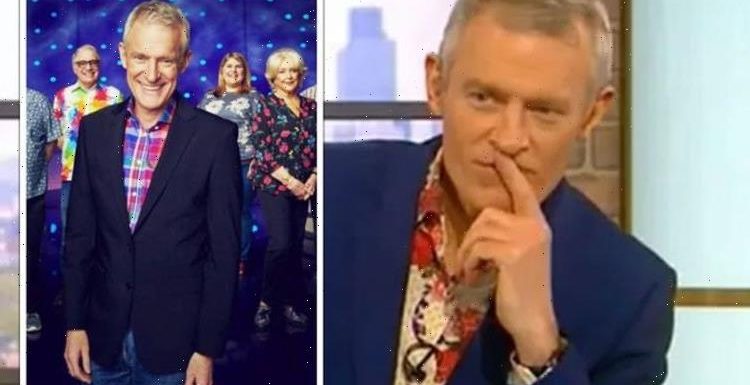 Jeremy Vine: Caller is 'angry' that MPs are allowed second jobs
We use your sign-up to provide content in ways you've consented to and to improve our understanding of you. This may include adverts from us and 3rd parties based on our understanding. You can unsubscribe at any time. More info
Jeremy Vine who fronts his daytime show on Channel 5 opened up about his early days on the job after taking over from former host Matthew Wright. The BBC Radio 2 presenter revealed his first week at work didn't exactly go to plan.
The 56-year-old began fronting the Jeremy Vine Show in 2018 and admitted he ended up making quite an impression on viewers.
It comes after one of the show's guests had brought a gerbil into the studios and the TV host asked to stroke him.
"One of the very first days in the very first week they had this gerbil in," he explained.
"The owner said it had eaten her car."
Jeremy went on: "It turned out [the gerbil] had somehow eaten half the car from basically the footwells outward. It was incredible.
"Of course, I said, 'Can I have a stroke.' And I knew as soon as I said it something would happen.
"As I put my hand in the cage I knew."
He added: "And sure enough it attacked me and bit my finger on air. I thought we are obviously setting the tone here of what is about to happen."
The Channel 5 star also dished on the heated arguments that have taken place on the show over the past three years.
"There have been some amazing rows," he commented.
"The programme seems to suddenly go along in a sedate way and then there'll be a massive argument over Brexit or Covid."
He continued: "It's like having a cold shower in the morning. You know you're awake when the water hits you.
DON'T MISS…
Angelina Jolie's 'new lease of life' amid 'romance' with The Weeknd[LATEST]
Matt Baker's wife says she's 'proud' of him after candid post[ADMISSION]
Richard Branson's horrific injuries after mogul suffers bike crash[HEALTH]
"Of course [the show] is made by the callers. And that's what it has got in common with Radio 2.
"It's the people ringing in with their views on this, that and the other and sometimes getting very cross with the panel. And then the panel responding."
He added: "There's no other show that really does that."
Meanwhile, the broadcaster also opened up about his stint on Celebrity Gogglebox which landed him in hot water with viewers.
It comes after Jeremy dropped the F-word during a recent broadcast.
Addressing his sudden outburst, he explained: "I saw it but I think they bleeped it. But I'm not sure. It was a shocking moment.
"It was just one of those moments you blurt something out. If they left it in [the show] it was probably OK. That's just how it goes."
Jeremy Vine airs weekdays on Channel 5 at 9.15am.
Source: Read Full Article