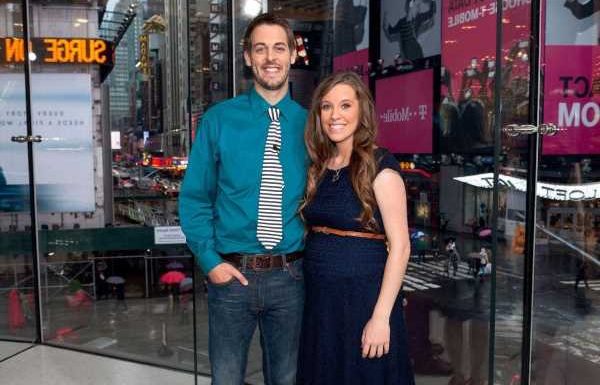 Duggar family news has an exciting announcement — Jill Duggar is pregnant! Jill and Derick Dillard have two sons together, and fans have eagerly awaited possible news about another baby. Now, she's pregnant again after a miscarriage. Here's what she posted and how the timeline lines up with Josh Duggar's trial.
Jill Duggar is pregnant with a rainbow baby
Duggar family followers are excited to hear that Jill Duggar is pregnant with a rainbow baby. The mom of two, who's currently 30 years old, posted to Instagram her family blog about the exciting news.
"Exciting news!!" Jill first teased on her Instagram with a photo of her and Derick Dillard along with their two young boys, Samuel and Israel.
On the Dillard Family blog, the couple gave more information. "We've been keeping a little secret!" the couple announced. "Ever since we were devastated last fall by the miscarriage of our sweet baby, River Bliss, we have prayed that, if it was God's will, he would bless us with another baby. We are excited to announce that God has answered our prayers and we are expecting our rainbow baby due July 2022!"
This news comes after Jill's miscarriage in October 2021. Jill and Derick posted the news to their blog. "Even though it was too early to tell the baby's gender, we picked a name that we feel encompasses our baby's significance and the life we will always remember: River Bliss Dillard," they explained at the time.
Jill Duggar was pregnant during Josh Duggar's trial
Jill Duggar's pregnancy announcement notes Duggar family followers can expect the baby in July 2022. Given the math, it seems Jill got pregnant sometime between October and November 2021. This time period proved ultra-stressful for the Duggars due to Josh Duggar's trial. Josh's trial began in November 2021 and resulted in a guilty verdict for possessing child sexual abuse material.
Jill didn't show up every day of the trial, but Derick Dillard was in attendance for multiple days. Duggar followers know she was directly affected by Josh Duggar's scandals of the past, which included the 2015 molestation scandal.
"She would've found out she was pregnant right before the trial," a Reddit user noted. "Emotions must've been off the charts."
Additionally, Jill was put on the potential witness list for the trial. She did not testify, though. She and Derick also released a statement on their blog detailing how they plan to support Josh Duggar's wife, Anna Duggar, and how Josh should be held accountable. "Nobody is above the law," they wrote. "It applies equally to everybody, no matter your wealth, status, associations, gender, race, or any other factor." 
When will Josh Duggar be sentenced?
With Jill Duggar's pregnancy news serving as a happy moment for the Duggar family, followers wonder what's going on with Josh Duggar's guilty charge. When will Josh be sentenced for his crimes?
According to People, Josh will be sentenced on April 5, 2022 — around four months after his conviction. He faces a possible 20 years in jail and up to $250,000 in fines.
Josh's wife, Anna Duggar, seems to believe he's innocent, too. On Feb. 3, 2022, she posted a link via Instagram to court documents showing Josh's attorneys plan to fight for an appeal.
Check out Showbiz Cheat Sheet on Facebook!
Source: Read Full Article