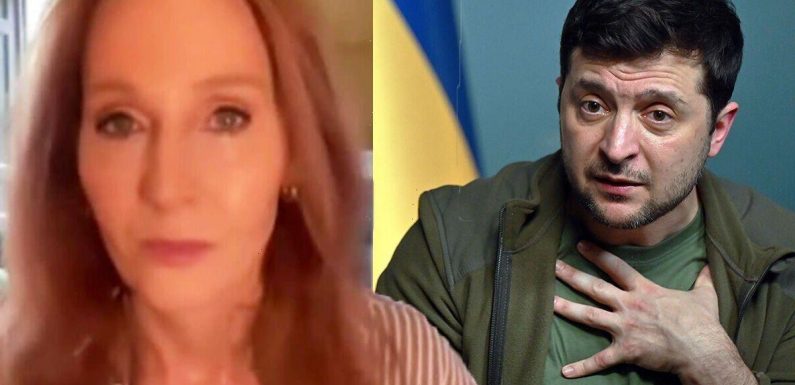 Ukraine: Footage shows Russian BTR tracked and destroyed
We use your sign-up to provide content in ways you've consented to and to improve our understanding of you. This may include adverts from us and 3rd parties based on our understanding. You can unsubscribe at any time. More info
Harry Potter creator JK Rowling announced earlier this year that she would match donations up to £1 million after her Lumos Foundation launched an emergency appeal to aid children trapped in orphanages in Ukraine. Due to these efforts, the prospect of talking to Ukrainian president Volodymyr Zelensky did not seem unlikely. However, the author fell victim to pranksters who have also targeted many other celebrities.
The video has been edited!

JK Rowling representatives
The 12-minute prank has been posted on YouTube and shows Rowling seemingly believing she was talking to Zelensky.
In the video, it can be seen that Rowling was unaware she was being recorded as she was being interviewed by Russian imposters Vovan and Lexus.
During the awkward call the Zelensky impersonators asked Rowling about imposing sanctions on Russian actor Aleksandr Kuznetsov, who appeared in the most recent Fantastic Beasts movie as Helmut.
While taking notes, Rowling replied: "Fantastic Beasts has been a very interesting experience. I'll certainly talk to people and see what we can do."
https://www.youtube.com/embed/lar4uiqD01o
The duo went even further, claiming that Harry Potter's lightning scar resembles the symbol used by the Russians on their military vehicles and asked whether it should be changed to the Ukrainian trident instead.
Rowling replied: "I will look at that. It might be good for me to do something about that myself on social media, because I think that will get into the newspapers."
Over the call, the duo told Rowling they were writing Avada Kedavra on Ukrainian missiles.
Avada Kedavra was the killing curse Lord Voldemort used against Harry Potter in the book franchise.
They then took it even further, asking Rowling if Albus Dumbledore was homosexual and about his past partners.
Rowling realised what was going on when the duo turned on their camera to introduce The Order Of The Ukrainian Phoenix.
However, it was just a group of people wearing T-shirts that read Only Putin! in Russian.
In a statement released to the Hollywood Reporter, Rowling's representatives have slammed the "distasteful" prank.
It read: "JK Rowling was approached to talk about her extensive charitable work in Ukraine, supporting children and families who have been affected by the current conflict in the region.
"The video, which has been edited, is a distorted representation of the conversation."
There has been speculation that Rowling was targeted by the Russian state actors over her support for Ukraine.
This is because earlier this year, Rowling announced that she would match donations up to £1m after her Lumos Foundation launched an emergency appeal to aid children trapped in orphanages in Ukraine.
At one point in the call, Rowling was asked to "clarify where you are sending the money that Lumos has collected" adding that they want to "buy a lot of weapons and missiles with your money to destroy Russian troops".
Rowling replied: "We'll look after the kids but I really want Ukraine to have all of the arms it needs."
Comedians Vovan and Lexus have previously carried out similar tricks on a whole host of high profile names including Billie Eilish, Sir Elton John, Prince Harry and George W Bush.
In March, YouTube even pulled hoax calls the pair had with defence secretary Ben Wallace and home secretary Priti Patel.
Source: Read Full Article