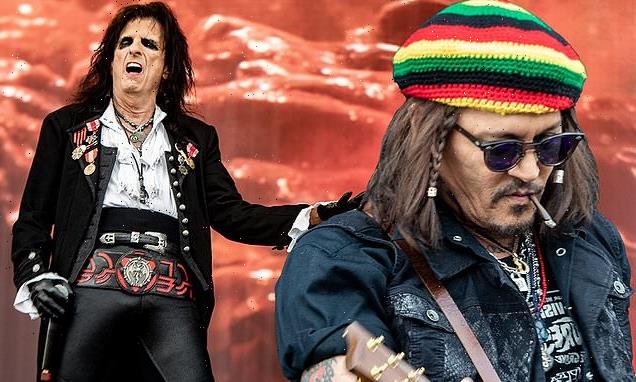 Johnny Depp oozes rockstar cool in all-black at 52nd edition of Pinkpop festival in Netherlands with his band Hollywood Vampires
The Hollywood Vampires continued on with with their current tour with a show during the second day of the 52nd edition of Pinkpop in Landgraaf, Netherlands.
After having to temporarily postpone dates, which includes a number of festival gigs, due to guitarist Johnny Depp's injured ankle, the acclaimed actor and musician is back rocking out alongside bandmates Alice Cooper, Joe Perry and Tommy Henriksen, among other touring players.
The band's ongoing tour only just began last week, due to the 'painful injury' Depp suffered, which his doctor advised him not to travel and rest up before resuming his rock 'n' roll commitments, according to AS.
Day two of the annual event, that kicked off on Friday and goes through Sunday, also featured such musical artists as RONDÉ, The Script, The Lumineers, The Black Keys, Tove Lo, Queens Of The Stone Age, Disturbed, Go A, The Driver Era, DeWolff, with Robbie Williams serving as the main headliner.
Pinkpop is considered the oldest and longest running annual festival dedicated to pop and rock music in the world.
Rock the house: The American rock band Hollywood Vampires with singer Alice Cooper and guitarist and actor Johnny Depp perform during the second day of the 52nd edition of Pinkpop. Day 2: Pinkpop in Landgraaf
Playing the main stage, dubbed South Stage, the Hollywood Vampires opened up their show just ofter 5 p.m local time.
Looking rock star cool, Depp wore black pants with a black-patterned vest over a matching short-sleeve shirt, which helped showcase his many tattoos along his arms.
The guitarist and singer, who just turned 60 on June 9, also donned a multi-colored knitted hat over his long dark hair that flowed out of the sides and down his back a number of inches.
At times he and Cooper showed off their chemistry with certain moves and gestures, while next together on stage.
He strutted his stuff decked out in a pair of black leather trousers, white shirt and leather gloves.
He also wore a selection of belts around his waist with his hair styled wildly and make-up including lashings of eye-liner. 
Founded in 2012, Depp, Cooper and Perry initially only performed cover songs in honor of rockers who died in the 1970s. 
Touring members over the years have included stints with such rockers as Duff McKagan and Matt Sorum of Guns N. Roses and Velvet Revolver, Robert DeLeo of Stone Temple Pilots. Perry's Aerosmith bandmate Brad Whitford, among others.
Strumer man: Depp, who just turned 60 last week, looked rock star cool in a black-patterned vest with a matching shirt and pants
Cool cats: Depp and Cooper show off their on-stage chemistry during the festival gig
The Hollywood Vampires only just kicked off their European tour in Bucharest, Romania, last Thursday.
The show had extra-special meaning for Depp, considering he celebrated his milestone 60th birthday that night, with the help of the huge crowd who sang Hppy Birthday to him.
The Pirates Of The Caribbean star thanked fans for the 'beautiful gesture', adding that it was 'the largest happy birthday song I've ever heard'.
The emotional show came just over a year after Depp had won his victory in his high-profile defamation case with his former wife Amber Heard.
Its also just the second gig Depp has played since since ex-wife Amber Heard finally paid him the $1million she owed following their bitter legal battle.
The outlet reports that the money will be divided evenly, $200,000 each, across Depp's five favorite non-profits, according to TMZ
TUnit: he band did a pow-wow before the show to help build their connection
Fan friendly: The actor and musician's 'painful ankle injury' forced the band to cancel shows; he is seen with a superfans in a photo taken before the show in the Netherlands
The charities range from organizations helping sick children with life-threatening illnesses and providing housing for deprived communities.
The five non-profits Depp will choose to donate the money to are: Make-A-Film Foundation, The Painted Turtle, Red Feather, Tetiaroa Society and the Amazonia Fund Alliance.
He had sued the Aquaman star for $50 million, claiming a Washington Post article he wrote in the Washington Post was defamatory.
Depp and his ex-wife eventually settled their defamation claims against each other in December after five years of furious legal battles.
The actress alleged she was a victim of domestic violence during her 15-month marriage to Depp. 
While a courtroom in London found in Heard's favor, a a second case in Fairfax, Virginia, last year came out on Depp's side.
Dramatic: Depp and his Heard settled their defamation claims against each other in December after five years of furious legal battles with the actress ordered to pay him $1million
Trying time: herd alleged she was a victim of domestic violence during her 15-month marriage to Depp. the former couple are seen together in 2016
After Heard was ordered to pay $10million in compensatory damages and $5million (later reduced to $365,000) in punitive damages, and Depp told to hand $2million in defamation damages, the former couple's legal teams eventually came to an agreement.
Over the past 12 months the actor has made a slow but steady return to the spotlight, touring with musician Jeff Beck and making a surprise appearance at the 2022 MTV Video Music Awards.
Speaking at a press conference at the festival he said he had 'no further need' for Hollywood, and described the fallout from the trial as a 'weird joke'.
The Hollywood Vampires are currently touring Europe trough until July 22.
Source: Read Full Article