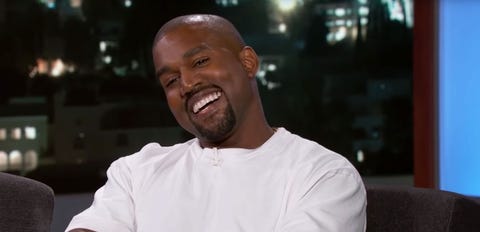 During Kanye West's messy interview on Jimmy Kimmel last night, Jimmy jokingly asked him whether he was worried about Kim Kardashian being alone with President Trump.
"Your wife was here last week… and she did something I'd imagine you're very proud of. She went to Washington and spoke to the president and she actually convinced him to grant clemency to a woman who got life in prison, like real life in prison for a first-time drug offense. Was that something you discussed with her before she did it?"
"Well she's super passionate about it and it was amazing for her to see that dream come true," Kanye said.
"Were you ever concerned about her being in the Oval Office alone with President Trump?" Jimmy asked, jokingly.
Kanye laughed, and then said "Well, he is a player."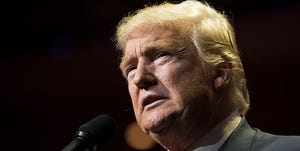 The question and answer are both problematic considering that to date, 16 different women have come forward to accuse President Trump of various acts of sexual assault and harassment. President Trump has consistently denied the accounts. But this is a not a subject to be joked about, especially considering Kim was there to actually create political action and change, which is more than Kanye himself has done.
When Jimmy asked Kanye why he liked President Trump, Kanye said that during the election, everyone around him tried to pick his candidate for him.
"And then told me every time I said I like Trump that I couldn't say it out loud because my career would be over, I'd get kicked out of the black community," he said.
But he didn't care what other people thought. He also says it's not about Trump's policies, because he's not a "politician like that." It represented "overcoming fear." It was about his own opinions and what he believes in. "I quite enjoy when people are mad at me about certain things," he said.
Watch the full interview here, if you have time for this sort of nonsense on a Friday:
Follow Emma on Instagram.
Source: Read Full Article