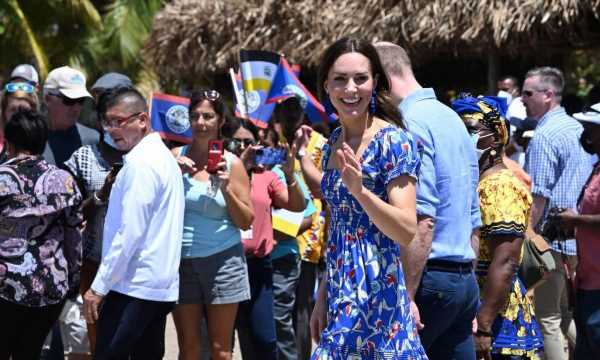 Photo: © Rex
1/17
The Duke and Duchess of Cambridge began the second day of their Caribbean trip on Sunday. The couple arrived in Belize on Saturday, ready to begin their first royal tour since the pandemic began.
SEE: Kate Middleton looks incredible in gorgeous blue dress during Royal Tour
The royals have a busy itinerary ahead of them, with stops in Jamaica and the Bahamas also planned as part of an eight-day visit to the region in order to mark the Queen's Platinum Jubilee.
The Cambridges landed at 3pm local time to begin the eight-day tour. Both looked relaxed after the 11-hour flight, with Kate radiant in a royal blue outfit and her husband as dapper as ever in a smart grey suit.
On Sunday, the couple's first stop was at the Che'il chocolate farm in Hopkins, Belize.
WATCH: Kate Middleton and Prince William delight with dancing during tour of Belize
Photo: © Rex
3/17
The Cambridges met local farmer Julio Saqui during their trip and learned all about chocolate production.
Photo: © Rex
4/17
The royals discussed the details of farming in the local region.
Photo: © Rex
5/17
William and Kate sampled the local produce during their visit to the farm.
MORE: The one royal beauty rule Sophie Wessex sticks to that Kate Middleton doesn't
SEE: 7 dresses we reckon Kate Middleton will be packing for the Caribbean royal tour
Photo: © Rex
6/17
Kate looked stunning in a long, blue floral Tory Burch dress which she accessorised with an Anya Hindmarch fan-shaped handbag, bold blue hoop earrings and nude wedge heeled sandals.
Photo: © Rex
7/17
The Duchess tried her hand at grinding nibs, broken-up cocoa beans, hard work that's usually performed by the women in rural communities.
SEE: Royal Style Watch: From Kate Middleton's St Patrick's Day panache to Zara Tindall's romantic 'date' look
Photo: © Rex
8/17
The Duke then also had his turn at chocolate-making, much to his wife's delight!
"The smell of the chocolate is amazing," she said.
William even joked, "Do you take apprentices? Can I come and work for you? It's my kind of thing."
Photo: © Rex
9/17
The couple's eyes lit up when they saw the chocolate fountains ready for their arrival.
They enjoyed dipping tortilla chips into the liquid chocolate and later tried hot chocolate, too.
Mum-of-three Kate sweetly commented: "I think our children will be very jealous."
Photo: © Rex
10/17
Duchess Kate looked completely radiant on Sunday.
Photo: © Getty Images
11/17
Locals welcomed the royal pair to Hopkins, a small coastal community which is considered the cultural centre of Belize's Garifuna community.
Photo: © Getty Images
12/17
Prince William was delighted to meet members of the local community.
Photo: © Rex
13/17
Kate and William joined members of the local community in making music.
Photo: © Getty Images
14/17
Kate enjoyed a conversation with women from Belize's Garifuna community.
SEE: 11 hilarious photos of royals caught off guard at home
MORE: Prince William's proposal fears with Kate Middleton led to untraditional engagement
Photo: © Getty Images
15/17
Kate danced during a traditional Garifuna festival – and appeared to be having the time of her life!
Photo: © Getty Images
16/17
The Duchess is always happy to join in with fun events during royal tours.
Photo: © Getty Images
17/17
Father-of-three William took the time to meet and chat with local schoolchildren.
Make sure you never miss a ROYAL story! Sign up to our newsletter to get all of our celebrity and royal news delivered directly to your inbox.
Source: Read Full Article