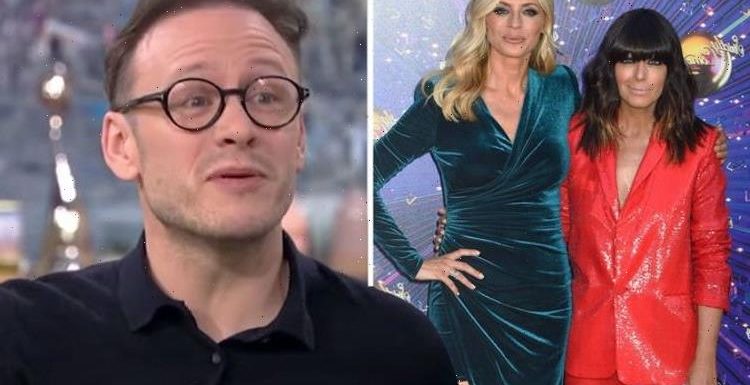 Strictly: Kevin Clifton 'frustrated' over judges' Tom Fletcher critique
We use your sign-up to provide content in ways you've consented to and to improve our understanding of you. This may include adverts from us and 3rd parties based on our understanding. You can unsubscribe at any time. More info
While Kevin Clifton left Strictly Come Dancing in 2019, he has remained a passionate viewer and often reacts to claims about the show on Twitter. Ahead of tonight's result show, the 39-year-old hit back at fans who claimed presenters Tess Daly and Claudia Winkleman had been pretending it was live.
Saturday's Strictly show is live, while Sunday's programme – including the dance-off and judge's vote, is filmed in advance straight after the couples have performed.
Viewers have noticed however that the presenters sometimes refer to the live show as "Saturday's show" or "last night" on Sunday episodes.
Joanne Turner wrote: "It's fine having a show on a Sunday night but why the continued pretence that it's recorded on a Sunday.(sic)
"The amount of time everyone says 'last night' or 'Saturday night' is laughable. It's insulting."
Kevin made fun of the many times he had to explain the situation as he echoed: "Trust me, nobody pretends its live."
Cathy Burke added: "It's because the presenters and judges keep saying Saturday night, we would all rather they didn't bother, it is irritating."
The dancer hit back, writing: "Then u don't understand the rules around this.(sic)
"If they say 'tonight' on a show broadcast on Sunday, it's a lie. If they say last night, it's a lie.
"So they have to say Saturday night. Cos it's true."(sic)
Having two shows on in one weekend hasn't gone down well with fans in recent years, following leaked results online.
Viewers have claimed they had already seen who had been voted out of the show, before it was aired on BBC.
Tonight, fans will get to see who has made it through to the semi-final.
DON'T MISS…
Donny Osmond being 'evaluated by doctor' after injury in panto show [HEALTH]
Rachel Riley 'headbutted' husband in front of Stephen Hawking [REVEALED]
Cliff Richard poses topless in 2022 calendar [PICTURED]
This year's series will conclude in December 18.
Kevin had a successful stint during his time on the BBC show.
In 2018, he won the Glitterball trophy for the first time with his now girlfriend Stacey Dooley.
They beat off competition from Faye Tozer, Ashley Roberts and Joe Sugg.
After competing in 2019 with Anneka Rice, he announced he was leaving.
The dancer told fans was off to focus on other work commitments including his role as Stacee Jaxx in the Rock of Ages theatre show.
Source: Read Full Article