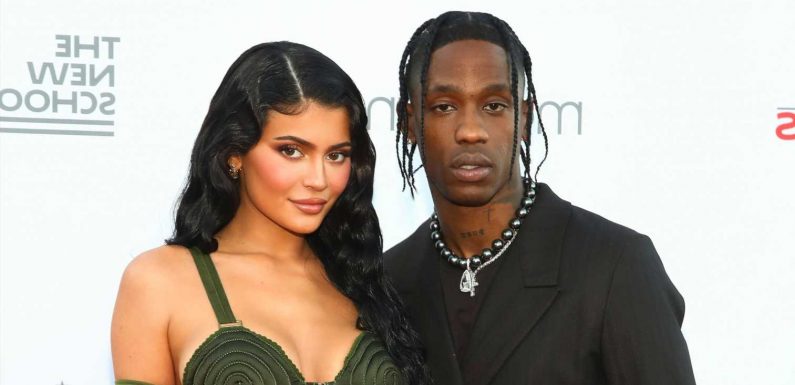 Kylie Jenner reveals postpartum struggles: 'It's OK not to be OK'
Kylie Jenner says she's struggling with more postpartum issues after welcoming her son, Wolf, than she did following Stormi's birth four years ago. "This experience for me personally has been a little harder than with my daughter," Kylie, 24, said in an Instagram Stories post on March 15, titled "6 weeks postpartum." "It's not easy mentally, physically, spiritually — it's just crazy," she admitted (via CNN). "And yeah, I didn't just want to get back to life without saying that because I think we can look on the internet, for other moms going through it right now, we can go on the internet, and it might look a lot easier for other people, and put the pressure on us, but it hasn't been easy for me." The post included a boomerang of Kylie on an exercise machine, during a workout she said she didn't think she could make it to. "But I'm here, and I'm feeling better. So you got this!" Kylie told fans. "It's OK not to be OK. Once I realized that I was putting some pressure on myself … And I just keep reminding myself I made a whole human, a beautiful healthy boy," she said in a second post. "We have to stop putting pressure on ourselves to be 'back,'" she added. "Not even physically, just mentally, after birth. So yeah, just sending some love. I love you guys!" Kylie shares Wolf and Stormi with rapper Travis Scott, 30.
Keep reading for an update on Rihanna's pregnancy and more …
RELATED: Check out Kim and Pete and more famous couples' Instagram debuts
Rihanna confirms she's in her third trimester
Soon-to-be parents Rihanna and A$AP Rocky are officially in countdown mode. The singer Fenty mogul confirmed she's in her third trimester of pregnancy in a chat with Elle published on March 15. "There's a pregnancy glow," said Rih, while promoting Fenty Beauty's new Ulta partnership. "There's also those days, girl. Especially in the third trimester where you wake up and you're like, oh, do I have to get dressed? Makeup for sure helps you feel like a real person." Asked about the best pregnancy advice she's gotten since she and her rapper beau began expecting their first child, Rihanna said, "Probably the best advice is to sleep now because I won't get much later," adding, "I need to work on that before it's a thing of the past." Rihanna, 34, also dished on the kind of mom she thinks she'll be — in "Real Housewives" terms. "Heather Dubrow is so chic while being a mom. Just love the way that she just allows her kids to be who they are. And that's really inspiring to me," said the self-professed Bravo fan. "But Teresa [Giudice] from Jersey does not play about her kids. … She will flatten you about those kids. And that resonates with me a lot because I feel like that's the type of mom I'm going to be," Rih said. "Psycho about it." Asked if she could see herself in "flip a table" mode a la Teresa, Rihanna quipped, "Worse. You talk about my kids, it's over." She and Rocky, 33, announced they were expecting in January.
RELATED: Rihanna flaunts baby bump in a crop top and belly chain, plus more of her best pregnancy style moments
Britney Spears' Instagram account suddenly goes dark
Britney Spears' Instagram account — along with the dance videos, cheeky bikini pics and digs at those who've done her wrong — disappeared without warning or explanation on March 16. According to TMZ, Instagram didn't delete the massively popular page, which suggests the singer had reason to take it down herself. Brit's profile info still appears in search data, but as of the 16th, clicking on the page turned up a message reading, "Sorry, the link you followed may be broken, or the page may have been removed." Her other social media platforms still appeared to be live, though she uses them far less. In the singer's last posts before the account came down, Britney marveled about visiting Las Vegas for fun rather than work. She also shared a message some fans have expressed concern about on social media. "Don't ever pity me … I don't want to be loved … I want to be feared !!!" she wrote, per The Blast. "Being loved and being nice got me taken advantage of …… so take your pity and go f*** yourselves!" She previously deleted Instagram in September as her conservatorship was nearing its termination.
RELATED: Britney Spears' best looks of all time
Kanye West claims Pete Davidson could get Kim Kardashian 'hooked on drugs' as rants continue
Just when we thought Kanye West's one-sided Pete Davidson feud couldn't get any weirder … In the wee hours of March 16, Kanye poured gasoline on the fire that his stream of Pete/ "SKETE" attacks has become. "Im really concerned that SKETE will get my kids mom hooked on drugs He's in rehab every 2 months," the rapper posted on Instagram, referring to his ex, Kim Kardashian's romance with the "Saturday Night Live" star. While Ye has taken down some of his more disturbing posts about Pete in recent weeks, this one was still up many hours later. He even doubled down on the sentiment by following the post up with a screenshot from his "Eazy" video showing a claymation Kanye burying a claymation Pete alive. "Ya'll ready for Coachella ☠️," he wrote alongside the dark snap. In another post on the same day, Kanye took aim at Pete's friend, writer Dave Sirius, who recently shared screenshots of what he said were texts from Pete to Kanye, urging him to get help for his mental health issues, offering to "help" and warning the rapper that if he keeps pushing him as he has, Pete's "gonna stop being so nice." (Kanye and Pete have spoken openly about their respective mental health challenges; Pete most recently sought treatment for his mental health in 2019.) Over on Instagram, Kanye shared a profile of Dave, which he captioned, "Come on Dave please help write some more culturally irrelevant jokes for SKETE You don't have to have talent these days you just need a Hillary Clinton tattoo." Kim and Kanye tied the knot in 2014 and were declared legally single in 2022. They share four kids.
Why Scarlett Johansson would never have dated 'high school Colin' Jost
Ouch! Scarlett Johansson's happily married to Colin Jost, but had she met the "Saturday Night Live" star as a teen, she wouldn't exactly be angling for a date. On "The Drew Barrymore Show" this week, Drew flashed a yearbook photo of a young Colin — with a very unflattering, late '90s haircut — and asked, "Would high school ScarJo be into high school Colin?" Scarlett wasted no time replying. "Umm, I don't think so, no," she said. "Personally, my brother had that same haircut — both of my brothers — and … I just can't. There's no way. I mean, who decided on that cut as a stylish thing? What hairdresser was like, 'I'll try this?'!" Scarlett went on to recall how she met Colin a few times through "SNL" before they started dating in 2017. "It was just the timing was good," she said. "When we met, the timing was right. He's a very — I think — a cute guy, but the other times that I was there, I was in a relationship and I was not [looking]. This time, it was the timing was right. He looked differently to me because I was available." The "Black Widow" star hooked up with the comic and writer after splitting from husband Romain Dauriac in 2017. She was also married to Ryan Reynolds from 2008 until 2011. "I've definitely been in relationships where the timing was not right," she mused on the show. "And I also think you have to recognize when it's not the right person, but sometimes it's a good person but the timing is off, and it's important to be open to that too."
Gabby Windey and Rachel Racchia will both star in 'The Bachelorette' after Clayton Echard's messy 'Bachelor' season
On March 15, a tumultuous season of "The Bachelor" came to an end with a twist and the franchise announced the next season of "The Bachelorette" will feature two women instead of one. (And yes, there are spoilers ahead.) Bachelor Clayton Echard, who said he'd fallen for and slept with Susie Evans, Gabby Windey and Rachel Recchia, finally proposed to Susie after being told off by Gabby. Susie said "thanks, but no thanks," but in the end, off-camera, apparently took him back. That sort of explains how ABC ended up opting to feature both Gabby and Rachel, who are now close friends, as the next Bachelorettes. (The Daily Beast credited the format change to Clayton's "man-child" ways, saying the guy was "so terrible," "The Bachelorette" had to be tweaked.) It's unclear how that will work, exactly, but according to Entertainment Weekly, the pals, who supported one another all the way until the end of Clayton's bad behavior and poor decision-making, will date guys from the same pool of suitors. They'll also both stay on through the whole season. Gabby, a 31-year-old ICU nurse who cheered professionally for the Denver Broncos, and Rachel, a 26-year-old commercial pilot and flight instructor, kick off their history-making "Bachelorette" season July 11 on ABC.
Samuel L. Jackson and wife of 41 years LaTanya Richardson share secrets to their happy marriage
Hollywood couples seem lucky if they can last one year, let alone 41. But that's how long Samuel L. Jackson and his wife, Tony-nominated actress LaTanya Richardson have been married. The couple, who recently teamed up to produce Apple TV+'s "The Last Days of Ptolemy Grey," share some of their secrets to a happy marriage with People in the magazine's new issue. "In the beginning, we always said the most revolutionary thing that Black people could do was stay together, raise their children with the nucleus of having a father and a mother, since everybody likes to pretend that that's not the dynamic of the African American family — that it's just children out here being raised by women, which we know is false," LaTanya says. "In order to change that narrative, we made a decision to say, 'We are going to stay together no matter what. We'll figure it out.'" Among the challenges they had to "figure out" was Samuel's drug addiction, which hesays LaTanya helped him find his way out of more than 30 years ago by getting him into rehab. "She gave me the chance to be the man I was supposed to be," he says. The stars also make time each summer for a family vacation with their daughter, Zoe, 39. But at the end of the day, Samuel says a successful marriage boils down to this: "It's two people who respect each other, love each other and look out for each other."
Amy Schumer shares hilarious Oscar hosting advice Chris Rock and Jimmy Kimmel gave her
When Amy Schumer takes the Oscars stage alongside co-hosts Wanda Sykes and Regina Hall, she'll be armed with plenty of advice from previous Academy Awards hosts. In appearances on "Good Morning America" and "The View" on March 16, the comic revealed she's been polling other comedians for tips on hosting the March 27 ceremony. On "The View," Amy had easy access to one former host, Whoopi Goldberg, who advised her to "have a good time" but "stay away from the internet" two days before and after the show. "Everybody thinks it's the easiest job in the world, and it's not. If you have a good time, they'll have a good time," Whoopi advised. Asked what hosting tips she's gotten from peers on "GMA," meanwhile, Amy said her pals Chris Rock and Jimmy Kimmel, told her: "'Don't black out, and be funny.'" Her response? "I said, 'You know what, don't tell me what to do,'" she joked (via JustJared). As for Wanda and Regina, Amy said they're focused on "really having fun together and playing off each other," and praised the stars as "comedy royalty."

Source: Read Full Article