Things are getting sexy for Travis Scott's birthday!
To celebrate the rapper turning 28, on Tuesday, girlfriend Kylie Jenner shared a series of loving photos (including the one above) on Instagram of her, her man, and their bundle of joy, one-year-old daughter Stormi Webster.
Related: A Definitive List Of All The People The Kardashian-Jenners Cut Off And WHY!
In the caption, the Life of Kylie star praised the musician for being her "real life bestie & hubby all wrapped into one," and suggested that the two should "f**k around" in order to give their daughter a sibling!
The makeup mogul penned:
"watching you evolve into the partner, friend, son, and father you are today has been so fulfilling… my real life bestie & hubby all wrapped into one. i love you and I'm so so proud of you. happy happy birthday… let's f**k around and have another baby."
In response, Scott wrote back:

Of course, this isn't the first time the 21-year-old has celebrated her boyfriend's special day.
In addition to buying him a billboard in a busy part of Los Angeles, the reality TV personality threw him a lavish party at the Cinépolis Luxury Cinema where the two dressed up as Avengers characters.
As we wrote earlier this month, the couple are "in a great place" following cheating allegations and breakup talk.
An Us Weekly source exclaimed:
"Kylie is considering the cheating rumors about Travis to be 'white noise' and she knows everyone is always trying to get a rise out of her and her family … so she is staying focused on her career and her little one. Her and Travis are in a great place and she has no intention of breaking things off with him. He's a very proactive dad and is involved in Stormi's life."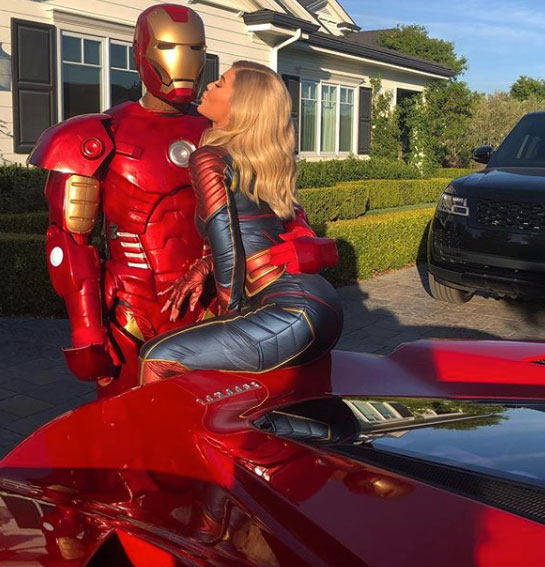 In February, TMZ reported that Kylie brought up "evidence" of infidelity when the musician flew from the East Coast to Los Angeles to surprise her and their daughter.
Because of this incident, Scott allegedly postponed his concert in Buffalo.
In response, Travis' rep "strongly" denied the rumors, and said "the reason he stayed home from his show was very much because of illness."
According to a People source, Kylie became insecure in her own relationship as a result of reports that ex-BFF Jordyn Woods allegedly had an affair with Khloé Kardashian's now-ex-boyfriend, Tristan Thompson.
Soooo, the Kylie Cosmetics founder reportedly accused the rapper of cheating after seeing something notable on his phone.
The insider revealed:
"Kylie had a rough week. She is still devastated about Jordyn and had an argument with Travis after she checked his phone and saw something that she didn't like. … But Travis says he didn't cheat."
"Purely to prove his devotion" to Kylie, Travis deleted his Insta account, per TMZ sources.
However, it's safe to say the couple have moved past the drama!
See the momma of one's full birthday tribute to her "hubby" (below):
View this post on Instagram
watching you evolve into the partner, friend, son, and father you are today has been so fulfilling ♥️ my real life bestie & hubby all wrapped into one. i love you and I'm so so proud of you. happy happy birthday 🎉🎁 let's fuck around and have another baby. 🤪
A post shared by Kylie (@kyliejenner) on
Source: Read Full Article