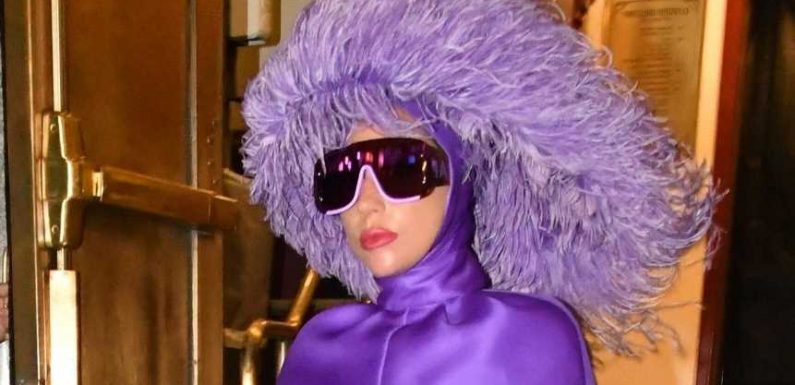 Leave it to Lady Gaga to make even a poncho look chic. Though to be fair, she didn't wear just any poncho, it was a Valentino Haute Couture number that looked like it belonged on a runway rather than the streets of New York City. But that didn't stop Gaga.
On Saturday, the pop star — who has been serving looks all week long — continued her sartorial winning streak in one of her most over-the-top outfits yet. Turning the sidewalk into her own catwalk, Gaga departed Radio Music Hall, where she finished rehearsals for her upcoming joint concert with Tony Bennet, wearing the aforementioned Valentino cape with no pants.
She accessorized with a lilac fuzzy hat to match, a pair of yellow leather gloves, and strappy sandals. A swipe of red lipstick and goggle-like glasses provided the finishing touches to her head-turning look.
Last week, Gaga began her fashion tour de force, starting out modest in a pair of lace-up platform boots and a LBD, before steadily increasing the shock value of her outfits (see: angel wings and 9-inch stiletto heels that come with a no-walking warning). She finally rounded out the work week in a leotard, turban, and sparkly tights.
Source: Read Full Article