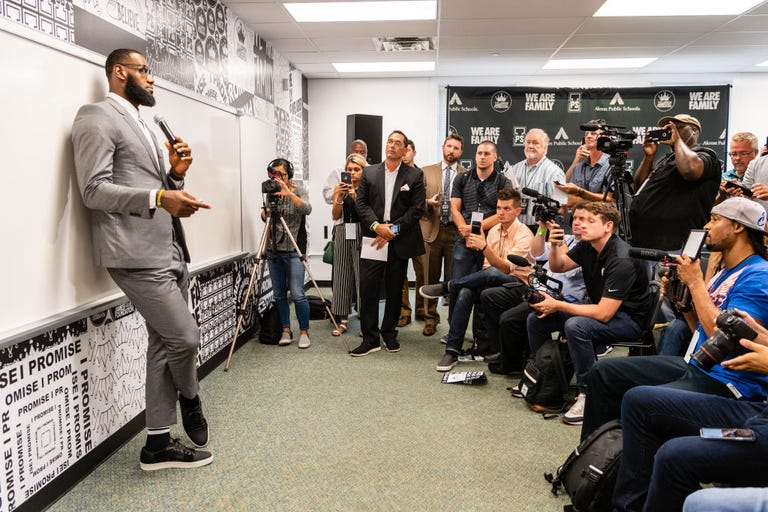 On Monday, 240 students in Akron, Ohio, had their first day of school — and LeBron James was there to greet them. The LeBron James Family Foundation opened the I Promise School in collaboration with the public school system in James' beloved hometown.
The I Promise School focuses on at-risk kids, giving them a math and science-focused curriculum while also teaching them to deal with the trauma in their lives, the Los Angeles Times reported. The school will provide access to job and family services, a food pantry, and help with housing if needed. And parents have an opportunity to study for their GEDs at the school, too.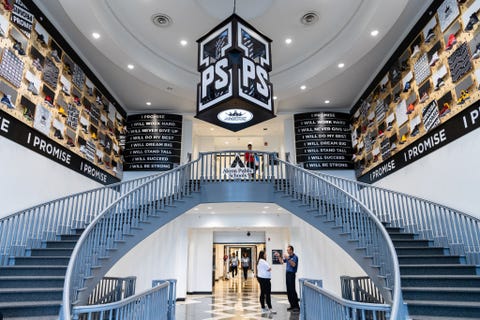 Getty ImagesJason Miller
Students were randomly selected from a group of local students who were behind on reading. This year, the school will start with third and fourth grade classes only, and next year the school will add first and second grade. By 2022, the school will have first through eighth grade classes, WKYC-TV adds.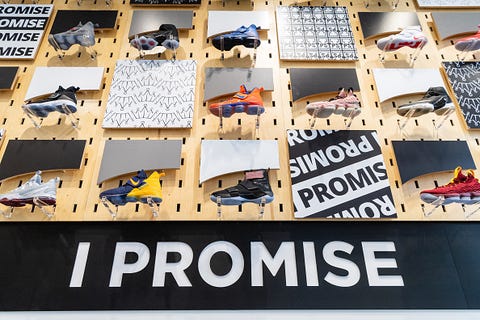 Getty ImagesJason Miller
The school is decorated with motivational phrases, murals featuring people like Martin Luther King Jr., and even James' sneakers, which will eventually be sold at a fundraising auction for the school. Every student has a bicycle available for them to ride, because James found freedom riding his bike while growing up in Akron.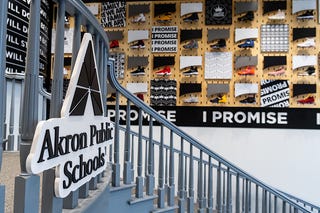 Getty ImagesJason Miller
A few days before the school's opening, James, admitted he had the "jitters," calling it "one of the greatest moments (if not the greatest) of my life." As a fourth grader, James missed 83 days of school, and his school aims to help families like his.
The jitters before the first day of school are real right now!!! Tomorrow is going to be one of the greatest moments (if not the greatest) of my life when we open the #IPROMISE School. This skinny kid from Akron who missed 83 days of school in the 4th grade had big dreams… https://t.co/PwmRaHRfng
big dreams for the kids in Akron to give them everything they could need to find their passion, give back to our community and change the world!! This school is that. The people are that. Akron is that. @LJFamFoundation we've always done it big
and it doesn't get bigger than opening day tomorrow (until the next thing we dream of ?) I'm so unbelievably proud and excited to see my kids, my home, and the 330 tomorrow. THANK YOU! Let's get it. Let's go ?? @IPROMISESchool #WeAreFamily #IPROMISE
He gave a speech at the opening, and it served as a farewell to Ohio before he joins the Los Angeles Lakers. "And know, no matter if I'm playing in Los Angeles or not, Akron, Ohio, is always home for me," he said, according to the Washington Post. "Always."
Source: Read Full Article